06 Dec
News and Analyses, A Foreign Perspective
Nearly all of these are English-edition daily newspapers. These sites have interesting editorials and essays, and many have links to other good news sources. We try to limit this list to those sites which are regularly updated, reliable, with a high percentage of "up" time.
B

 
GENEVA: The United Nations human rights chief has said an act of genocide against Rohingya Muslims by state forces in Myanmar cannot be ruled out.
Zeid Ra'ad al-Hussein was addressing a Human Rights Council session in Geneva.
More than 600,000 Rohingya have fled to Bangladesh to escape violence since August. Myanmar's army says it has been targeting Rohingya militants.
Mr Zeid said no Rohingya should be sent back unless there was sustained human rights monitoring on the ground.
He listed alleged abuses against the Rohingya, including "killing by random firing of bullets, use of grenades, shooting at close range, stabbings, beatings to death and the burning of houses with families inside".
The rights chief then asked: "Considering Rohingyas' self-identify as a distinct ethnic group with their own language and culture – and [that they] are also deemed by the perpetrators themselves as belonging to a different ethnic, national, racial or religious group – given all of this, can anyone rule out that elements of genocide may be present?"
Myanmar's ambassador to the rights council, Htin Lynn, denied atrocities had taken place and said his government and Bangladesh were working to ensure the return of displaced people.
"There will be no camps," he told the emergency session.
He added that UN agencies would be involved but stopped short of guaranteeing the immediate, unimpeded access to Myanmar for UN investigators that the UN has demanded.
Until now, UN officials, including Mr Zeid, have described the violence in northern Rakhine state as "textbook ethnic cleansing".
The use of the term genocide increases international pressure on Myanmar (also called Burma) and reflects deep concern at what the UN describes as decades of discrimination and violence against the Rohingya.
"Ultimately, this is a legal determination only a competent court can make," Mr Zeid told the council session in Geneva.
"But the concerns are extremely serious, and clearly call for access to be immediately granted for further verification."
He urged the council to request that the UN General Assembly set up a mechanism "to assist individual criminal investigations of those responsible".
Genocide – an attempt to wipe a group of people out of existence in whole or in part – is a legally specific term understood by most to be the gravest crime against humanity.
The UN first defined it in the Convention on the Prevention and Punishment of the Crime of Genocide in 1948. Ethnic cleansing is not recognised as an independent crime under international law.
The Rohingya are a stateless minority who have long experienced persecution in Myanmar.
Myanmar's government rejects the term Rohingya, labelling the community "Bengalis". It says they migrated illegally from Bangladesh so should not be listed as one of the country's ethnic groups.
Bangladesh also denies they are its citizens. After the latest wave of arrivals it now hosts more than a million Rohingya.
Last month, Bangladesh signed a deal with Myanmar to return hundreds of thousands of Rohingya who fled the army crackdown, which began after deadly Rohingya attacks on police posts in Rakhine.
A statement from the Bangladesh foreign ministry said displaced people could begin to return within two months. Few other details were released.__BBC

World Politics
United States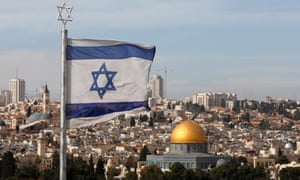 Israeli flag flies overlooking the old city of Jerusalem. Donald Trump will recognise holy city as the capital of Israel according to White House officials. Photograph: Abir Sultan/EPA
Donald Trump will declare formal recognition of Jerusalem as the capital of Israel on Wednesday, the White House has said, breaking with years of precedent and potentially leading to unpredictable consequences for the Middle East.
The region is braced for the prospect of unrest in anticipation of the declaration, due at 1pm in Washington, and US embassies around the world have been advised by the state department to bolster their security.
US government employees have been told to avoid Jerusalem's Old City and the West Bank until further notice.
In his remarks to be delivered in a diplomatic reception room in the White House, Trump will base his decision on ancient history and current political realities that the Israeli legislature and many government offices are in Jerusalem. He will also order the state department to start the process of planning and building a new US embassy in Jerusalem, but White House officials said that process would take at least three years.
Until the new embassy is completed and opened, the official US mission will remain in Tel Aviv and the president will continue to sign a six-month waiver of congressional legislation that demands the embassy is moved, but only to spare the state department from budget penalties embedded in the 1995 act.
Officials made clear that Trump would not follow the practice of his predecessors, who used the waiver to prevent any action on the embassy move to avoid derailing any progress towards an Israeli-Palestinian settlement.
"For a long time the United States' position held that ambiguity, or lack of acknowledgement would somehow advance the prospects of peace," a senior administration official said.
"It seems clear now that the physical location of the embassy is not material to a peace deal … So having tried this for 22 years, an acknowledgement of reality seems like an important change."
In making his decision, following through on an election campaign promise, Trump shrugged off appeals from leaders from France, the EU, Saudi Arabia, Jordan and other key allies. They urged him not to prejudge an issue that would be at the heart of any comprehensive deal, which is something his administration has made a foreign policy priority, entrusted to the president's son-in-law, Jared Kushner.
On Wednesday Pope Francis said he was "profoundly concerned" about recent developments and called for the status quo of Jerusalem to be respected. The British foreign secretary Boris Johnson also expressed concern.
On the eve of his announcement, Trump made a series of calls to leaders in the region, including Jordan's King Abdullah, Egypt's President Abdel Fatah al-Sisi, King Salman of Saudi Arabia, the Israeli prime minister, Benjamin Netanyahu, and the Palestinian president, Mahmoud Abbas.
Abbas's spokesman, Nabil Abu Rdeneh, said the Palestinian leader had warned Trump of the dangers of such a decision to Middle East peace efforts as well as security and stability in the region and the world.
King Abdullah issued a statement telling Trump that such a decision would have "dangerous repercussions on the stability and security of the region" and would obstruct US efforts to resume Arab-Israeli peace talks.
King Salman was reported by the Saudi Press Agency to have told Trump: "Such a dangerous step is likely to inflame the passions of Muslims around the world due to the great status of Jerusalem and the al-Aqsa Mosque."
Related: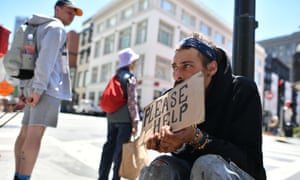 A homeless man in downtown San Francisco. The government study cites rising rents and a lack of affordable housing as key drivers. Photograph: Josh Edelson/AFP/Getty Images
America's homeless population has risen this year for the first time since the Great Recession, propelled by the housing crisis afflicting the west coast, according to a new federal study.
The study has found that 553,742 people were homeless on a single night this year, a 0.7% increase over last year. It suggests that despite a fizzy stock market and a burgeoning gross domestic product, the poorest Americans are still struggling to meet their most basic needs.
"The improved economy is a good thing, but it does put pressure on the rental market, which does put pressure on the poorest Angelenos," said Peter Lynn, head of the Los Angeles homelessness agency. The most dramatic spike in the nation was in his region, where a record 55,000 people were counted. "Clearly we have an outsize effect on the national homelessness picture."
Ben Carson, secretary of the Department of Housing and Urban Development, which produced the report, said in a statement: "This is not a federal problem – it's everybody's problem."
Officials are due to announce the results on Wednesday morning.
Advocates who have witnessed the homelessness crisis unfold since it emerged in the early 1980s are grimly astonished by its persistence.
"I never in a million years thought that it would drag on for three decades with no end in sight," said Bob Erlenbusch, who began working in Los Angeles in 1984.
The government mandates that cities and regions perform a homeless street count every two years, when volunteers fan out everywhere from frozen parks in Anchorage to palm-lined streets in Beverly Hills and enumerate people by hand. Those numbers are combined with the total staying in shelters and temporary housing. The tally is considered a crucial indicator of broad trends, but owing to the difficulties involved it is also widely regarded as an undercount.
Of the 10 states with the highest rates of homelessness, seven are in the western half of the country. In a new project by the Guardian, Outside in America will explore the homelessness crisis in the western United States, and we'll offer ways you can help solve the problem
"I'm surprised that [the numbers are] not going up faster than what that's showing," said John Parvensky, president of the Colorado Coalition for the Homeless.
There was an increase of 4.1% in New York. In the west, Seattle, Portland, San Diego, Sacramento and Oakland all reported surges of varying sizes. Most of the increase across the country is driven by people living in doorways, tents and RVs as opposed to in shelters. People of color are dramatically overrepresented: African Americans make up over one-third of the number.
In one sense the prevalence of homelessness seems odd, because the national poverty rate has fallen to around the same level as before the recession. Yet homelessness is linked to economic growth. In some of the nation's more desirable major cities, housing is rapidly appreciating to a point where it is out of reach for lower earners.
Median hourly wages in the US have barely budged for decades, from $16.74 in 1973 to $17.86 in 2016, in terms of 2016 dollars, according to the Economic Policy Institute. But in New York, for instance, the hourly wage required to comfortably rent a one-bedroom is $27.29. In Los Angeles, it is $22.98.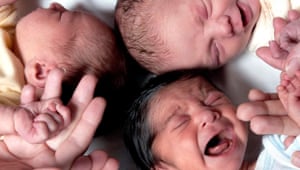 If the work of parenting in this country feels overwhelming, welcome to the club. Photograph: Roger Bamber/Alamy Stock Photo
Your salary barely covers childcare, but your coworkers give you side-eye when you leave at five. Even if you're lucky enough to have a partner who helps around the house, you're still the one who knows when your kid needs new shoes – and remembers to buy birthday presents for other people's kids. If you see one more photo of old white men signing a law about what women can do with their bodies, you'll scream. And don't get us started on maternity leave.
It doesn't have to be this way.
Today, we're launching The Mother Load, a series exploring why motherhood in America is more challenging than in any other developed country – and what we can do about it.
Over the next months, we'll tap the Guardian's network of global correspondents to illustrate just how much of an outlier America is. For starters, the US is the only country in the developed world that doesn't have mandatory maternity leave, forcing a quarter of new mothers to return to work within two weeks of giving birth. The cost of full-time childcare is 85% of the median cost of rent in some regions, leading too many women to leave the workforce to look after their kids. And perhaps most alarming, the US has the worst maternal death rate in the developed world – and the rate of women dying from pregnancy-related complications is actually rising. (For some women, their best shot at receiving maternity care in America is incarceration: they've got better access to care in prison than outside of it.)
If the work of parenting in this country feels overwhelming, welcome to the club.
But as this series will reveal in depth: it's not you, it's them. Really. The crushing levels of stress so many parents endure is largely due to structural problems reinforced by our politicians, employers, and the entrenched systems governing everything from healthcare to education.
If we want to fight this, we can.
We can't do it without men. Fathers are important partners in this battle and the most promising solutions will create support for all parents. We'll strive to show parenthood in all its diversity, sharing perspectives from same-sex couples, single parents, and adoptive families. But women still shoulder an outsized load of the parenting in America – and the name of our project reflects their unique struggles. And as mothers of color, lower-income mothers, and immigrant mothers know too well, the less privilege you have, the greater your burden.
This isn't a project about complaints. It's about solutions. We'll offer guidance on how to share the mental load of parenting with your partner and how to talk to your boss about mother-friendly policies. We'll look to other countries for lessons: How did Finland become the only nation in the world where men spend more time with their small children than women? And what can we learn from France's maternity care system – a system where nurses make house calls after a baby is born? We'll introduce you to men who are fighting for their right to parent and transforming their workplace cultures.
But we'll also celebrate our resilience, ingenuity, stamina, and good humor with comics and personal essays. We want you to get involved. We're asking our readers to participate in two soon-to-launch columns "My worst motherhood moment", and "How we make it work", in which couples and families from around the world will share personal examples of what they do to divvy up the load of parenting. We'll publish our favorites.

M

ike Cronk was sitting half-naked on a street corner, hands covered in blood, when the TV news reporter approached. The 48-year-old, who had used his shirt to try to plug a bullet wound in his friend's chest, recounted in a live interview how a young man he did not know had just died in his arms.
Cronk's story of surviving the worst mass shooting in modern US history went viral, but many people online weren't calling him a hero. On YouTube, dozens of videos, viewed by hundreds of thousands of people, claimed Cronk was an actor hired to play the part of a victim in the Las Vegas mass shooting on 1 October.
Conspiracy theorists harassed him on Facebook, sending messages like "How much did they pay you?" and "How does it feel to be part of a hoax?" The claims multiplied and soon YouTube's algorithm began actively promoting the conspiracy theory.
Two months later, Cronk's online reputation appears damaged beyond repair. Type "Mike Cronk" into Google and YouTube, and the sites automatically suggest searches for "actor" and "fake", leading to popular videos claiming he and his wounded friend were performers and that the Mandalay Bay tragedy that killed 58 people never happened.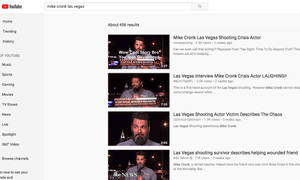 YouTube search results offer conspiracy theories about Mike Cronk. Photograph: YouTube/Screengrab
"It's awful that we have to go through what we did and then you have a whole new level of attacks on you and who you are," said Cronk, a retired teacher. "I don't want negative stuff associated with my name, but how do we stop that?"
As record-breaking mass shootings have become a ritual of life in the US, survivors and victims' families across the country have increasingly faced an onslaught of social media abuse and viral slander. Bullying from the ugliest corners of the internet overwhelms the grief-stricken as they struggle to cope with the greatest horror they've ever experienced.
The cycles of hoaxer harassment are now as predictable as mass shootings. And yet those with the most power to stop the spread of conspiracy theories have done little to address victims' cries for help.
'Like a swarm of locusts'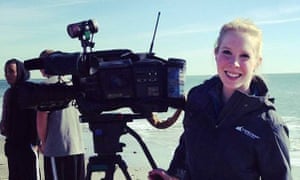 The reporter Alison Parker was shot during a live broadcast. Photograph: Rex/Shutterstock
Alison Parker was a television reporter who was shot dead by a disturbed former colleague during a routine morning broadcast.
Her father, Andy Parker, first encountered the conspiracy theorists who believed her murder was a hoax on his YouTube page. Before the shooting, he had uploaded a selection of videos appropriate for a 62-year-old Virginia dad: kayaking footage, recordings of Alison's dance recital, old commercials in which he appeared as a young actor in New York.
Afterwards, strangers online had seized on his decades-old acting career as proof that his daughter's August 2015 shooting had been staged and that Andy Parker had supposedly been hired to act the role of a grieving father.
Commenters said he was part of a plot to trick the public into supporting gun control. "It was like a swarm of locusts," he recalled.
Andy quickly made his page private – but the hoax theorists did not go away.
This spring, nearly two years after Alison's death, as Andy's wife, Barbara, was searching online for something related to the foundation they had set up to honor their daughter's memory, she found something else. "The second thing that opened up on Google was a YouTube video that the foundation is just a scam for Andy Parker to make money, a complete hoax."
"I don't care what they say about me," Andy said, "but leave the foundation alone. Leave my daughter alone."
It didn't take much searching for the father to find other YouTube videos. "There were pages, endless pages of stuff." Posts about Alison's murder that analyzed footage and photographs, asking why there was no visible blood from her being shot. Others claimed Alison was still alive, that she had had plastic surgery to change her appearance and was now living in Israel.
Hoaxers said Andy's "acting" in TV interviews was subpar. One video of the choked-up father talking about Alison had a caption floating above his forehead: "No tears!"
More recently, Cori Langdon, a Las Vegas taxi driver who picked up survivors of the October massacre, became one of the prime targets for conspiracy theorists after she posted video from the scene. Her footage was stolen and republished across the internet and used as "proof" of a number of debunked claims, including the rumor that there was a second shooter.
Violent threats quickly filled Langdon's inbox and populated the comment sections on YouTube and Facebook. People called her "queen of cunts" and "one of the dumbest fucking idiots".
Others said she was "braindead", "FAKE AS FUCK" and "fucking stupid!", with one writing: "They should bring this cab driver in for questioning."
"I was a basket case, it was so overwhelming," she said, recounting the first week after the shooting.
One conspiracy theory surrounding Langdon was that she had been killed after the massacre as part of a cover-up. She tried to make light of it, hoping that if the trolls believed she were dead, they would leave her alone. But she recalled one friend telling her: "Somebody might try to kill you, Cori, so they can prove their conspiracy theories."
Meanwhile, Braden Matejka, who survived a gunshot to the head in Vegas, received such a high volume of online attacks and death threats from people calling him an "actor" that he had to close his Facebook account. One message said: "I hope someone truly shoots you."