07 Dec
News and Analyses, A Foreign Perspective
Nearly all of these are English-edition daily newspapers. These sites have interesting editorials and essays, and many have links to other good news sources. We try to limit this list to those sites which are regularly updated, reliable, with a high percentage of "up" time.
Trump did it his way, overcoming every obstacle in his path. This man, this president, means what he says.
Jack Engelhard
The McGlynn: BULLSHIT!
Yes of course President Trump came through and delivered as promised on Jerusalem. He said he would.
He said he would name Jerusalem the capital of Israel (later the Embassy, but that's just detail)…and skeptics beware. This man, this president, means what he says.
He's a New Yorker. New Yorkers do not welch on a bet.I intend to become rich from all the skeptics who bet against him…and me. I kept saying he'd do the right thing.
Speaking of which – I am owed. I intend to become rich from all the skeptics who bet against him…and me. I kept saying he'd do the right thing. 
No one said it as often, nor as emphatically, as reporters and columnists throughout the pages of Arutz Sheva. 
We knew it was coming, and it did. Indeed, mark Wednesday, December 6, 2017, 1 p.m., as a date that will live in glory between the two great powers of Liberty; the United States and Israel…owed largely through the grit and courage of this singular president, Donald Trump.
"Today," he said, "I am delivering."
On capturing Jerusalem, King David did it his way, through might and through prayer; Trump did it his way, overcoming every obstacle in his path.
Oh how they whine…and what hypocrites!
Abbas says this move from Trump is an impediment to "the peace process." Ditto some Muslim leaders as from Jordan and from Turkey…likewise France and the Europeans…and from the United States the Democrats and the Democratic-led news media. What a joke! There never was s peace process.
There was no peace process before, during or after the 1993 Oslo Accords. From the Grand Mufti onward to Arafat and Abbas, Palestinian Arabs participated in thousands of killing sprees against Israelis, civilians – up to this very moment. Only a few days ago Abbas reminded the world that he intends to keep funding his terrorists and their families.
This, murdering Jews – this they call peace and a peace process.
Defiling history, they work up front and behind the scenes at the UN to deny Israel its rights to Jerusalem and the Temple Mount.
This too they call a peace process.
Trump saw straight through their lies, their double-talk, their deceit, their treachery and their hypocrisy.
He knew that whatever you gave them it would never be enough. He knew that Olmert offered them everything including the kitchen sink – Jerusalem.
That still wasn't enough. Spokesmen from the PA, the PLO and the rest of them complained that Olmert wanted to retain a sliver of Jerusalem for Israel
Too much, they said. "Ninety nine percent isn't enough or us," Erekat said.
Now they get zilch.
Was there a downside to Trump's announcement? If we want to get picky we can say we could have done without his (mild) support for a two-state solution.
But remember – he added; "if both sides agree."
Bottom line?
Peace can only come after the Palestinian Arabs are convinced that they are owed no state and no share of Jerusalem.
Trump did not quite make that point, but what he did was enough – plenty.

World Politics
Russia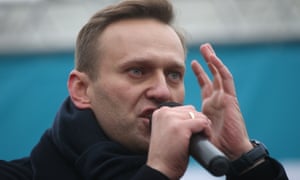 Alexei Navalny holds a rally in Izhevsk. His supporters are mainly young Russians who have known only a Putin presidency. Photograph: Yegor Aleyev/TASS
It has been a rough couple of months for Ksenia Pakhomova, a bright-eyed, garrulous 23-year-old from the Siberian mining town of Kemerovo. Her boyfriend was kicked out of university, her mother was fired from her teaching job at an arts school, and her grandmother was threatened with dismissal from her job at a gallery.
To top it off, someone plastered notices with her photograph in public places near her home, complete with her mobile number and an offer of sexual services.
All of this appears to be linked to Pakhomova's job: she is the regional coordinator for the presidential campaign of Alexei Navalny, an opposition politician who wants to challenge Vladimir Putin for the Russian presidency in elections next March.
Putin finally declared his candidacy on Wednesday in a long-expected announcement, and is likely to win comfortably. Standing against him are a familiar cast of political has-beens and a few spoiler candidates whom few Russians are taking seriously.
Navalny will most likely be barred from standing due to a criminal conviction in a case that was widely seen as politically motivated, but the 41-year-old anti-corruption campaigner is ignoring this. Instead, he has chosen to engage in the kind of enthusiastic, grassroots campaigning that has been absent from Russia in recent years: real politics, in short. He has embarked on a marathon of trips across the country's vast expanse, holding rallies and setting up campaign headquarters.
The liberal opposition has traditionally made few inroads in places like Kemerovo, a tough, working-class region four hours by plane from Moscow. Here, Navalny is attracting the support of a different kind of Russian from the chattering, Moscow intellectual class that many see as the natural supporters of the democratic opposition.
Navalny's supporters are mainly young Russians who have known little in their lifetimes except a Putin presidency.
Pakhomova, who studied law at university, said she was not particularly political until earlier this year, when she started watching Navalny's videos. She was particularly horrified by a video alleging staggering corruption on the part of the prime minister, Dmitry Medvedev, which led to major protests in Moscow and other cities earlier this year. In Kemerovo, she began volunteering for the local Navalny campaign, and in time, she was appointed head of the local office.
"Everyone in Russia knows that officials are corrupt, but when you see the details, how openly they think they can do it, it's shocking," she said.
Ksenia's mother, 46-year-old Natalia Pakhomova, said she was warned in September that she should prevent her daughter from working for Navalny, but refused. At the end of October, she was removed from her job, on the pretext that anonymous parents had called the local administration and complained that teachers at her school were soliciting bribes. She had worked at the school for 26 years, and in April had received a medal from the local governor for her service.
Natalia's 67-year-old mother, who works as a gallery attendant in the local art museum, was asked by her boss to talk her granddaughter out of working for Navalny and was also threatened with dismissal. She is on sick leave, which Natalia said was due to frayed nerves from the incident. Ksenia's boyfriend was kicked out of university, though he has since been reinstated after an online campaign.
Navalny has said if he is not allowed on to the ballot, he will call for an "active boycott" of the elections.
"No other candidate has opened regional offices, no other candidate is properly campaigning," he said in an interview in Moscow. "How can you have real elections without the only candidate who is campaigning?"
Navalny said that since the beginning of the year campaign staff had between them spent more than 2,000 days in jail and been fined more than 10m roubles (£129,000).

United States
UN security council to meet to discuss US decision amid widespread international condemnation and violence in occupied territories
Political leaders around the globe have spoken out after Donald Trump announced that the US would recognise Jerusalem as the capital of Israel and move its embassy to the city from Tel Aviv. Turkey's president, Recep Tayyip Erdo?an, said Trump should 'seek to make peace' rather than stir up trouble, while the UK prime minister, Theresa May, said she would speak to Trump about his unilateral actions