08 Dec
News and Analyses, A Foreign Perspective
Nearly all of these are English-edition daily newspapers. These sites have interesting editorials and essays, and many have links to other good news sources. We try to limit this list to those sites which are regularly updated, reliable, with a high percentage of "up" time.

World Politics
United States
Everything you need to know about the inquiry into Russian hacking, alleged collusion and Donald Trump, plus the latest news
B

igger than Watergate? Or a transparent sham? Whatever else it may be, the story of Donald Trump and Russia comes down to this: a sitting president or his campaign is suspected of having coordinated with a foreign country behind the scenes of the election that put him in office.
Trump strongly denies all wrongdoing and calls the inquiry a "witch-hunt". But prosecutors see red flags everywhere.
The affair has the potential to eject Trump from the White House. But with the president protected by Republicans in Congress and impeachment a longshot historically, Trump's fate probably lies in the ballot box.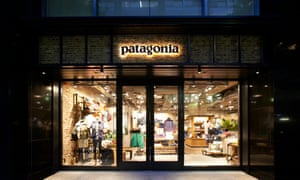 Patagonia and its partners warned they were ready to go to court last summer, after the Trump administration indicated that it was serious about carving up Bears Ears. Photograph: Patagonia
A trail run that began years ago in the desert of Utah has brought outdoor retailer Patagonia to an unexpected – and considerably less scenic – crossroads, at a federal courthouse in Washington DC.
The company filed a complaint on Wednesday accusing Donald Trump of exceeding the powers of his office earlier this week when he ordered that Bears Ears national monument be reduced in size by 85%.
The president framed the action as a correction of earlier federal overreach. Barack Obama established the monument at 1.3m acres one year ago, in a move Republicans in Utah's legislature compared at the time to "the unilateral tyranny exercised by the King of England against the American colonies two and a half centuries ago".
But Patagonia's lawsuit asserts that Trump is the one playing king, by enacting the largest removal of protection from federal lands in history.
The complaint, which was joined by a coalition of conservation groups, was filed in parallel with a separate lawsuit joined by five Native American tribes who say the president's move endangers sacred sites.
Obama established Bears Ears following a request from the inter-tribal coalition that cited increasing thefts and vandalism at more than 100,000 native cultural sites in the area.
While it's not unheard of for corporations to sue the government, it's also not an obvious business play. But anyone who doubted Patagonia's willingness to swap backpack for briefcase in the long-running battle over Bears Ears and other public lands had their answer on Wednesday.
"We haven't shied away from making our beliefs known, and I don't think we're going to get shy now," said Robert Tadlock, a lawyer with Patagonia, in a phone interview on Thursday.
"This is certainly a step we've never taken before in this context. But the president's decision is unprecedented. And so it calls for a different kind of response."

Patagonia's website. Photograph: Patagonia
A fixed-screen, black-and-white statement on the company's web site is more pugnacious. "The president stole your land," it reads, calling the reduction "an illegal move" and inviting visitors to join a network of activists and post about the issue on social media.
Patagonia and its partners warned they were ready to go to court last summer, after the Trump administration indicated that it was serious about carving up Bears Ears.
Apart from a lingering resentment of Obama, Utahans opposed to the Bears Ears monument have expressed seemingly clashing concerns – they are worried about potential environmental impact from increased tourism to the area; yet they also insist upon the right to preserve access to the land for energy and drilling interests.
Proponents of the monument point out that federal dollars are needed to preserve the area's cultural sites and to manage tourism, which could provide a much-needed economic boost for the region.
National monuments are protected sites of historical, cultural or scientific interest managed by a patchwork of federal agencies.
Legal analysts disagree on whether the president has the authority to shrink Bears Ears and similar conservation sites without action by Congress.
"The president doesn't have the authority under the Antiquities Act to do what he did," said Tadlock, Patagonia's lawyer, referring to the 1906 law giving the president the power to create a monument. "The executive only has power to manage federal land to the extent Congress grants that power."
In a letter sent to the interior secretary, Ryan Zinke, in July, 121 legal scholars supported that theory.
But the opposing view has been advanced by Todd Gaziano of the Pacific Legal Foundation and professor John Yoo, best known for his work in the George W Bush administration to strike torture from the list of war crimes.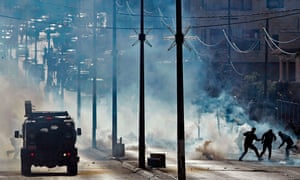 Palestinian protesters clash with Israeli security forces near an Israeli checkpoint in Bethlehem. Photograph: Musa Al-Shaer/AFP/Getty Images
A Palestinian was shot dead in Gaza by the Israeli army on Friday, the Palestinian health ministry said, the first person killed in clashes that began after Donald Trump's recognition of Jerusalem as Israel's capital on Thursday.
Palestinian protesters clashed with Israeli troops across the West Bank as worshippers throughout the Muslim world took to the streets after the weekly Friday midday prayers to protest against Trump's decision.
The confrontations came as Rex Tillerson, US secretary of state, suggested that any move of the US embassy from Tel Aviv to Jerusalem – as called for by the US president – could take at least two years.
Despite calls for a day of rage, Palestinian protesters turned out in smaller numbers than they did on Thursday in the immediate aftermath of Trump's controversial speech, allowing reinforced Israeli troops, who had been anticipating clashes, to easily manage the confrontations.
The main focus remained on the diplomatic front, where US officials were still scrambling to limit the fallout of a move that shocked Washington's allies, both in its clumsiness and for shattering the long-established international consensus on the question of Jerusalem.
The controversy appears to have opened up opportunities for Vladimir Putin, Russia's president, who is due to discuss the issue during talks with the Turkish president, Recep Tayyip Erdo?an – who has been one of the most vociferous in condemning Trump's actions – on Monday, and with Egypt's leader, Abdel-Fattah el-Sisi, later in the week.
The UN security council was also due to meet later on Friday in an emergency session to discuss Trump's move, which has drawn near-universal condemnation, including from the UN secretary general, António Guterres.
Whether unrest would spread and spiral, both in the Palestinian territories and elsewhere in the region, was being closely watched.
In Bethlehem, where some of the biggest clashes on Friday occurred, several hundred Palestinians sporadically moved forward to throw stones at Israeli soldiers from behind burning tyres billowing black smoke, before being driven back by volleys of teargas, sponge-topped riot rounds and plastic-coated pellets.
Confrontations also took place in Jerusalem and other locations.
The clashes erupted as Mahmoud Abbas, the Palestinian president, prepared for 24 hours of urgent consultations with other Palestinian factions, including Hamas, which was expected to conclude with a declaration that he was cutting ties with the US peace negotiators as well as cancelling a meeting with the US vice-president, Mike Pence, who is visiting later this month.
The relatively low levels of violence at the demonstrations took place as Palestinian officials confirmed that Abbas had ordered his security forces to ensure that trouble did not escalate to more dangerous levels, amid calls from some quarters for a third intifada.
Trump's seismic policy shift on Jerusalem has angered Arabs and Muslims, who view it as an expression of blatant pro-Israel bias on one of the region's most explosive religious and political disputes.
Protesters also marched throughout the Arab world from Lebanon to Egypt and Jordan to protest against the decision, with no sign of the crisis in sight, following calls from different militant groups in the region – from Iraq to Afghanistan – to attack American interests. Marches were staged in Iran, Indonesia, Malaysia, Pakistan and Jordan.
Among the groups that have called for attacks on Americans are al-Qaida and Islamic State (Isis). Israeli security agencies are also concerned that the anger could lead to a return to lone-wolf attacks against Israelis by individuals largely unconnected with the main Palestinian factions.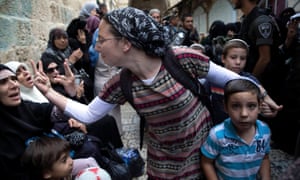 Ne'er the twain: an Israeli woman and a Palestinian woman gesture at each other during a protest in Jerusalem's Old City. Photograph: Finbarr O'Reilly/Reuters
I

n 2015 a BBC2 documentary, Children of the Gaza War, brought a flurry of complaints. One of the Palestinian children interviewed said in Arabic that "the Jews" are killing Palestinians. However, the English subtitles translated this as "Israel is massacring us". Many Jewish and Israel-supporting viewers accused the BBC of intentionally downplaying Palestinian antisemitism. The documentary's maker, Lyse Doucet, stood by the subtitle, saying: "We talked to people in Gaza, we talked to translators. When [the children] say 'Jews', they mean 'Israelis'. We felt it was a better translation of it." Israel has existed around Gaza for nearly 70 years and children there are still calling their Israeli neighbours Jews.
Ian Black opens his excellent new history of the Israel-Palestine conflict, Enemies and Neighbours, with a note on terminology titled Language Matters. He points out that in colloquial Arabic used by the Palestinians, Israelis are still often called "Yahud" – Jews. On the other hand, while until 1948, the year of Israel's establishment, the term "Palestinians" usually referred to all inhabitants of Palestine, including Jews, it only gradually came to be used to describe one side in the conflict. Only in recent decades have Israelis started to differentiate their next-door neighbours from the rest of the neighbourhood, calling them "Palestinians" instead of the more amorphous "Arabs". Words matter. They are the building blocks of the contradicting narratives each side has continued telling themselves, and the world.
Narratives are meticulously broken down and reshaped by inconvenient facts
Palestinian-Israeli writer Odeh Bisharat is quoted: "If there is no shared narrative of the past, then let us at least write one of the future." But as Enemies and Neighbours expertly describes, Israelis and Palestinians have spent the last century escaping each other's narratives and are still doing nothing to write a new one.
A veteran reporter and former Guardian Middle East editor, Black spent decades immersed in both Israeli and Palestinian societies, fluently speaking their languages. He notes how the Hebrew and Arabic used by the warring communities, as well as their culture and daily lives, have been affected and formed by the conflict. How the Jews, who began to arrive in the late 19th century, or "return" as they would have it, gradually coalesced into a new Israeli society. And how the Arabs living in Palestine began to define themselves as a distinct national group, in a large part as a reaction to the Zionist arrival and entrenchment.
As Black notes, "The Israel-Palestine issue has a strong claim to be the most closely studied conflict on Earth." He justifies adding another volume to the bulging bookcase, not only by bringing us up to date on the latest developments and new research, but – a rarer thing – giving equal attention to each side and charting how the different Palestinian communities were created. Following Israel's war of independence in 1948 and the Nakba – the uprooting of 700,000 Palestinians from their homes – war, exile and occupation led to separate evolutionary paths. These communities include the Palestinians who remained under Israeli jurisdiction, those who lived in the West Bank, the Gaza Strip and in refugee camps, and émigré communities in surrounding Arab states. The interplay among these groups and between them and Israel is a dynamic often overlooked.
Enemies and Neighbours will not make easy reading for partisans on either side. Narratives are meticulously broken down and reshaped by inconvenient facts. Black uses an array of sources highlighting how, from the start of the Zionist initiative, neither its ideologues nor the majority of the early Jewish settlers had any interest in building a nation together with the native population. While he chooses not to take a clear position in the historical debate over whether the Palestinian displacement of 1948 was premeditated ethnic cleansing, he does describe how in many places the banishment of communities and the destruction of their villages was intentional. His account of the second-class status of Israeli-Palestinian citizens and of daily life for the millions who have lived under Israeli military rule since the six-day war of 1967 is detailed and harrowing.
But the Palestinians in this book are far from docile victims, devoid of their own agency. They were a large majority and had support from the neighbouring Arab nations. They squandered the upper hand largely through their own mistakes. Black describes how the early Jewish settlements were built on land that Palestinians, including secretly some of the most strident nationalist leaders, willingly sold to the Zionists (a chapter in their history, Black notes, the Palestinians have yet to confront). How they were quick to resort to murderous violence against the Jews from a very early stage in the conflict, and how their own disunity, which often took the shape of internecine killings of rivals and "collaborators", was a key factor in their downfall.
Unlike previous histories of the conflict, this pays less attention to the diplomatic affairs of the world powers that played a role in the region and in Arab-Israeli relations. For some readers, this will feel like a drawback, but its relentless focus on Israelis and Palestinians, to the near exclusion of other players, is one of its strengths.
The greatest myth of the conflict is that both sides are the proxies of much greater powers. But in recent decades, most of the Arab nations have quietly accommodated Israel's presence, engaging in not-so-secret alliances against joint enemies. The world powers have focused on other, more pressing, events in the region – Iraq, Syria, the rise and fall of Isis. The Israel-Palestine conflict remains one between two enemies who refuse to accept their fate to live as neighbours.

Amazon river dolphins, a foraging raccoon and a snow-covered swan lake are among this week's pick of images from the natural world