09 Dec
News and Analyses, A Foreign Perspective
Nearly all of these are English-edition daily newspapers. These sites have interesting editorials and essays, and many have links to other good news sources. We try to limit this list to those sites which are regularly updated, reliable, with a high percentage of "up" time.

Footage from Canada's Arctic shows emaciated animal seeking food in scene that left researchers 'pushing through their tears'
Video footage captured in Canada's Arctic has offered a devastating look at the impact climate change is having on polar bears in the region, showing an emaciated bear clinging to life as it scrounged for food on iceless land.
The scene was recorded by the conservation group Sea Legacy during a late summer expedition in Baffin Island. "My entire Sea Legacy team was pushing through their tears and emotions while documenting this dying polar bear," photographer Paul Nicklen wrote on social media after publishing the footage this week.
The video shows the bear struggling to walk as it searches for food. The bear eventually comes across a trashcan used by Inuit fishermen, rummaging through it with little luck.
The bear, which was not old, probably died within hours of being captured on video, said Nicklen. "This is what starvation looks like. The muscles atrophy. No energy. It's a slow, painful death."
The film-makers drew a direct line between the bear's state and climate change. "As temperatures rise and sea ice melts, polar bears lose access to the main staple of their diets – seals," the video noted. "Starving, and running out of energy, they are forced to wander into human settlements for any source of food."
My entire @Sea_Legacy team was pushing through their tears and emotions while documenting this dying polar bear. It's a soul-crushing scene that still haunts me, but I know we need to share both the beautiful and the heartbreaking if we are going to break down the walls of apathy. This is what starvation looks like. The muscles atrophy. No energy. It's a slow, painful death. When scientists say polar bears will be extinct in the next 100 years, I think of the global population of 25,000 bears dying in this manner. There is no band aid solution. There was no saving this individual bear. People think that we can put platforms in the ocean or we can feed the odd starving bear. The simple truth is this—if the Earth continues to warm, we will lose bears and entire polar ecosystems. This large male bear was not old, and he certainly died within hours or days of this moment. But there are solutions. We must reduce our carbon footprint, eat the right food, stop cutting down our forests, and begin putting the Earth—our home—first. Please join us at @sea_legacy as we search for and implement solutions for the oceans and the animals that rely on them—including us humans. Thank you your support in keeping my @sea_legacy team in the field.
The association echoed a 2015 study from the International Union for the Conservation of Nature that ranked climate change as the single most important threat to the world's 26,000 polar bears. Researchers – who described the bears as the canary in the coal mine – found a high probability that the population would decrease 30% by 2050 due to the changes in their sea ice habitat.
As climate change boosts Arctic temperatures, sea ice – crucial to the bears for hunting, resting and breeding – is melting earlier in spring and refreezing later in autumn. The growing number of ice-free days could push the species past a tipping point with widespread reproductive failure and starvation in some areas, the report noted.
Satellite data published last year revealed that the number of ice-covered days across the 19 Arctic regions inhabited by polar bears declined at a rate of seven to 19 days per decade between 1979 to 2014.
Since posting the footage, Nicklen has been asked why he and his team did not help the bear. "Of course, that crossed my mind," he told National Geographic. "But it's not like I walk around with a tranquilizer gun or 400 pounds of seal meat." Feeding polar bears is also illegal in Canada.

World Politics
United States
President lashes out at Beverly Young Nelson who claims Moore sexually assaulted her when she was 16
Ben Jacobs in Pensacola, Florida
Donald Trump has given his wholehearted backing to Roy Moore, the Republican Senate candidate in Alabama facing allegations of sexual assault, in a Yuletide-themed rally just over the state line in Florida.
Speaking before green and red signs saying "Merry Christmas, Make America Great Again", Trump not only gave an ardent endorsement of Moore but cast doubt on the claims of one of the women who has accused Moore of sexually assaulting her as a teenager.
Trump joined the Moore campaign in attacking the credibility of one accuser, Beverly Young Nelson, who said Friday she added an inscription to a high school yearbook signed by the Alabama Republican. "Did you see what happened today? You know, the yearbook? Did you see that? There was a little mistake made," said Trump. "She started writing things in the yearbook." He went on to attack the credibility of her lawyer, Gloria Allred. "Any time you see her you know something's gone wrong."
Nelson had used the yearbook as evidence to back her claims that Moore sexually assaulted her when she was a 16-year-old waitress, in 1977.
Trump also criticised Moore's opponent, Democrat Doug Jones, as a "liberal democrat" and a "total puppet" before closing his pitch by saying "We want jobs, jobs, jobs, so get out and vote for Roy Moore."
The president has initially been cautious in his embrace of the controversial candidate, who was twice removed from office as Alabama's chief justice for defying federal courts and has frequently made remarks considered homophobic. Most recently, Moore blamed the allegations against him on a conspiracy that includes "lesbians, gays, bisexuals and socialists".
However, Trump has supported Moore on Twitter in recent days. He said Friday morning "LAST thing the Make America Great Again Agenda needs is a Liberal Democrat in Senate where we have so little margin for victory already. The Pelosi/Schumer Puppet Jones would vote against us 100% of the time. He's bad on Crime, Life, Border, Vets, Guns & Military. VOTE ROY MOORE!"
The tweet marked the culmination of an evolution where Trump, who backed Moore's opponent Luther Strange in the primary, had initially been hesitant to tie himself to the conservative firebrand after the initial allegations against him. However, Trump has become more positive about Moore in recent years.
Steve Bannon backed Strange too but the former top White House aide has long supported Moore and will appear on his behalf at an election eve rally in South Alabama.
In addition to touting Moore, Trump also hit a variety of familiar themes. He dwelt heavily on his electoral victory as well as repeated attacks on "fake news". In particular, he singled out a reporting error made by ABC News over the prosecution of Mike Flynn and suggested attendees sue for stock market losses that resulted.
Trump also warned darkly about "very bad, evil people" who were trying to sabotage his effort to "drain the swamp". He said the system was "corrupt" and "rigged" but insisted they were being stopped.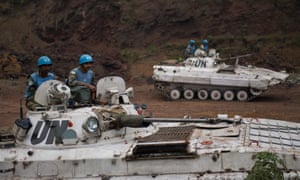 Indian peacekeepers in the east of the Democratic Republic of the Congo in 2013. Most of the casualties of the attack on the UN base were Tanzanian. Photograph: Phil Moore/AFP/Getty Images
Heavily armed militants have killed at least 15 peacekeepers and five soldiers in the Democratic Republic of the Congo (DRC) in one of the worst attacks on United Nations personnel in recent memory.
More than 50 peacekeepers were left wounded after fighters from a local Islamist extremist group overran a remote base in the east of the vast central African country after hours of confused fighting late on Thursday.
Many casualties are in a critical condition and the death toll is expected to rise.
António Guterres, the UN secretary general, described the attack as the worst in the UN's recent history and "a war crime".
"Today is a very tragic day for the UN family … I condemn this attack unequivocally," Guterres said.
The loss is the most serious suffered in a single day by the UN since 24 Pakistani soldiers were killed in an ambush in Somalia in 1993. Local officials said Congolese army troops stationed several miles from the base also sustained casualties when they attempted to come to the aid of the UN forces, but were ambushed and beaten back.
The UN mission in DRC said on Friday it was coordinating medical evacuations from the base, situated near a bridge on the river Semuliki, 25 miles (40km) north-east of the town of Beni.
Details have emerged of a well-coordinated and complex operation launched at dusk. The attackers, armed with mortars and rocket-propelled grenades, destroyed two armoured personnel carriers, an ambulance and a truck before withdrawing.
UN attack helicopters have limited night vision equipment and remained grounded throughout the four-hour assault.
Most of the dead and wounded are believed to be from Tanzania, which has more than a thousand soldiers serving as peacekeepers in DRC. The base was home to the peacekeeping mission's rapid intervention force, which has a rare mandate to go on the offensive.
The Tanzanian contingent is generally considered among the better armed and trained elements of the 21,000-strong UN force.
Rival militia groups still control swaths of mineral-rich eastern DRC, nearly a decade and a half after the official end of a 1998-2003 war that killed millions of people, mostly from hunger and disease.
The attack on the base has been blamed by the UN on the Allied Democratic Forces (ADF), a local group that adheres to a rigorous Islamist vision and has a history of violence.
Jason Stearns, director of the Congo Research Group at New York University, said: "The ADF is an Islamist armed group which imposes discipline based on a strict interpretation of the sharia and which is known to be extremely brutal. It is very likely the ADF were involved but also other groups … The ADF have been in the area for 20 years and has deep links with all kinds of people."
The ADF has launched a series of bloody attacks in recent months. UN forces and national Congolese troops have mounted operations against the group. A peacekeeper was shot and killed during a firefight in September.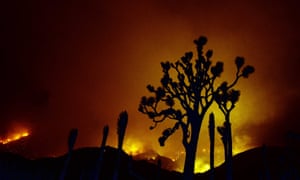 'The effect of climate change on extreme weather has been dramatically undercovered' Photograph: Enterprise/Rex/Shutterstock
W

hich story did you hear more about this year – how climate change makes disasters like hurricanes worse, or how Donald Trump threw paper towels at Puerto Ricans?
If you answered the latter, you have plenty of company. Academic Jennifer Good analyzed two weeks of hurricane coverage during the height of hurricane season on eight major TV networks, and found that about 60% of the stories included the word Trump, and only about 5% mentioned climate change.
Trump doesn't just suck the oxygen out of the room; he sucks the carbon dioxide out of the national dialogue. Even in a year when we've had string of hurricanes, heatwaves, and wildfires worthy of the Book of Revelation – just what climate scientists have told us to expect – the effect of climate change on extreme weather has been dramatically undercovered. Some of Trump's tweets generate more national coverage than devastating disasters.
Good's analysis lines up with research done by my organization, Media Matters for America, which found that TV news outlets gave far too little coverage to the well–documented links between climate change and hurricanes. ABC and NBC both completely failed to bring up climate change during their news coverage of Harvey, a storm that caused the heaviest rainfall ever recorded in the continental US. When Irma hit soon after, breaking the record for hurricane intensity, ABC didn't do much better.
Coverage was even worse of Hurricane Maria, the third hurricane to make landfall in the US this year. Not only did media outlets largely fail to cover the climate connection; in many cases, they largely failed to cover the hurricane itself.
The weekend after Maria slammed into Puerto Rico, the five major Sunday political talkshows devoted less than one minute in total to the storm and the humanitarian emergency it triggered. And Maria got only about a third as many mentions in major print and online media outlets as did Harvey and Irma, researchers at the MIT Media Lab found.
The media has a responsibility to report the big story, and to help the public understand the immediacy of the threat
When Trump visited Puerto Rico on 3 October, almost two weeks after Maria assailed the island, he got wall-to-wall coverage as journalists reported on his paper-towel toss and other egregious missteps. But after that trip, prime-time cable news coverage of Puerto Rico's recovery plummeted, Media Matters found, even though many residents to this day suffer from electricity outages and a lack of clean water, a dire situation that deserves serious and sustained coverage.
Scientists have been telling us that climate change will make hurricanes more intense and dangerous, an unfortunate reality made all too clear by this year's record-busting hurricane season. "These are precisely the sort of things we expect to happen as we continue to warm the planet," climate scientist Michael Mann, a distinguished professor of atmospheric science at Penn State, told Huffington Post.
But while nearly three-quarters of Americans know that most scientists are in agreement that climate change is happening, according to recent poll, only 42% of Americans believe climate change will pose a serious threat to them during their lifetimes. Too many still believe – wrongly – that climate disasters are just something that will happen in the future. They are happening now.
In the first nine months of 2017, the US was assailed by 15 weather and climate disasters that each did more than a billion dollars in damage – in the case of the hurricanes, much more. The combined economic hit from Harvey, Irma and Maria could end up being $200bn or more, according to Moody's Analytics. And then in October, unprecedented wildfires in northern California did an estimated $3bn in damage.
Climate change can be hard to see and intuitively grasp. It's a relatively slow-moving scientific phenomenon caused by pollution from all around the globe. It's not usually dramatic to watch like a candidate debate or the fallout from a White House scandal.