10 Dec
News and Analyses, A Foreign Perspective
Nearly all of these are English-edition daily newspapers. These sites have interesting editorials and essays, and many have links to other good news sources. We try to limit this list to those sites which are regularly updated, reliable, with a high percentage of "up" time.

World Politics
United States
I

s Donald Trump about to turn America into Kansas? It's a question some worried people who live in the state are asking as the Republican party pushes through the biggest tax overhaul in a generation – an overhaul that, they claim, bears an uncanny resemblance to a tax plan that left their midwestern home in disarray.
After a failed economic experiment meant to boost economic growth blew a hole in the Kansas budget as big as a prairie sky (a $350m deficit in the current fiscal year and nearly $600m in the next) state jobs and services have been slashed.
Prison guards are sharing stab vests at the El Dorado maximum security prison in southern Kansas. At the end of a shift, the sweat-soaked vests, worn all day in a facility without air conditioning, are passed to the next person by guards, many of whom are coming off 12- or 16-hour shifts.
Jail cells designed to hold one inmate are housing three or four at Ellsworth correctional facility. Riots have broken out at other prisons. The family of one guard who recently killed himself told union reps stress and over-work were to blame.
Next year, the state faces a school shutdown after the supreme court found its educational spending was unconstitutionally low. Some of those schools have already had to shorten the school year in order to save cash.
To make ends meet, money that was earmarked for roads has been diverted to the general fund. A state that used to maintain 1,200 miles of road a year is now repairing 200 miles a year. Even in the capital, Topeka, potholes are everywhere.
The crisis follows the 2012 passage of a tax plan by Kansas governor Sam Brownback that he dubbed "the march to zero".
Individual state income tax rates dropped from 6.4% to 4.9% – with the intention of getting rid of them altogether eventually. Taxes were eliminated on so-called pass through entities – businesses where taxes are collected at the rate of the business owner and not at the corporate rate. The plan would provide a "shot of adrenaline" to the Kansas economy, Brownback claimed.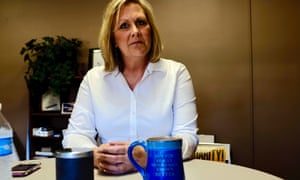 Lisa Ochs, president of American Federation of Teachers-Kansas. "I just hope the country can listen to us. Don't do what we did." Photograph: Dominic Rushe for the Guardian
Instead, the state's revenues collapsed. Rich people who had been paying high taxes became "pass-through entities". The state's coffers emptied and the promised economic miracle failed to materialize.
Lisa Ochs, president of the American Federation of Teachers-Kansas, said Brownback's plan is a scale model of Trump's plans. He, too, intends to cut taxes for businesses and give big breaks to the rich in a plan he says will provide "rocket fuel" for the American economy.
"There never was a shot of adrenaline. If anything, that shot put the state on life support," she said. "It's the same thing that Trump is saying: there's going to be tremendous job growth. Well, that didn't happen either. It's going to take an entire generation to undo this damage."
Ochs said: "I just hope the country can listen to us. Don't do what we did."
Job growth in the state lags behind neighboring Missouri. The cuts to pass-through businesses gave some small businesses a small tax break – but didn't spark the promised hiring boom.
The backlash has become so fierce that state employers are taking notice. Staff at the woefully understaffed Larned State hospital were recently warned not to speak to the media or their own legislators.
Hospital executives have since attempted to "clarify" the memo and dropped the directive – arguing it was never meant to silence workers. Workers, however, say there is a clear intent to stop them for speaking out.
One local hospital worker said: "There is a climate of fear. There are only three major employers where I live: the state, Walmart and Lakemary Center [a facility for children with intellectual/developmental disabilities]. It's hard to get a job here." The employee gave their name but the Guardian decided to withhold it for fear of jeopardizing the person's job.
Sarah LaFrenz Falk, president of the Kansas Organization of State Employees ,who recently spoke to Congress about her fears about the Republican tax plan, said she sees an agenda in the Brownback plan – one that is mirrored in Trump's plan: give huge tax breaks to super-rich donors [the rightwing, union-bashing Koch brothers are Kansas's richest residents], then hand them a second win by cutting services, waiting for those services to buckle under the strain and then argue the private sector can do it better.
"They did what their donors wanted," LaFrenz Falk said. Seeing the same plan enacted on a national scale is "very frightening," she said. "History is littered with examples of cultures that allowed the wealthy to take over and forgot about the rest. What happens next? It doesn't end well. How does that look in a country with no gun control?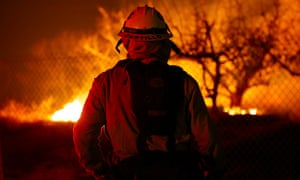 A firefighter keeps his eye on the Lilac fire in Bonsall, California. Photograph: Francine Orr/LA Times via Getty Images
Guardian staff and agencies
California governor Jerry Brown on Saturday saw for himself the "existential consequences" of huge and deadly wildfires in the state.
He did so having told network TV that Donald Trump did not appreciate that actions such as withdrawing the US from the Paris climate deal might contribute to more such devastating events.
Firefighters continued to battle six wind-whipped blazes that authorities said on Sunday have destroyed more than 1,000 homes and other buildings. The fires have also forced more than 200,000 people to flee and choked the air across much of the region.
Forecasters predicted wind gusts to become more intense by Saturday night, challenging the 8,700 firefighters who have been battling the blazes for five days.
Brown surveyed damage from the Thomas Fire and met emergency management officials and residents.
"This is the new normal," he said. "We're about ready to have firefighting at Christmas. This is very odd and unusual."
Speaking to CBS 60 Minutes in an interview scheduled to be broadcast on Sunday night, the governor said Trump was wrong to withdraw the US from the Paris climate agreement and misguided for calling it a bad deal for America.
"That's a preposterous idea, not even a shred of truth in that statement," he said. "I don't think President Trump has a fear of the Lord, the fear of the wrath of God, which leads one to more humility, and this is such a reckless disregard for the truth and for the existential consequences that can be unleashed."
The Thomas fire is the largest of six that have scorched southern California this week, prompting Brown to declare a state of emergency. From Ventura County to San Diego County, fires have destroyed more than 500 buildings.
One human death has been blamed on the Ventura blaze: that of a 70-year-old woman who crashed her car while evacuating.
A 500-stall stable for thoroughbred race horses at San Luis Rey Downs training site burned late on Thursday, the Los Angeles Times reported.
An estimated 25 to 30 horses died, in addition to 29 horses killed in LA earlier in the week. A trainer suffered second- and third-degree burns over half her body trying to rescue horses, the newspaper said. She was airlifted to a San Diego hospital and placed in a medically induced coma.
The fires have put property worth billions of dollars at risk after wildfires in the northern part of the state in October resulted in insured losses of more than $9bn. Those fires, concentrated in wine country, killed 43 people.
Firefighters were on high alert for dangerous fire potential even before the first blazes broke out. On 1 December, they began planning for extreme winds forecast in the week ahead.
Ken Pimlott, chief of the California Department of Forestry and Fire Protection, said authorities were prepared for destruction on the level of 2003 and 2007 firestorms in southern California and possibly those in northern California this year. By Monday, they had moved fire crews from the northern part of the state as reinforcements and marshaled engines, bulldozers and aircraft.
On Tuesday they brought in more helicopters from the national guard and "every last plane we could find in the nation," said Thom Porter, southern chief of the California Department of Forestry and Fire Protection.
The military provided C-130 planes for water drops, said Mark Ghilarducci, director of the California Office of Emergency Services. More than 290 fire engines came from Montana, Utah, New Mexico, Idaho, Arizona, Oregon and Nevada.
But once flames met ferocious winds, crews were largely powerless to stop them. Even fire-attacking aircraft were helpless while being grounded at times because of night, high winds or smoke.