11 Dec
News and Analyses, A Foreign Perspective
Nearly all of these are English-edition daily newspapers. These sites have interesting editorials and essays, and many have links to other good news sources. We try to limit this list to those sites which are regularly updated, reliable, with a high percentage of "up" time.

World Politics
United States
Supporters of the Dreamers rally on the Senate steps in Washington on 6 December 2017. Photograph: Yuri Gripas/Reuters
Osmar Abad Cruz likes to say his mom is the "original Dreamer". In the early 1990s, she crossed the border from Mexico into the US to give her children a chance at a better life.
Nearly 25 years later, Abad Cruz, now 29, is living the life his mother wanted him to have. He graduated from college, works as a human resources director at a nonprofit and hopes to attend law school next year. This was possible in large part thanks to an Obama-era program known as Deferred Action for Childhood Arrivals, or Daca,, which shielded nearly 800,000 young immigrants brought to the US as children from the threat of deportation.
Those children – many of whom are now adults – have become known as Dreamers.
"It was life-changing," said Abad Cruz, who still lives and works in San Diego, where he grew up.
Abad Cruz's future now hangs in the balance. In September, Trump announced that he was canceling the Daca program and gave Congress until March 2018 to find a legislative solution. Should lawmakers fail to come up with a replacement, Dreamers would find themselves exposed to deportation.
Democrats and some Republican lawmakers believe the next two weeks offer the best and perhaps only chance to enact legislation that would grant these young immigrants legal status. In return, congressional Republican leaders and the Trump administration want increased border security, tighter controls on immigration or both.
Abad Cruz is one of the many immigrants who worry that a bipartisan compromise might carry too high a personal cost: legal status at the expense of an increased risk of deportation for their undocumented friends and relatives who do not qualify for relief.
The concern is particularly acute for Dreamers whose families live along the US-Mexico border, where additional federal agents would likely be dispatched.
Activists are furiously lobbying Congress to pass a "clean" Dream Act, a bill first introduced in 2001 that would offer a pathway to citizenship for young immigrants brought to the US illegally as children. They are pressuring Democrats to reject any legislative proposals that would boost border enforcement, a demand that has become a sticking point in the fragile negotiations over the fate of the Dreamers.
"I cannot accept a ticket to the American Dream at the expense of my mom being deported," Abad Cruz said.
"She cleaned offices for a living so we didn't have to. She pushed us to become somebody. How can I turn my back on her and support something that has draconian immigration policies that will harm my community, my family?"
'We are not political pawns': the fight for a 'clean' Dream Act
In the next two weeks, Republicans, who control both chambers of Congress, must pass a bill to keep the government running and they cannot do it alone. Democrats have demanded that the measure include protections for Dreamers as the price for supporting a spending bill.
Republican leaders Mitch McConnell and Paul Ryan do not want to tie the issues together and argue that there is no urgency to address it before the March deadline. They argue that the plight of the Dreamers is a consequence of decades of bad immigration policy and a porous border.
I cannot accept a ticket to the American Dream at the expense of my mom being deported

Osmar Abad Cruz, Dreamer
Yet several Democrats have vowed to withhold their support if the measure does not include relief for the young immigrants, setting the stage for a potential government shutdown over the fate of Dreamers.
"We will not leave here without a Daca fix," Nancy Pelosi, the House minority leader, pledged last week. Senator James Lankford, a Republican supporting a compromise immigration plan, replied wryly: Washington "is a beautiful place at Christmastime".
"This myth that other groups of immigrants have to suffer in exchange for one group of immigrants is a non-starter for us," said Adrian Reyna, director of membership for United We Dream and a Daca recipient. "We are not political pawns. You cannot use our lives to advance your political agenda."
Yet Donald Trump fueled his presidential campaign with inflammatory rhetoric on immigration. As president, he faces pressure to deliver on his pledges to build a wall along the US southern border and deport immigrants living in the country illegally.

8.30am: today could change their lives forever
In late October, at a Dunkin' Donuts in lower Manhattan, a crowd of 40 volunteers gathered around Joe and Mei Chen and their three children.
An undocumented couple, the Chens were on their way to a check-in appointment with Immigration and Customs Enforcement (Ice). That morning, they faced the prospect of being separated from their US-born children, taken into detention, and deported to China.
The volunteers wore long-tailed "S" symbols pinned to their lapels, signifying "Sanctuary for all". They were with the New Sanctuary Coalition (NSC) of New York City, an interfaith network seeking to build solidarity with the nation's 11 million undocumented immigrants.
Every weekday, volunteers go to court hearings and Ice check-ins with undocumented people facing final removal proceedings. "It's not as easy to violate someone's rights if there are witnesses," said Sara Gozalo, NSC's supervising organizer.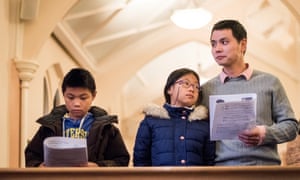 Joe Chen and his children at the Lutheran Church of the Good Shepherd in Brooklyn. Photograph: Ali Smith
The crowd slowly headed to Ice's offices at 26 Federal Plaza. At a security checkpoint with metal detectors, armed guards chanted: "Keys, phone, belt, watch. Pockets empty."
Gozalo whispered, "This place is a black hole of despair."
8.45am: going through security at Ice
On the ninth floor, where Ice's Enforcement and Removal Operations office is located, the group hugged the Chens goodbye.
"We love you, Joe and Mei, we're praying for you," called the Rev Donna Schaper, of Judson Memorial church. "We hope to see you very soon."
With their attorney, the Chen family entered a windowless, fluorescent-lit waiting room, packed with some 130 people in final removal proceedings. Most stared grimly into space; some hushed crying babies. Signs commanded, "NO CELL PHONES, NO EATING, NO DRINKING." Fox News played on a wall-mounted TV.
Joe's body was shaking. While he waited, he contemplated Psalm 91, a favorite prayer, and tried not to think about stories of immigrants like Andrés Magaña Ortiz, a coffee farmer who was deported in July after 28 years in the US. Joe considers Ortiz's case similar to his own: "No criminal history, father of three American citizens."
The Chens sat for two hours, facing a bronze eagle clutching arrows in its talons.
Soon, they would have an answer that could shatter their future.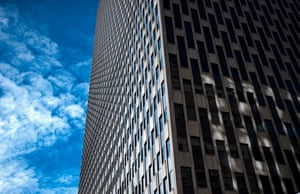 26 Federal Plaza, which houses the Ice offices in New York. Photograph: Ali Smith
The turnout for the Chens' hearing was especially big, in part because Joe Chen co-founded the NSC in 2007 – and also because it was the family's first Ice check-in under President Trump.
"Since summertime, we've had sleepless nights," said Joe, who owns two Brooklyn restaurants. "Under Obama, you could tell the Ice officer, 'Hey, I'm a good churchgoing person, taxpayer, father, businessman, community man,' and he'd say, 'keep doing good work and everything will work in your favor.' But this year, we really didn't know what was going to happen……………………
11.20am: The Chens are ushered into a cell
While the Jericho Walk circled, an officer called Joe and Mei's "A-numbers" – short for "Alien Numbers" – and ushered them into a cell with their lawyer. The kids waited outside with Mei's mother.
"Immediately, the Ice officer said it showed 'poor judgment' that we'd brought our kids to the check-in," Joe said. "He said they should be in school."
This was exactly the reaction the Chens had feared: for weeks, they had deliberated over whether to bring the kids.
"I explained the situation to the officer: 'The kids are concerned they'll be separated from their parents,'" Joe said. "We'd let the kids decide. They took a vote. We had a democratic process. They all decided to come. But the officer insisted it was poor judgment. He said he's a father, too, and parents should tell their kids what to do.
"But we changed the dynamic," Joe said. "I told him, I understand he's just doing his job. He said, yes, he's getting a lot of pressure from his supervisor, who's getting pressure from DC. I asked, would you like to be separated from your kids? He didn't answer. But I was able to speak with dignity, human to human, explaining our struggle, our values, why they shouldn't separate our family. If we're serving our community, why would the government want to bother us? NSC gave me the courage to fight."
Related: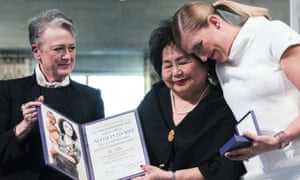 Leader of the Nobel committee Berit Reiss-Andersen, left, presents the award to Hiroshima survivor Setsuko Thurlow and Beatrice Fihn, leader of International Campaign to Abolish Nuclear Weapons in Oslo. Photograph: Berit Roald/AP
The destruction of humankind is one "impulsive tantrum away", the Australian-founded winner of the Nobel peace prize, the International Campaign to Abolish Nuclear Weapons, warned overnight on Sunday as the United States and North Korea exchange threats over Pyongyang's nuclear testing regime.
"Will it be the end of nuclear weapons, or will it be the end of us?" the Ican head, Beatrice Fihn, said in Oslo after receiving the peace prize on behalf of the anti-nuclear group.
"The only rational course of action is to cease living under the conditions where our mutual destruction is only one impulsive tantrum away," Fihn said. "[Nuclear weapons] are a madman's gun held permanently to our temple."
Tensions on the Korean peninsula have escalated as Pyongyang has ramped up its missile and nuclear tests, and the accompanying political rhetoric has grown increasingly bombastic: North Korea's leader Kim Jong-un taunted Donald Trump as a "dotard", while the US president dubbed his rival "Little Rocket Man" and a "sick puppy".
Ican led the campaign for a global treaty banning nuclear weapons that resulted in a UN treaty being adopted in July this year, under which states committed to never "develop, test, produce, manufacture, otherwise acquire, possess or stockpile nuclear weapons".
One hundred and twenty-three countries voted for the treaty at the UN general assembly in July. So far, 56 countries have signed up to it and three have ratified it. The ban treaty will come into force when 50 countries have signed and ratified it.
Ican was established in Melbourne in 2007. Its founding chair, Dr Tilman Ruff, associate professor at the Nossal institute for global health at the University of Melbourne, said in Oslo the Nobel was recognition for the millions of campaigners who had worked over decades for the abolition of nuclear weapons.
"That particularly includes the survivors of the atomic bombings of Hiroshima and Nagasaki – the hibakusha – and victims of nuclear test explosions, including in Australia and the Pacific, whose painful personal testimonies have played such a crucial role."
Australia has not supported nor signed the treaty.
But Ruff – who was also a member of International Physicians for the Prevention of Nuclear War when that organisation won the peace prize in 1985 for its work highlighting the catastrophic health consequences of atomic war – urged Australia to follow the lead of New Zealand, Indonesia and other countries in the Asia-Pacific and sign and ratify the accord.
"Nuclear weapons pose an existential threat in any hands and the risks of nuclear war are as high now as they have ever been.
"Yet the current Australian government has done all it can to get in the way of efforts to end this existential threat to humanity."
As a key plank of its foreign policy, Australia has consistently maintained that, as long as nuclear weapons exist, it must rely on the protection of the extended deterrent effect of the US's nuclear arsenal, the second largest in the world.
Australia was a key agitator in preliminary meetings in trying to get the resolution establishing treaty negotiations defeated.
But the push for a treaty won massive global support, with 123 nations voting in favour, 38 opposing and 16 abstaining.

Emotional video in which Keaton describes how he is tormented at school has had more than 18m views since Sunday
A Tennessee woman's heartbreaking video of her tearful son recounting being bullied at middle school has prompted a wave of support from athletes and entertainers.
Kimberly Jones said in a Facebook post on Friday she had just picked up her son, Keaton, from school because he was too afraid to go to lunch.
In the video, Keaton said other students call him ugly, make fun of his nose and tell him he has no friends. He said milk was poured on him and ham was put down his clothes.
"Just out of curiosity, why do they bully?" Keaton said. "What's the point of it? Why do they find joy in taking innocent people and find a way to be mean to them? It's not OK.
"People that are different don't need to be criticized about it. It's not their fault. If you are made fun of, just don't let it bother you."
The video had more than 18m views as of Sunday, and a crowdsourcing page for Keaton's future education had raised more than $29,000.
"We all know how it feels to want to belong," Jones said in her post, "but only a select few know how it really feels not to belong anywhere."
Actors Chris Evans and Mark Hamill were among the celebrities who sent Keaton messages of support.
Also on Twitter, Tennessee Titans tight end Delanie Walker invited the Jones family to an upcoming game, while University of Tennessee wide receiver Tyler Byrd said he and several teammates plan to visit Keaton at school.
Country music star Kelsea Ballerini tweeted that the next time she comes home to her native Knoxville, she wants to be with Keaton to witness the bullies apologize.
Retired race car driver Dale Earnhardt Jr. said on Twitter he wants Keaton to "add me to your long list of friends," and Snoop Dogg said on Instagram that Keaton "has a friend for life" and that "love is the only way to beat hate."