12 Dec
News and Analyses, A Foreign Perspective
Nearly all of these are English-edition daily newspapers. These sites have interesting editorials and essays, and many have links to other good news sources. We try to limit this list to those sites which are regularly updated, reliable, with a high percentage of "up" time.

World Politics
United States
A group of women who have accused Donald Trump of sexually inappropriate behaviour demanded that Congress open an investigation on Monday. The three women – Samantha Holvey, Rachel Crooks and Jessica Leeds – first came forward during the 2016 presidential election but say they hope politicians from across the political divide will now take action in the wake of public support for the #MeToo movement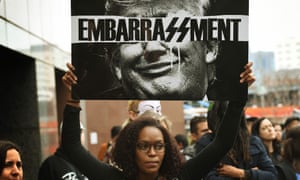 Demonstrators in California protest against Donald Trump's executive order fast-tracking the Keystone XL and Dakota Access oil pipelines. Photograph: Mark Ralston/AFP/Getty Images
The Trump administration's zeal for environmental rollbacks has enabled it to fulfill almost all of the top priorities in a "wishlist" drawn up by the American Petroleum Institute (API), the leading lobby group for US oil and gas companies.
In a document called "comments on specific regulations" sent to the Environmental Protection Agency (EPA) in May, API highlighted eight key changes it wanted to ease the regulation of air and water pollution. An analysis shows that the EPA has now so far either partially or wholly delivered on six out of these eight key demands within the first year of the Trump administration, which solicited input on government rules from a number of trade groups.
This comes as the Guardian and the Center for Public Integrity publish an investigation into the way the oil lobby has worked for decades to influence US government policy – and is tightening its hold.
Earlier this year a letter penned by Howard Feldman, senior director of regulatory affairs at API, accompanied the lobby group's wish list for government, and it stated that fossil fuel companies are thriving "despite the unprecedented level of federal regulatory actions targeting our industry".
Feldman called for the federal government to alter regulations in a way that "promotes access to domestic oil and natural gas resources, streamlined permitting and cost-effective regulations".
The letter is addressed to Samantha Dravis, an EPA associate administrator who previously held a senior role at the Republican Attorneys General Association and was counsel to Freedom Partners, one of the groups in the Koch brothers network.
The 25-page list of API's suggested regulatory changes places particular emphasis on eight key demands that peel away standards primarily imposed under Barack Obama's administration. The EPA's administrator, Scott Pruitt, previously a harsh critic of the agency who has pledged to reign in its "out of control, anti-energy agenda", has overseen the delay or repeal moves in line with six of API's eight highest priorities.
"There's no question that energy lobbyists are calling the shots in this administration, which has been all too willing to roll back public health protections," said Jeremy Symons, vice-president of Environmental Defense Fund. "Anyone who doubts that can just look at their record."
Pruitt and his team have made it clear that oil, gas and coal industries trump science

Liz Purchia Gannon, former EPA communications head
On March 22, Pruitt met with API executives at the Trump International Hotel in Washington DC . Less than a month later, Pruitt wrote to Feldman, as well as three other oil and gas industry representatives, to tell them he was temporarily suspending regulations that curb leaks from drilling operations while the EPA reconsiders the rule.
In June, the EPA proposed a two-year pause to the rule, which was drawn up under the Obama administration in 2016 and aimed to reduce "fugitive" emissions such as methane, a potent greenhouse gas. In July, a federal court blocked the attempted suspension of the rule.
The EPA has fared better in fulfilling other top API priorities. In June, Pruitt signed a two-year delay to regulations designed to improve the safety of chemical facilities. API argued that the rule, which followed several disastrous incidents at chemical plants, would be burdensome and do little to improve safety.
API said the EPA "should reverse" a separate regulation requiring power plants to follow air pollution rules when they are starting up, shutting down or undergoing maintenance. Pruitt, who previously sued the EPA to halt the rule, is now reassessing it.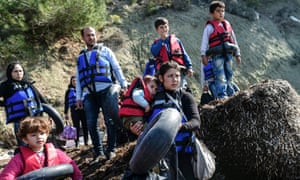 Syrian migrants wear life-jackets before boarding a dinghy to cross the Aegean Sea to the Greek island of Lesbos from the Ayvacik coast in Canakkale in 2016. Photograph: Bulent Kilic/AFP/Getty Images
The EU could scrap a divisive scheme that compels member states to accept quotas of refugees, one of the bloc's most senior leaders will say this week.
The president of the European council, Donald Tusk, will tell EU leaders at a summit on Thursday that mandatory quotas have been divisive and ineffective, in a clear sign that he is ready to abandon the policy that has created bitter splits across the continent.
Tusk will set a six-month deadline for EU leaders to reach unanimous agreement on reforms to the European asylum system, but will propose alternatives if there is no consensus.
"If there is no solution … including on the issue of mandatory quotas, the president of the European council will present a way forward," states a draft letter from Tusk to national capitals, seen by the Guardian.
In effect this means scrapping mandatory quotas, because Hungary, Poland and Czech Republic are fiercely opposed to the idea of dispersing refugees around the bloc based on a formula drawn up in Brussels. Tusk is likely to face opposition, however, from other EU bodies, including the European commission.
EU leaders introduced compulsory quotas in 2015 at the height of the migration crisis, as thousands of people arrived daily on Europe's shores, many of whom were refugees from Syria, Iraq and Eritrea. Hungary, Slovakia, Romania and the Czech Republic voted against the move, but the policy was forced through by a majority vote.
Hungary and Poland have defied the rest of the EU by not taking a single refugee under the scheme, which aimed to relocate about 120,000 refugees, mainly Syrians. The Czech republic has taken in only 12. All three countries were referred to the European court of justice last week for failing to implement the policy, the usual procedure for flouting EU rules.
Despite the backlash against the emergency scheme, the European commission proposed making quotas a permanent feature of EU law in 2016. Under its proposal, countries that refuse to take part in a "corrective allocation mechanism" to take the pressure off member states bearing the brunt would have to pay a "solidarity contribution" of €250,000 (£220,000) per asylum seeker.
The idea has been stalled for months, as home affairs ministers who make the law have been unable to agree on it. Any move to drop the plan is likely to upset Italy and Greece, countries that have urged the rest of the EU to help them cope with large numbers of refugees and migrants in recent years. Germany and Sweden, backed by the European commission, are also likely to contest any plan deemed to reduce the help offered by other member states.
One EU diplomat said some member states were surprised by Tusk's letter "because it doesn't seem to be in sync" with work undertaken by home affairs ministers working on the file.
Tusk, a former prime minister of Poland, thinks mandatory quotas have been a gift to hardliners, such as the Hungarian prime minister, Viktor Orbán, who has seized on migration as part of his wider Stop Brussels campaign. Eurosceptics in Poland, such as the Law and Justice leader Jaros?aw Kaczy?ski, whose party won an election victory over Tusk's centre-right group in October 2015, have also criticised the policy.
Tusk's scepticism about the prospect of consensus has been evident for months. He said in October that mandatory quotas had put members states in almost permanent conflict.
Tusk will call on EU governments to take charge, rather than leaving Brussels to set the pace in managing refugee policy.
"Only member states are able to tackle the migration crisis effectively," Tusk's letter says. "The EU's role is to offer its full support in all possible ways to help member states handle the migration crisis. But the EU has neither the capacity nor legal possibilities to replace member states."

The Guardian's picture editors bring you a selection of photo highlights from around the world, including protests in Catalonia and fierce wildfires in California
Kabul, Afghanistan
A girl stands next to a fire on a cold winter morning
Photograph: Mohammad Ismail/Reuters