15 Dec
News and Analyses, A Foreign Perspective
Nearly all of these are English-edition daily newspapers. These sites have interesting editorials and essays, and many have links to other good news sources. We try to limit this list to those sites which are regularly updated, reliable, with a high percentage of "up" time.

World Politics
South Africa
United States
Decision a major victory for FCC chair and Trump appointee Ajit Pai

Critics warn plan will hand control of the web to big cable companies
The US's top media regulator voted to end rules protecting an open internet on Thursday, a move critics warn will hand control of the future of the web to cable and telecoms companies.
At a packed meeting of the Federal Communications Commission (FCC) in Washington, the watchdog's commissioners voted three to two to dismantle the "net neutrality" rules that prevent internet service providers (ISPs) from charging websites more for delivering certain services or blocking others should they, for example, compete with services the cable company also offers.
Outside, protesters angrily called on Congress to block the FCC's efforts. Bouquets of flowers and white candles were placed on the grass outside the building, an apparent reference to the "death" of open internet. Posters of the angry-face emoji covered the walkway.
And activists carried hand-made signs that read: "Don't make the internet a private toll road"; "Ajit Pai doesn't want you to meet your fiancé online"; and "Don't undermine our democracy – that's Russia's job".
The meeting was briefly interrupted by a security threat.
FCC commissioner Mignon Clyburn, a Democrat, denounced the move. "I dissent because I am among the millions outraged, outraged because the FCC pulls its own teeth, abdicating responsibility to protect the nation's broadband consumers," she said.
Fellow Democratic commissioner Jessica Rosenworcel said the FCC had shown "contempt" for public opinion during the review. She called the process "corrupt". "As a result of today's misguided actions, our broadband providers will get extraordinary new powers," she said.
But FCC chair Ajit Pai and his two fellow Republicans voted for the repeal. Pai said the current rules had impeded innovation and addressed non-existent concerns. "We are restoring the light-touch framework that has governed the internet for much of its existence." He called claims that the move would kill the internet "outlandish".
Net neutrality's advocates argue that an open internet has been essential to the creation of today's web, and has allowed companies like Skype to compete with telecoms providers and Netflix to change the media landscape. They say the removal of the rules will affect consumers worldwide.
Cable companies have attempted to block or slow competing services in the past, and the rules were meant to prevent such cases arising in future. Removing the rules, critics argue, will stifle the online innovations that have been enjoyed by people worldwide and set a dangerous precedent for other countries looking to take firmer control of the internet or to hand oversight to corporations.
Evan Greer, campaign director for internet activists Fight for the Future, said: "Killing net neutrality in the US will impact internet users all over the world. So many of the best ideas will be lost, squashed by the largest corporations at the expense of the global internet-using public."
Michael Cheah of Vimeo said: "ISPs probably won't immediately begin blocking content outright, given the uproar that this would provoke. What's more likely is a transition to a pay-for-play business model that will ultimately stifle startups and innovation, and lead to higher prices and less choice for consumers."
Passing the plan is a major victory for Pai, a Donald Trump appointee and former Verizon lawyer who has been a long-term critic of the net neutrality rules brought in under Barack Obama in 2015.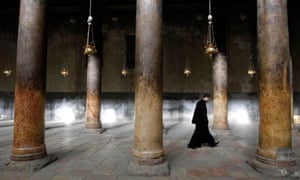 The Church of the Nativity in Bethlehem where Pence was to have met spiritual heads of different Christian traditions. Photograph: Ammar Awad/Reuters
The lights are already illuminated on Bethlehem's huge Christmas tree in Manger Square.
Nearby, at the narrow entrance to the Church of the Nativity, holiday pilgrims queue daily for their chance to descend into the cramped subterranean shrine said to be the birthplace of Jesus.
One person, however, who will not be entering the church, barring a last-minute diplomatic miracle, is the US vice-president, Mike Pence.
A proposed visit to Bethlehem and the Nativity church – now cancelled – had been intended as the highlight of a tour of the Middle East next week.
That tour has been thrown into disarray by Donald Trump's decision to recognise Jerusalem as the capital of Israel, and the consequent refusal of Palestinian and many Christian leaders to meet Pence.
Part of the reason is that Pence – who stood next to Trump during his announcement – is seen by Palestinians as having been a key influence on Trump regarding the decision, and appears to have made little effort to repair the damage.
At the time of writing, Palestinian officials insisted, there were no contacts with Washington regarding a visit to the city.
The cancelled schedule for Pence's trip to Bethlehem, described in detail to the Guardian, now stands as a cautionary metaphor for the diplomatic shambles unleashed by Trump's announcement.
Pence had hoped to draw attention to a key area of concern for the evangelicals who supported the Trump presidency – the plight of Christians in the Middle East.
The draft schedule had envisaged that the vice-president – himself a committed evangelical – would arrive first in Bethlehem at the compound of the Palestinian president, Mahmoud Abbas, either by helicopter or by car for an official reception.
Then Pence would travel the few miles to the West Bank city's historic Manger Square, from where Christmas festivities are broadcast live around the globe every year.
It would have been closed to tourists during Pence's visit, and he would have been greeted by the spiritual heads of the different Christian traditions that administer it as he made his own private tour.
"There was a plan A and a plan B," one source told the Guardian, "but what was being discussed was a visit to the church."

Opinion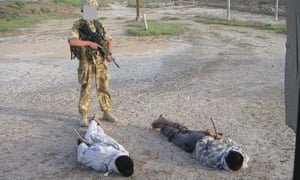 An image of detained Iraqis being guarded by a British soldier that was shown at the the al-Sweady inquiry. Photograph: PA
T

he ghosts of the invasion of Iraq, which haunted the Ministry of Defence and the British army for years, have returned with a vengeance. In an unprecedented judgment, the high court ruled on Thursday that the MoD breached the Geneva conventions and British soldiers had meted out "inhuman and degrading treatment" to Iraqi civilians, including beatings, and sleep and sensory deprivation. There was no evidence that the detainees were involved in any terrorist activity or posed any threat to the security of Iraq.
The case was brought by four Iraqis who will now join many others who have already been awarded compensation by the MoD in out-of-court settlements. The MoD faces even more damage to its reputation. In what he called "still unfinished business resulting from the UK's military intervention in Iraq", Mr Justice Leggatt said the case will have a bearing on more than 600 outstanding claims by Iraqis.
His ruling is a devastating response to persistent charges by defence ministers and officials that allegations of mistreatment by British troops were motivated by dishonest Iraqis, malicious journalists and self-serving lawyers. They blamed the European convention on human rights for extending its jurisdiction to British military detention centres abroad.
The government has said that in future the convention will not cover any of the activities of British troops engaged in foreign military interventions.
Defence officials conveniently ignore the successful claims against the MoD that have been brought by families of British soldiers killed or maimed as a result of inadequate training or equipment. And in Thursday's ruling, the high court found that the MoD was in breach not only of the human rights convention, but also of the Geneva conventions, entirely separate instruments of international law.
The MoD previously seized on the conclusion of the retired judge chairing the al-Sweady inquiry – named after an Iraqi teenager killed in a battle between British troops and Shia militia in southern Iraq in 2004 – that Iraqi allegations of murder by British troops were "wholly without foundation and entirely the product of deliberate lies, reckless speculation and ingrained hostility". Michael Fallon, then defence secretary, described the allegations in the Commons as "shameful and despicable". He conveniently ignored the al-Sweady inquiry's finding that British soldiers were guilty of mistreating detainees, including depriving them of food and sleep, and blindfolding them, in breach of international law.
And that expensive inquiry, at which young and inexperienced British soldiers were forced to recall horrific experiences, was entirely unnecessary. Had their commanding officers explained the circumstances of the battle of Danny Boy – in particular why Iraqis who were killed and injured were brought to the British camp (it was to discover whether they had been involved in the massacre of British military police a year before) – then the al-Sweady inquiry would not have been necessary.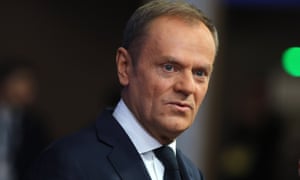 The row threatens to overshadow an EU summit insiders hoped would be a show of unity. Photograph: Dan Kitwood/Getty Images
Divisions over migration marred a show of unity at an EU summit on Thursday, after Germany and Italy hit back at plans that could spell the end of mandatory refugee quotas.
Germany, Italy and the Netherlands have led criticism of a proposal from the European council president, Donald Tusk, who has described refugee quotas as "divisive and ineffective".
The Greek prime minister, Alexis Tsipras, whose country has struggled to manage large numbers of refugees and migrants, criticised Tusk's comments as "aimless, ill-timed and pointless".
Arriving at the EU summit in Brussels, the German chancellor, Angela Merkel, said there "cannot be selective solidarity" among EU member states". Germany gave refuge to more than 1 million asylum seekers in 2015 and has been championing the policy of sharing refugees through quotas, when numbers could overwhelm other countries.
"We need solidarity not just in regulating and steering migration," Merkel said, "but we also need internal solidarity."
The row threatens to overshadow an EU summit insiders hoped would be a show of unity, with leaders launching landmark plans for greater military cooperation and basking in a common position on the first phase of Brexit talks.
Only three countries – Hungary, Poland and the Czech Republic – came out strongly in favour of Tusk's plan ahead of the summit.
The Czech Republic's new prime minister, Andrej Babiš, said any attempt to impose "nonsensical" quotas in a majority vote would only widen the divisions in the EU. "It won't happen."
Poland's new prime minister, Mateusz Morawiecki, said he was happy that Poland's opposition to allowing refugees into Europe seemed to be gaining acceptance.
Poland, along with the Czech Republic, Hungary and Slovakia, pledged €35m (£30m) for Italian-led projects to protect the border at Libya, as part of EU efforts to stem the flow of people attempting the dangerous journey to Europe.
Speaking after the summit broke up, Dutch prime minister Mark Rutte said he was happy with the contribution, but money was not enough. "This is what every country is doing. This cannot come in the place of, instead of being willing to take up your fair share in terms of the burden-sharing."
The Italian prime minister, Paolo Gentiloni, welcomed the financial contribution but said the four countries still needed to accept refugees. "We will continue to insist that a commitment on the relocation of refugees is needed."
Officials have been even blunter in private: one European diplomat told his counterparts that Tusk's paper should be put in the bin. Another diplomatic source said it was badly written and "much too unbalanced in favour" of central Europe.
However, another EU diplomat, from a country supporting quotas, said it was "time to attack the issue", which was "starting to poison" other debates. "At this point in time, what I am expecting is a good old bust up and in a later phase we will narrow the field of possible outcomes."
The EU is not aiming to reach conclusions on this thorny issue at the summit. "Divisions are accompanied by emotions which make it hard to find even a common language and rational arguments for this debate," Tusk said, referring to the chasm of opinion on migration, but also the future of the single currency.
EU leaders agreed on compulsory quotas at the height of the migration crisis in 2015, despite opposition from four central and eastern european countries. The bloc is discussing whether to make quotas a permanent feature of the EU's asylum system, but the proposals have been making slow progress.
The Tusk plan, reported by the Guardian earlier this week, took countries by surprise and is seen as out of step with months of work done by EU home affairs ministers.
The European commission, backed by several member states, has also been infuriated by what it sees as a march on to its turf of proposing EU laws and policies. In his letter to leaders, Tusk said he would present "a way forward for consideration by leaders" after June 2018 if there was no consensus.
"The European council [that Tusk leads] is not a legislative body," said an EU diplomat. "I don't think he can mean we should bypass our normal procedures."

Expectant mothers in a maternity ward in Uganda. About 800 million people worldwide spend more than 10% of their household budgets on health costs not covered by insurance. Photograph: Ben Curtis/AP
Verity Bowman
Almost 100 million people are pushed into extreme poverty each year because of debts accrued through healthcare expenses.
A report, published by the World Health Organization and the World Bank on Wednesday, found the poorest and most vulnerable people are routinely forced to choose between healthcare and other necessities for their household, including food and education, subsisting on $1.90 (£1.40) a day.
Researchers found that more than 122 million people around the world are forced to live on $3.10 a day, the benchmark for "moderate poverty", due to healthcare expenditure. Since 2000, this number has increased by 1.5% a year.
A total of 800 million people spend more than 10% of their household budgets on "out-of-pocket" health expenses, defined as costs not covered by insurance. Almost 180 million people spend a quarter or more, a population increasing at a rate of almost 5% per year, with women among those worst affected.
"Only 17% of women in the poorest fifth of households have adequate access to maternal and child health services compared to 74% of women in the richest fifth of households," said Timothy Evans, senior director of health, nutrition and population at the World Bank Group.
"This remains a problem for not only poor regions of the world, but for all countries at all income levels. At the World Bank, we think that this is both morally and economically bankrupt and unsustainable.
"Universal healthcare coverage is not just about better health. The reality is that as long as millions of people are being impoverished by health expenses, we will not reach our collective sustainable development goal of ending extreme poverty by 2030."
The WHO and the World Bank want everyone, irrespective of their circumstances, to receive necessary health services without risking financial hardship.
Though universal health coverage is a key target of the UN sustainable development goals, campaigners argue that without a solid commitment from governments this target is out of reach.
"Every country has the resources available to them if they prioritise. This is why we want to see a much greater focus on primary healthcare because it is the poorest who are losing out," said Oxfam's health policy adviser, Anna Marriott. "Too much funding is going for tertiary hospitals in urban areas that tend to benefit the better off more than the poor, and yet rural areas are neglected, with people left to fend for themselves.
"We absolutely need a commitment to address inequality in health. You are almost four times as likely to get the essential package of healthcare if you are rich."
According to the report, Asia has the highest rate globally of those pushed below the poverty line due to out-of-pocket health costs. An estimated 72% of those spending 25% of their household budgets on healthcare live in Asia.
Africa has seen the fastest increase in the numbers of people who spent at least 10% of their budgets on healthcare.
The problem of healthcare affordability is not limited to developing countries. In Europe, Latin America and parts of Asia, each of which have high levels of access to health services, increasing numbers of people are spending at least 10% of their household budgets on health expenses.

A great grey owl, a robin in the snow and a festive reindeer are among this week's pick of images from the natural world