16 Dec
News and Analyses, A Foreign Perspective
Nearly all of these are English-edition daily newspapers. These sites have interesting editorials and essays, and many have links to other good news sources. We try to limit this list to those sites which are regularly updated, reliable, with a high percentage of "up" time.
GAZA (Reuters) – Israeli troops shot dead four Palestinians and wounded 150 others with live fire on Friday, medical officials said, as protests over U.S. President Donald Trump's recognition of Jerusalem as Israel's capital entered a second week.
Most of the casualties were on the Gaza Strip border, where thousands of Palestinians gathered to hurl rocks at Israeli soldiers beyond the fortified fence. Medics said two protesters, one of them wheelchair-bound, were killed and 150 wounded.
In the occupied West Bank, another area where Palestinians are seeking statehood along with adjacent East Jerusalem, medics said two protesters were killed and 10 wounded by Israeli gunfire.
One of the dead was a man who Israeli police troopers said was shot after he stabbed a member of their unit. Reuters witnesses said the Palestinian held a knife and wore what looked like a bomb belt. A Palestinian medic who helped evacuate the man for treatment said the belt was fake.
Palestinians — and the wider Arab and Muslim world — were incensed at Trump's Dec. 6 announcement, which reversed decades of U.S. policy reticence on Jerusalem, a city where both Israel and the Palestinians want sovereignty.
Washington's European allies and Russia have also voiced worries about Trump's decision.
Gaza's dominant Hamas Islamists, which reject coexistence with Israel, called last week for a new Palestinian uprising, but any such mass-mobilisation has yet to be seen in the West Bank or East Jerusalem.
There have been almost nightly Gazan rocket launches into Israel, so far without casualties. Israel has responded with air strikes on Hamas facilities, one of which killed two gunmen.
The Israeli military said that, on Friday, about 3,500 Palestinians demonstrated near the Gaza border fence.
"During the violent riots IDF (Israel Defence Force) soldiers fired selectively towards main instigators," the military said in a statement.

Out of 3,500 entries from across the world, this year's funny winners include a laughing dormouse, a shocked seal, and bears caught in the act
Great escape
Katy Laveck-Foster wins highly commended for her monkeys enjoying a moped ride in North Sulawesi, Indonesia
Photograph: Katy Laveck Foster / Barcroft Images
What's up doc?
Olivier Colle's wild rabbit in Flanders, Belgium, wins highly commended
Photograph: Olivier Colle / Barcroft Images
Take me to church
Carl Henry wins highly commended for his trio of penguins heading to church in South Georgia Island, southern Atlantic.
Photograph: Carl Henry / Barcroft Images

World Politics
United States
Trump judicial nominee can't answer basic legal questions at hearing – video
Ekaterina Ochagavia, Source: Senator Sheldon Whitehouse/Twitter
US senator John Kennedy asked one of Trump's district court judge nominees, Matthew Petersen, a series of questions on basic law, and he was unable to answer them. Concerns have been raised over the suitability of the five nominees for the role, including Matthew Petersen. The American Bar Association declared one of the nominees 'unqualified'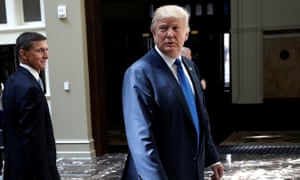 Donald Trump has refused to rule out pardoning Michael Flynn (left). Photograph: Mike Segar/Reuters
The senior Democrat in a congressional Trump-Russia investigation has said he fears Republicans are manoeuvring to kill off inquiries into Moscow's interference in the 2016 US presidential election.
"I'm increasingly worried Republicans will shut down the House intelligence committee investigation at the end of the month," said Adam Schiff, who is the leading Democrat on the House intelligence committee.
Schiff suggested Republicans also had their sights on the FBI's Trump-Russia investigation overseen by special counsel Robert Mueller. The president's personal lawyers are reportedly set to meet Mueller and his team within days to ask about the next steps in his investigation.
"Beyond our investigation, here's what has me really concerned: the attacks on [Robert] Mueller, the DoJ [the Department of Justice] and FBI this week make it clear they plan to go after Mueller's investigation," Schiff said.
"By shutting down the congressional investigations when they continue to discover new and important evidence, the White House can exert tremendous pressure to end or curtail [Robert] Mueller's investigation or cast doubt on it. We cannot let that happen."
So far the FBI's investigation into Russia's meddling in the 2016 election has ensnared at least four members of the Trump campaign's inner circle. Mueller is under no obligation to provide information to Trump's lawyers when they meet, CNN has reported.
Trump denied there was any collusion with Russia, saying it was "a Democrat hoax". He said it was too early to discuss any pardon for Flynn, his former national security adviser.
"I don't want to talk about pardons for Michael Flynn yet," Trump said before leaving the White House to give remarks at a graduation ceremony at the FBI's academy in Quantico, Virginia.
"I can say this – when you look at what's gone on with the FBI and with the justice department, people are very, very angry," he said.
"When everybody – not me, when everybody – the level of anger at what they've been witnessing with respect to the FBI is certainly very sad."
US intelligence agencies have concluded that Russian president Vladimir Putin's intelligence and cyber services worked to help turn the election in Trump's favour.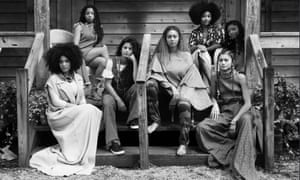 Lisa-Kaindé Díaz, Halle Bailey, Naomi Díaz, Beyoncé, Amandla Stenberg, Zendaya and Chloe Bailey, from the Lemonade video. Photograph: Beyonce: Lemonade
B

lack women have been trying to save America from itself for generations. So the breakdown of who voted in Alabama's Senate election this week come as no surprise. Since as far back as the 19th century, African American women have been fighting for civil rights; they have always been front and centre in terms of mobilising support for equality and justice. Though it would not be surprising if you've never heard their stories – by and large black female trailblazers have tended to be erased from history.
But that marginalisation has never stopped their continued fight for justice and equality. In Alabama, 98% of them voted against Roy Moore, a man who – among other things – is accused of assaulting teenage girls. And yet 63% of white women voted for a man accused of such things. But there's form here. Despite allegations of sexual impropriety against Donald Trump during the 2016 election race, 53% of white women voted for him to become president, compared to 3% of black women.
So the figures reflect that in Alabama, overwhelming numbers of white American women opened their arms to an alleged paedophile and gave him their votes. Whereas those black women in Alabama voted for change for their families and themselves in a part of America that has huge numbers of people in poverty (nationally, more than 28% of African-American women live in poverty – higher than the corresponding figures for white or Hispanic women). And to keep out of office a man whose list of alleged sexual misdemeanours is ever growing.
African-American men did that, too. Exit polls show that 6% of black men voted for Moore – compared to 72% of white men.
But it's African-American women who have largely been ignored in history. It's their political power that tends to be ignored, and the feminist movement tends to erase. Figures such as Sojourner Truth, Ida B Wells-Barnett and Mary McLeod Bethune fought for so much, and yet are heard of so little.
Figures like Sojourner Truth, Ida B Wells-Barnett, Mary McLeod Bethune fought for so much, yet are heard of so little
What is surprising though is that in the era of the #MeToo movement, white women in Alabama didn't see the accusations of underage sexual conduct as enough of a reason not to put someone in office. In fact I watched one woman defend her choice with these words: "I'm sure God had forgiven him [Moore] so I forgive him too and will vote for him. Who am I to go against God?"
History will not look favourably on this era in America. In the midst of all this you've got black women who are trying to raise families in higher levels of poverty and amid nearly double the unemployment rates of white women. That strength and resilience reminds me of a Malcolm X speech – which Beyoncé actually sampled on her album Lemonade: "The most disrespected person in America is the black woman. / The most unprotected person in America is the black woman. / The most neglected person in America is the black woman."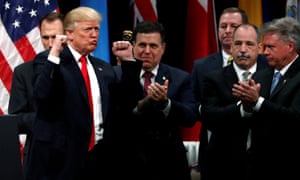 'The least we can do is keep our eyes on his hands.' Donald Trump at a graduation ceremony at the FBI Academy in Quantico, Virginia, December 2017. Photograph: Jonathan Ernst/Reuters
N

ow twice as long, his tweets are half as good. The early-morning dispatches from the iPhone of Donald Trump, often sent while he lies in bed, propped up on a pillow, lack the poison punch they packed in the 140-character era. They ramble a bit now, losing focus. But they still command attention and dominate the news to an extent no one on the planet can match.
This week it was Trump's swipe at Kirsten Gillibrand, a New York senator who had called for the allegations of sexual harassment made against Trump during the 2016 election campaign to be investigated. Trump called Gillibrand a "lightweight" who used to "come to my office 'begging' for campaign contributions not so long ago (and would do anything for them)".
That parenthesis was a misogynist smear, implying that a senior female politician had offered Trump sexual favours in return for cash. It duly dominated the US news cycle for 24 hours.
On other days, it's not Trump's tweeting habit that fills the airwaves, but the newest twist in the continuing saga of alleged collusion with Russia to tip the last election. The latest on that is the concerted work by Trump's Republican enablers on Capitol Hill and beyond to prepare the ground for the firing of Robert Mueller, the former FBI director now serving as special counsel in the Russia investigation. Never mind that Republicans hailed Mueller only a matter of months ago as an unassailably neutral public servant, or that removing him would be a Nixon-level abuse of power, they are doing what they believe their party interest demands. Both these things matter. Trump's tweets trample daily on the norms that underpin a democratic society, as well as trafficking in the most inflammatory racism and sexism. The Russia question could not be more grave: to collude with a hostile, authoritarian foreign power in subverting a free election is an assault on democracy itself.
The trouble is, they keep us looking the other way. Just as they consume Trump's energy, they divert ours, preventing us from paying attention not to what he says via Twitter, or what he may have done with Moscow, but what he's doing right now from his desk in the Oval Office.
On that score, it's tempting – and fair – to assess his first 11 months in office as a failure. He has failed to fulfil so many of his signature promises, from building that wall to repealing Barack Obama's healthcare reforms. Today Republicans hoped to unveil a bill that would cut the taxes of the very richest, but even if that gets passed next week it will be the only piece of major legislation Trump has managed to get through a Congress where his party enjoys the rare luxury of a majority in both chambers.
And yet, he has not done nothing. On the contrary, bit by bit and in ways that rarely command the front pages, he has done a lot to shape the way Americans, and others, will live for decades to come.
Start with Thursday's decision by a Trump appointee to scrap the rules governing access to the internet known as "net neutrality". It may sound of interest to nerds only, but it could affect the online realm inhabited by all of us. Put simply, until now your internet service provider has been obliged to treat all websites equally, so that a neighbourhood blog is just as accessible as a major corporate site. Your broadband provider has had to be neutral between blokeinhispottingshed.com and Amazon, and not operate a fast lane for one and a slow lane for the other.
Thanks to Trump and his man at the Federal Communications Commission, that obligation is binned. Now those ISPs can offer premium access to some and deny it to others. The big players will be able to pay the extra cash to ensure they stay in the fast lane, but the cost will shut out startups. The next challenger to Netflix or Facebook may be strangled at birth by prohibitive fast-lane tolls.
That's a loss for those would-be innovators and for us, who will never see what they might have produced. Power online will be ever more concentrated in the hands of a few giants. But there's a more direct political dimension. Take the blog maintained by the residents of Grenfell Tower, which warned of disaster before it struck. To ensure their warnings were heard, their US equivalents would now have to find a home on one of the mega-platforms, posting their material on, say, Facebook.

Los Angeles, California, 5 December
"You got a choice to make, man. You could go straight on to heaven. Or you could turn right, into that."
We are in Los Angeles, in the heart of one of America's wealthiest cities, and General Dogon, dressed in black, is our tour guide. Alongside him strolls another tall man, grey-haired and sprucely decked out in jeans and suit jacket. Professor Philip Alston is an Australian academic with a formal title: UN special rapporteur on extreme poverty and human rights.
General Dogon, himself a veteran of these Skid Row streets, strides along, stepping over a dead rat without comment and skirting round a body wrapped in a worn orange blanket lying on the sidewalk.
The two men carry on for block after block after block of tatty tents and improvised tarpaulin shelters. Men and women are gathered outside the structures, squatting or sleeping, some in groups, most alone like extras in a low-budget dystopian movie.
We come to an intersection, which is when General Dogon stops and presents his guest with the choice. He points straight ahead to the end of the street, where the glistening skyscrapers of downtown LA rise up in a promise of divine riches.
Heaven.
Then he turns to the right, revealing the "black power" tattoo on his neck, and leads our gaze back into Skid Row bang in the center of LA's downtown. That way lies 50 blocks of concentrated human humiliation. A nightmare in plain view, in the city of dreams.
Alston turns right.
So begins a two-week journey into the dark side of the American Dream. The spotlight of the UN monitor, an independent arbiter of human rights standards across the globe, has fallen on this occasion on the US, culminating on Friday with the release of his initial report in Washington.
His fact-finding mission into the richest nation the world has ever known has led him to investigate the tragedy at its core: the 41 million people who officially live in poverty.
Of those, nine million have zero cash income – they do not receive a cent in sustenance.
Alston's epic journey has taken him from coast to coast, deprivation to deprivation. Starting in LA and San Francisco, sweeping through the Deep South, traveling on to the colonial stain of Puerto Rico then back to the stricken coal country of West Virginia, he has explored the collateral damage of America's reliance on private enterprise to the exclusion of public help.
The Guardian had unprecedented access to the UN envoy, following him as he crossed the country, attending all his main stops and witnessing the extreme poverty he is investigating firsthand.
Think of it as payback time. As the UN special rapporteur himself put it: "Washington is very keen for me to point out the poverty and human rights failings in other countries. This time I'm in the US."
The tour comes at a critical moment for America and the world. It began on the day that Republicans in the US Senate voted for sweeping tax cuts that will deliver a bonanza for the super wealthy while in time raising taxes on many lower-income families. The changes will exacerbate wealth inequality that is already the most extreme in any industrialized nation, with three men – Bill Gates, Jeff Bezos and Warren Buffet – owning as much as half of the entire American people.
A few days into the UN visit, Republican leaders took a giant leap further. They announced plans to slash key social programs in what amounts to an assault on the already threadbare welfare state.
"Look up! Look at those banks, the cranes, the luxury condos going up," exclaimed General Dogon, who used to be homeless on Skid Row and now works as a local activist with Lacan. "Down here, there's nothing. You see the tents back to back, there's no place for folks to go."