More than 50 world leaders assembled in Paris for a summit that President Emmanuel Macron hopes will give new momentum to the fight against global warming, despite US President Donald Trump's rejection of the Paris climate accord.
Macron issued a stark warning on climate change in an address to dozens of world leaders and other luminaries at the gathering on Tuesday, saying: "We are losing the battle" against global warming.
"We're not moving fast enough, that's the problem," the French leader told the One Planet Summit.
'Trump is a temporary roadblock', California Governor Jerry Brown tells FRANCE 24
Trump, who has called climate change a "hoax", announced in June that the United States would pull out of the Paris pact, which had taken nearly 200 nations more than two decades to negotiate.
The Trump administration said it was not going fulfil US climate finance commitments, including an outstanding $2 billion out of $3 billion (€1.7 billion out of €2.5 billion) it had pledged towards the Green Climate Fund.
"The missing piece of the jigsaw is the funding to help the world's poorer countries access clean energy so they don't follow the fossil fuel-powered path of the rich world … This is the missing piece that the One Planet Summit needs to begin to put into place," said Mohamed Adow of Christian Aid, which represents poor country interests at the UN climate forum.
The US sent only an official delegation from the Paris Embassy to the summit, but screen superstars Leonardo Di Caprio and Schwarzenegger and California Governor Jerry Brown, leader of the world's sixth largest economy, are championing more action.
In a pointed piece of timing, Macron used the eve of the summit to award 18 grants to foreign climate scientists, most of whom are currently US-based, to come and work in France.

World Politics
United States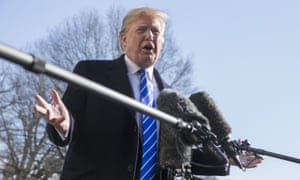 The materials included communications from more than a dozen Trump officials, including Michael Flynn. Photograph: REX/Shutterstock
The complaint from the Trump for America group comes a day after a warning from Adam Schiff, a senior Democrat, that top Republicans are manoeuvring to shut down the House intelligence committee's Trump–Russia inquiry and weaken Mueller. Some reports suggest Trump is considering firing Mueller, who was appointed as special counsel to oversee the FBI and justice department investigation of contacts between the Russian government and Trump's election campaign.
On Saturday it emerged that Mueller's investigation has gained access to thousands of emails sent and received by officials on Donald Trump's transition team, which operated between his election and swearing-in.
Kory Langhofer, general counsel for the transition group, has written to the Republican chairs of the House oversight committee and the Senate homeland security committee about what the transition contends was an "unauthorized" disclosure of its emails by the General Services Administration (GSA).
The GSA is a government agency that has supported presidential transitions in recent years and typically houses electronic transition records in its computer system. The transition team says the GSA did not get its permission to hand over the emails.
But Eric Swalwell, a Democrat on the House intelligence committee, said: "This is another attempt to discredit Mueller as his Trump–Russia probe tightens.
In a series of tweets, Renato Mariotti, a former federal prosecutor, said the Republicans were "playing politics – but this is a bad sign for them".
"Of course Mueller obtained emails from a third party," he said. "Prosecutors in most white collar criminal investigations do that. It's not 'inappropriate' or even unusual. Anyone who claims otherwise has no idea what they're talking about."
In an interview with Buzzfeed News, the GSA deputy counsel, Lenny Loewentritt, said the Trump transition team were told when they were given access to GSA facilities that any material "would not be held back in any law enforcement" situation. "Therefore, no expectation of privacy can be assumed."
A spokesperson for Mueller told Buzzfeed: "When we have obtained emails in the course of our ongoing criminal investigation, we have secured either the account owner's consent or appropriate criminal process."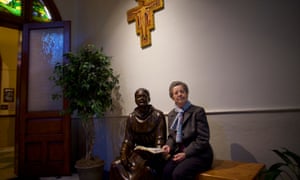 Sister Nora Nash uses her portfolio of stocks to pressure corporations to improve their business practices. Photograph: Mark Makela for the Guardian
Sister Nora Nash is on a mission.
The challenge she faces is as vast as corporate greed and as urgent as affordable medicine.
Her goals include keeping families out of shelters, poison out of drinking water and children out of sweatshops.
And the attire is strictly boardroom.
As director of the corporate social responsibility office for the Sisters of St Francis of Philadelphia, an order of about 160 Roman Catholic nuns located south-west of the city, Nash has worked for years to get the hundreds of companies that populate the nuns' bulging stock portfolio to behave better.
Her exploits have made her an unlikely face of conscientious capitalism, a trespasser in the kingdom of profit whose tangles with corporate boards have been chronicled in the Financial Times and acclaimed in the world of ethical investing.
The Sisters of St Francis worked for decades in Catholic schools and hospitals in Philadelphia, and their missionary work abroad continues today, with latrine construction in Haiti and other projects. "We have a mission to be of service to all aspects and segments of society," Nash says.
But Nash's current path leads inside of some of the world's most exclusive boardrooms. Supported by her partners at the Interfaith Center on Corporate Responsibility, Nash has met with CEOs including Jamie Dimon (JP Morgan Chase), Brian Moynihan (Bank of America), Lloyd Blankfein (Goldman Sachs), Marilyn Hewson (Lockheed Martin), John Christmann (Apache Corporation) and Thomas Fanning (Southern Company).
Her vow of poverty has not prevented Nash from mastering the subtleties of securities regulations
Nash and her deputy, Tom McCaney, average about 90 actions – company dialogues or shareholder resolutions – per year.
"I dialogue with Lockheed Martin, Northrop Grumman and Boeing," said Nash. "With the tobacco people. We do a lot of work in the oil and gas industry, because of the fracking and pipelines. Tom does all the health work, healthier food. I do climate change and of course a lot with banks. We are spread in a lot of areas."
In an age when corporations are first in line for tax cuts but seemingly unaccountable when an economy sinks or an election tilts, Nash has sought leverage by joining the one group that big companies still have to listen to: shareholders.
Owning shares gives Nash an audience where her message might otherwise be unwelcome: shareholders can confront executives at annual meetings. They can form voting blocs to demand transparency. And they can draw corporate leaders into dialogues that sometimes lead to change.
"We own corporations in every sector," said Nash, who welcomed the Guardian recently to the imposing stone convent where she did her novitiate almost six decades before. The building's grand dome overshadows a cemetery where Mother Francis, the German immigrant who founded the order in 1855, is buried.
Mother Francis started the order to serve the poor, a mission that continues. But Sister Nora's piece of the ministry has a thoroughly modern twist.
Nash and McCaney have engaged with the biggest US banks and airlines; with retailers such as Walmart, Target and Sears; with gun makers such as Sturm, Ruger and American Outdoor Brands (formerly Smith & Wesson); and with pharmaceutical companies from Pfizer to Merck to Johnson & Johnson.
The goal is not confrontation, Nash said, but to work together with companies to encourage stronger environmental policies, better product safety, cleaner supply chains and less preying on customers.
"I would encourage companies to go back and look at their ethical standards, and look at the consumer," Nash said. "They have a commitment to the consumer."
Her vow of poverty has not prevented Nash, who migrated to the United States in the 1950s from Ireland, from mastering the subtleties of securities regulations.
Filing the kind of shareholder resolution that can put pressure on a board of directors requires ownership of at least $2,000 in company stock – a hurdle the nuns appear to have no problem clearing.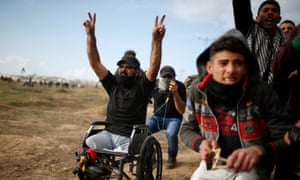 Abu Thuraya's death came on the bloodiest day of protests since Donald Trump's controversial announcement. Photograph: Mohammed Salem/Reuters
The funeral has taken place of a Palestinian wheelchair user who was shot dead on Friday during a demonstration in the Gaza Strip against Donald Trump's recognition of Jerusalem as Israel's capital.
The death of Ibrahim Abu Thuraya, 29, came as Trump administration officialsagain pre-empted negotiations over the disputed city's final status in comments about the Western Wall.
"We cannot envision any situation under which the Western Wall would not be part of Israel," a senior official said. "But as the president said, the specific boundaries of sovereignty of Israel are going to be part of the final status agreement."
The death of Abu Thuraya came on the bloodiest day of protests since Trump's controversial announcement earlier this month, with no sign of the unrest dying down. Photographs showed the body of the former fisherman being carried on a stretcher through Gaza City during his funeral on Saturday.
Abu Thuraya, who lost his legs in an Israeli airstrike in 2008, was one of four Palestinians to die in clashes with Israeli security forces on Friday in Gaza and the West Bank.
The Israeli military said it had fired "selectively towards main instigators" of the protest in which Abu Thuraya was reportedly hit, and that it was investigating the circumstances of his death.
The Palestinian health ministry confirmed in a statement that Abu Thuraya and Yasser Sokhar, 31, were shot in the head in Gaza during clashes with Israeli soldiers.
According to photographs and witness accounts, Abu Thuraya had been pushed to the fence in his wheelchair, before leaving the chair and attempting to crawl further forward.
Video footage from after he was shot showed him being pushed back, slumped in his chair surrounded by other shouting protesters.
Two days before his death he told a video interviewer that he had been protesting against the US decision. "This land is our land. We are not going to give up. America has to withdraw the declaration it has made," he said.
The Israeli military said about 3,500 Palestinians had demonstrated near the Gaza border fence on Friday.
"During the violent riots IDF [Israel Defence Force] soldiers fired selectively towards main instigators," it said in a statement.
A military spokeswoman had no immediate comment on the death of Abu Thuraya, who was a regular at such demonstrations.
In another deadly incident in Ramallah, a Palestinian wearing what appeared to be a suicide belt stabbed and lightly wounded an Israeli border police officer before being shot and killed.