21 Dec
News and Analyses, A Foreign Perspective
Nearly all of these are English-edition daily newspapers. These sites have interesting editorials and essays, and many have links to other good news sources. We try to limit this list to those sites which are regularly updated, reliable, with a high percentage of "up" time.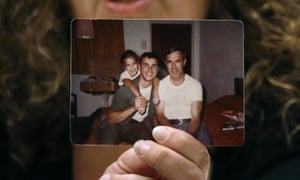 Alexa MacPherson, a victim of clergy sex abuse, holds a photograph of herself as a child. Photograph: Bill Sikes/AP
"This is who I used to be. A smiling child," said Alexa MacPherson, 42, a clergy abuse survivor, at a press conference held in Boston after the death of Cardinal Bernard Law on Wednesday.
"I made a lot of decisions to not let this eat me away," she said, holding up a photo of herself as a child. "This is who you need to remember. The faces that Cardinal Law allowed this to happen."
Law, the former archbishop of Boston at the center of a Boston Globe investigation that proved he failed to remove sexually abusive priests in his ministry, died on Wednesday in Rome.
Law's 19-year-tenure ended in disgrace and resignation in 2002 after it was revealed that he failed to stop child molesters in the priesthood from molesting thousands of children. As news of his death spread, victims of priests under his jurisdiction spoke out.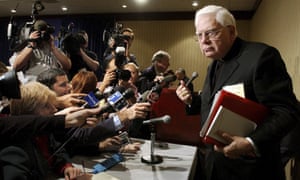 Cardinal Bernard Law in 2002. Photograph: Ken Lambert/AP
MacPherson was repeatedly raped by Pastor Peter Kanchong of St Margaret's Parish in Boston beginning when she was age three and continuing until she was nine, from 1978 to 1984. "It stopped when my father caught the priest trying to rape me on the living room table," she told the Guardian.
Her parents called the police, filed reports, and went to Dorchester district court to lodge a complaint. Kanchong was convicted and sentenced to probation. "Conveniently, the court documents disappeared," she said. "Cardinal Law was solely responsible for having a contact in the district court for making documents disappear. I have a document proving that with his signature," she told the Guardian.
With the death of Law, she feels no relief, saying that the Catholic church's approach to clergy assault has not changed much. "They say they're going to make changes but they fall short every time. They don't back up what they say with action. Until they actually start to do that, nothing is ever going to change. My opinion won't change."
The news of his death came on the 15th anniversary of her story being published in the Globe's Spotlight investigation on 19 December 2002, dramatized in an Oscar-winning movie in 2015.
Another survivor of sexual assault by clergy feels differently about Law's death. "It's a relief," said Phil Saviano, 63, whose story featured in the film.
For Saviano, the nightmare began in 1964, when he was 11, attending catechism classes at St Denis church in the town of Douglas, Massachusetts. The newly appointed Father David Holley began to target Saviano and one other boy for over a year. The sexual assault stopped after Holley's 18 months at St Denis, but confusion and depression followed Saviano for years. Saviano has never figured out why Holley was removed from the parish, and for years thought that he was no longer with the priesthood. Holley was sentenced in 1993 to up to 275 years in prison on eight counts of molestation and died in prison in 2008.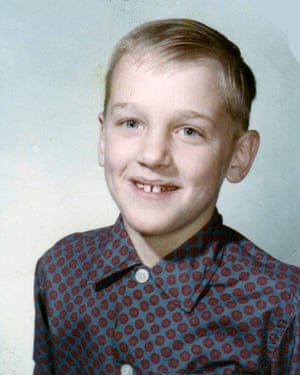 Phil Saviano in 1964. Photograph: Courtesy Phil Saviano
"I always remembered my abuse. I was clueless that he was still out there, and that there were other priests doing it, and I had extreme emotional consequences from my childhood experience," Saviano said.
In 1992, Saviano opened the Boston Globe to look at ads for holiday gifts when he stumbled on a short report saying that Holley had been arrested for assaulting young boys in a parish in New Mexico.
That's when he decided enough was enough. He spoke with a Boston Globe reporter, and his account was published in a story on 21 December 1992.
He sued the archdiocese and eventually settled in 1995, for $12,500. By this time, Saviano had contracted Aids, which he made known in court. He was not required to sign a nondisclosure agreement in the settlement. "I thought the lawyers for diocese didn't think I'd be around that long," he said. But with life-saving inhibitor drugs, Saviano lived.
He began speaking with other victims and gathered statistics on Law's coverup. "I found out six bishops in four states had been involved," Saviano said. "The priests would be sent to four different centers run by the church." Because the centers were run by the church, they were not required to report to the state. Priests would spend some time at the center, then be transferred to another parish.
Saviano eventually got the attention of the now defunct Boston Phoenix, which published a story saying that Law knew about priests' acts of pedophilia in the 1980s and did nothing.
The Boston Globe's Spotlight investigative team dived into the story in 2001, eventually publishing a damning series of stories on the child molestation cover-up of Law's archdiocese. Saviano's testimony to the Globe was integral to the investigation, which discovered that dozens of priests had molested hundreds of children, a number that grew into the thousands and set off a nationwide examination of the scandal.
Saviano had heard Law was ill. He was out to dinner last night, celebrating the 25th anniversary of his speaking out, when he heard the news.

After years trapped in a top-floor 'prison', Alex has finally got an accessible flat. But if this seems like a good-news story, think again
Alex has complex physical and mental health needs, and cannot walk unaided. But due to a severe lack of accessible housing in the area, Alex has to live in a first-floor flat. Alex's life has been drastically affected by a series of Tory cuts, reforms and changes to disability benefits and a growing crisis in social care and housing. This is the story of people living and working with disabilities in modern Britain
Nowadays, Alex can go to the toilet without crawling on hands and knees. The 44-year-old – who has multiple complex disabilities and mental health problems – is in many ways living proof of beating the system. After four years of living in inaccessible social housing, Alex has a bit of dignity and safety. But I can't help but think for a so-called civilised 21st century nation, there isn't much to celebrate. In Alex's words: "It feels like I'm still not living. Still trapped, made sicker by austerity."
Alex's story starts seven months ago in a cramped top-floor flat in Islington, north London. It's the sort of story that could be happening to your neighbour right now – and embodies the pointless cruelty meted out in recent years by politicians to citizens who dare to be disabled.
A spinal and head injury, degenerative hands and feet and chronic fatigue mean Alex needs both a wheelchair and a hoist to move safely around their home. (Alex wishes to be referred to as "they".) But the matchbox size of the flat meant that to move from one room to the next, Alex had to literally crawl: slowly pulling along the carpet, legs dragged to one side.
To be able to leave the flat, it was no less brutal: Alex balanced on crutches to get down the two flights of stairs, feet visibly twisting with each step and grabbing an inhaler out of a bag for each shortened breath. Outside, at the bottom of another seven concrete steps sat Alex's wheelchair, chained up on the street. With no lift, Alex had no way to get it into the flat.
In the many times Alex had to complete this obstacle course, they have been found by neighbours unconscious on the stairs more than once. Or with blood dripping from a head wound.
That may be the ultimate symbol of a system that's abandoned disabled people – a wheelchair user left on the floor, bleeding, with only the kindness of strangers to help them up.
The impact of inaccessible social housing is grotesque, but the truth in an era of austerity is that, to use Alex's words, it's every area of life that's "infected with cuts". Alex has had paralysis down the left side of the body since March – like being stuck in concrete – but as the social care budget is gutted nationally, Alex is left alone for the equivalent of over half the week. ("My carer doesn't even get enough time to shower me.")
Even medicine is a luxury. Since the government started charging for some prescriptions, Alex has simply had to go without them. The same goes for incontinence pads. The council stopped providing pads for anyone but elderly residents two years ago, forcing Alex to spend day and night in a soiled pair. To afford some dignity, Alex began to live off large bottles of milk to try to find the £80 a month for pads. Two years in, they had lost 48kg – triggering an old eating disorder.
I first wrote about what was happening to Alex back in May as my colleague John Domokos filmed the conditions in the flat, in our series investigating the impact of the Conservatives' disability policies. It exposed the new reality for disabled people in Britain after seven years of government cuts: skipping meals to pay for incontinence pads, being robbed of their benefits, or left to lie on the floor for hours with dislocated joints when social care cuts mean there's no carer to help them.
When we first spoke, Alex had battled for months for a safe home, but as Islington council put it at the time, like elsewhere "Islington has a severe housing shortage, and finding suitable, ground-floor, wheelchair-accessible accommodation" near Alex's medical team was "challenging". Even when the council found a ground-floor flat for Alex in the spring, after three months the adaptations still hadn't been completed for them to move in.
But a week after the Guardian's piece, Alex was told the flat would be ready in a month. In the same week, as if by magic, the council agreed to provide half of Alex's pads.
In July Alex finally moved into the new flat and the result has been "life-changing". After years of having to crawl, they can now move between bedroom kitchen, bathroom and front room in a wheelchair. Instead of two flights of steps, Alex can go out of the flat safely all on one level. The sort of things many of us take for granted are suddenly possible – even going to a local cafe and sharing a bacon roll with a carer.
"I don't have to face those stairs any more. I'm not crawling in my flat. I don't have to crawl to the toilet. I'm not falling 10-15 times a week," Alex says. "I can't tell you what that means."
Why does it take the weight of a national paper and months of fighting from your bed for a disabled person to have hope?
This is some good news at a time in politics when it feels as if it's really needed. But the more I think of it, the more I'm angry at what's really a stark vision of a failing welfare state: where it takes the weight of a national newspaper and months of fighting from your bed for a disabled person to have the hope of help. How could a human being in one of the wealthiest nations on earth have been left to live like this in the first place?……………. The only reason Alex could afford the right adaptations is because Guardian readers started a donations fund in response to the story. (To date, the video of Alex has had 6.8m views.) After buying some medication and incontinence pads, Alex chose to donate the rest of the money to disability rights group Disabled People Against Cuts, to help other disabled people enduring cuts. "I know others are worse off than me."
It's the epitome of decency – and a sentiment ministers sitting comfortably in Westminster would do well to share this Christmas. After all, the Conservatives end 2017 having taken thousands of pounds in income from each of around 200,000 disabled people; having left one million without help to dress, eat, or go outside after gutting the social care system; and having overseen a housing crisis that's left wheelchair users such as Alex stuck in their own personal prisons.
As the new year approaches, Alex can't help but think of the battles still ahead. Sitting in the new flat, Alex has calculated that universal credit will see their benefits cut by up to £80 a week. At the same time, like thousands of other disabled people, Alex will have to go through an assessment for personal independence payment – something that's simply "terrifying".
"I thought moving in, this fight was over," Alex tells me. "But because of austerity, you have to fight for everything."

World Politics
United States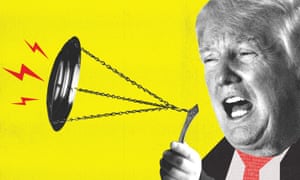 Trump's judicial megaphone Illustration: Sam Morris/Images: Washington Post/Getty
Some even opined that if Hillary Clinton were to win the presidency, rather than compromise on a supreme court pick, they would simply hold the seat open for another four years, a striking statement which, taken to its natural conclusion would mean that we could only fill supreme court vacancies when the Senate and presidency are held by the same party – certainly not what the founding fathers had in mind.
Should it be such a surprise, then, that with their party in control of both the House and the Senate, Republicans have chosen to wield their power to control the judicial branch, simply because they can and even if it does potentially irreparable harm to our democracy?
We need not look to the extreme example of refusing to seat a supreme court nominee to see how Senate Republicans are baking the politicization of the courts into the process and threatening the independence of the judiciary.
Three weeks ago, having wholeheartedly endorsed the importance of the blue slip tradition that requires both home-state senators to submit a literal blue slip saying they support proceeding with the nomination, Senator Chuck Grassley, the Senate judiciary committee chairman, caved to pressure and scheduled confirmation hearings for nominees lacking support from their home-state senators. The blue slip is not some esoteric Senate rule. It is a 100-year tradition and is one of the few tools for the minority party to provide "advice" and check the president. It is a mechanism whereby two senators from a given state, having been elected by the voters of that state, typically get input into who the judicial nominees are for their state's federal courts.
And very often, senators employ commissions of local attorneys to make recommendations on who the nominees should be, thereby inserting into the process a sense of that state's priorities and values. It is understood as part of this process that a nominee from Texas may not look like a nominee from New York who is in turn different from a nominee from Montana. And indeed, this tradition of requiring the go-ahead from home-state senators held strong during the Obama administration, so much so that 18 nominees lacked the support of at least one home-state senator, and those nominations did not receive further consideration.
Now in his rush to pack in as many judges as he can, Grassley has indicated that he would move forward on hearings for nominees where he felt that a withheld blue slip was being used as a tool of obstruction. Never mind that several senators have complained that the White House has unilaterally chosen nominees and they have not even been consulted. Senator Grassley has now inserted himself as the sole arbiter of how much advice and consent is sufficient. Thus far, Grassley has distinguished between district court nominees and circuit court nominees, noting that he will honor the blue slip process for district court nominees. But given the trajectory of the Senate majority, one could reasonably wonder how long it will be before this opportunity for checks and balances simply becomes too much of a nuisance in the path to consolidate power.
This is the way to ensure that they will control the third branch of government for generations to come
Not content to squelch the voice of the minority in filling existing vacancies, the Federalist Society – the conservative group closely advising the White House on judicial nominations – co-founder Steven Calabresi recently called for the creation of hundreds of new judgeships with the express purpose of "undoing the judicial legacy of President Barack Obama". It is a call for conservatives who are inclined to follow their id to take that desire to another level. They control the executive and legislative branches – this is the way to ensure that they will control the third branch of government for generations to come.
This form of control seems even more insidious because they know that many Americans don't pay much attention to the courts. For the time being, the Calabresi proposal has been criticized by several prominent conservatives. But in an environment where the Senate majority continues to exploit every advantage it has – abandoning the blue slip, stacking multiple circuit court nominees in a single hearing thereby constricting the time for questions, moving forward on nominees before the American Bar Association has completed its review and advancing even the nominees rated unanimously not qualified by that body – it is hard to see where the breakdown of norms ends.
And notably, as the Trump White House picks judges, we see a stream of nominees who are whiter and more male than they have been in decades. Indeed, there are seats where a white male replaced a previous nominee who was a woman and/or person of color who Senate Republicans made sure never got a hearing during the Obama administration. The trend is toward a bench that will soon not look like the litigants before them.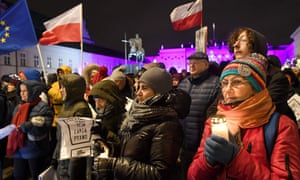 Polish people protesting in front of the presidential palace in Warsaw on 14 December against the rightwing government's court reforms. Photograph: Janek Skar?y?ski/AFP/Getty Images
The Polish government has accused the European commission of a politically motivated attack after the EU's executive body triggered a process that could see the country stripped of voting rights in Brussels, over legal changes that the bloc claims threaten the independence of the judiciary.
In a highly symbolic moment, Poland's fellow 27 EU member states were advised by the commission on Wednesday that the legislative programme of Poland's government was putting at risk fundamental values expected of a democratic state by allowing political interference in its courts.
The row represents the greatest crisis in the EU since Britain's decision to leave the EU last year, with the Polish government showing little inclination to back down.
Frans Timmermans, the vice-president of the commission, told reporters in Brussels that in two years 13 laws had been adopted that put at serious risk the independence of Poland's judiciary and the separation of powers.
"Judicial reforms in Poland mean that the country's judiciary is now under the political control of the ruling majority. In the absence of judicial independence, serious questions are raised about the effective application of EU law," Timmermans, a former Dutch diplomat, said.
"We are doing this for Poland, for Polish citizens."
Poland's new prime minister, Mateusz Morawiecki, responded on Twitter: "Poland is as devoted to the rule of law as the rest of the EU." The Polish foreign ministry said in a statement: "Poland deplores the European commission's launch of the procedure […] which is essentially political, not legal."
Hours later the Polish president, Andrzej Duda, gave a televised address to announce he had signed into law the two bills overhauling the judiciary.
The issuing of a formal warning to Poland has been recommended to the member states under the first clause of an, until now, unused article 7 procedure, which is regarded as a nuclear option in EU affairs. "It is with a heavy heart that we have decided to initiate Article 7.1," Timmermans said. "But the facts leave us with no choice."
At least 22 of the 28 member states will now need to vote in favour of the commission's proposal for a formal warning, but Brussels is confident it has the numbers it needs.
The most serious sanction possible under article 7 would be to suspend the member state of its voting rights in EU institutions, and potentially EU financial transfers to the bloc's largest beneficiary, but it would require unanimity among the member states in a subsequent vote. Hungary's rightwing government has insisted it would never support such a move.
Zsolt Semjén, Hungary's deputy prime minister, immediately described the commission's move as "unprecedented and astounding" and reiterated the declared intention of the prime minister, Viktor Orbán, to block any sanctions.
"The decision seriously damages Poland's sovereignty," Semjén said. "It is unacceptable that Brussels is putting pressure on sovereign member states and arbitrarily punishing democratically elected governments."
Timmermans said that although there has been no dialogue with the Polish government this year on the issue, the EU was open to talks on the current standoff.
Morawiecki took office this month and Warsaw was advised that the commission could rescind its decision if remedies were enacted within the next three months.
It was always clear, however, that the commission's decision would exacerbate a growing sense of crisis over Poland's membership of the EU.
Speaking to state television earlier on Wednesday, the foreign minister, Witold Waszczykowski, said that any decision to initiate article 7 proceedings would constitute "an attempt to stigmatise Poland and push us aside when key decisions are made in the EU".
State television news, controlled by the ruling Law and Justice party since the passage of a controversial media law in 2016, accompanied its coverage of the announcement with the headline "Frans Timmermans wants to take away Poles' right to reform their own country".
"Poland's image and influence in the EU has already suffered under the policy of the PiS government, so the international consequences of the commission's move will be limited, but the domestic fallout will be more important," said Piotr Buras, director of the Warsaw office of the European Council on Foreign Relations.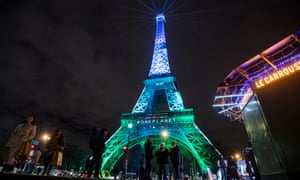 The Eiffel Tower is illuminated by the One Planet Summit colours. Photograph: Julien de Rosa/EPA
Agence France-Presse
France's parliament has passed into law a ban on producing oil and gas by 2040, a largely symbolic gesture as the country is 99% dependent on hydrocarbon imports.
In Tuesday's vote by show of hands, only the rightwing Republicans party opposed, while leftwing lawmakers abstained.
No new permits will be granted to extract fossil fuels and no existing licences will be renewed beyond 2040, when all production in mainland France and its overseas territories will stop.
Socialist lawmaker Delphine Batho said she hoped the ban would be "contagious", inspiring bigger producers to follow suit.
France extracts the equivalent of about 815,000 tonnes of oil per year – an amount produced in a few hours by Saudi Arabia.
But centrist president Emmanuel Macron has said he wants France to take the lead as a major world economy switching away from fossil fuels – and the nuclear industry – into renewable sources.
His government plans to stop the sale of diesel and petrol engine cars by 2040 as well.
Above all the ban will affect companies prospecting for oil in the French territory of Guyana in South America, while also banning the extraction of shale gas by any means – its extraction by fracking was banned in 2011.