22 Dec
News and Analyses, A Foreign Perspective
Nearly all of these are English-edition daily newspapers. These sites have interesting editorials and essays, and many have links to other good news sources. We try to limit this list to those sites which are regularly updated, reliable, with a high percentage of "up" time.
2016 Berlin Christmas Market Attack
One year after the terror attack on the Christmas market in Berlin, the relatives of the victims feel like the German authorities have treated them callously or neglected them. Some of their anger is also directed at German Chancellor Angela Merkel.
Werner Schuering / DER SPIEGEL
It's all supposed to come to an end on Dec. 19, the day they meet on Breitscheidplatz square, next to the Kaiser Wilhelm Memorial Church in Berlin. They will travel to the city from Israel, from the United States and from closer by in the German state of Brandenburg and. They will kneel at the gouge in the ground that continues through the stairs of the church. The names of the 12 deceased have been placed on the steps. Surviving family members will sink a few ounces of liquid gold into the ground in order to complete the memorial commissioned by the city government, finally closing a wound.
If only things were that easy.
A year has passed since the terrorist attack on the Christmas market at Berlin's Breitscheidplatz and the memorial ceremony has been scheduled to mark the end of a year of mourning. But the weight of that attack and what has come since cannot simply be neatly relegated to the past. Twelve people died on the night of the crime and close to a hundred people were injured and some of the victims are still in clinics today. And few have been able to overcome their loss — either to their personal health or the loss of a family member. Most wounds are far from being healed.
But when you meet with the victims' relatives, many are quick to report about something very different that happened after the attack. They speak of their disappointment, of a government that failed in their eyes. They decry a state that failed to prevent a terrorist from perpetrating an attack right in the middle of Berlin. And then abandoned them. They say it's a wound that will never be healed.
Their stories are horrific.
Family members spent days wandering around Berlin before they obtained any certainty that their children, parents or siblings were living or not. They say that nobody answered hotlines, that lists of victims were managed chaotically, that the authorities were overwhelmed and that officials were insensitive.
They say that there was no central point of contact they could turn to. Nor was there anyone who could help victims and surviving family members apply for compensation or hardship assistance.
Even as newspapers published photos and reports on the perpetrator, there were few stories about the victims. They seemed to have been forgotten.
There was no official state event to commemorate the dead like there had been in France. In Italy, the country's president was present when the body of an Italian national killed in the terrorist attack arrived in the country, while in Poland, the country's president also kneeled in front of the coffin of the Polish truck driver who had been killed in the Berlin terrorist strike. In Germany, though, the chancellor didn't even send a letter of condolence. Instead of visits or recognition, surviving family members were quick to receive bills for forensics examinations — 51 euros (60 dollars) to be paid within 30 days. Otherwise, they would be turned over to debt collectors.
Month after month, surviving family members learned of ever-greater failures and cover-up efforts on the part of the investigating authorities. They also learned that the perpetrator had around a dozen assumed identities, that he had been a drug dealer, that he had committed fraud and that he had been able to prepare a terrorist attack under the officials' noses. And that afterward, law enforcement officials apparently doctored the files to cover up their failures in the run-up to the attack.
Over time, disappointment turned into anger.
On the eve of the one-year anniversary, DER SPIEGEL interviewed survivors and witnesses of the Breitscheidplatz terrorist attack. Magazine reporters also reviewed thousands of pages of internal documents and interviewed victim liaisons from the German federal government and from the city-state of Berlin.
The image that emerges is a shameful one: On Dec. 19, 2016, Islamic State terror reached Germany. But it struck a country incapable of mourning the victims or taking care of their survivors. Even though the risk of terrorism had been increasing for years, officials seemed astoundingly unprepared for the attack when it finally arrived.
The anger of those affected by the attack is apparent in an open letter from the surviving family members of all 12 of the victims sent to German Chancellor Angela Merkel. In it, they write that the chancellor did not rise to the level of her office in dealing with the attacks. "It is our firm expectation of you, Madame Chancellor, that the German government help our families comprehensively and unbureaucratically." The attack on Breitscheidplatz, they write, "is also the tragic consequence of political inactivity on the part of your government."
Death
It was 6:53 p.m. on Dec. 19 when Lukasz Urban, 37, slipped a DVD into his laptop in the sleeping cabin of the semi-truck he had been driving. He had wanted to leave Berlin much earlier, but ThyssenKrupp told him they were unable to unload the steel beams his truck was carrying. He would have to spend the night in his truck in the Berlin industrial park………….He says that a representative of the German government promised him at his hospital bed that he would be taken care of. But so far, he and his children have received very little support — at least not enough to live in dignity, he believes.
Elyakim has since been recognized by the Israeli government as a victim of terrorism. The Israeli parliament, the Knesset, even changed the law on his behalf. Previously, assistance had only been given to victims of terrorist attacks abroad if Israelis or Jews had been targeted. Elyakim says he's very grateful to the Israeli government for its help, but that he also believes it is the Germans who should be assisting him.
Anger
There's a thick binder on the table at the home of Sigrid and Hans-Georg Rheinsberg, and two others are lying on the floor. The binders contain all the newspaper clippings they have collected since the death of their daughter, Dorit Krebs.
Their anger grows with each new sheet of paper they read.
"Someone should have been there for us from the beginning — for all of us," says Sigrid. Her husband adds, "Nothing came — no letter, nothing."
Sigrid says that the "government also shares responsibility. It wasn't the perpetrator, but it did share responsibility."
She adds that Merkel had taken refugees in under her arm but, when it came to the victims of the terrorist attack, she did nothing.

A mountain hare in the snow, a Christmas beetle, and the pre-speech toddler who has befriended a pack of wild monkeys all feature in this week's pick of images from the natural world
Samarth Bangari, aged 2, sits among langur monkeys in a field near his home in Allapur in India's southwest Karnataka state. He is still too young to talk, but the 2-year-old Indian boy has become a subject of local intrigue after befriending a gang of langur monkeys.
Photograph: Manjunath Kiran/AFP/Getty Images

World Politics
United States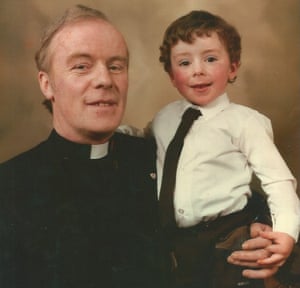 Vincent Doyle and his father JJ. Though the pair spent most weekends together, Vincent says he believed the priest was merely his godfather. Photograph: Family Photo
When he was a boy, Vincent Doyle spent most weekends with a priest he believed was his godfather.
Every Friday night they would watch MacGyver and Vincent would stay in a room that the priest, who was called JJ, kept for him. And every morning before school, he would call Vincent to wish him well.
It was not until years later when Doyle, a psychotherapist based in Galway, was sitting in the kitchen with his mother, leafing through old poems the late priest had written, that he asked the question he innately knew the answer to. "I said: 'He was my father, wasn't he?' And I saw a tear come out of her," Doyle says.
Catholic priests have been breaking their vows of celibacy and fathering children for decades, if not centuries. For just as long, the Vatican has not publicly addressed the question of what, if any, responsibility the church has to provide emotional and financial support to those children and their mothers. Until now.
A commission created by Pope Francis to tackle clerical sexual abuse will develop guidelines on how dioceses should respond to the issue of the children of priests.
The pontifical commission for the protection of minors has been criticised for doing too little on child sexual abuse. Its decision to take up the issue of priest fathers comes after Irish bishops published guidelines this year that have been hailed as a global model.
They say a child's wellbeing must be the first consideration of a priest father, and that he must "face up" to his personal, legal, moral, and financial responsibilities.
Acknowledgement of the issue has come about in part because people such as Doyle, who has launched an organisation designed to help priests' children cope with their difficult childhood circumstances, are speaking out like never before.
I had a rotten childhood. I used to pray to God to send me a friend

John Anderson
It is, says John Allen, a veteran Vatican journalist, an example of the "Francis effect". "He has encouraged a spirit of open discussion. There is a vast global loosening up under Pope Francis, and this is one expression of it," he says.
In the past, a bishop who was confronted with a priest father would have been most concerned about the priest breaking his vow of celibacy, Allen says. The priest would probably have been urged to avoid being "tempted" by the mother again and told to ensure the child was taken care of, but not have a personal relationship.
Doyle has loving memories of his father, whose surname he adopted. He will not talk about his parents' relationship out of respect for his mother's privacy, except to say one thing: they loved each other.
"He did everything he could for me in the circumstances," Doyle says. "I simply loved him like a son would. The only problem is, you cannot say it."
When he was a child, he says, his mother was under pressure and lacked visible social support. "People were led to believe that you were the only one."
While he is encouraged by the signs of progress, Doyle wants the pope to confront the issue personally. When secrecy has been imposed on a child for their whole life, he says, it is a form of abuse that must be addressed.
"The big problem with children of priests is that they technically don't exist, and until someone says they actually exist, it is a psychological battle that the children face," Doyle says.
John Anderson, 72, contacted Doyle after hearing about his organisation, Coping International, and was moved to share his story for the first time.
Anderson says he was 18 when he learned that his father was a French priest. He never knew him and his birth certificate still states that his father is unknown. It was not supposed to be that way.
When Anderson's mother was pregnant, he says, the plan was that she would enter a convent and that he would be adopted by his mother's doctor.
Instead, his mother kept him and the pair took a £10 ticket to Australia when Anderson was three, armed with a letter of recommendation written by his father, which stated that his mother was a "creditable emigrant".
As an adult, Anderson underwent years of psychotherapy and experienced bouts of mental illness, an issue he traces back to his difficult childhood with a mother who was incapable of caring for him.
Anderson says he was unable to be a proper father to his three daughters because he was too insecure and incapable of trusting anyone.
"I turned into this ice man in a way," he says. Anderson went on to be an artist, but it was challenging because he was still unable to access his emotions.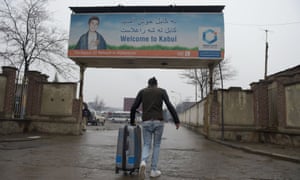 An Afghan refugee who was deported from Germany arrives in Kabul. Photograph: Wakil Kohsar/AFP/Getty Images
Britain and other European nations are under increasing pressure to explain why they are sending hundreds of desperate Afghans back to one of the world's most dangerous countries.
MPs and MEPs have raised questions about whether the EU tied a 2016 aid package for Afghanistan to its willingness to take back refused asylum seekers.
Since the deal, forced repatriations have accelerated. The International Organisation for Migration says 500 Afghans have been forcibly removed back to Afghanistan this year, compared to 200 last year. More than 3,000 have returned voluntarily this year.
As of September 2017, Afghans accounted for the largest number of asylum applications in the EU, with 170,045 pending cases. But they lose more than 50% of asylum appeals – far more than Syrians do – because some parts of the country, such as the capital, Kabul, are now considered safe.
Human rights activists say people sent home could be killed, and Amnesty has accused Germany and other European countries of breaking international law by deporting at a time when civilian casualties in the country are at their highest for years.
In a report discussed by the UN security council this week, the UN secretary general, Antonio Guterres, noted that security was parlous throughout the country.
"Targeted killings and abductions increased by 16% compared with the same period in 2016," his report said, adding that there were more than 21,000 security-related incidents in the first 11 months of the year.
The UN's assistance mission in Afghanistan said that in the first nine months of 2017 more than 2,000 civilians were killed and more than 5,000 injured.
In Germany, the repatriations have sparked a wave of airport protests, with signs reading "Don't send people back to die". Some pilots have joined the movement, refusing to fly repatriation planes.
"What the government is doing is awful," said Ramin Mohabat, an Afghan refugee who protested against the departure of 78 asylum seekers at the beginning of December. "They are playing with people's lives and everyone who is sent back is in danger.
"I have been all over Afghanistan and I know all the cities, and conflict is happening everywhere. The biggest problem is the Taliban but there is also the Islamic State now and in every city there are different armed groups that just do what they want to do.
The EU and Afghanistan signed a "joint way forward" agreement in November 2016 as part of an aid package that contained provisions for deportations of migrants if asylum claims had been lost.
The EU is now being challenged to explain whether the £184m of "state-building aid" was made "migration sensitive" and whether it would have been withheld unless Afghanistan agreed to cooperate on the enforced deportation of Afghans that lost asylum appeals in Europe.

Result a severe blow to the Spanish government which had hoped the vote would halt the push for secession
'A slap in the face' for Madrid: Puigdemont hails Catalonia election win – video
Catalan pro-independence parties have held their majority in snap regional elections, dealing a severe blow to the Spanish government, which had called the poll in the hope of heading off the secessionist push. Together for Catalonia – the party led by the region's deposed president, Carles Puigdemont – took 34 seats, the Catalan Republican Left (ERC) 32 and the far-left Popular Unity Candidacy four. Making his victory speech, a jubilant Puigdemont said the Spanish prime minister, Mariano Rajoy, had been 'sunk' in Catalonia
Catalan pro-independence parties have held their absolute majority in snap regional elections, dealing a severe blow to the Spanish government, which had called the polls in the hope of heading off the secessionist push.
The deposed Catalan president, Carles Puigdemont, described the result as a "a slap to the face" to the Spanish prime minister, Mariano Rajoy.
The three separatist parties won a total of 70 seats in the 135-seat regional parliament even though the centre-right, pro-unionist Citizens party was the single biggest winner, taking 37 seats.
Between them, the three parties will have enough seats to reassemble the parliamentary majority that put them into office after the 2015 elections if they can agree a new coalition.
However, they once again failed to attract a majority in favour of independence: taking 47.7% of the vote and two seats down in comparison with the last election.
Together for Catalonia – the party led by Puigdemont – took 34 seats, the Catalan Republican Left (ERC) took 32 and the far-left, anti-capitalist Popular Unity Candidacy took four.
The Catalan Socialist party took 17 seats, while Catalunya en Comú-Podem – the Catalan version of the anti-austerity Podemos party – took eight.
Trailing them was the Catalan branch of Spain's ruling People's party, which won three seats – eight fewer than in 2015.
The vote, which pitted secessionists against unionists, attracted a record turnout of more than 80%, dispelling fears that holding the election on a weekday rather than the usual Sunday would hit turnout.
Puigdemont had been campaigning from Belgium after fleeing to Brussels on the grounds that he would not receive a fair trial in Spain over possible charges of rebellion, sedition and misuse of public funds.
His former vice-president, Oriol Junqeras, leader of the ERC, is in prison along with two prominent pro-independence leaders.
Puigdemont said the results had demonstrated the strength of the Catalan people. "As Catalan president I wish to congratulate people for delivering an indisputable result," he said in Brussels. "We have won this election in exceptional circumstances, with candidates in prison, with the government in exile and without having the same resources as the state."…………………..At the end of October, MPs in the regional parliament again defied the central government by voting for independence by a margin of 70 votes to 10 as dozens of opposition MPs boycotted the secret ballot.
Rajoy responded by invoking the never-before-used article 155 to take control of Catalonia, sack the regional government and call the elections.