24 Dec
News and Analyses, A Foreign Perspective
Nearly all of these are English-edition daily newspapers. These sites have interesting editorials and essays, and many have links to other good news sources. We try to limit this list to those sites which are regularly updated, reliable, with a high percentage of "up" time.

For those living hand to mouth, the holiday season brings added stress: 'Every time you get an extra penny, something comes along that costs a nickel more'
Sepia Coleman: 'I've been stretching to make ends meet. But I can't even get the ends to come close to each other.' Photograph: Andrea Morales/Andrea Morales for The Guardian
A

pile of assorted Christmas cards, decorated with snowmen, Santa and the baby Jesus, sits gathering dust in Sepia Coleman's dresser drawer. This year, the 46-year-old grandmother won't have the money for stamps to send them out.
Instead Coleman, a home healthcare worker in Memphis, who works three different jobs at wages that hover around $8.50 an hour, will care for patients on Christmas Eve and Christmas Day in hopes of earning enough money to stave off eviction.
At a time when labor market and consumer spending statistics point to a booming holiday season economy, Coleman is one of millions of Americans who are one missed paycheck away from homelessness. Some must even choose between holiday gifts and rent.
Coleman has already received a warning from her usually agreeable landlady that she needs to catch up on back rent by Christmas or face eviction. She makes $1,300 a month and pays $600 rent. She recently had to take out a payday loan because the power company had turned off her electricity. Now she isn't sure where she will come up with the extra $200 she needs to stay in her apartment.
"The holidays are very depressing for me," said Coleman. "I'm not a material person. But I don't have the extra to spend. I've been stretching to make ends meet. But I can't even get the ends to come close to each other."
While the economic indicators are up for some, a deeper look at the realities facing those at the lower end of the economic spectrum shows many who, like Coleman, are barely able to hang on. For instance, a survey of nearly 7,000 Americans released by the Federal Reserve Board in May found just under half of respondents said they would not be able to handle a $400 emergency expense, without having to borrow.
"People are working; they are just not working at high enough wages or for enough hours," said Sarah Bohn, a research fellow at the Public Policy Institute of California, who studies the economics of poverty. "Wages are not increasing at the rate housing costs are rising. We see that as the number one factor driving poverty."
Tonia McMillian, who has been running a home-based childcare center in Bellflower, California, for the last 25 years, recently had to scale her program down to six children from 12, because when she paid her assistants minimum wage she found she was no longer earning it herself.
After business expenses and taxes, she said she only makes about $12,000 a year.
"Every time you get an extra penny," she said, "something comes along that costs a nickel more."
For the holidays, she wanted to get gifts for the children she cares for, so she is financing it through an online retailer that offers credit for purchases. She'll be paying it off for the whole year.
Sarah Delte is just managing to survive being a single mom in the expensive San Jose, California, housing market. She said she scrapes by because she has a Section 8 housing subsidy, food stamps and her mother living with her, in addition to having a part-time job at Jack in the Box…………….."I put up the tree this week," she said. "Me and the kids are going to decorate it. Then we will probably bake cookies."
"Beyond that, I don't know," she said. "I'll figure it out. I always do."

World Politics
Russia
Lawyer seen as the only opposition leader who stands a chance of challenging Putin seeks to get his name on ballot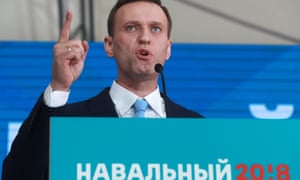 Alexei Navalny: 'Not letting us contest the election is impossible.' Photograph: Sergei Fadeichev/Tass
Alexei Navalny, seen as the only Russian opposition leader who stands a fighting chance of challenging Vladimir Putin, has attempted to get his name on the ballot for a March presidential election, with supporters gathering across Russia to endorse the move.
Thousands of people who back him were meeting in 20 Russian cities on Sunday to formally nominate his candidacy in the presence of electoral officials in an attempt to boost his chances of making the vote.
Russian electoral officials have deemed him ineligible to run due to a criminal conviction, saying "only a miracle" would help him get registered.
Putin, 65, announced this month he would seek a fourth presidential term, which would extend his rule until 2024 and make him the longest-serving Russian leader since dictator Joseph Stalin.
But Navalny, who has tapped into the anger of a younger generation who grew up under Putin and yearn for change, said he would not give up. He hopes that popular support for his Kremlin bid would pressurise authorities into putting his name on the ballot.
"Not letting us contest the election is impossible," Navalny wrote in a blogpost this week.
The 41-year-old lawyer has built a robust protest movement in the face of persistent harassment and jumped through multiple hoops as he campaigned across the country in an effort to shift attitudes amid widespread political ennui.
He says he is the only Russian politician who has run a genuine western-style political campaign, stumping for votes in far-flung regions. In Moscow, finding a premises for the Sunday event had been so hard that Navalny's campaign pitched a huge tent in a park on the snow-covered shores of the Moscow river.
Yury Berchenko, one of about 300 supporters who gathered in the tent, called Navalny an honest and sincere man, saying he should be allowed to contest the vote. "He mobilises people," Berchenko said. "Such a man should be president or at least take part in a debate and ask difficult questions."
Marina Kurbatskaya was also present in the park to support Navalny as she criticised "lies and thievery" in Russia. "If Navalny is not allowed to run I am not going to vote," she told AFP. "I don't see anyone else who I want to become president."
Earlier on Sunday supporters in the Pacific port of Vladivostok, Irkutsk, Krasnoyarsk, and Novosibirsk in Siberia and other cities formally endorsed Navalny's candidacy.
According to legislation, in each city he will need at least 500 people to formally nominate his candidacy. In Moscow alone, more than 700 people supported his candidacy at the event which at times felt like a US campaign conference.
Two members of the central election commission attended the Moscow event, Navalny's campaign said.
Despite a litany of problems such as corruption, poor healthcare and increasing poverty, opinion polls suggest Putin enjoys approval ratings of 80% and is expected to sail to victory against token opponents.
Asked why Navalny had been barred from running, Putin – who has refused to mention him by name in public – said this month the opposition was hoping for a "coup" but would not succeed.
Navalny rose to prominence as an organiser of huge anti-Putin rallies that took place in Russia from 2011 to 2012 following claims of vote-rigging in parliamentary polls.
United States

Christmas in Bethlehem: a Palestinian man sells balloons in Manger Square. Photograph: Atef Safadi/EPA
In Bethlehem's Manger Square the huge nativity scene, donated by Malta, sits in pride of place under a grid of festive lights draped across the plaza. On Friday morning, a solitary hawker of Santa hats was touting his business, the only visible buyer a mother in a hijab who bought one for the toddler she was carrying in her arms.
Today – as every Christmas Eve – this square and the bulk of the ancient Church of the Nativity which sits on its periphery, will be lit up by television lights to allow images of Christmas in Bethlehem to be transmitted around the globe. But once again, say the West Bank city's Palestinian residents – including the large Christian minority – it will be another gloomy holiday.
The reason will be evident from two large banners that the city's municipality plans to hang in the square for today's celebrations.
In a direct response to US President Donald Trump – who earlier this month broke with decades of international consensus to recognise neighbouring Jerusalem as the capital of Israel – the banners will state that Jerusalem is "always the eternal capital of Palestine".
Bethlehem has already made its feeling clear about Trump and key figures in his administration. Following the US president's 6 December announcement on Jerusalem, his avowedly Christian vice-president Mike Pence was "disinvited" from a festive visit by both Palestinian religious and political leaders, who made clear he was not welcome in the city.
In the fortnight or so since Trump's announcement, nowhere in the occupied Palestinian Territories has been left untouched by his decision, even as the wider international community has united to denounce it. The United Nations general assembly voted overwhelmingly on Thursday to reject Trump's move, ignoring the president's threats to cut off aid to any country that went against him.
However, in the Holy Land, Christmas has lent an edge and poignancy to the fallout from Trump's declaration. In speeches, both local and international, Palestinian figures – including President Mahmoud Abbas – have insisted on linking the symbolic way points in the Christian story – including Nazareth and Bethlehem – to the fate of Jerusalem.
Bethlehem and Jerusalem are the alpha and omega of the Christian narrative; the first the birthplace of Christ and the second the site of his crucifixion and resurrection. In Palestinian Christian society during the major festivals, the faithful have traditionally shuttled between the two. Before the construction of Israel's separation wall, which sheared off Bethlehem from Jerusalem's outskirts, Palestinian Christian life rotated around the two cities – and Jericho – which were seen as a series of key locations for the Christmas celebrations.
"The link between the two cities is traditional and historic," explains Fadi Kattan, who runs a guesthouse and restaurant in the heart of Bethlehem's Old City, just off Star Street.
"Before the second intifada [2000-2005], Jerusalem, especially Saladin Street, was where Palestinians from Bethlehem went to do their Christmas shopping. When I was a kid that's where we went to buy our Christmas decorations and our ham. It is where the wealthier Bethlehem families went on Christmas Day, for lunch at the American Colony and National hotels.
"Our own family tradition," adds Kattan, "was to have a lunch for around 100 people to welcome the arrival of the patriarch."
Since those days, horizons have shrunk both physically and mentally. The separation wall has made travel between Palestinian areas far more difficult. Trump's statement on Jerusalem, despite the defiance, has now hacked away at a more visceral emotional sense of belonging…………………Like many Palestinians this Christmas, Giacaman is feeling very weary. "Palestinians are tired. It is clear since the second intifada that the Oslo peace accords have been a failure and we should dissolve the Palestinian Authority. Since the beginning it has always been clear that the United States has been on the side of Israel.
"All Trump has done is put that on table in plain sight rather than under the table. Nothing has changed apart from that. And we, as Christian Palestinians, have been victims of these policies for years."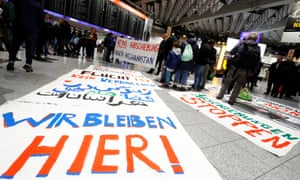 Protesters with placards calling for an end to deportations to Afghanistan, at Fraport airport in Frankfurt earlier this month. Photograph: Kai Pfaffenbach/Reuters
European nations are deporting to Afghanistan young Afghans who have never set foot in the country, or not lived there since they were infants.
An accelerated programme of forced removals this year resulted in several instances of the terrifying paradox in which young men are sent "home" to a country they do not know.
Ali Reza Azimi, 22, had never been to Afghanistan until German authorities deported him to Kabul. Arrested in Germany on the morning of 5 December, he was in Kabul by 7 December with only what he wore.
"They didn't let me even change my clothes," he said, pointing out with a wry smile the mismatched socks he'd been sleeping in when the German police detained him.
Once he disembarked the SmartWings chartered flight at Kabul airport with 26 other young male deportees, Azimi was effectively left to fend for himself in a completely foreign land.
It was a year since his asylum application had been rejected, and seven years since he had fled Iran – the country where he was born and where his family has lived for the past 40 years – amid rumours Iran was rounding up Afghan refugees to form Shia militias, he said.
Another 26-year-old asylum seeker also removed from Germany and on the same flight had not been in Afghanistan since he was five. "I left and went to Iran then and it was when they tried to deport me and send me back to Afghanistan that I fled for Germany," he told the Guardian before he left. "I am afraid because I think someone will kill me in Afghanistan."
In Sweden, the Guardian has spoken to at least one Afghan who has received deportation orders despite never having been to Afghanistan.
"My parents were persecuted in Afghanistan because they were Hazaras," said Moji, 17. "They took refuge in Iran before I was born and I have always lived there." Since Moji's family is undocumented, he is officially regarded as Afghan.
Europe has been criticised for returning Afghans to a country that is one of the world's most dangerous.
The International Organisation for Migration (IOM) said that of the cases it was aware of, voluntary returns of Afghans from Europe halved this year compared with last year, while the number of forced deportations had more than doubled.
It recorded around 500 cases of forced deportations this year, compared with 200 in 2016, according to Masood Ahmadi, IOM Afghanistan's national programme manager for return, reintegration, and resettlement.
"We do work a lot to encourage governments to give people opportunity to decide to return voluntarily. This in itself is a kind of 'No to forced returns'. The reason is that it is not sustainable. It is not helpful," Ahmadi said.
But not all voluntary returnees are voluntary.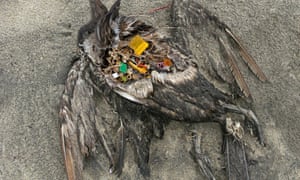 Dead seabird with a large amount of plastic debris in its stomach. Photograph: Alamy Stock Photo
The world's oceans are set for a long overdue boost in the coming days as the United Nations votes for the first time on a planned treaty to protect and regulate the high seas.
The waters outside national maritime boundaries – which cover half of the planet's surface – are currently a free-for-all that has led to devastating overfishing and pollution.
But after more than five years of negotiations, UN members are poised to agree to draw up a new rulebook by 2020, which could establish conservation areas, catch quotas and scientific monitoring.
"This is the biggest opportunity to change the status quo we have ever had," said Will McCallum, the head of oceans at Greenpeace. "It could change everything."
A debate on whether to move ahead with a High Seas Treaty has been tabled before the end of the year at the UN headquarters in New York.
The motion is supported by 140 nations, which is more than the two-thirds needed for passage.
"This is great news. This vote could open the way to create a Paris Agreement for the ocean," said Maria Damanaki, a former European Union Commissioner for Maritime Affairs and Fisheries who is now working for The Nature Conservancy. "This could be the most important step I have seen in my 30 years working on oceans."
Only 3.5% of the world's oceans are currently protected. The remainder is increasingly over-exploited and contaminated by pollution, fishing and seabed mining. "There are multiple stressors and they are all getting worse," said Damaki. Despite the grim situation, she was optimistic that attitudes were changing thanks to programmes such as the BBC's Blue Planet and media campaigns about plastics dumped in the ocean.
Conservation groups have lined up to support a treaty. "The science is clear on the role oceans play in ensuring the current and future liveability of the planet. If we want our oceans to continue to provide food, absorb carbon, and regulate climate for the planet, protecting the biodiversity of the high seas is critical," said Aulani Wilhelm, SVP, Center for Oceans at Conservation International.
If the vote passes as expected, the UN will host four meetings over the next two years to draft the treaty. Ocean activists hope this will lift the subject to the same level as climate and land biodiversity and ultimately result in a legally binding set of regulations.
But the scale and scope of a treaty is not yet decided. There are also doubts about how effective it will be given the difficulties of enforcement, which will rely on national governments.
"Enforcement will be a key issue facing nations over the next two years," said Liz Karan, of the Pew Charitable Trust. "We're not expecting a UN navy, but we hope that big nations will use their navies plus advances in satellite technology and tighter monitoring requirements for all vessels to have tracking devices."
Several major fishing nations have been hesitant about signing up. Iceland, Japan and South Korea have moved towards support for a treaty, though some of their negotiators want it to exclude fishing. "The US and Russia haven't signed, but they haven't opposed either," Damanaki said. There are also hopes that China will come round and play a positive leadership role as it is increasingly doing on climate issues.
Despite such uncertainties, conservation groups say the heightened focus on oceans is a sign of progress.
"Some of the most undersurveyed of all ocean systems are in the high seas, and because they aren't protected by the laws of any country, they are among the most vulnerable and potentially over-exploited on Earth," said Aulani Wilhelm of the Center for Oceans at Conservation International. "The science is clear on the role oceans play in ensuring the current and future livability of the planet. If we want our oceans to continue to provide food, absorb carbon, and regulate climate for the planet, protecting the biodiversity of the high seas is critical."