25 Dec
News and Analyses, A Foreign Perspective
Nearly all of these are English-edition daily newspapers. These sites have interesting editorials and essays, and many have links to other good news sources. We try to limit this list to those sites which are regularly updated, reliable, with a high percentage of "up" time.
© Andrey Borodulin, AFP | Russian jailed opposition leader Alexei Navalny attends a court hearing in Moscow on June 16, 2017.
Russia's central election commission voted on Monday to bar opposition leader Alexei Navalny from running in a presidential election next year, saying he was ineligible because of a past criminal conviction.
The commission said the conviction, for which Navalny received a suspended sentence and which he has repeatedly described as politically-motivated, meant he could not run for president in March.
Twelve members of the 13-member commission voted to bar Navalny. One member of the commission abstained, citing a possible conflict of interest.
Polls show President Vladimir Putin is on course to be comfortably re-elected, meaning he could remain in power until 2024.
Navalny, 41, has been jailed three times this year and charged with breaking the law by repeatedly organising public meetings and rallies.


World Politics
United States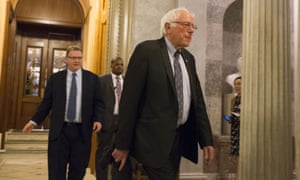 Bernie Sanders on the day of the Senate vote on the tax reform bill, 20 December 2017 in Washington DC. Photograph: Tasos Katopodis/Getty Images
Senator Bernie Sanders on Sunday refreshed his attack on Donald Trump's tax cuts, criticizing the measures for making cuts to middle class Americans temporary but those to corporations permanent.
Sanders' criticism came as a report claimed Trump had said to wealthy guests at a dinner at Mar-a-Lago on Friday evening, "You all just got a lot richer".
The senator, speaking to CNN's State of the Union, said: "At the end of 10 years, 83% of the the benefits go to the top 1%, 60% of the benefits go to the top one-tenth of 1%, meanwhile well over 80 million Americans will be paying more in taxes, 13 million will lose their healthcare and we will have an additional $1.4tn deficit …"
Trump's comments, reported by CBS News, were said to be directed to friends dining nearby at the exclusive club that has become known as the "Winter White House." Earlier in the day Friday he signed the sweeping $1.5tn tax cut bill into law before leaving Washington for the holiday break.
Trump spoke at length during the signing, thanking congressional Republicans. He predicted the measures would be "a tremendous thing for the American people".
"It's going to be fantastic for the economy. It's going to keep companies from leaving our shores and opening up in other countries." Companies, he said, would go "wild" about this.
But his reported comments to guests at Mar-a-Lago, where initiation fees cost $200,000 and carries annual membership fees of $14,000, are certain to grate opponents who reject Trump's characterization of the tax bill as a break for the middle class.
Critics of the measures argue the cuts disproportionately benefit the most affluent Americans. Trump has said the tax bill is "not good" for him personally, though by some estimates Trump could enjoy a $15m tax break. However, Trump's refusal to release his tax returns makes this hard to gauge accurately.
In his comments Sunday, Sanders flatly rejected Trump's tax claims: "His tax plan was going to benefit the middle class, but the bulk of the benefits go to the rich and to large corporations."
"He was going to take on the drug companies but he appoints the guy to health and human services who comes from the drug companies etc, etc."
Asked to characterize Republican electoral losses in Virginia and Alabama, Sanders described them as a referendum on both Trump's leadership.
"This is a man who said one thing during the campaign, but his actions are very different. He said he wanted to 'drain the swamp,' but now it looks like the swamp now has more billionaires in his administration than any in American history."
Sanders added that the electoral results should also give party leadership in the House and Senate reason for grave concern.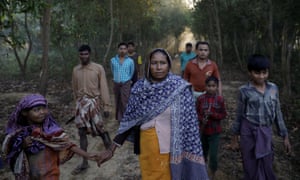 A Rohingya refugee walks with her daughter to cut firewood near the Palongkhali refugee camp in Bangladesh Photograph: Marko Djurica/Reuters
Agence France-Presse at the United Nations
The UN general assembly has urged Myanmar to end a military campaign against Muslim Rohingya and called for the appointment of a UN special envoy, despite opposition from China, Russia and some regional countries.
A resolution put forward by the Organisation of Islamic Cooperation was adopted by a vote of 122 to 10 with 24 abstentions.
China, Russia, Cambodia, Laos, the Philippines and Vietnam joined Myanmar in voting against the measure as did Belarus, Syria and Zimbabwe.
The resolution calls on the government to allow access for aid workers, ensure the return of all refugees and grant full citizenship rights to the Rohingya.
It requests that UN secretary general António Guterres appoint a special envoy to Myanmar.
The measure was adopted by the assembly after its budget committee gave the green light to funds for the new position of UN special envoy to Myanmar.
More than 650,000 Muslim Rohingya have fled the mainly Buddhist country since the military operation was launched in Rakhine state in late August.
Myanmar authorities insist the campaign is aimed at rooting out Rohingya militants who attacked police posts on 25 August but the United Nations has said the violence amounts to ethnic cleansing.
Last week, the UN special rapporteur for Myanmar, Yanghee Lee, said she had been banned from the country and that the government had cut off all cooperation with her.

The Guardian's picture editors bring you a selection of photo highlights from around the world