27 Dec
News and Analyses, A Foreign Perspective
Nearly all of these are English-edition daily newspapers. These sites have interesting editorials and essays, and many have links to other good news sources. We try to limit this list to those sites which are regularly updated, reliable, with a high percentage of "up" time.

As the year draws to a close, we celebrate the finest wildlife photos our readers' have snapped this year – from fantastic foxes to thirsty chamois calves
World Politics
United States
Cartoon
Trump War Three, If … strip
 Donald Trump's response to a Neo-Nazi rally in Charlottesville, Virginia, and his refusal to condemn white supremacists, one of whom had driven a car at speed into anti-fascist protesters, killing one person and injuring many more, showed an even more poisonous side to his character.
Illustration: Steve Bell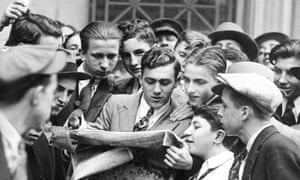 News breaks of the Wall Street stock market crash in 1929, which prompted the New Deal. Photograph: New York Daily News Archive/NY Daily News via Getty Images
S

ince January, there have been frightening signs that America is becoming an oligarchy overseen by a dictator. From the first, Donald Trump has followed an authoritarian playbook, beginning with his rejection of objective reality. Forced early on to defend the assertion that the crowd at Trump's inauguration was the biggest ever witnessed, presidential spokesperson Kellyanne Conway explained that the administration used "alternative facts". Since then, the president has repeatedly attacked fact-based media as "fake news". Indeed, with his insistence on an alternative reality, Trump sometimes seems like an elderly Fox News-addled neighbour suddenly given power to make his bizarrely warped view of America real.
But now, it feels all too real, with Trump delivering on the economic core of his vision. He has slashed regulations that protect workers, walked away from the Trans-Pacific Partnership, attacked the Affordable Care Act ("Obamacare") and gutted the government. Finally, in a dramatic "win" for his administration, the Republicans last week passed a major tax overhaul that slashes taxes primarily for the wealthy and is projected to create an almost $1.5tn dollar deficit. Republicans have already said that the only way to address that shortfall will be with cuts to Medicare and social security.
Since Democratic president Franklin Delano Roosevelt established the New Deal in the 1930s, radical conservatives have railed against the idea that the government should intervene in the economy. The New Deal responded to the Great Crash and the ensuing Depression by regulating business, providing a basic social safety net and promoting infrastructure in order to maintain a level playing field for all Americans. Opponents countered this principle by arguing that the government must not hem in America's business leaders. In their view, government regulations and laws to benefit poorer members of society crippled leaders' ability to prosper and, since their prosperity drove the economy by trickling down to everyone else, such laws destroyed progress.
But the New Deal was wildly popular, so conservatives sold their reactionary economic vision by enlisting white racism. As the federal government promoted civil rights, they warned that an active government redistributed the wealth of hard-working, white taxpayers to African Americans, a "special interest" that wanted better treatment than everyone else. In contrast, conservatives offered the image of the American cowboy individualist.
Ronald Reagan, with his derision of the welfare queen and his mantra that "government is not the solution to our problem; government is the problem", rode that racist anti-government cowboy image into the White House. Trump is this conservative macho individualist exaggerated to caricature. He brags about how he knows better than anyone how to run a successful business, how to fight Isis, how to find "the best people" for office.
While Reagan hinted at the discrimination inherent in the conservative worldview, Trump revels in it. But Trump delivered not just on the racism and sexism of the individualist vision, but also on its economics. In short, Republicans under Trump have finally destroyed the New Deal, turning the government over to a small cadre of wealthy businessmen, unhampered, to run the country as they see fit. When Republican Senate candidate Roy Moore put on his cowboy hat and rode his horse to the polls in Alabama in December, he was deliberately embodying Republican individualist principles.
And therein lies the rub. Moore lost the election. As Republicans under Trump have converted the nation into an oligarchy of rich individualists, Trump's extreme macho individualism has bred a backlash.
Since 1980, Republican shredding of the social safety net has disproportionately hit women, particularly women of colour. At the same time, the Republican vision defined women primarily as wives and mothers and suggested that since men took care of their dependants, any woman protesting against her deteriorating conditions was demanding special legislation. The election of a man who used his privilege not to protect women but to assault them gave women a clear way to rally against Republican individualism.
In October, the New York Times's exposé of film mogul Harvey Weinstein, who controlled women's access to work by demanding sexual favours, lit the #MeToo movement. One powerful man after another fell before what is not simply a pushback against sexual assault, but is a rejection of the worldview that privileged dominant men.
Nowhere has the rejection of that vision been clearer than in the victory of Democrat Doug Jones over Roy Moore. Voters chose Jones, the federal prosecutor who brought to justice two Ku Klux Klan members responsible for the 1963 Birmingham church bombing that killed four African American girls, over Moore, an alleged sexual predator.
In 2017, Trump brought to life the alternative reality portrayed on Fox News, the individualist vision designed to destroy the New Deal. Now that it is exposed to reality, Americans reject it. Trump's approval rating is at 35%, a historical low.
Nonetheless, it is not clear that democracy will prevail. Trump admires not America's democratic allies but autocrats: Turkey's President Erdo?an, North Korea's Kim Jong-un and Russia's Vladimir Putin. He has shown astonishing disregard for the law, flouting nepotism and emoluments rules and treating regular government procedures, including the authority of Congress, with disdain.
Europe
How the EU deals with members flouting core western liberal norms and values could overshadow Brexit wrangling in 2018
Jaroshaw Kaczynski, leader of Poland's increasingly authoritarian Law and Justice party. Photograph: Czarek Sokotowski/AP
I

n 2017, Europe survived the crunch Dutch, French and German elections that – after Brexit and Trump – many predicted would mark the beginning of its end. In 2018, the biggest threats could come from the east.
When Poland and Hungary joined the EU in 2004, the integration of the former communist bloc countries was seen as critical to the bloc's post-cold war advance. Barely a decade later, they risk becoming its first rogue states.
How Europe deals with members deliberately flouting the core western liberal norms and values it strives to embody – social tolerance, respect for free speech, an independent judiciary – could dominate 2018 far more than Britain's exit.
Brussels this month triggered a process likely to lead to an unprecedented formal warning to Poland that "fundamental values" are at risk as relations with the EU continue to sour over the determination of the country's de facto leader, Jaros?aw Kaczyn?ski, to push through plans to seize more control of the courts and media.
The European commission also took Hungary to the European court of justice (ECJ) over prime minister Viktor Orbán's ongoing assault on political freedoms and the emblematic Central European University (CEU), founded by the billionaire George Soros, and referred Hungary and Poland to the ECJ for refusing point-blank to take in refugees as part of the EU's mandatory quota system.
A protracted, politically charged conflict looks increasingly likely. With unassailable poll ratings, weak and divided oppositions and their countries' economies booming, Kaczyn?ski's increasingly authoritarian Law and Justice party and Orbán's all-powerful Fidesz appear in no mood to back down.
It is Poland's duty, Kaczynski said at his independence day speech in November, to "show the sick Europe of today the path back to health, fundamental values, true freedom and a stronger civilisation based on Christianity".
Orbán, who appears to be cruising comfortably to a third term as prime minister-strongman in elections this spring, has been calling for the defence of Europe's "Christian culture" against a "Muslim invasion" since 2015, and is taking his demonisation of the US financier Soros to shocking levels.
Confronting countries that want the benefits of the EU but thumb their noses at its core values looks set to become an increasingly pressing question in 2018, arguably undermining the European project more significantly than the departure of traditionally doubtful Britain.
The formal warning to Poland, recommended by the Commission subject to the approved of at least 22 EU member states, is the first step of article 7 proceedings, the so-called "nuclear option" whose ultimate sanction is to deprive a member state of its EU voting rights.
That, however, is seen as unlikely because it requires a unanimous vote of all member states – including, Hungary, which has already said it would not back it. It also carries a risk of backfiring by alienating still fundamentally pro-EU populations.
But calls to make EU funds – of which Poland and Hungary are among the largest net recipients – conditional on upholding the rule of law will certainly grow louder. Germany, France and the Nordic states back them. The new Dutch government even wrote them into its coalition accord.

Aung San Suu Kyi avoided discussing reports of Rohingya women and girls being raped by Myanmar troops and police when she met a senior UN official, according to an internal memo seen by the Guardian.
Pramila Patten, the special envoy on sexual violence in conflict, travelled to the country for a four-day visit in mid-December to raise the crisis with government officials.
But she said Aung San Suu Kyi, a state counsellor in the Myanmar government, refused to engage in "any substantive discussion" of reports that soldiers, border guard police and Rakhine Buddhist militias carried out "widespread and systematic" sexual violence in northern Rakhine state.
"The meeting with the state counsellor was a cordial courtesy call of
approximately 45 minutes that was, unfortunately, not substantive in nature," she wrote in a letter sent to UN secretary-general Antonio Guterres last week.
More than 655,000 Rohingya, members of a persecuted and stateless Muslim minority, have fled to Bangladeshi refugee camps since violence began in Myanmar's northern Rakhine state in August. Médecins Sans Frontières believes at least 6,700 Rohingya were killed during "clearance operations" ostensibly targeting militants, while many survivors say women and girls were gang-raped.
Instead of discussing the claims directly, Patten said Aung San Suu Kyi informed her she would enjoy "a number of good meetings" with senior Myanmar officials.
During these meetings, she was told by representatives of the military and civilian government that reports of atrocities were "exaggerated and fabricated by the international community".
"Moreover, a belief was expressed that those who fled did so due to an affiliation with terrorist groups, and did so to evade law enforcement," she wrote.
Myanmar's army has cleared itself of any wrongdoing in an internal investigation dubbed a "whitewash" by human rights groups.
While in the country, Patten met the man who headed that investigation, Lt-Gen Aye Win, who explained their methodology.
"The military investigation, which consisted of armed men in uniform 'interrogating' civilians in large group settings, often on camera, and then presenting rations to communities following their testimony and cooperation, clearly occurred under coercive circumstances, where the incentive structure was not to lodge complaints," Patten wrote.
"Accordingly, over 800 interviews yielded zero reports of sexual or other violence against civilians by the armed and security forces," she said.
Patten also expressed concerns about plans to send Rohingya who have fled back to Myanmar, citing the "prevailing climate of impunity" in the country.
Bangladesh and Myanmar have agreed to the "speedy" repatriation of Rohingya, scheduled to start by the end of January.
But many Rohingya say they will not return voluntarily until they are given citizenship as well as guarantees that they will be safe and not put into internment camps. Tens of thousands have been living in such camps elsewhere in Rakhine state since violence in 2012.
Skye Wheeler, the researcher for Human Rights Watch who investigated the sexual violence allegations, said Myanmar was denying a "terrible truth".