31 Dec
News and Analyses, A Foreign Perspective
Nearly all of these are English-edition daily newspapers. These sites have interesting editorials and essays, and many have links to other good news sources. We try to limit this list to those sites which are regularly updated, reliable, with a high percentage of "up" time.

Editor: Dr. Michael Wenger
The global warming hiatus, an apparent global warming slowdown, has puzzled scientists for a long time. Instead of an ever-rising temperature, the average global temperature seemed to go down again. New data from the Arctic, however, shows that the Arctic actually warmed six times faster than the global average and that global warming in fact didn't slow down at all.
The Arctic sea ice area has continuously decreased over the last ten years, despite warming hiatus. Still, many climate change sceptics used the hiatus as proof that climate change doesn't exist. Credit: Michael Wenger
The global warming hiatus, the apparent slowdown of global warming, has puzzled many scientists over the last 15 years. It also led some people to believe that climate change and global warming was a hoax and a misperception of scientists. Now, a team of researchers from the University of Alaska Fairbanks and from Tsinghua University in China, have presented the real reason for the apparent slowdown: a gap in Arctic temperature data. The team built the first data set of surface temperatures from across the world that significantly improves representation of the Arctic during the "global warming hiatus." They published their findings in the renowned scientific journal Nature Climate Change. Xiangdong Zhang, an atmospheric scientist with UAF's International Arctic Research Center, said he collaborated with colleagues at Tsinghua University in Beijing and Chinese agencies studying Arctic warming to analyze temperature data collected from buoys drifting in the Arctic Ocean. "We recalculated the average global temperatures from 1998-2012 and found that the rate of global warming had continued to rise at 0.112C per decade instead of slowing down to 0.05C per decade as previously thought," said Zhang, who is also a professor with UAF's College of Natural Science and Mathematics. According to him their new estimates showed that the Arctic warmed more than six times the global average during that time period.
The team developed new methods of incorporating the Arctic temperature data into global temperature data to better estimate the average temperatures. Most current estimates use global data that tend to represent a long time span and provide good coverage of a global geographic area. But the remote Arctic lacks a robust network of instruments to collect temperature data. To improve the dataset in time and space, the team relied on temperature data collected from the International Arctic Buoy Program at the University of Washington. For global data, the team used newly corrected sea surface temperatures from the National Oceanic and Atmospheric Administration.
Zhang said this study expands on NOAA research and other recent studies that have either supported or refuted the idea of a "global warming hiatus" by re-estimating the average global temperatures during that time period with more accurate and representative data.
The global warming hiatus is a much-debated topic among climate researchers. Some scientists theorized that an unusually warm El Niño in the years 1997-1998 and an extended period afterward without an El Niño in the tropical Pacific Ocean may have disrupted the rate of global warming. The Earth's average global temperatures have been rising over the past century and accelerating as more human produced carbon dioxide enters and lingers in the atmosphere, which is why the idea of "global warming hiatus" seemed baffling to some scientists. But the new data set and resulting estimates show conclusively that the warming didn't pause. It also highlights the importance of considering the Arctic when thinking about climate change. Until recently, Zhang said, many scientists didn't consider the Arctic big enough to greatly influence the average global temperatures. "The Arctic is remote only in terms of physical distance," he said. "In terms of science, it's close to every one of us. It's a necessary part of the equation and the answer affects us all."


World Politics
United States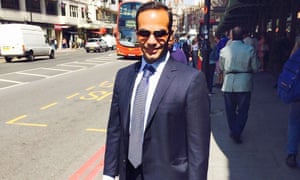 George Papadopoulos in London. US officials told the NYT it was Papadopoulos's revelation, not the infamous Steele dossier, that lead to Russia inquiry. Photograph: -/AFP/Getty Images
The FBI reportedly launched its investigation into Russian meddling in the 2016 US election after George Papadopoulos, then a foreign policy adviser to Donald Trump, told an Australian diplomat that Moscow had damaging information about Hillary Clinton.
According to a report published by the New York Times on Saturday, Papadopoulos made the revelation to Alexander Downer, the Australian high commissioner to the UK, "during a night of heavy drinking" at the Kensington Wine Rooms in London in May 2016.
Papadopoulos reportedly told Downer that Russian officials possessed thousands of emails that could harm Clinton's candidacy.
Australia is part of the "Five Eyes" intelligence alliance, with the US, UK, Canada and New Zealand. When WikiLeaks began publishing hacked emails from Democratic officials two months later, Australian officials passed the information to their US counterparts, the Times report stated. The FBI then began its investigation.
White House lawyer Ty Cobb declined to comment, saying in a statement that the administration was continuing to cooperate with the investigation now led by special counsel Robert Mueller "to help complete their inquiry expeditiously".
In October, Papadopoulos pleaded guilty to lying to the FBI about the nature of his communications with the Russians. He is said to have been cooperating since July with special counsel Robert Mueller, who was appointed in May to oversee the federal inquiry into links between Trump and Russia.
The White House has sought to portray Papadopoulos as a low-level staffer whose contacts with the Russians were made independently. The Times report said court documents showed Papadopoulos repeatedly tried to coordinate a meeting between Trump and Russian president Vladimir Putin and notified senior campaign officials of his efforts.
The Times report comes as Republicans have escalated their attacks on the independence of Mueller's investigation, zeroing in on the FBI's use of a dossier regarding links between Trump and Russia compiled by a former British spy, Christopher Steele.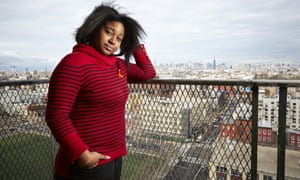 Erica Garner, photographed in New York for the Observer in 2015. Photograph: Mike McGregor for the Observer
The Black Lives Matter activist Erica Garner has died, after a week in hospital following a heart attack. She was 27. Garner was the daughter of Eric Garner, a man who died in a police chokehold in New York in 2014.
Among tributes, Senator Bernie Sanders said that although Garner "didn't ask to be an activist, she responded to the personal tragedy of seeing her father die … by becoming a leading proponent for criminal justice reform and for an end to police brutality".
Announcing Garner's death in New York on Saturday morning, the Rev Al Sharpton said she was "a warrior to the end" and said "her heart was broken when she didn't get justice … the [heart] attack just dealt with the pieces that were left."
Four months ago, Garner gave birth to a son who was named for her father. She also had an eight-year-old daughter. In a recent interview with the webshow Like it or Not, she talked about the difficulties of life as a parent and an activist. "I'm struggling right now from the stress of everything," she said, "because the system, it beats you down."
Her mother, Esaw Snipes, told the New York Times earlier this week her daughter learned during her recent pregnancy that she had heart problems. Snipes said Garner had a heart attack after an asthma episode and was placed in a medically induced coma.
On Saturday, Snipes told the Times: "The only thing I can say is that she was a warrior. She fought the good fight. This is just the first fight in 27 years she lost."
A message on Garner's official Twitter account, which was run by family and friends after she became ill, said: "She was human: mother, daughter, sister, aunt. Her heart was bigger than the world. It really really was. She cared when most people wouldn't have. She was good. She only pursued right, no matter what. No one gave her justice."
Eric Garner, who was 43, died in Staten Island in July 2014 after a white police officer subdued him with an illegal chokehold, during an arrest over the alleged sale of untaxed loose cigarettes. He also suffered from asthma. His last words, "I can't breathe", became a slogan for activists protesting police brutality against African Americans.
The officer, Daniel Pantaleo, was not charged and remains employed by the New York police department. The decision not to press charges led to major protests in New York City.
Erica Garner became an activist and writer, including for the Guardian. In July 2016, she met privately with Barack Obama, after protesting during a town hall event on race. She also campaigned on behalf of Sanders in his bid for the Democratic presidential nomination.
In his statement, Sanders said: "Erica Garner was an exceptional young woman. She was a loving daughter, sister, mother, friend."
He added: "I had the honor of getting to know Erica and I was inspired by the commitment she made working towards a more just world for her children and future generations. She was a fighter for justice and will not be forgotten."

Erica Garner at a Bernie Sanders campaign event in 2016. After her death, Sanders called Garner 'a fighter for justice' Photograph: Jim Young/Reuters
A message on Garner's Twitter account referred to the Democratic New York mayor Bill de Blasio and said: "… explain how she died with no justice."
In a statement, de Blasio said: "Erica Garner's death is a horrible tragedy. I am praying for her family, who have already been through so much. This city will miss her unshakable sense of justice and passion for humanity."
Other Twitter messages from Garner's account said "out of respect to Erica please do not request comment if the journalist is not Black" and "please share all video and photos of Erica you have".

Interior minister warns protestors will 'pay a price', and Trump warns Tehran to respect freedom of speech as at least two die in demonstrations
Iranians took to the streets for a third day of anti-government protests in what appeared to be the biggest domestic political challenge to Tehran's leaders since the 2009 Green movement was crushed by security forces.
At least two protesters were killed in the city of Doroud, in Iran's western Lorestan province, as riot police opened fire to contain a group of people said to have been trying to occupy the local governor's office. Clashes between demonstrators and anti-riot police became violent in some cities as the demonstrations spread.
The two men killed in Doroud have been identified as Hamzeh Lashni and Hossein Reshno, according to an Iranian journalist with the Voice of America's Persian service who spoke to their families. Videos posted online showed their bodies on the ground, covered in blood. Another video showed protesters carrying their bodies to safety. At least two others were also reported to have been killed in Doroud, but this could not be independently verified.
Early on Sunday, Iran's interior minister warned protestors that their actions will have consequences. "Those who damage public property, disrupt order and break the law must be responsible for their behaviour and pay the price," Abdolrahman Rahmani Fazli said on state television.
Elsewhere, it appeared that the security forces held people back with sporadic use of teargas. The number of people joining the protests increased as night fell, making it difficult for the authorities to target those taking part.
"Death to Khamenei" chants, calling for the demise of the country's supreme leader, Ayatollah Ali Khamenei, featured in many demonstrations. Videos posted on social media from Tehran and at least one other city – Abhar in Zanjan province – showed protesters taking down banners depicting him. Such chants and acts of resistance are unprecedented in a country where the supreme leader holds ultimate authority and criticising him is taboo.
There were also chants in support of the late shah. The scale of protests in the provinces appeared bigger than those witnessed in 2009, but in Tehran there have so far been fewer people on the streets than there were then.
Donald Trump had earlier used Twitter to warn the Iranian government against a crackdown as thousands of pro-government Iranians also marched in long-scheduled protests in support of the leadership. But, for the third day running, ordinary Iranians, frustrated by the feeble economy, rising inflation and lack of opportunity, defied warnings against "illegal gatherings".
"Everyone is fed up with the situation, from the young to the old," said Ali, who lives near the city of Rasht, where there were large protests on Friday. He asked not to be identified. "Every year thousands of students graduate, but there are no jobs for them. Fathers are also exhausted because they don't earn enough to provide for their family."
Students near Tehran University chanted "death to the dictator", and clashes with security forces followed. It was not clear how many were detained in the capital on Saturday, but scores of protesters are believed to have been arrested in western Kermanshah and eastern Mashhad, the conservative second city of Iran, where the latest unrest began.
Although small-scale economic protests about failed banks or shrinking pensions are not unusual in Iran, it is uncommon for demonstrations to escalate across the country or to mix political slogans with other complaints.