01 Jan
News and Analyses, A Foreign Perspective
Nearly all of these are English-edition daily newspapers. These sites have interesting editorials and essays, and many have links to other good news sources. We try to limit this list to those sites which are regularly updated, reliable, with a high percentage of "up" time.


World Politics
Iran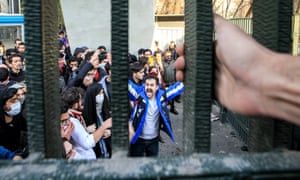 People gather to protest over the high cost of living in Tehran, Iran. Photograph: Anadolu Agency/Getty Images
A striking image, taken by an amateur photographer on a smartphone, shows a young woman in Tehran taking off her hijab, perching on a telecoms box, and holding her headscarf aloft on a stick.
It may look as if she is waving a white flag of truce, but given her geographical location, in a country where wearing hijab is obligatory for women, it is a small – yet audacious – act of resistance, embodying the aspiration of a young nation frustrated with economic grievances, but also lack of social and political freedom.
The photo surfaced last week around the time when a new wave of anti-regime protests, that began over economic issues in north-eastern Iran, spread across the country in a way that no one anticipated. Now taking on a political dimension of huge scale, those protests – which continued for the consecutive fourth day on Sunday night – are posing the biggest challenge to Tehran's leadership since the 2009 unrest, shaking the foundations of the Islamic Republic.
The geographical scale of the unrest in provinces, and the harshness of the slogans chanted are unprecedented since the 1979 Iranian revolution. They are also drawing parallels to the months of anti-government unrest that ensued the 2009 disputed election, which gave Mahmoud Ahmadinejad a second term in office amid a bloody crackdown.
But the new protests, labelled by many on Twitter as "Eteraz-e-omomi" (or "the general strike" in Farsi) are posing more questions than answers, puzzling observers about how it all started, why it spread so quickly, and what it means for the future of the Iran. There are also big differences between this time round and the turbulence eight years ago.
A relatively small protest on Thursday in Mashhad, Iran's second largest city, and also the main base for the opponents of moderate president Hassan Rouhani, unexpectedly gave impetus to a wave of spontaneous protests spreading across provinces. A source close to government officials told the Guardian that Rouhani's administration believes the first protests were organised by his opponents, most notably supporters of his campaign rival, hardline cleric Ebrahim Raisi.
"Death to Rouhani" were among the first chants in Mashhad but the situation soon got out of control, with people chanting anti-regime slogans, such as "death to dictator", denouncing the leadership of the supreme leader, Ayatollah Ali Khamenei.
Within a day, the protests spread to Kermanshah, in the west of the country, Isfahan, in the centre, Rasht, in the north, and even Qom, the hotbed of clerics, as well as other cities such as Sari, Hamedan and Qazvin. On Saturday evening, as protests grew bigger, anti-regime demonstrations were held in Tehran but also in Shahr-e-Kord, Bandar Abbas, Izeh, Arak, Zanjan, Abhar, Doroud (in Lorestan province where at least two protesters were killed), Khorramabad, Ahvaz, Karaj and Tonekabon.
Mohammad-Taghi Karroubi, the son of an Iranian opposition leader under house arrest, Mehdi Karroubi, said new demonstrations show despite the crackdown in 2009, the desire for protest has remained.
"Instead of blaming foreign powers and saying that they are inciting the protests, the establishment has to acknowledge that there is a base for protest within Iran," he said.
Karroubi said that after Rouhani won a landslide victory with the support of reformists, his unexpected conservative turn since had disappointed his base. "It's always been the reformist youth who pumped hope inside the country and they're silent now – that's the government's weakness, people are hopeless and when reformists are not pumping hope, they're becoming even more disgruntled."
Senior figures within the reformist camp, who do not back regime change, and even many supporters of the Green movement are uncomfortable with some of the slogans, such as those chanted in support of monarchy. Compared with 2009, the new protests also appear to lack any specific organisation behind them, which many see as an advantage because the state cannot easily crackdown on them by arresting a leader, and others as a disadvantage because they don't have a clear strategy on the next step.
A former political prisoner, Mostafa Tajzadeh, who served many years in jail following the 2009 unrest, was also sceptical, warning that Iran may become another Syria. He called on the authorities to allow protests and urged protesters to respect the law.
United States

Bobby Kennedy campaigns in Indiana in early May 1968. Photograph: Andrew Sacks/Getty Images
A

television actor courting the far right. A "law and order" candidate railing about race and crime. An eccentric, one-cause liberal cheered on by students who balk at the establishment's colorless pick. Two arch manipulators, each intent to win at all costs – with one even arranging contacts with a foreign nation to his own ends.
If the conceit sounds like HBO's version of the 2016 election, that seems to be what the MSNBC host Lawrence O'Donnell has in mind with Playing With Fire, his new book about the 1968 race. Ronald Reagan is the actor, billed as "the Donald Trump of the 1960s"; George Wallace the demagogue whose voters "sounded like Trump voters in 2016"; Eugene McCarthy the ideologue, with echoes of Bernie Sanders; Hubert Humphrey the party's choice, a nod to Hillary Clinton; Lyndon Johnson and Richard Nixon are the puppetmasters, wheeling and dealing to the end.
O'Donnell, a former Senate staffer and writer on The West Wing, has written a breathless account of 1968 that, like that TV show, recalls endless backroom soap operas. There are 40 pages dedicated to delegate hunting at the Republican national convention in Miami Beach and scores more on campaign plots, rivalries, truces and betrayals. Dozens of advisers flit by, with names like Tom Turnipseed and Curtis Gans, and at times the book reads like a reel of baby boomer cameos. Roger Ailes and Alan Greenspan are there at Nixon's side, Mitt Romney's dad drops by, and Ted Kennedy and Bill Clinton mill around the Senate, trying to look useful.
Though a few moments are written with suspense, like Robert Kennedy's assassination, O'Donnell rarely strays into the pulp of books by other cable pundits. (In Killing Kennedy, Bill O'Reilly considers his protagonist, lost in the Pacific and threatened by barracudas: "Without pants, he is surely an inviting target.") Instead, O'Donnell's style ranges from conversational to dry to staccato bursts: "The Bobby announcement seemed to energize Johnson. Maybe it was adrenaline. Maybe hatred. Maybe both."
The book should appeal to fans of other political play-by-plays, like Game Change, and readers with progressive politics, though O'Donnell tempers his admiration for McCarthy and RFK with a charting of their flaws. McCarthy could be arrogant and mercurial; Kennedy dithered and oversaw debacles such as wiretapping Martin Luther King Jr and the Bay of Pigs.
Scattered throughout the book are reflections on ripples in 1968 that caused waves decades later, like the growing power of live TV or "dirty tricks" by campaign staffers. O'Donnell spends a chapter on Nixon's contacts with the South Vietnamese government – he undermined peace talks for political gain – and hints at the alleged contacts between Trump's campaign and representatives of the Russian government. Johnson accused Nixon's associates of "treason" and O'Donnell calls it a "perfect crime", violating the 1799 Logan Act. He does not note that no one has ever been convicted under the law.
O'Donnell runs into most trouble when his pop history slips into cable hyperbole. He calls a Kennedy speech "the most moving moment ever seen on an American political stage" – Lincoln's funeral tour and VE Day could compete – and writes three times the pundit koan that "the establishment is always the last to know it is wrong".
In perhaps his boldest claim, he declares "the peace movement won. The peace movement drove US forces out of Vietnam, not the North Vietnamese army." In their 17-hour epic on the war, Ken Burns and Lynn Novick do not find such a neat resolution. In his 2003 book on the protests, neither does journalist Mark Kurlansky. In just over 400 pages on a US election, O'Donnell does no better.
Which is not to say the peace movement didn't win over most of the baby boomers, who have written hundreds of books on the decade they came of age. O'Donnell's MSNBC colleague, Chris Matthews, joined in last month with his own new book, Bobby Kennedy: A Raging Spirit.
This is light hagiography, but well researched and open about its bias: a breezy bio, heavy on Irish Catholic identity. Matthews acknowledges Kennedy's role in FBI and CIA fiascos and his part on Joseph McCarthy's anti-communist team, but only in a cursory way. In Matthews' telling, Kennedy slowly turned against McCarthy, who was his father's friend; his choices on Cuba are cast in terms of honest error and regret; and "he came to believe he had no choice but to have a wiretap put on King".
The anchor does recover several footnotes from history, his own and the nation's. In 1953, he recalls, a nun asked his class to pray over Stalin's death: "I remember wondering at the time what the intention was." In 1967, producers put on a debate between RFK and Reagan. The latter, a new kind of political celebrity, "proved the clear victor in the opinion of both sides".

People take to the streets again despite heavy police presence and efforts to block social media apps
Iranians take to the streets for a third day of protests – video
Iranian authorities have threatened a crackdown against protesters and scrambled to block social media apps allegedly used to incite unrest as the biggest demonstrations in nearly a decade continued for a fourth day.
People across Iran took to the streets again on Sunday evening in defiance of a heavy presence of riot police and state warnings to stay away.
The demonstrations began over economic grievances on Thursday but have since taken on a political dimension, with unprecedented calls for the supreme leader, Ayatollah Ali Khamenei, to step down.
Iran's president, Hassan Rouhani, in his first comments about the protests, aired on national television on Sunday night, said "people have the right to criticise", but said the authorities would not tolerate antisocial behaviour. He said criticism was "different from violence and destroying pubic properties".
Officials said they arrested at least 200 people during demonstrations in central Tehran on Saturday. It was not clear how many were arrested in the provinces, which saw protests on a bigger scale than the capital. Two protesters were killed in western Iran on Saturday.
The protests are the biggest in Iran since 2009, when demonstrators called for the removal of Mahmoud Ahmadinejad as president after what they regarded as his fraudulent re-election.
Videos posted on social media from Saturday night in Tehran showed protesters taking down large banners depicting the ayatollah's image, in acts of resistance rarely seen since the 1979 Islamic revolution.
One video showed demonstrators taking down an image of the leader of Iran's powerful Quds force, Qassem Suleimani, who is spearheading Iran's involvement in regional affairs, particularly the war in Syria.
Rouhani, urging the nation to be vigilant, acknowledged that people were unhappy about the state of economy, corruption and a lack of transparency. "People are allowed under the constitution to criticise or even protest but […] in a way that at the end they lead to a better situation in the country for the people," he said.
Condemning the US president, Donald Trump, who has voiced support for the protests, Rouhani said: "This gentleman who today sympathises with our people has forgotten that a few months ago he called us a terrorist nation. The one who has opposed the Iranian nation from his head to his toe has no right to express sympathy for people of Iran."
On Sunday Trump tweeted that "people are finally getting wise as to how their money and wealth is being stolen and squandered on terrorism", adding that the US was "watching very closely for human rights violations".
Earlier in the day, Iran's interior minister, Abdolreza Rahmani-Fazil, said authorities would not tolerate the "spreading of violence, fear and terror", which he said would "definitely be confronted".
"Those who damage public property, disrupt order, people's security and break the law must be responsible for their behaviour and should answer and pay the price," he said, according to the website of the state broadcaster Irib.
The broadcaster said authorities had blocked Instagram and the messaging app Telegram, which is the most popular social networking platform in Iran, citing an anonymous source who said the move was "in line with maintaining peace and security of the citizens". Authorities said the filtering was temporary.
Related: