02 Jan
News and Analyses, A Foreign Perspective
Nearly all of these are English-edition daily newspapers. These sites have interesting editorials and essays, and many have links to other good news sources. We try to limit this list to those sites which are regularly updated, reliable, with a high percentage of "up" time.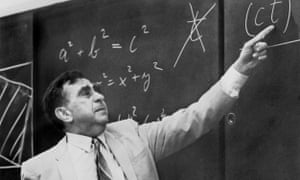 Physicist Edward Teller pointing at a formula on a blackboard on 22 May 1968. Photograph: STF/AFP/Getty Images
It was a typical November day in New York City. The year: 1959. Robert Dunlop, 50 years old and photographed later as clean-shaven, hair carefully parted, his earnest face donning horn-rimmed glasses, passed under the Ionian columns of Columbia University's iconic Low Library. He was a guest of honor for a grand occasion: the centennial of the American oil industry.
Over 300 government officials, economists, historians, scientists, and industry executives were present for the Energy and Man symposium – organized by the American Petroleum Institute and the Columbia Graduate School of Business – and Dunlop was to address the entire congregation on the "prime mover" of the last century – energy – and its major source: oil. As President of the Sun Oil Company, he knew the business well, and as a director of the American Petroleum Institute – the industry's largest and oldest trade association in the land of Uncle Sam – he was responsible for representing the interests of all those many oilmen gathered around him.
Four others joined Dunlop at the podium that day, one of whom had made the journey from California – and Hungary before that. The nuclear weapons physicist Edward Teller had, by 1959, become ostracized by the scientific community for betraying his colleague J. Robert Oppenheimer, but he retained the embrace of industry and government. Teller's task that November fourth was to address the crowd on "energy patterns of the future," and his words carried an unexpected warning:
Ladies and gentlemen, I am to talk to you about energy in the future. I will start by telling you why I believe that the energy resources of the past must be supplemented. First of all, these energy resources will run short as we use more and more of the fossil fuels. But I would […] like to mention another reason why we probably have to look for additional fuel supplies. And this, strangely, is the question of contaminating the atmosphere. [….] Whenever you burn conventional fuel, you create carbon dioxide. [….] The carbon dioxide is invisible, it is transparent, you can't smell it, it is not dangerous to health, so why should one worry about it?
Carbon dioxide has a strange property. It transmits visible light but it absorbs the infrared radiation which is emitted from the earth. Its presence in the atmosphere causes a greenhouse effect [….] It has been calculated that a temperature rise corresponding to a 10 per cent increase in carbon dioxide will be sufficient to melt the icecap and submerge New York. All the coastal cities would be covered, and since a considerable percentage of the human race lives in coastal regions, I think that this chemical contamination is more serious than most people tend to believe.
How, precisely, Mr. Dunlop and the rest of the audience reacted is unknown, but it's hard to imagine this being welcome news. After his talk, Teller was asked to "summarize briefly the danger from increased carbon dioxide content in the atmosphere in this century." The physicist, as if considering a numerical estimation problem, responded:
At present the carbon dioxide in the atmosphere has risen by 2 per cent over normal. By 1970, it will be perhaps 4 per cent, by 1980, 8 per cent, by 1990, 16 per cent [about 360 parts per million, by Teller's accounting], if we keep on with our exponential rise in the use of purely conventional fuels. By that time, there will be a serious additional impediment for the radiation leaving the earth. Our planet will get a little warmer. It is hard to say whether it will be 2 degrees Fahrenheit or only one or 5.

But when the temperature does rise by a few degrees over the whole globe, there is a possibility that the icecaps will start melting and the level of the oceans will begin to rise. Well, I don't know whether they will cover the Empire State Building or not, but anyone can calculate it by looking at the map and noting that the icecaps over Greenland and over Antarctica are perhaps five thousand feet thick.
And so, at its hundredth birthday party, American oil was warned of its civilization-destroying potential.
Talk about a buzzkill.
How did the petroleum industry respond? Eight years later, on a cold, clear day in March, Robert Dunlop walked the halls of the U.S. Congress. The 1967 oil embargo was weeks away, and the Senate was investigating the potential of electric vehicles. Dunlop, testifying now as the Chairman of the Board of the American Petroleum Institute, posed the question, "tomorrow's car: electric or gasoline powered?" His preferred answer was the latter:
We in the petroleum industry are convinced that by the time a practical electric car can be mass-produced and marketed, it will not enjoy any meaningful advantage from an air pollution standpoint. Emissions from internal-combustion engines will have long since been controlled.
Dunlop went on to describe progress in controlling carbon monoxide, nitrous oxide, and hydrocarbon emissions from automobiles. Absent from his list? The pollutant he had been warned of years before: carbon dioxide.
We might surmise that the odorless gas simply passed under Robert Dunlop's nose unnoticed. But less than a year later, the American Petroleum Institute quietly received a report on air pollution it had commissioned from the Stanford Research Institute, and its warning on carbon dioxide was direct:
Significant temperature changes are almost certain to occur by the year 2000, and these could bring about climatic changes. […] there seems to be no doubt that the potential damage to our environment could be severe. […] pollutants which we generally ignore because they have little local effect, CO2 and submicron particles, may be the cause of serious world-wide environmental changes.
Thus, by 1968, American oil held in its hands yet another notice of its products' world-altering side effects, one affirming that global warming was not just cause for research and concern, but a reality needing corrective action: "Past and present studies of CO2 are detailed," the Stanford Research Institute advised. "What is lacking, however, is […] work toward systems in which CO2 emissions would be brought under control."
This early history illuminates the American petroleum industry's long-running awareness of the planetary warming caused by its products. Teller's warning, revealed in documentation I found while searching archives, is another brick in a growing wall of evidence.

World Politics
United States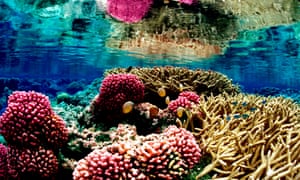 The Pacific Remote Islands national monument was created in 2009 by George W Bush. Ryan Zinke has recommended the monument be shrunk to an unspecified new shape. Photograph: Reuters
The Trump administration's plan to shrink four land-based national monuments has provoked howls of anguish from environmental groups, Native American tribes and some businesses, such as the outdoors company Patagonia.
Accompanying changes to protected monuments in the oceans – vastly larger areas than their land-based counterparts – have received less attention, but could have major consequences for the livelihoods and ecosystems dependent upon the marine environment.
Ryan Zinke, the secretary of the interior, has recommended to Donald Trump that three sprawling marine monuments, one in the Atlantic and two in the Pacific, be either opened up to the commercial fishing industry or reduced in size, or both.
"These 'blue parks' harbor unique species, a wealth of biodiversity and special habitats," said Jane Lubchenco, the administrator of the National Oceanic and Atmospheric Administration between 2009 and 2013.
"They are undersea treasures. I fervently hope that these incredible marine monuments will not be degraded by opening them up to extractive activities. There are plenty of other places in the ocean to fish."
In 2009, George W Bush created the Pacific Remote Islands national monument around seven islands and atolls in the central Pacific. The monument, subsequently expanded by Barack Obama to become what was the largest marine protected area in the world, comprises "the last refugia for fish and wildlife species rapidly vanishing from the remainder of the planet", according to the Fish & Wildlife Service, boasting creatures such as sea turtles, dolphins, whales, sharks and giant clams.
Zinke noted that the monument, which spans more than 490,500 sq miles, protects largely untouched coral reefs and marine species but also pushed out Hawaiian and American Samoan fishers who previously used long lines and huge scoop-like nets in the area. The interior secretary said the monument should be shrunk to an unspecified new shape and allow regional authorities to oversee commercial fishing in the monument.
Trump has been handed similar recommendations for Rose Atoll, a 10,000 sq mile ecosystem in the south Pacific that was protected in 2009, with Zinke adding there is "no explanation" as to why there can't be commercial fishing in America's only protected area of the Atlantic, the Northeast Canyons and Seamounts.
Combined, these marine monuments encompass an area more than three times the size of California – dwarfing the four terrestrial monuments set to be resized. But the land and sea monuments share common arguments over conservation, resource extraction and the role of the federal government to restrict certain activities in prized ecosystems.
In March, a coalition of New England fishing organizations sued the federal government over the Obama administration's creation of the Northeast Canyons and Seamounts, an area of plunging rock formations that contain a wealth of cold water corals, located 130 miles off the coast of Cape Cod, Massachusetts.
The simple "stroke of President Obama's pen" would put fishers out of work, said Beth Casoni, executive director of the Massachusetts Lobstermen's Association. About 800,000lb of lobster are caught near the canyons each year.
"The monument designation will have a negative rippling effect across the region as fishermen will have to search for new fishing grounds – only to find they are already being fished," Casoni said.
The legal challenge, predicated on the claim that Obama exceeded his authority in naming the area a monument, was paused by the Trump administration's review of national monuments declared since 1996. If Zinke's recommendations are followed, commercial fishing could now be ushered back into the Northeast Canyons and Seamounts, beyond the two lobster and crab operators currently allowed in the area before a sunset clause bars them in six years' time.
Conservation groups fret that commercial fishing would only be a precursor to further invasions, such as oil drilling or seabed mining. The Atlantic monument is considered particularly sensitive due to its dense forests of deep-sea corals and its role as a migratory route for the endangered North Atlantic right whale, which has experienced an alarming dip in numbers this year.
"This is a spectacular place that contains animals incredibly vulnerable to drilling, fishing, noise and pollution," said Peter Baker, director of US oceans, north-east, at the Pew Charitable Trusts.
"It shouldn't be too much to ask to protect 2% of the US's exclusive economic zone off the Atlantic coast for future generations. Allowing commercial fishing there is really a distortion of why you would have a national monument in the first place."
Baker said the New England Fisheries Management Council, which Zinke indicated should determine fishing restrictions in the monument, has a "horrible track record" of overfishing and conflicts of interest.
Janice Plante, spokeswoman for the council, rejected that claim.
"We work very hard to have sustainable fishing," she said. "We had no position on the designation of the monument but we support [Zinke's] recommendations because we would manage it the best. We have the expertise and the experience."
In the Pacific, the equivalent industry body, Western Pacific Fishery Management Council, has sought greater access for sought-after stock, such as bigeye tuna.
Kitty Simonds, executive director of the council, said the review of national monuments "provides an opportunity for America to remember that it has the ability to protect marine ecosystems without closing more than half of the US Pacific island waters to fishing."
But ecologists argue that a doubling in the amount of tuna caught off Hawaii since 2006 is evidence that protection of key breeding and foraging ecosystems has not hindered the industry.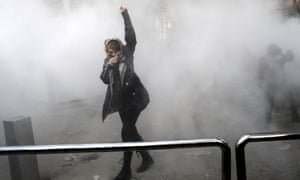 Riot police use smoke grenades against students at Tehran University during a demonstration at the weekend. Photograph: AP
Nine more people have died in overnight clashes between protesters and security forces in Iran, state television has reported, as unrest in the country entered a sixth day.
State TV said six protesters were killed as they tried to storm a police station in the town of Qahderijan in the central Isfahan region. It also said an 11-year-old boy and a 20-year-old man were killed in the town of Khomeinishahr, while a member of Iran's paramilitary Revolutionary Guard was killed in the town of Najafabad. All three were shot by hunting rifles, which are common in the Iranian countryside, the report said. None of the reports could be confirmed independently.
It is estimated that 21 people have now died nationwide in unrest linked to the demonstrations, the largest in Iran since its disputed 2009 presidential election.
Protests over the weak economy and a jump in food prices that began on Thursday in Mashhad have spread to cities across the country and taken on a political dimension. Some protesters have chanted slogans against the government of Iran's moderate president, Hassan Rouhani, and the supreme leader, Ayatollah Ali Khamenei.
The semi official Ilna news agency quoted a deputy governor of Tehran province as saying that 450 people had been arrested in the capital alone since Saturday. No nationwide arrest figures have been released by authorities since the demonstrations began.
Videos posted on social networks on Monday appeared to show riot police becoming more confrontational. Protesters were seen attacking government buildings and shattering windows in an escalation of the unrest.
Observers reported riot police riding on motorbikes and wielding batons on the streets of Tehran. Similar scenes were reported in other cities.
Rouhani spoke with a number of parliamentarians on Monday but officials insisted the meeting was planned before the protests began. The president acknowledged anger over the country's flagging economy, though he and others warned that the government would not hesitate to crack down on those it considered lawbreakers.
The scale and the speed at which the protests have spread across Iran has puzzled many in the country, including reformists who are critical of the political atmosphere but are wary of any move towards regime change.
Iran blocked access to social networks including Telegram and Instagram on Sunday, but insisted the move was temporary. Iranian officials appeared more conciliatory than in their handling of previous protests and acknowledged that some protesters have legitimate economic grievances.
The head of Iran's judiciary, Ayatollah Sadeq Amoli Larijani, a hardline cleric, said: "Attacking mosques, public buildings, banks, is unacceptable." He vowed that the perpetrators would be prosecuted.
Update:

Opinion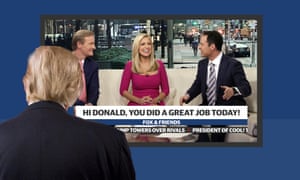 'Television remains the dominant source of political news for Americans, and conservatives … dominate the space.' Composite: AP / Getty
E

veryone loves to hate the media for its supposed liberal bias but Donald Trump, never one to lose at things, has taken it to new heights.
Trump has called the media "highly slanted", "fake news", and "the enemy of the American people". Like so much of what he says, his claims need fact-checking, all the more so because the myth has been around much longer than Trump. Years before he was politically center stage, Sarah Palin dubbed it the "lamestream" liberal media, while to Newt Gingrich it was simply the "elite media". Trump just did what he does best: supercharge the myth.
To the extent the claim has truth, it is limited to the political persuasions of editorial staffers, many of whom exercise relatively little editorial control. The more salient questions around bias, then, have little to do with staffer headcounts, and more with the allegiances and affiliations of owners. They also, in this increasingly polarized news environment, have to do with the sources where Americans get their news.
The answers there point, overwhelmingly, to conservative control.
Television remains the dominant source of political news for Americans, and conservatives, through Trump-friendly outlets including Fox News on cable and Sinclair Media Group on local broadcast, dominate the space. What's more, from the looks of it, they will continue to do so.
Fox remains the most-watched cable news outlet. And last month Trump's broadcast regulatory body helped pave the way for Sinclair, already the biggest player in local broadcasting, to reach nearly 70% of US households in a merger previously prevented by public broadcasting monopoly protections. This is unprecedented.
With the internet making fast inroads into television's grip on the public consciousness, it's little wonder the Trump administration is targeting net neutrality rules, in addition to favoring White House-friendly outlets Breitbart news and Circa, Sinclair's online arm.
Fox was busy skimping on coverage of Trump's sexual accusers, and the Wall Street Journal pulled its best punches
That people identifying as "consistent conservatives", according a Pew study from 2014, are more loyal to their top outlet and distrustful of media in general would only seem to make the consolidation more worrisome. Worse still: they cluster around a single source of news.
It's no wonder then so many Fox News Republicans find it easier to disregard, say, the overwhelming evidence of climate change: a full 47% cited the conservative cable network as their main source for news. No other political news source even came close. Among the parallel group of liberal respondents, no single outlet was named by more than 15%.
Even to the extent political bias can be said to be about individual staffers in individual newsrooms, the portrait is far from crystal clear. Newsroom headcounts do favor Democrats over Republicans, but not as much as they favor independents: as of 2013, just 7% identified as Republicans, while 28% declared themselves Democrats, according to a 2014 survey by Indiana University. But more than half of those surveyed identified as independents, the highest on record since the survey began.
If anything, it would appear, reporters skew moderate or "other", though such notions of balance – that to be objective you have to be moderate or abstain from democracy – are in and of themselves problematic.
The New York Times, for instance, shouldn't have to prove its political independence. Yet how else to explain why, during the presidential campaign, the paper pursued Hillary Clinton's emails with a fiery fervor unmatched in anything they pursued against Trump? According to the Columbia Journalism Review, "the various Clinton-related email scandals accounted for more sentences than all of Trump's scandals combined". Meanwhile, Fox was busy skimping on coverage of Trump's sexual accusers, and the Wall Street Journal pulled its best punches from Trump.
Such thinking can extend beyond media too. By developing critiques of elite institutions intended to play mediator to public discourse (think academia or science), the right too often hides behind a veil of false equivalency, ably spurning school curricula, newspaper columns and scientific consensus alike.