03 Jan
News and Analyses, A Foreign Perspective
Nearly all of these are English-edition daily newspapers. These sites have interesting editorials and essays, and many have links to other good news sources. We try to limit this list to those sites which are regularly updated, reliable, with a high percentage of "up" time.


World Politics
United States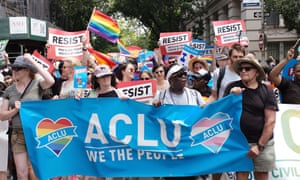 The ACLU's record is impressive, considering it's outgunned by the federal government when it comes to legal firepower. Photograph: Taylor Hill/WireImage
L

awyers for the American Civil Liberties Union are gearing up for what is expected to be a crucial showdown in the US supreme court in 2018 over Donald Trump's Muslim travel ban, as they enter the second year in an epic battle against the president's populist – and frequently arguably unconstitutional – agenda.
The nation's oldest and largest civil liberties group has found itself on the frontline of legal resistance to an executive branch that is proving to be historically hostile towards constitutional rights. Since Trump took power on 20 January, the organization has launched 113 legal actions attempting to block his extreme rightwing ambitions.
Those actions included an unprecedented 57 lawsuits brought against the most egregious aspects of the Trump project. Having warned Trump before he entered the White House that he would have to "contend with the full firepower of the ACLU at your every step", the organization has lived up to its word.
It has successfully challenged the administration in its efforts to deport 11 million undocumented immigrants, cut off access to abortion, ban transgender people serving in the military and overturn Obamacare.
"Donald Trump is certainly the most dangerous president we've had in my lifetime, and possibly ever," said David Cole, the ACLU's national legal director, who leads a central team of 100 lawyers. "But he's also the most frustrated president in my lifetime, maybe ever."
Arguably the ACLU's most significant action was to challenge his initial Muslim ban, issued within his first week in the White House, that barred Syrian refugees and visitors from seven majority-Muslim countries from entering the country. The ensuing legal tussle between the ACLU and the president has been drawn out over months and through many iterations and is currently before the US fourth circuit court of appeals where a ruling is expected imminently.
Cole said he was confident that the court would strike down the Muslim travel ban as unconstitutional. Last week in a parallel case initiated by the state of Hawaii, the US ninth circuit court of appeals once again found that Trump had exceeded his authority. But it won't end there. The Trump administration is almost certain to take one or other of the cases up to the US supreme court, which in turn is likely to give its final verdict by the end of its term in June.
For the ACLU's legal director it will be the ultimate test of what he believes is Trump's "unique disregard and in some instances contempt for basic constitutional norms". It will also be a test of the limits of the president's power, which so far has turned out to be surprisingly limited – thanks in no small part to the ACLU's dogged opposition.
The president has the advantage of conservative control of both chambers of Congress, two-thirds of state legislatures and, since he appointed Neil Gorsuch to the highest court, the US supreme court. Yet the $1.5tn tax cuts that were rushed through Congress this month were the president's first and only major legislative achievement.
"We have managed to limit the damage that Trump has wrought. And we've helped to mobilize spirit of liberty in citizens that in the long term will encourage them to be engaged in defense of those values," Cole said in an interview with the Guardian.
The 113 legal actions this year span the range of Trump's attacks on civil liberties, from his attempts to turn the screws on undocumented immigrants, suppress voting through its Orwellian-named "Commission on Election Integrity", unpick equal employment rights for women and the LGBT community, and increase surveillance on ordinary Americans. In addition to the lawsuits, the ACLU has issued 69 freedom of information requests and several ethics complaints including one against the attorney general Jeff Sessions for his misleading comments to a Senate committee over communications with Russia.
That's an impressive record for an organization that is utterly outgunned by the federal government when it comes to legal firepower. The ACLU's national team of 100 lawyers under Cole is pitted against 19,000 attorneys employed by just six key federal departments.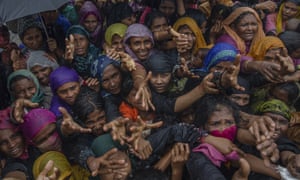 Rohingya women, who fled from Myanmar, wait for aid to be distributed at a camp in Bangladesh. Photograph: Dar Yasin/AP
A stark warning from the UN in mid-December that genocide may be taking place in Myanmar has been met by an awkward silence around the world, indicating a limited appetite for forceful humanitarian intervention, even in the most extreme cases.
The persecution of the Rohingya Muslim minority is beginning to resemble the plight of the Tutsi in Rwanda in 1994, albeit on a smaller scale. After failing to stop the Rwanda slaughter, when up to 1 million people died, the international community vowed it would never happen again. Now, it seems, the nightmare is back.
Zeid Ra'ad al-Hussein, the UN high commissioner for human rights, previously described systematic attacks on the Rohingya by Myanmar's military and civilian militias as ethnic cleansing, an assessment shared by the US.
But in a BBC interview last month, Hussein went a big step further. "You cannot rule out the possibility that acts of genocide have been committed … It wouldn't surprise me in the future if the court were to make such a finding on the basis of what we see."
The embarrassed silence that greeted his remarks reflects the fact that there is zero support for direct action in Myanmar. The concept of forceful humanitarian intervention, formulated in a celebrated speech in Chicago in 1999 by Tony Blair – and implemented in Kosovo, Sierra Leone and East Timor – is blown.
The disastrous invasion and occupation of Iraq in 2003, justified on moral and humanitarian grounds after the WMD argument imploded, discredited the "Blair doctrine".
Now the pendulum has swung the other way. Myanmar's generals are not alone in their impunity. In Yemen, which Boris Johnson, Britain's foreign secretary, terms "the world's worst humanitarian crisis", Saudi forces are accused of causing large-scale civilian casualties, and of illegally blocking aid as a weapon of war.
A similar situation exists in Syria. Bashar al-Assad, the country's president, has been widely accused of war crimes. But after six years of murderous mayhem, he still sits tight in Damascus.
Lack of political will is only one reason why the international community appears powerless to halt mass killings. Hussein's prediction that Myanmar's nominal leader, Aung San Suu Kyi, and its top general, Min Aung Hlaing, could end up before a court was presumably a reference to the international criminal court, founded under UN auspices in 2002 and backed by 123 states out of a possible 195. The ICC is the world's criminal court of last resort, charged with investigating and prosecuting individuals responsible for genocide, war crimes and crimes against humanity.
But Myanmar, like Syria and Yemen, is not a party to the ICC and lies outside its jurisdiction. The only way its leaders could face a judicial reckoning would be if the UN security council referred them to the ICC. This is not going to happen because China, a permanent member and Myanmar's close commercial and political ally, would veto any such move. Likewise, Assad is protected by Russia, which has strategic interests in Syria.
The ICC has enjoyed limited success since its inception, in large part because major powers such as the US, China, Russia and India reject its jurisdiction, ostensibly on grounds of national sovereignty – although the US supports the court when it suits its purposes overseas. The ICC has also been weakened by member countries refusing to enforce its statute.
The most notorious case concerns Omar al-Bashir, the Sudanese president accused of genocide in Darfur. When Bashir visited South Africa in 2015, Jacob Zuma's government ignored its legal obligation to arrest him. Following criticism of its behaviour, South Africa and other African members have threatened to quit the ICC.
Leading countries with the capacity to make a difference in places such as Myanmar or, for example, war-torn South Sudan, are also frequently guilty of failing to uphold international treaties, human rights conventions and resolutions which they previously signed up to through the UN system.
A total of 143 countries backed the convention on the prevention and punishment of genocide, adopted by the UN general assembly in 1948. At the time, the Holocaust was still a recent event. But memories fade and so, too, it seems, does political resolve.
A more recent, egregious example of international backsliding is the failure to honour the principle of the collective "responsibility to protect". Shamed by the failures in Rwanda and the Balkans in the 1990s, a UN world summit meeting in 2005 agreed all countries have shared responsibility to prevent and respond to the most serious violations of international human rights and humanitarian law.

Steven Spielberg's new film about Nixon's attempt to gag the US press remains disturbingly relevant
Watch the trailer for The Post
ou know something is amiss when a US-based foundation dedicated to monitoring and defending press freedom around the world feels compelled to set up a website to track it in the one place that has always held itself up as a beacon of free speech – the United States itself.
Earlier this year, the Freedom of the Press Foundation launched the US Press Freedom Tracker, along with 20 partners, including the Committee to Protect Journalists, Reporters Without Borders and the Knight First Amendment Institute at Columbia University. The site logs anything it regards as a threat to press freedom including arrests and assaults of journalists in the course of their jobs.
From 1 January 2017 until the beginning of December, the site listed 32 journalists arrested in the US; 24 incidents where journalists' equipment was seized, stolen or damaged; 35 physical attacks on journalists, and five times when they were stopped at the border.
The site was set up after Donald Trump began making some of the most explicit attacks on the media in the history of the US presidency. That is hardly breaking news – anybody who has paid any attention to President Trump will know he routinely refers to the "failing" New York Times, and CNN as the "Clinton News Network". He has described reporters in general as "scum" and "dishonest people". As a candidate, he threatened to broaden libel laws to make it easier to sue journalists, and blacklisted both individual journalists and their news outlets from attending his campaign events. He has shut out those he doesn't like from White House briefings, while his attorney general Jeff Sessions announced in August a new crackdown on leakers that includes a justice department review of the way it deals with media outlets publishing leaked information.
All this makes Steven Spielberg's new movie, The Post, disturbingly relevant. The movie recalls the Nixon government's attempt in 1971 to stop the Washington Post and the New York Times from publishing a secret report about the Vietnam war that became known as the Pentagon Papers.
It is a classic Hollywood rendering of the struggle between the government trying to cover up its lies to the American people and the newspapers' determination to expose it. Most crucially, it reminds us of the essential role the media plays in a healthy functioning democracy.
"We have to be their check on power," declares Post editor Ben Bradlee (Tom Hanks), as he argues the case for printing the story with publisher Katharine Graham (Meryl Streep) while she wrestles with the possibility of losing her business and winding up in prison in the process. "We have to hold them accountable. If we don't, who will?"
Amid the persistent attacks on media credibility today, growing government intrusions on media freedom and the struggle for news organisations to survive in a digital world, it is easy to lose sight of that most fundamental principle.
I understand the pressure all too well. In December 2013, my two colleagues and I were arrested in Egypt on terrorism charges. In essence, we were accused of being propagandists for the Muslim Brotherhood, which at the time was the single most popular political force in the country………………….In the end, despite demands from their investors to cave in and avoid a court battle, Bradlee and Graham decided to hold the line too. They went to the supreme court, along with the New York Times, to fight a government injunction, arguing that the public's right to know is more important than the government's right to censor information it claims could be damaging to national security.
The supreme court agreed. It voted 6-3 to back the papers – a decision that has become a key precedent in the struggle to protect media freedom in the US.
In a concurring opinion, Justice Potter Stewart explained why: "In the absence of the governmental checks and balances present in other areas of our national life, the only effective restraint upon executive policy and power in the areas of national defence and international affairs may lie in an enlightened citizenry – in an informed and critical public opinion which alone can here protect the values of democratic government," he wrote. "For this reason, it is perhaps here that a press that is alert, aware, and free most vitally serves the basic purpose of the first amendment. For, without an informed and free press, there cannot be an enlightened people."
Justice Stewart may have written that more than 45 years ago, but in the face of renewed pressure on journalists everywhere, it is just as pertinent now as it was then.

While protecting their community's land or natural resources
Produced by Monica Ulmanu, Alan Evans and Georgia Brown 
This year, in collaboration with Global Witness, the Guardian will attempt to record the deaths of all these people, whether they be wildlife rangers in the Democratic Republic of the Congo or indigenous land rights activists in Brazil. At this current rate, chances are that
four environmental defenders will be killed this week

somewhere on the planet.
Some of the latest to have died
Killed on 3 December 2017 in Philippines
Datu Victor Danyan, one of eight Lumad farmers, defending ancestral land from coffee plantations, shot by soldiers
Killed on 28 November 2017 in Philippines
Elisa Badayos, member of a human rights group shot while involved in a fact-finding mission over a land dispute
Killed on 24 September 2017 in Pakistan
Inspector Manzoor, one of two rangers shot after intercepting bird poachers in Punjab
Killed on 14 September 2017 in Philippines
Ruben Arzaga, a village leader and environmental officer shot while arresting suspected illegal loggers
Killed on 1 September 2017 in Peru
Elías Gamonal Mozombite, one of six Peruvian farmers shot dead in land rights battle reportedly linked to palm oil trade………………..Most dangerous places for defendersSince the start of 2015, 132 land and environmental defenders have died in Brazil: the highest number on Earth. Many of the killings were of people trying to combat illegal logging in the Amazon. The Philippines comes second on the list, with 75 deaths in all. Honduras remains the most dangerous country to be a defender, with more killings per capita than anywhere else…………….. The pattern over recent years The death toll has risen in recent years, and researchers warn the upward trend is likely to continue if governments and businesses fail to act.
The most violent full year recorded so far was 2016

, when 201 defenders were killed.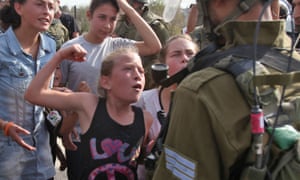 Ahed Tamimi confronting an Israeli soldier during a protest in 2012 Photograph: Abbas Momani/AFP/Getty Images
A

little over four years ago, I drove to the West Bank village of Nabi Saleh to spend a day with a 12-year-old girl. Her name was Ahed Tamimi, and I was interviewing her for a magazine article, Children of the Occupation: Growing up in Palestine.
We talked about her life in the village, the constant presence of soldiers, the demolition order on her home, mermaids, football and hopscotch. She was elfin, with an uneasy mix of worldliness and naivety. Of the many children I met in the West Bank and Gaza over almost four years of covering the Israeli-Palestinian conflict for the Guardian, I found Ahed one of the most disturbing.
By then, she was well known in pro-Palestinian circles. In 2012 a video showing her angrily confronting an Israeli soldier had gone viral; Ahed was feted. Now, another video of her slapping and kicking an Israeli soldier has led to her being charged with assaulting security forces, incitement and throwing stones. The teenager is in custody awaiting trial.
The video and the charges have polarised opinion. To many pro-Palestinian activists, Ahed is a symbol of resistance, a child hero, a freedom fighter. Comparisons have been drawn to Malala Yousafzai and Joan of Arc. She has been lionised on social media, and publicly praised by the Palestinian president, Mahmoud Abbas. On the Israeli side, some have said she is a puppet of political parents, she has been, schooled in violence, and that she deserves stiff punishment.
As usual, it is a little more complicated. Ahed is a member of the second generation of Palestinians to grow up under occupation. Her father, Bassem, was born in 1967 – the year Israel seized the West Bank, East Jerusalem, Gaza and the Golan Heights in the six-day war. He and his children have known only a life of checkpoints, identity papers, detentions, house demolitions, intimidation, humiliation and violence. This is their normality.
The family home is in Area C, the 62% of the West Bank that is under Israeli military control. Their village, Nabi Saleh, has been the scene of frequent protests since Israeli settlers appropriated the local spring a decade ago. Bassem and his wife, Nariman, and other members of the family have often been at the forefront.
Stones have been thrown by the protesters; Israeli forces have responded with teargas, rubber bullets, water cannon and sometimes live ammunition. At least two villagers, including Ahed's uncle Rushdie, have been killed, hundreds injured, and at least 140 people detained or imprisoned – among them Bassem and Nariman, several times.
Ahed has grown up in this environment. When I asked her how often she had experienced teargas, she laughed, saying she couldn't count the times. She described military raids on the family home. I observed Ahed and her brothers as, over and over again, they watched footage of their parents being arrested and their uncle writhing on the ground after being shot.
Many of her answers to my questions appeared rehearsed. "We want to liberate Palestine. We want to live as free people. The soldiers are here to protect the settlers and prevent us reaching our land," she told me. Her parents seemed proud of her profile among anti-occupation activists, a perspective reinforced this week when Bassem described his daughter as "a representative of a new generation of our people, of young freedom fighters … [She] is one of many young women who in the coming years will lead the resistance to Israeli rule."
Suggestions that Ahed's recent interaction with the soldiers was partly for the benefit of the rolling camera, that her mother apparently had no qualms about streaming it live on social media, and (according to the Israel indictment) that the teenager suggested that "whether it is a stabbing attack or suicide bombing or throwing rocks, everyone needs to do something and unite in order for our message to reach those who want to liberate Palestine", reinforce a sense that the Tamimis are a highly politicised family.