05 Jan
News and Analyses, A Foreign Perspective
Nearly all of these are English-edition daily newspapers. These sites have interesting editorials and essays, and many have links to other good news sources. We try to limit this list to those sites which are regularly updated, reliable, with a high percentage of "up" time.

German right-wing populists are blasting a new law regulating hate postings on Twitter and Facebook, saying it destroys freedom of opinion in the country. But their tirades are misplaced.

World Politics
United States
Ben Jennings on Trump v Bannon – cartoon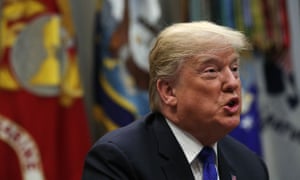 Donald Trump's lawyer issued a cease-and-desist letter to the book's publishers. Michael Wolff said: 'It is extraordinary that the president of the would try to stop the publication of a book.' Photograph: Alex Wong/Getty Images
The author of an explosive new book about Donald Trump's first year in office has said he stands by his reporting and that the president's threat of legal action is only boosting his sales.
Michael Wolff also stood by his account that many in the administration think Trump is incapable of meeting the demands of his role – claims which have prompted a furious backlash from the White House.
The author noted testimony that Trump keeps repeating himself: whereas once he would tell the same three stories in 25 or 30 minutes, he said, now he does so in 10.
"I will quote Steve Bannon," Wolff said. "'He's lost it.'"
Discussing Trump's response to the book on NBC's Today show on Friday, in his first interview since publication of excerpts from book by the Guardian triggered a political firestorm, Wolff asked: "Where do I send the box of chocolates?
"Not only is he helping me sell books, but he's helping me prove the point of the book.
"I mean, this is extraordinary that a president of the United States would try to stop the publication of a book. This doesn't happen, has not happened from other presidents, would not even happen from the CEO of a mid-sized company."
He has a need for immediate gratification. It's all about him. He just has to be satisfied in the moment

Michael Wolff on Trump
Trump's lawyer demanded a halt to publication of Fire and Fury: Inside the Trump White House or excerpts. Its publisher instead brought forward the release date to Friday. The book offers a scathing portrait of a dysfunctional White House and a president out of his depth.
Trump attacked Wolff on Thursday evening, tweeting: "I authorized Zero access to White House (actually turned him down many times) for author of phony book! I never spoke to him for book. Full of lies, misrepresentations and sources that don't exist."
Wolff, a media critic and columnist, responded: "What was I doing there if he didn't want me to be there? I absolutely spoke to the president. Whether he realised it was an interview or not, I don't know, but it certainly was not off the record."
The author spent about three hours with Trump during the election campaign and in the White House, he continued, "so my window into Donald Trump is pretty significant".
He added: "But even more to the point, and this was really sort of the point of the book, I spoke to people who spoke to the president on a daily, sometime minute-by-minute basis. In a sense there was one question on my mind when I began this book: what is it like to work with Donald Trump, how can you work with Donald Trump, and how do you feel having worked with Donald Trump?"
Wolff's new book is drawn from what he said was regular access to the West Wing and more than 200 interviews, including with Trump. Asked how he gained such extraordinary access, Wolff said: "I certainly said whatever was necessary to get the story."
The White House has repeatedly dismissed the book as "tabloid gossip", "sad", "pathetic" and full of "lies" and some media commentators have cast doubt on Wolff's credibility.
Wolff said that, like any journalist, he has recordings and notes and is "in every way comfortable" with everything he reported in the book.
"My credibility is being questioned by a man who has less credibility than perhaps anyone who has ever walked on earth at this point," he said.
Pressed on whether he stands by everything in the book, Wolff replied: "Absolutely everything in the book."
A recurring theme in Fire and Fury is the question of Trump's fitness for office. Wolff suggested that even the president's son-in-law, Jared Kushner, and daughter, Ivanka Trump, have lost faith in his ability to do the job.
"Certainly Jared and Ivanka, in their current situation, which is a deep legal quagmire, are putting everything on the president," he said. "'Not us, it's him.'"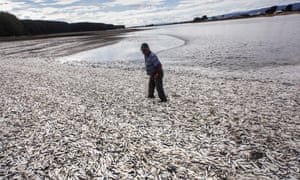 A fisherman on a beach in Temuco, Chile that is blanketed with dead sardines, a result of algal blooms that suck oxygen out of the water. Photograph: Felix Marquez/AP
Ocean dead zones with zero oxygen have quadrupled in size since 1950, scientists have warned, while the number of very low oxygen sites near coasts have multiplied tenfold. Most sea creatures cannot survive in these zones and current trends would lead to mass extinction in the long run, risking dire consequences for the hundreds of millions of people who depend on the sea.
Climate change caused by fossil fuel burning is the cause of the large-scale deoxygenation, as warmer waters hold less oxygen. The coastal dead zones result from fertiliser and sewage running off the land and into the seas.
The analysis, published in the journal Science, is the first comprehensive analysis of the areas and states: "Major extinction events in Earth's history have been associated with warm climates and oxygen-deficient oceans." Denise Breitburg, at the Smithsonian Environmental Research Center in the US and who led the analysis, said: "Under the current trajectory that is where we would be headed. But the consequences to humans of staying on that trajectory are so dire that it is hard to imagine we would go quite that far down that path."
"This is a problem we can solve," Breitburg said. "Halting climate change requires a global effort, but even local actions can help with nutrient-driven oxygen decline." She pointed to recoveries in Chesapeake Bay in the US and the Thames river in the UK, where better farm and sewage practices led to dead zones disappearing.
However, Prof Robert Diaz at the Virginia Institute of Marine Science, who reviewed the new study, said: "Right now, the increasing expansion of coastal dead zones and decline in open ocean oxygen are not priority problems for governments around the world. Unfortunately, it will take severe and persistent mortality of fisheries for the seriousness of low oxygen to be realised."
The oceans feed more than 500 million people, especially in poorer nations, and provide jobs for 350 million people. But at least 500 dead zones have now been reported near coasts, up from fewer than 50 in 1950. Lack of monitoring in many regions means the true number may be much higher.
The open ocean has natural low oxygen areas, usually off the west coast of continents due to the way the rotation of the Earth affects ocean currents. But these dead zones have expanded dramatically, increasing by millions of square kilometres since 1950, roughly equivalent to the area of the European Union.
Furthermore, the level of oxygen in all ocean waters is falling, with 2% – 77bn tonnes – being lost since 1950. This can reduce growth, impair reproduction and increase disease, the scientists warn. One irony is that warmer waters not only hold less oxygen but also mean marine organisms have to breathe faster, using up oxygen more quickly.
There are also dangerous feedback mechanisms. Microbes that proliferate at very low oxygen levels produce lots of nitrous oxide, a greenhouse gas that is 300 times more potent than carbon dioxide.