06 Jan
News and Analyses, A Foreign Perspective
Nearly all of these are English-edition daily newspapers. These sites have interesting editorials and essays, and many have links to other good news sources. We try to limit this list to those sites which are regularly updated, reliable, with a high percentage of "up" time.

Writing by Sameera Al-Mahdi, Editing by Zak
Saba
SANAA, Jan 5 (Saba) – The US-backed Saudi aggression coalition continued heinous airstrikes, missiles, and artillery shelling over the past few hours on several provinces, a military officials told Saba on Friday.
In northwest province of Saada, a child was injured in missile and artillery shelling by Saudi aggression coalition that targeted Razeh border district.
Meanwhile, the aggression warplanes launched a strike on the center of Saada city, causing heavy damages to residents' properties, and also waged another strike on Dhaher border district.
In Jawf province, some 170 km northeast of the capital Sanaa, the fighter jets launched five airstrikes on Yotmah and Mahamisha areas of khub-washaaf district, causing heavy damages to residents' houses and farms.
In the northeast province of Marib, two airstrikes were launched on Rabeeah and Matar areas of Serwah district, causing damage to civilians' properties.


World Politics
United States
'The rats are eating their young': late-night hosts on new Trump book – video
Source: CBS & ABC
Late-night hosts Stephen Colbert and Jimmy Kimmel turn their attention to the new book Fire and Fury and its explosive claims from Steve Bannon on Donald Trump Jr Late-night hosts on Trump and Bannon: 'The rats are eating their young'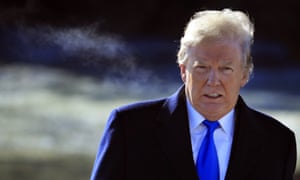 President Donald Trump leaves the White House enroute to Camp David. Donald Trump 'is not psychologically unfit, he has not lost it,' said one longtime friend. Photograph: Manuel Balce Ceneta/AP
The revelations in Michael Wolff's explosive book about Donald Trump's first year in office have renewed scrutiny of the president's mental health.
Although the White House has denounced Wolff's Fire and Fury as "complete fantasy", the book sheds light on concerns among top White House aides over Trump's psychological fitness for America's highest office.
"Everybody was painfully aware of the increasing pace of his [Trump's] repetitions," Wolff wrote.
"It used to be inside of 30 minutes he'd repeat, word-for-word and expression-for-expression, the same three stories – now it was within 10 minutes. Indeed, many of his tweets were the product of his repetitions – he just couldn't stop saying something."
The claims in Wolff's book have been rejected by the White House and Trump allies, but they do not exist in isolation.

Trump's highly provocative behavior has routinely been the subject of public alarm, prompting private discussions in Washington over the potential of invoking the 25th amendment, which enables the president to be removed from office if the vice-president and a majority of the cabinet deem him physically or mentally "unable to discharge the powers and duties of his office".
Trump's recent tweet taunting the North Korean leader, Kim Jong-un – boasting about his own "much bigger & more powerful" nuclear button – amplified concerns over the most extreme possible consequences of the president's unfiltered and largely unchecked behavior.
The sense of urgency surrounding Trump's mental state even led Bandy Lee, an assistant clinical professor at the Yale School of Medicine, to brief a dozen members of Congress last month on the potential risks associated with the president's behavior.
Lee, whose career has centered on studying, predicting and preventing violence, told the Guardian she and other psychiatrists were speaking out because they feel "the danger has become imminent".
Trump, she said, has already shown verbal aggressiveness, bragged about sexual assault, and incited violence at his rallies.
"He's shown an attraction to powerful weapons and war and provoked a hostile nation that already has an unstable leader and nuclear power," Lee said.
"All these signs are not just signs of dangerousness, but of the most cataclysmic kind of violence that could put an end to human life as we know it."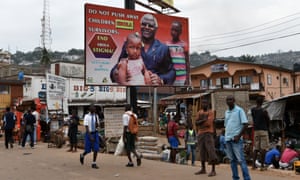 President Ernest Bai Koroma is featured on an Ebola poster in Freetown. Sierra Leone's government has been accused of misappropriating more than 30% of the money donated to battle the disease. Photograph: Sia-Kambou/AFP/Getty Images
Two Ebola survivors are to sue the government of Sierra Leone in the first international court case intended to throw light on what happened to some of the millions of dollars siphoned off from funding to help fight the disease.
The case, filed with the regional west African court in Nigeria, alleges that a lack of government accountability allowed the disappearance of almost a third of the money that came into the country during the early months of the Ebola outbreak in 2014. It claims that this led to violations of survivors' rights to health and life.
An audit of the first six months of the outbreak showed that more than $15m (£11m) worth of resources donated to the government went unaccounted for – more than 30% of what came into the country over that period.
Lara Taylor-Pearce, Sierra Leone's auditor general, said in an interview with the Africa Research Institute that she felt justice was needed for Sierra Leoneans over the missing millions: "For serious breaches of financial management procedure I would support forcing the individuals responsible to pay back the money. It would send a strong message. But currently this does not happen. People continue to get away with transgressions."
Sierra Leone recorded more than 14,000 cases of Ebola in two years, and about 250 health workers died. Officials promised survivors free healthcare and a small financial package, while surviving heath workers were told they would receive up to $5,000.
But the president of the Sierra Leone Association for Ebola Survivors, Yusuf Kabbah, said those vows were broken. "When we were admitted to the treatment centres they burned all our clothes as a means to fight the virus, promising money for new ones. They promised us that after everything they would provide three things: livelihood, healthcare, and psychosocial support," he said. "Now our members are dying because they don't have any of those things."
After a slow international response, especially from the World Health Organization, foreign donors and governments eventually poured millions into Sierra Leone to combat the outbreak, which claimed nearly 11,000 lives in three countries over the course of 2014 and 2015.
The Red Cross admitted in November that about $5m of their Ebola relief funding was lost to misappropriation across the infected countries of Sierra Leone, Guinea and Liberia before the outbreak was declared over in 2015.
Kabbah said that there is more than enough physical evidence to support the claims made by survivors, but that international attention is needed to ensure the government takes the case seriously. Some critics worry that, even should a ruling be made in favour of the Ebola survivors, government officials could simply choose not to recognise the decision.

Writing by Sameera Al-Mahdi, Editing by Zak
Saba