07 Jan
News and Analyses, A Foreign Perspective
Nearly all of these are English-edition daily newspapers. These sites have interesting editorials and essays, and many have links to other good news sources. We try to limit this list to those sites which are regularly updated, reliable, with a high percentage of "up" time.

Six arrests after dangerous waste disposed of as if it were harmless
FLORENCE – "That's all we need – kids ending up in hospital. Let them die; what do I care about children feeling ill? I'd quite happily dump the waste in the middle of the street". If schoolchildren were not actually complaining of red eyes and sore throats caused by the fumes given off by highly toxic waste from the nearby dump, it might almost sound like a horrible joke. Instead, those words, spoken by one of those arrested by the Carabinieri, while his companion smiles in amusement, are not just an outrage, but will forever remain the symbol of this major investigation by the Anti-mafia department into over 200,000 tonnes of toxic waste. The investigation started in Florence and Livorno, but is destined to spread to other areas. There have been six arrests so far, and at least 30 suspects, in operations involving 150 carabinieri from the forestry unit, coordinated by the state prosecutor of Livorno, Ettore Squillace Greco.
Dozens of Italian companies are alleged to have "laundered" their toxic waste ("there is everything in here – lots of mercury too", we read in the transcript of another wiretapped phone call) at a couple of Tuscan firms which used falsified documents and other tricks to take advantage of the authorities' disconcerting inability to impose checks. This allowed them to change codes and waybills and dispose of highly toxic substances as if they were normal refuse. Investigating magistrate Squillace Greco likened the method used to that adopted by the Neapolitan camorra for dumping dangerous waste on farmland.
The owners and managers of various toxic waste recycling plants have ended up under house arrest for trafficking in waste, criminal conspiracy and aggravated fraud: Emiliano Lonzi, Stefano Fulceri, Marco Palandri, Anna Mancini, Stefano Lena and Alessandro Bertini. The premises of two companies in Livorno operating in the sector of waste recovery and treatment – Lonzi Metalli srl and Rari srl – have been sealed off. From here, according to charges, the waste was taken to two partially state-owned dumps near Livorno: Rea at Rosignano Marittimo and Rimateria at Piombino.
The dangerous waste that ended up on the dump as "ordinary and harmless" included rags soaked in toxic substances, engine oil filters and toner. Trucks loaded with refuse representing a serious risk for the environment and public health went in through the gates and came out clean, as if taking part in some ecological exercise. The business was worth over €26m and defrauded the Tuscany regional council out of at least €4m. There are also suspicions that council officials may have been involved, and in the requests for provisional custody, the investigating magistrate argued that "one of the forms of self-defence used by the criminal association was that of systematically applying pressure to people in official posts to induce them to pass on useful information regarding any investigations or suggestions on how to avoid them". The next step is to establish who these well-placed people were.


Harrowing footage shows rescue of migrants from sinking dinghy – video
 Source: Italian Coastguard
A rubber dinghy carrying more than 100 migrants has deflated off the coast of Libya, killing at least eight people. The Italian coastguard filmed the rescue operation, which took place in international waters on Saturday afternoon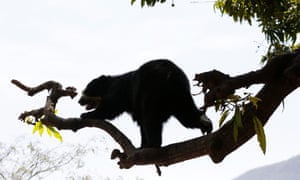 The Chaparrí Reserve is a wildlife hotspot, particularly known for its population of the rare spectacled bear. Photograph: Mariana Bazo/Reuters
A criminal gang involved in land trafficking has tortured and murdered a community leader in northern Peru, according to his wife and local villagers who witnessed the killing.
José Napoleón Tarrillo Astonitas, 50, was attacked by four men in his home on Saturday night. His wife, Flor Vallejos, told police he was bound by his hands and feet, beaten with a stick and strangled with an electric cable.
As she was covered in a blanket and forced to listen to her husband's screams, the attackers told him they had been paid to kill him, Vallejos told a national radio station. A local police chief said a murder investigation had been opened and the killers were being hunted.
A community leader in El Mirador village, Tarrillo, known as Napo, opposed land traffickers who had taken over parts of the Chaparrí Ecological Reserve and were clearing land and sowing crops. The reserve is a wildlife hotspot, with one of the largest populations of the rare spectacled bear in South America.
Vallejos said her husband had received death threats from people within his community for opposing deforestation and land invasions in the private reserve.
"He was threatened two days before he was killed," says Juan Carrasco, a fellow member of the Muchik Santa Catalina de Chongoyape farming community, in Peru's northern Lambayeque region.
"He was a brave man and he never lost his nerve. He said we must organise our own patrol to evict the land invaders because the authorities would not take action."
"This was to be expected," Ana Juarez, a biologist working in the area, told the Guardian. Juarez claims the murderers are known to the community and were responsible for the brutal killing of three farmers in October 2016 in reprisal for the eviction of land traffickers from the nearby San Francisco de Salas community.
Famous for its spectacled bears, the inspiration for the fictional Paddington Bear, the Chaparrí reserve receives visitors from all over the world. It is considered a model for community ecotourism and generates income for the local people.
The reserve is also home to the critically endangered white-winged guan, a bird once thought extinct. North-west Peru is considered a hotspot for endemic bird species.
Heinz Plenge, a renowned Peruvian wildlife photographer and one of the founders of the private reserve, says the criminals operate with "absolute impunity" and that land traffickers have infiltrated the peasant community which owns the communal land on which the reserve is situated.
The announcement of an irrigation project for the Lambayeque region in 2012, which would place two reservoirs in the Chaparrí reserve, sent land prices skyrocketing, Plenge explains. The project is on hold, but some land prices have risen from $80 to $10,000 per hectare, he says.
"These mafias are trying to grab hold of as much communal land as possible and take over peasant communities which can be easily bought off," he adds. "These lands are bought up by small operators, but behind them are politicians and very powerful businessmen."
Javier Ruiz Gutierrez, founder of the Save Chaparrí Defence Front, said the land traffickers are "trying to terrorise the population" so they can clear land for the proposed reservoir, which could transform the reserve into prime agricultural land.

World Politics
Germany
United States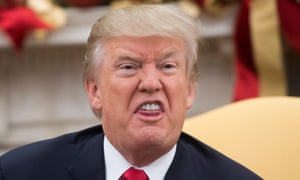 The man in the Oval Office of the White House. Photograph: Saul Loeb/AFP/Getty Images
E

ight months ago, a group of us put our concerns into a book, The Dangerous Case of Donald Trump: 27 Psychiatrists and Mental Health Experts Assess a President. It became an instant bestseller, depleting bookstores within days. We thus discovered that our endeavours resonated with the public.
While we keep within the letter of the Goldwater rule – which prohibits psychiatrists from diagnosing public figures without a personal examination and without consent – there is still a lot that mental health professionals can tell before the public reaches awareness. These come from observations of a person's patterns of responses, of media appearances over time, and from reports of those close to him. Indeed, we know far more about Trump in this regard than many, if not most, of our patients. Nevertheless, the personal health of a public figure is her private affair – until, that is, it becomes a threat to public health.
To make a diagnosis one needs all the relevant information – including, I believe, a personal interview. But to assess dangerousness, one only needs enough information to raise alarms. It is about the situation rather than the person. The same person may not be a danger in a different situation, while a diagnosis stays with the person.
It is Trump in the office of the presidency that poses a danger. Why? Past violence is the best predictor of future violence, and he has shown: verbal aggressiveness, boasting about sexual assaults, inciting violence in others, an attraction to violence and powerful weapons and the continual taunting of a hostile nation with nuclear power. Specific traits that are highly associated with violence include: impulsivity, recklessness, paranoia, a loose grip on reality with a poor understanding of consequences, rage reactions, a lack of empathy, belligerence towards others and a constant need to demonstrate power.
There is another pattern by which he is dangerous. His cognitive function, or his ability to process knowledge and thoughts, has begun to be widely questioned. Many have noted a distinct decline in his outward ability to form complete sentences, to stay with a thought, to use complex words and not to make loose associations. This is dangerous because of the critical importance of decision-making capacity in the office that he holds. Cognitive decline can result from any number of causes – psychiatric, neurological, medical, or medication-induced – and therefore needs to be investigated. Likewise, we do not know whether psychiatric symptoms are due to a mental disorder, medication, or a physical condition, which only a thorough examination can reveal.
A diagnosis in itself, as much as it helps define the course, prognosis, and treatment, is Trump's private business, but what is our affair is whether the president and commander-in-chief has the capacity to function in his office. Mental illness, or even physical disability, does not necessarily impair a president from performing his function. Rather, questions about this capacity mobilised us to speak out about our concerns, with the intent to warn and to educate the public, so that we can help protect its own safety and wellbeing.
At no other time has a group of mental health professionals been so concerned about a sitting president's dangerousness
Indeed, at no other time in US history has a group of mental health professionals been so collectively concerned about a sitting president's dangerousness. This is not because he is an unusual person – many of his symptoms are very common – but it is highly unusual to find a person with such signs of danger in the office of presidency. For the US, it may be unprecedented; for parts of the world where this has happened before, the outcome has been uniformly devastating.
Pathology does not feel right to the healthy. It repels, but it also exhausts and confuses. There is a reason why staying in close quarters with a person suffering from mental illness usually induces what is called a "shared psychosis". Vulnerable or weakened individuals are more likely to succumb, and when their own mental health is compromised, they may develop an irresistible attraction to pathology. No matter the attraction, unlike healthy decisions that are life-affirming, choices that arise out of pathology lead to damage, destruction, and death. This is the definition of disease, and how we tell it apart from health.
Politics require that we allow everyone an equal chance; medicine requires that we treat everyone equally in protecting them from disease. That is why a liberal health professional would not ignore signs of appendicitis in a patient just because he is a Republican. Similarly, health professionals would not call pancreatic cancer something else because it is afflicting the president. When signs of illness become apparent, it is natural for the physician to recommend an examination. But when the disorder goes so far as to affect an individual's ability to perform her function, and in some cases risks harm to the public as a result, then the health professional has a duty to sound the alarm.
The progress of the special counsel Robert Mueller's investigations was worrisome to us for the effects it would have on the president's stability. We predicted that Trump, who has shown marked signs of psychological fragility under ordinary circumstances, barely able to cope with basic criticism or unflattering news, would begin to unravel with the encroaching indictments. And if his mental stability suffered, then so would public safety and international security………………….In medicine, mental impairment is considered as serious as physical impairment: it is just as debilitating, just as objectively observable and established just as reliably through standardised assessments. Mental health experts routinely perform capacity or fitness for duty examinations for courts and other legal bodies, and offer their recommendations. This is what we are calling for, urgently, in doing our part as medical professionals. The rest of the decision is up to the courts or, in this case, up to the body politic.

Donald Trump speaks during a retreat with Republican lawmakers at Camp David in Thurmont, Maryland. Photograph: Saul Loeb/AFP/Getty Images
In an extraordinary public defence of his own mental stability, Donald Trump issued a volley of tweets that seemed guaranteed to add fuel to a raging political fire.
Suggestions in a new tell-all book that he was mentally unfit to be president were out of "the old Ronald Reagan playbook", Trump wrote on Saturday.
"Actually," the president added, "throughout my life, my two greatest assets have been mental stability and being, like, really smart."
He also said he "would qualify as not smart, but genius … and a very stable genius at that!"
The book, Fire and Fury: Inside the Trump White House, by Michael Wolff, burst into the public consciousness on Wednesday, when the Guardian reported excerpts nearly a week ahead of publication. Trump threatened to sue but succeeded only in prompting the publisher Henry Holt to bring the book forward.
Wolff presents a picture of a doomed administration lurching from crisis to crisis, steered by a childlike figure who responds to overstimulation with intense, reflexive outbursts.
"The president may not be able to restrain himself from commenting but I can restrain myself from commenting on his comments," Wolff told the Guardian on Saturday.
At a lunchtime press conference at Camp David, the president was asked why he tweeted. In a characteristically freewheeling answer, he said: "Only because I went to the best colleges or college. I went to – I had a situation where I was a very excellent student, came out and made billions and billions of dollars, became one of the top business people.
"Went to television and for 10 years was a tremendous success as you probably have heard. Ran for president one time and won."
In fact, in 1999 Trump mounted a first run for the White House when he sought the nomination of the Reform party.
The president continued, referring to Wolff: "And then I hear this guy that does not know me – doesn't know me at all – by the way did not interview me for three – he said he interviewed me for three hours in the White House – it didn't exist, OK? It's in his imagination."
Trump called Wolff a "fraud" and his book a "work of fiction" and complained about US libel laws, which he has threatened to change.
The White House chief of staff, John Kelly, told a White House pool reporter the president tweeted to get around the filter of the media. Trump had "not at all" seemed angry on Friday night or Saturday, Kelly said, adding that the president had watched the Hugh Jackman movie The Greatest Showman – about the hoaxer and politician PT Barnum – with lawmakers and others.
Before Trump's tweets, Wolff spoke to the BBC. He said: "I think one of the interesting effects of the book so far is a very clear 'emperor has no clothes' effect.
"Suddenly everywhere people are going: 'Oh my God, it's true, he has no clothes.' That's the background to the perception and the understanding that will finally end … this presidency."
The 25th amendment of the US constitution provides for the removal of a president if a majority of the cabinet and the vice-president agree. In Wolff's book, the then White House strategist Steve Bannon refers to vice-president Mike Pence as "our fallback guy". Pence stood to Trump's right at Camp David, his gaze rarely leaving the president.
Bandy Lee, an assistant clinical professor at the Yale School of Medicine, briefed a dozen members of Congress last month on Trump's behaviour. At the end of a week that began with Trump taunting North Korea over the size of his "nuclear button", Lee told the Guardian "the danger has become imminent".
Fifty-seven House Democrats have signed on to a bill to establish an oversight commission to determine if a president is mentally and physically fit.