09 Jan
News and Analyses, A Foreign Perspective
Nearly all of these are English-edition daily newspapers. These sites have interesting editorials and essays, and many have links to other good news sources. We try to limit this list to those sites which are regularly updated, reliable, with a high percentage of "up" time.

Our report on the audience Pope Francis granted to the Missionary Sisters of the Sacred Heart of Jesus, founded by Mother Frances Xavier Cabrini, an Italian-born saint who dedicated her life to helping thousands of Italian immigrants living in the United States during the late 19th century, whose Congregation is now present on 6 continents and in 15 countries around the world.
By Seàn-Patrick Lovett
Mother Frances Xavier Cabrini is an Italian-born saint who dedicated her life to helping thousands of Italian immigrants living in the United States during the late 19th century. She died in Chicago exactly one hundred years ago.
On Saturday morning in the Vatican, Pope Francis met members of the religious congregation she founded, the Missionary Sisters of the Sacred Heart of Jesus. The congregation is present today on 6 continents and in 15 countries around the world.
During his discourse in Italian, the Pope recalled the holiness of their Foundress and praised her tireless work with migrants and the poor. He held her up as an example for today, adding that the reality of migrants has evolved and is now "more current than ever". Migrants, said the Pope, "need good laws, programs of development and organization but, above all, they always need love, friendship, human closeness; they need to be heard, looked in the eye, accompanied". They need God, he said, "encountered in love that is freely given". We must do as Mother Frances Xavier Cabrini does, concluded Pope Francis: "be capable of responding to the signs of our time, reading them in the light of the Word of God and living them in such a way as to provide an answer that can reach the heart of every person".
It is with great pleasure that I welcome all of you, representatives of the Cabrini Family, who wish in this way to conclude the celebrations for the centenary of the birth of St Frances Xavier Cabrini. On December 17, 1917, this holy woman, who had crossed the ocean twenty-four times to assist migrants in the Americas, and who, untiringly, had gone as far as the Andes and Argentina, died suddenly in Chicago, and departed on her final journey.
Mother Frances Xavier Cabrini the Missionary
St Cabrini was a true missionary. She had grown up keeping before her the example of St. Francis Xavier, the pioneer of evangelization in the East. In his heart he had China and in that distant land he hoped to bring the proclamation of the Gospel. He did not think of the thousands and thousands of emigrants who, because of hunger, lack of work and the absence of a future, embarked with their scant belongings to reach America, driven by the dream of a better life. As we know – and as she said – it was the vision of Pope Leo XIII who, jokingly, made her change course: "Not to the east, Cabrini, but to the West!". The young Mother Cabrini, who had just founded the Missionaries of the Sacred Heart, needed to see where God was sending her on mission. Not to where she wanted to go, but to where He had prepared the way for her, the path of service and holiness. Here is the example of a true vocation: to forget oneself in order to surrender oneself fully to the love of God.
Migrants then and now
After so many years, the reality of migrants, to whom St Frances Xavier Cabrini dedicated her entire life, has evolved and is more current than ever. New faces of men, women and children, marked by so many forms of poverty and violence, appear before our eyes, hoping to find outstretched hands and welcoming hearts, like those of Mother Cabrini, along their way. In particular, you are offered the responsibility of being faithful to the mission of your Holy Foundress. Her charisma is of extraordinary actuality, because migrants certainly need good laws, programs of development and organization but, above all, they always need love, friendship, human closeness; they need to be heard, looked in the eye, accompanied; they need God, encountered in the freely given love of a woman who, with her consecrated heart, is your sister and mother.
"I can do all things in Him who gives me strength"
May the Lord renew always in you the attentive and merciful gaze towards the poor who live in our cities and our countries. Mother Cabrini had the courage to look into the eyes of the orphaned children entrusted to her, the unemployed youth who were tempted to commit crimes, the men and women exploited for the humblest jobs; and therefore today we are here to thank God for her holiness. In each of those brothers and sisters, she recognized the face of Christ and was able to put to good use the talents that the Lord had entrusted to her. She had a strong sense of apostolic action; and if she had such great energy to accomplish extraordinary work in a few years, it was only because of her union with Christ, following the model of St. Paul, from whom she took her motto: "I can do all things in Him who gives me strength".


Volunteers from the Help Save the Wildlife and Bushlands in Campbelltown organisation hose down heat stressed koala bears in the searing Australian heat. Temperatures have reached 47C causing exhaustion and dehydration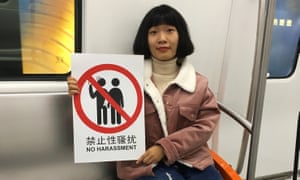 Zheng Xi, a student from Hangzhou, has launched an anti-harassment campaign inspired by the US 'Silence Breakers'. Photograph: Zheng Xi for the Guardian
It has been 12 years since Luo Qianqian says she was pounced upon by her PhD supervisor while she was studying in Beijing. "Please don't do that," she remembers protesting. "I'm still a virgin."
Luo, now in her mid-30s, recalls bursting into tears at the unwanted advance; her teacher, who denies the claims, withdrew but later touched her hand as he implored her to keep quiet. "I was too terrified to speak," she remembers.
Since accusations of sexual misconduct against Hollywood mogul Harvey Weinstein turbocharged the #MeToo hashtag campaign last October, there has been an outpouring of anger over misogyny and sexual violence suffered from Hollywood to Hanoi and Hong Kong.
But while the Weinstein effect has swept across the Americas, Europe and other parts of Asia, there has been near silence in China's authoritarian mainland.
"Some women have come out … [but] what's really striking is how few," says Leta Hong Fincher, an expert in China's feminist movement, who argues Communist party censorship is the culprit.
Hong Fincher believes the party's almost entirely male leadership feels "spooked" by the idea that members of a supposedly "untouchable" male elite could be toppled by a similar campaign here.
As a result, she suspects authorities have ordered China's intensely controlled media to avoid aggressive, in-depth coverage. "There is a history of the Chinese government being really worried about political upheaval outside its borders affecting its own population and there is no question whatsoever that the #MeToo movement is seen by the authorities as potentially posing a threat," she says.
Slowly, however, women are breaking the silence in a country where one study suggested 80% of women had experienced sexual harassment.
On 1 January Luo published an eloquent online denunciation of her alleged experience. "[There's] no longer any need to be afraid … we need to stand up bravely and say 'No!'," she wrote, urging others to speak out using the hashtag #??? (#WoYeShi or #MeToo).
Huang Xueqin, a Guangzhou-based journalist who was herself assaulted in 2012, is conducting a survey of her industry to expose the prevalence of sexual misconduct.
Huang said her activism was partly driven by a feeling of guilt that she had previously failed to confront perpetrators of workplace harassment: "I didn't want to be a troublemaker – but silence is equal to connivance."
Also inspired by the United States' "Silence Breakers", Zheng Xi, a student from Hangzhou, recently launched a public anti-sexual harassment campaign. "I thought those actors were so brave," she said.
Hong Fincher, who is writing a book called Betraying Big Brother: China's Feminist Resistance, expects more voices will emerge. So far only "the tiniest, tiniest tip of the iceberg" has been exposed: "All the activists working on these issues – rape, sexual harassment and domestic violence – will tell you that."
Despite their nervousness, Hong Fincher wagers authorities will not completely snuff out the debate, so long as it remains "manageable troublemaking".
"It's OK for an individual woman here and there to come out and talk about her experience … but if any of these women made it a really big deal or started to get a lot of sustained attention on social media I have no doubt that the police or somebody would come and visit her."

World Politics
United States
Martin Rowson on Trump's reaction to Fire and Fury – cartoon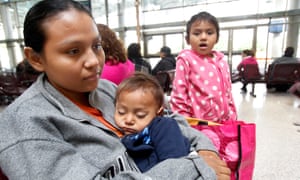 Nearly 200,000 people from El Salvador must leave the US in the next 18 months or change their immigration status, the US Department of Homeland Security said on Monday.
This announcement came despite efforts by immigration advocates and El Salvador's government to persuade the Trump administration to continue providing lawful status and the ability to work to Salvadorans who have been protected from deportation since the country was hit by two devastating earthquakes in 2001.
"They are Americans in all but their paperwork," said Frank Sharry, executive director of the immigration group America's Voice Education Fund. "Now, the Trump administration is trying to drive them back to a country engulfed in corruption, violence and weak governance."
El Salvador is the fourth country in four months to lose protection under the Temporary Protected Status (TPS) program, which since 1990 has offered deportation relief to people from regions experiencing armed conflict and natural disasters.
DHS said it cancelled the TPS for Salvadorans because the dangerous conditions created by the earthquakes, which killed more than 1,000 people, no longer exist. The country has rebuilt from the damage but is beset by drought, economic issues and gang violence.
"The administration has definitely taken the most narrow view of what it could consider," said Royce Murray, policy director at the American Immigration Council.
Christian Chávez Guevara, who has TPS and has lived in the US since 2000 was emotional as he described how this decision would affect his family in a call with reporters.
"Our family is going to break apart," said Chávez, who is married to a US citizen and is the guardian of his 15-year-old US citizen cousin whose mother was deported. He also cares for two stepchildren.
"I don't know what to do," Chávez said. "There is not a plan for the future now."
The majority of the 195,000 Salvadorans with TPS have lived in the US longer than Chávez, according to a 2017 report by the Center for Migration Studies. The report found 51% of Salvadorans with TPS have lived in the US for more than 20 years and 34% have homes with mortgages. They live mostly in California, Texas, New York and Washington DC.
"This is a bad decision," said Refugees International president Eric Schwartz. "Given conditions in El Salvador, the return of hundreds of thousands of law-abiding residents of the United States who have been here for nearly two decades is just wrong. It's wrong ethically and in terms of US interests in stability in El Salvador."
Salvadorans with TPS have until 9 September 2019 to leave the US or change their status.
DHS acknowledged some TPS recipients had lived and worked in the US for many years but said only Congress could create a pathway to lawful immigration status for the population. "The 18-month delayed termination will allow Congress time to craft a potential legislative solution," the DHS statement said.
This echoes the Trump administration's justification for ending a program that offered temporary deportation protection to undocumented immigrants who came to the US as children – Deferred Action for Childhood Arrivals (Daca). Trump cancelled Daca, but said he wanted Congress to find a solution that would protect that population.
"Alongside the decision to end Daca last fall, we've now placed a million people who have worked and lived legally in the US for years – and who have been vetted – we have now taken that status away from them," said Murray. "No one gains in this scenario."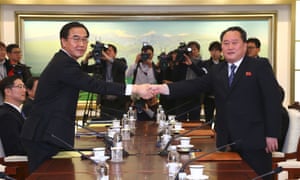 South Korea unification minister Cho Myung-Gyun (left) shakes hands with North Korean chief delegate Ri Son-Gwon at the border truce village of Panmunjom. Photograph: Korea Pool/AFP/Getty Images
North Korea will send athletes and cheerleaders to next month's Winter Olympics in South Korea, after the two countries held their first official talks for more than two years.
The North Korean party will also include performing artists and journalists, South Korea's vice unification minister, Chun Hae-sung, said after the first session of talks ended on Tuesday.
Chun added that South Korea had proposed that the two Koreas march together during the opening and closing ceremonies at the Pyeongchang Games, which open on 9 February.
The agreement represents a cautious diplomatic breakthrough after months of rising tensions over Pyongyang's nuclear weapons programme.
The five-member North Korean delegation travelled to the border in a motorcade and then walked across the military demarcation line into the southern side of the truce village of Panmunjom at around 9.30 am local time. The village straddles the demilitarised zone (DMZ), the heavily armed border that has separated the two Koreas for more than six decades.
As the two sides sat down for their first face-to-face talks since December 2015, North Korean media hit back at Donald Trump's claim that his tough stance against Pyongyang had facilitated the Olympic negotiations.
The Rodong Sinmun, the newspaper of the ruling Workers' party, said Trump's claim that sanctions and pressure on the regime had brought him "diplomatic success" during his first year in the White House was "ridiculous sophism".
Media reports said Tuesday's meeting was adjourned at 12.20 pm local time, after more than two hours of discussions, and would resume later in the afternoon.
Reuters reported that South Korean negotiators had also proposed military talks designed to ease tensions on the peninsula and reduce the chances of a conflict breaking out due to an accident or miscalculation.

The Natural History Museum has chosen 24 of the best images from its Wildlife photographer of the year competition shortlist. Members of the public can vote for their favourite by 5 February 2018
Kick back and chill by Alan Chung, US
'After more than two hours hiking with rangers in Volcanoes national park, Rwanda, Alan came across the "Hirwa" family group (meaning "the lucky one"). This group of 16 mountain gorillas is led by a single strong silverback. They were feeding on young bamboo shoots and relaxing in a leafy open spot.'
Photograph: Alan Chung/Natural History Museum
Settled in by Ryan Miller, US
'Moose are not strangers to the city of Anchorage, Alaska. This big bull is known as Hook, and Ryan knew from the previous year that he would be shedding his magnificent antler crown in the coming days. Ryan captured this scene in heavy snowfall as the rest of the city slept, and less than an hour later Hook shed his first antler.'
Photograph: Ryan Miller/Natural History Museum