10 Jan
News and Analyses, A Foreign Perspective
Nearly all of these are English-edition daily newspapers. These sites have interesting editorials and essays, and many have links to other good news sources. We try to limit this list to those sites which are regularly updated, reliable, with a high percentage of "up" time.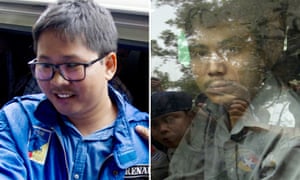 Wa Lone, left, and Kyaw Soe Oo, right, pictured outside court near Yangon. Photograph: Thein Zaw/AP
Prosecutors in Myanmar have formally charged two journalists from the Reuters news agency with violating the Official Secrets Act, signalling the case will go forward despite international condemnation.
Wa Lone, 31, and Kyaw Soe Oo, 27, were arrested on 12 December after police accused them of violating the British colonial-era law by acquiring "important secret papers" from two policemen. The police officers had worked in Rakhine state, where security forces are blamed for rights abuses against Rohingya Muslims that have sparked the exodus of some 650,000 people to Bangladesh.
The two journalists had worked on Reuters coverage of the crisis in Rakhine.
Than Zaw Aung, the lawyer for the journalists, said the prosecutor formally indicted the pair at Wednesday's hearing. They face up to 14 years in prison if convicted.
Than Zaw Aung said he appealed for the two to be immediately released on bail, but the judge said he would review that request and rule at the next hearing on 23 January. "We are still far from the verdict," he said.
The ministry of information has cited the police as saying they were "arrested for possessing important and secret government documents related to Rakhine state and security forces".
The ministry said they "illegally acquired information with the intention to share it with foreign media".
The Official Secrets Act dates back to 1923, when Myanmar, then known as Burma, was a province of British India.
The reporters have told relatives they were arrested almost immediately after being handed some documents at a restaurant by two policemen they had not met before.
Government officials from some of the world's major nations, including the United States, Britain and Canada, as well as United Nations officials, have called for their release.
Former US president Bill Clinton also urged that they be freed immediately. "A free press is critical to a free society – the detention of journalists anywhere is unacceptable," Clinton said in a Twitter post on Monday.
Clinton was US president for much of the 1990s when the United States pressed Myanmar's then military rulers to release democracy champion Aung San Suu Kyi from years of house arrest.
Aung San Suu Kyi won a 2015 election and formed a government in early 2016. She has made no public comment on the detention of the two Reuters reporters. The government has denied that their arrests represent an attack on press freedom and her spokesman has said the case would be handled according to the law.
Human rights group Amnesty International also called for their immediate release and for freedom of speech to be respected.
"These arrests have not happened in a vacuum, but come as authorities are increasingly restricting independent media," Amnesty International said.
"Journalists and media outlets, in particular those who report on sensitive topics, are living with the constant fear of harassment, intimidation or arrest. This clampdown on freedom of speech must end."
Reuters and Associated Press contributed to this report.

World Politics
United States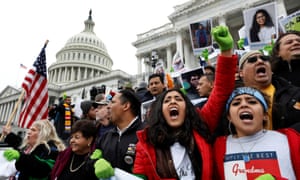 Supporters of Dreamers Act rally on Senate steps in Washington. Photograph: Yuri Gripas/Reuters
A judge has blocked Donald Trump from ending an Obama-era program that shielded from deportation children brought to the United States illegally by their parents.
US district judge William Alsup ruled in San Francisco on Tuesday that the program must "maintain the Daca program on a nationwide basis" while litigation over Trump's decision unfolds.
The Deferred Action for Childhood Arrivals (Daca) program has allowed nearly 800,000 immigrants to work and go to school in the US without fear of deportation since it was authorised by former president Barack Obama in 2012.
The Trump administration decided in September to rescind the Daca program, placing the fate of hundreds of thousands of the young immigrants – known as Dreamers – in the hands of Congress. The announcement prompted several states, organisations and individuals to file lawsuits.
The administration announced the decision on 5 September 2017 and said applicants had 30 days to respond. So while the program has not expired yet – that will happen on 5 March – the deadline had passed to renew applications, thus sealing the applicants' fate.
In his ruling, Alsup wrote that previous recipients of Daca protections who failed to register by the deadline must be allowed to renew their status in the program. However, he said the federal government did not have to process new applications from people who had never before received protection under the program.
Nearly 22,000 Daca recipients did not successfully apply to renew their eligibility, according to a study by the Center for American Progress, a left-leaning thinktank in Washington. The researchers estimate that on average 122 Daca recipients per day will lose their legal protections in the 181 days between 5 September 2017 and 5 March.
"In terminating Daca, the administrative record failed to address the 689,800 young people who had come to rely on Daca to live and to work in this country," Alsup wrote.
"These individuals had submitted substantial personal identifying information to the government, paid hefty fees and planned their lives according to the dictates of Daca. The administrative record includes no consideration to the disruption a rescission would have on the lives of Daca recipients, let alone their families, employers and employees, schools and communities."
The ruling comes while Trump and US congressional leaders are embroiled in a tense negotiation over how to protect the young immigrants.
If the court order stands, it could ease some of the pressure on Democrats and Republicans in Congress to find a legislative solution before the program ends.
Earlier on Tuesday Trump convened a bipartisan meeting with lawmakers at the White House to discuss the fate of the Dreamers. He expressed sympathy for their plight and called on lawmakers to craft a "bill of love" that would enshrine the Daca permanently and offer the young immigrants an eventual path to US citizenship. Yet he also reiterated his demands for a border wall, a central plank of his hardline immigration platform during the 2016 presidential election and a nonstarter for Democrats.
After the meeting, a number Democrats and Republicans in attendance said Trump conceded privately – after the cameras were turned off – that a border wall did not need to be a physical barrier from "sea to shining-sea". But later on Tuesday, Trump appeared to revert to his initial view, tweeting: "As I made very clear today, our country needs the security of the Wall on the Southern Border, which must be part of any DACA approval."
The White House is also demanding that a deal include reforms to the legal migration system, ending rules that allow immigrants to sponsor relatives and the elimination of the state department's diversity visa lottery program.
Democrats have agreed to compromise on border security but have warned that certain demands could derail negotiations, potentially threatening a government shutdown over the issue if they withhold support from a must-pass spending bill next week.
The Trump administration could appeal the ruling, which could then be appealed to the US supreme court.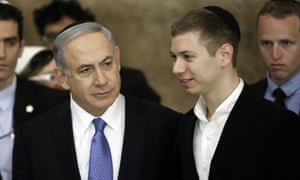 Yair Netanyahu's father, Benjamin, left, denounced the broadcast of tape in which his son can be heard speaking with the son of gas tycoon Kobi Maimon. Photograph: Thomas Coex/AFP/Getty Images
Benjamin Netanyahu's son Yair has issued an apology amid continuing controversy over an apparently drunken recording of him outside a strip club suggesting his father helped push through a $20bn (£14.8bn) deal to the benefit of a gas tycoon.
The statement issued by the 26-year-old emerged as the Israeli prime minister issued his own statement amid continuing political fallout from the tape.
Commentators had focused as much on the fact that Yari Netanyahu had been driven between strip clubs by a government-supplied driver and state bodyguard on a drunken evening out as much as his boasts about the highly lucrative and controversial gas deal.
Those remarks, however, led to further criticism of his father's handling of Israel's natural gas industry at a time when the prime minister faces two unrelated corruption investigations.
Despite the apology, and the Israeli prime minister's own statement criticising his son, the Netanyahu family denounced the broadcast of the tape by Israel's Channel 2 television late on Monday, claiming it was part of a politically inspired witch-hunt.
In the tape Yair Netanyahu can be heard speaking with the son of Kobi Maimon, a stakeholder in a company that owns a share in Israel's offshore Tamar gas field.
"My dad arranged $20bn for your dad – you can give me 400 shekels [ £86]," he said in a conversation that also included talk about prostitutes and strippers.
Although he did not deny the content of the recording or the events depicted, Yair Netanyahu tried to cast himself as the victim in his statement.
"Tonight I watched a disgraceful, yellow-press report that presented illegal recordings of a conversation that took place two and a half years ago. In a conversation under the influence of alcohol, I spoke nonsense about women and other things that were better left unsaid.
"These remarks do not reflect who I am, the values on which I was raised and my beliefs. I regret the remarks and apologise if anyone was hurt by them.
"In addition, the things I said to Maimon were a dumb joke and joking around with him, as anyone could tell. I never took an interest in the natural-gas framework agreement and never had any idea about its details," he said.
The Israeli prime minister also tried to turn the tables on the media for broadcasting the tape, suggesting it had been shopped round for money.
"My son was correct in saying yesterday that he had spoken foolish words. He said, it's not me, Yair. He said that these are not the values that characterise him. And he's right," the Israeli prime minister said after a meeting with Nato ambassadors in Jerusalem.
The emergence of the tape has renewed political interest in the controversial gas deal, with opponents having claimed it overly favoured the companies involved. Among critics was the Israeli Labour party leader, Avi Gabbay, who said the recording was a "new stain on the corrupt gas deal".
Netanyahu, however, rejected the claim, saying: "Everyone who understands the details of the gas deal … knows that the argument that I somehow favoured Kobi Maimon is absurd."
There was also criticism over Yair Netanyahu's security arrangements, with at least two lawmakers calling for an investigation.
Writing in Yedioth Ahronoth, Sima Kadmon summed up the reaction of many commentators over the affair: "If this were not the prime minister's son, there might be something to be said for the response of the Netanyahu family, that this is cheap and malicious gossip.
"But this young man, who was sitting in a car paid for by all of us with a driver and a bodyguard paid for by all of us, who spoke in gutter language about prostitutes […] he is not everyone's child."
Related

Opinion