12 Jan
News and Analyses, A Foreign Perspective
Nearly all of these are English-edition daily newspapers. These sites have interesting editorials and essays, and many have links to other good news sources. We try to limit this list to those sites which are regularly updated, reliable, with a high percentage of "up" time.

By
Syrian refugees in Lebanon are more vulnerable than ever before: over half live in conditions of extreme poverty and over three quarters live below the poverty line. This is what emerges from the latest research conducted by UNHCR, UNICEF and WFP.
Syrian refugee mother and son outside their shelter in Ghazieh, Saida, Lebanon Credit: UNHCR/ Sebastian Rich)
"The crisis has lasted seven years and it is becoming increasingly difficult for Syrian refugees in Lebanon to meet daily living costs, they are more dependent than ever on humanitarian aid, which for this year is still extremely uncertain," the UNHCR said.
Refugees living in extreme poverty on the rise 
The Vulnerability Assessment for Syrian Refugees in Lebanon for 2017 shows that 58% of families live in conditions of extreme poverty, on less than 2.87 dollars per person per day. This is 5% more than the year before. The number of families living below the poverty line (on less than 3.84 dollars a day) has continued to rise, reaching 76%. This means that "refugees have limited available resources for meeting their primary needs.Refugee families now spend on average just 98 dollars per person per month, of which 44 dollars on food," the UNHCR explains. "It is common practice for them to ask for loans to buy food, cover medical expenses and continue to pay the rent: nearly 9 refugees out of 10 say they have contracted debt. This highlights just how vulnerable most of the Syrian refugees in Lebanon are." In regard to food insecurity, "the situation is extremely critical and involves 91% of families to a varying extent". Syrian refugees in Lebanon are also more vulnerable because "obtaining a residency certificate continues to be extremely complicated and so refugees are increasingly vulnerable to arrest, they can't register marriage. It is even more difficult to find work, as well as to send children to school or get access to medical treatment."
Report paints 'alarming picture' 
The results of the research "paint an alarming picture of the increase in the vulnerability of Syrian refugees in Lebanon.After seven years of crisis they are more dependant than ever on humanitarian aid: over two thirds say they have had recourse to some form of assistance in the previous three months," says UNHCR. "Opportunities for autonomy and employment are extremely limited by an economy that has been badly hit by the nearby conflict in Syria. External funding is insufficient and not in step with the growing needs. By the start of December 2017 just 36% of the funding needed to provide adequate humanitarian aid in Lebanon had arrived."


World Politics
Czech Republic
United States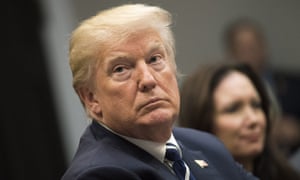 Donald Trump at the White House in Washington DC on Thursday. Photograph: UPI/Barcroft Images
Donald Trump described El Salvador, Haiti and certain African nations, as "shithole" countries during a meeting with lawmakers on Thursday, according to a report.
"Why are we having all these people from shithole countries come here?" Trump said, after being presented with a proposal to restore protections for immigrants from those countries as part of a bipartisan immigration deal, the Washington Post reported, citing aides briefed on the meeting.
The president demanded to know why the US would accept immigrants from these countries rather than places like Norway, whose prime minister he had met with the day before.
In a statement, the White House did not deny the account, instead highlighting Trump's hardline immigration stance.
"Certain Washington politicians choose to fight for foreign countries, but President Trump will always fight for the American people," said Raj Shah, a White House spokesman. "Like other nations that have merit-based immigration, President Trump is fighting for permanent solutions that make our country stronger by welcoming those who can contribute to our society, grow our economy and assimilate into our great nation."
He added that Trump will "always reject temporary, weak and dangerous stopgap measures that threaten the lives of hardworking Americans, and undercut immigrants who seek a better life in the United States through a legal pathway".
The president's comments drew swift and bipartisan rebuke while a chorus of Democrats condemned Trump as a "racist".
"We always knew that President Trump doesn't like people from certain countries or people of certain colors. We can now we say with 100% confidence that the president is a racist," said congressman Luis Gutiérrez, a Democrat from Illinois.
"This is the real Donald Trump and my biggest fear is that his voters will applaud him," he added.
Senator Orrin Hatch, a Republican of Utah who has helped implement the president's legislative agenda, said: "I look forward to getting a more detailed explanation regarding the President's comments. Part of what makes America so special is that we welcome the best and brightest in the world, regardless of their country of origin."
Haiti's ambassador to the US told MSNBC that their government had "formally summoned" a US official to explain Trump's comments.
Vicente Fox, the former president of Mexico and a sharp-tongued critic of Trump, returned the insult on Twitter, adding: "America's greatness is built on diversity, or have you forgotten your immigrant background, Donald?"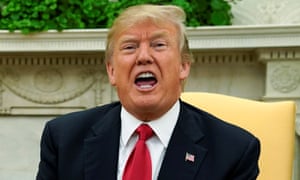 Trump suggested the US should bring more immigrants from Norway Photograph: Jonathan Ernst/Reuters
Remarks by Donald Trump describing immigrants from Africa and Haiti as coming from "shithole countries" were racist, the United Nations human rights office has said, as it led global condemnation of the US president.
On Thursday, Trump questioned why the US would want to have immigrants from Haiti and African nations, instead suggesting the US should bring more immigrants from Norway, whose prime minister he had met on Wednesday.
"There is no other word one can use but racist," the UN human rights spokesman, Rupert Colville, told a Geneva news briefing. "You cannot dismiss entire countries and continents as 'shitholes', whose entire populations, who are not white, are therefore not welcome."
The African Union said it was "frankly alarmed" by Trump's language. "Given the historical reality of how many Africans arrived in the United States as slaves, this statement flies in the face of all accepted behaviour and practice," AU spokeswoman Ebba Kalondo told the Associated Press. "This is particularly surprising as the United States of America remains a global example of how migration gave birth to a nation built on strong values of diversity and opportunity."
The former Haitian president Laurent Lamothe also expressed his dismay, saying the US president's remark "shows a lack of respect and ignorance". The Haitian ambassador to the US, Paul Altidor, said Trump's views were "based on stereotypes".
Mexico's former president, Vicente Fox, who has been an outspoken critic of Trump, said in a colourful tweet that "America's greatness was built on diversity".
According to a report in the Washington Post, Trump said "Why are we having all these people from shithole countries come here?" after he had been presented with a proposal to restore protections for immigrants from El Salvador, Haiti and certain African nations as part of a bipartisan immigration deal. In a statement, the White House did not deny the account, instead highlighting Trump's hardline immigration stance.
Cedric Richmond, Democratic representative and chairman of the Congressional Black Caucus, said Trump's comments were "yet another confirmation of his racially insensitive and ignorant views" that reinforce "the concerns that we hear every day, that the president's slogan 'Make America Great Again' is really code for 'Make America White Again'."
Mia Love, a Utah Republican whose family came from Haiti, condemned Trump's remark as "unkind, divisive, elitist" and demanded an apology for the American people and the nations he "wantonly maligned".
James Comey, who was fired as director of the FBI by Trump, quoted the inscription on the Statue of Liberty:

David Miliband, the president of the International Rescue Committee, said Trump's comments were leading a "race to the bottom on refugees".
Trump has made few references to Africa since his election, and many senior Africa-focussed posts in his administration remain unfilled.
In September he amused some by appearing to invent a new country called Nambia while address African leaders in Washington. Trump also told them: "I have so many friends going to your countries, trying to get rich. It has a tremendous business potential."
Boniface Mwangi, a well-known social activist in Kenya tweeted that Africa "isn't a shithole."
"It's the most beautiful continent in the world. Beautiful,hardworking people. We have diamonds, gold, iron, cobalt, uranium, copper, bauxite, silver, petroleum, cocoa, coffee, tea etc. Sadly we have #shithole leaders like Trump shitting on us everyday," Mwangi said.
Standing at a coffee stall outside an office block in Rosebank , a commercial and business neighbourhood in central Johannesburg, Blessing Dlamini, a 45-year-old administrative assistant, said Trump's words came as "no surprise".
"He has shown the world he is a racist. We should just block him from our thoughts," Dlamini said.