13 Jan
News and Analyses, A Foreign Perspective
Nearly all of these are English-edition daily newspapers. These sites have interesting editorials and essays, and many have links to other good news sources. We try to limit this list to those sites which are regularly updated, reliable, with a high percentage of "up" time.


Dec 18,  Oslo: One shouldn't be surprised with the speech of the Republican US Presidential candidate which comes with real feelings of the hidden terminology that has affected the global psychology towards the second largest population "Muslims".
I must mention here in quotes that Trump's statement against President Barrack Obama's Oval speech which urged the nation not to fall prey to terrorism and to stay united during this time of difficulty after the San Bernardino attack, "was a rather cowardice, emotional and not a political statement".
The entire scenario of the corpulent terror structure is going through a very historic and a very demonic phase not just because of the crimes that are being committed but also because of what is being highlighted through irresponsible big mouth citizens like Donald Trump who in his emotional drive has gone against the constitution under whose oath he will be seeking office and representing the world's largest democracy. Sadly, the Republicans, because of him, have now sprung up into damage control mode but the dent has already been made as this has shown how the subject of terrorism affects our day to day lives.
The World needs to understand that terror has no religion while banning and branding all Muslims as terrorists and their existence in the States as threat to the national security does not provide a solution to this catastrophe that is a creation stereotyped media institutions which just seeks profits from the lives of innocents and questions the peaceful co-existence of human civilizations.
Islam is a religion of peace, purity and adoration, which has taught its followers to co-exists peacefully and respect their intellectual personalities, it is the greed of some elites and radicals with so called political agenda and some blemish unknowns of faiths who have created this chaos like situation that has now reached an uncontrollable point of no return with qualities of ripple effect and repercussions'.
One has to come out of this phobia that has not only destroying the society but tarnishing the one village- one world image of this globalized world that is now dragging its self slowly towards WW3. The kind of greed and deformity that prevails in the responsible minds of global figures has created the divide among all levels of human race.
This world has to understand especially; the West & so called developed economies that there is no good or bad terrorism. Terror has no face or no religion but only one thing in common that is brutal violent acts of terror which kills only innocents and ravaged the lives of millions across, hence; born from a statements of big mouth riches who speak unknowingly about what their words can do to create hate in the hearts of people living in deliria already, therefore; igniting cycle of hatred and violence in the society and giving reasons to the enemies of human unity and multi-culturalism to prevail.


António Guterres calls on UN member states to adopt humane approach to migrants by making more travel routes available and protecting foreign workers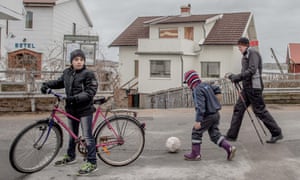 Young refugees in Kladesholmen, Sweden. The country hosts a significant refugee population. Photograph: David Ramos/Getty Images
The UN secretary general is urging the governments of member states to open up more routes for migration and take steps to promote and safeguard foreign labour.
António Guterres is calling for a collective shift to celebrate the international benefits of migration as part of an ambitious plan to create a more humane global strategy on the issue.
In a report published on Thursday, Guterres said political leaders must take responsibility for ending the stigma surrounding migration and dispel alarmist misrepresentations of its effects.
The report, entitled Making Migration Work for All, comes ahead of negotiations on a global compact on migration to be adopted by the UN general assembly later this year.
In September 2016, the 193 members of the UN general assembly unanimously adopted a non-binding political agreement, the New York declaration, which pledged to uphold the human rights of refugees and migrants and recognised the need for a comprehensive approach to international migration.
The declaration set in motion a series of consultations on how to deal with the needs of 258 million international migrants and is due to culminate in the formal adoption of a global strategy at a conference in Morocco in December this year.
In an opinion piece for the Guardian, Guterres said the first international agreement of its kind was an "unprecedented opportunity for leaders to counter the pernicious myths surrounding migrants and lay out a common vision of how to make migration work for all our nations".
He said: "The best way to end the stigma of illegality and abuse around migrants is, in fact, for governments to put in place more legal pathways for migration, removing the incentives for individuals to break the rules, while better meeting the needs of their labour markets for foreign labour."
The report stresses that migrants contribute financially by paying taxes and injecting about 85% of their earnings into the economies of their host countries. The remaining 15% is sent back home.
In 2017, an estimated $596bn (£440bn) was transferred in remittances globally, with $450bn going to poor countries – three times the amount of overseas development assistance.
Governments that crack down on migrants unintentionally encourage illegal migration and harm their own economies, Guterres warned.
Addressing an audience in New York, Guterres said: "Authorities that erect major obstacles to migration – or place severe restrictions on migrants' work opportunities – inflict needless economic self-harm, as they impose barriers to having their labour needs met in an orderly and legal fashion."
He described migration as a "positive global phenomenon" that powers economic growth, reduces inequalities and connects diverse societies.
The number of international migrants has grown by 49% since 2000 and now represents 3.4% of the world's population, according to the UN.
It is often assumed the majority of migrants are men, but 48% are women, who tend to send home a higher percentage of their earnings than men, said the report.
While the vast majority of migrants move across borders legally and safely, Guterres highlighted the fate of the "thousands who die in doomed efforts to cross seas and deserts" as not just a human tragedy but "the most acute policy failure".
His report condemned the use of short-term, reactive security approaches and draconian border controls set up to detain migrants in transit.
He recommended member states instead find "more credible pathways for migrants who do not qualify for international refugee protection but face insurmountable obstacles to return".
The International Organisation for Migration said it welcomed the report's recommendations.
A spokesman told The Guardian: "Most of the world's international migrants already move through legal safe channels and it's important to make this point, because you get a sense in the media and in politics that migration is something chaotic that involves flouting laws.
"The fact the report is urging countries to make assessments on future labour needs is also important. The world by 2050 will need 50m additional healthcare workers because of the ageing population.

World Politics
United States
Trump's lawyer denies president had affair with Stormy Daniels in 2006

Wall Street Journal alleges lawyer Michael Cohen oversaw payment in 2016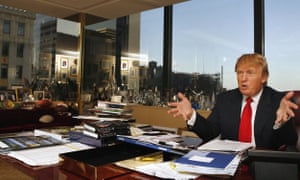 Trump in 2006. The alleged encounter, which Michael Cohen denied took place, was said to have happened that same year. Trump married Melania in 2005. Photograph: Lucas Jackson/Reuters
Donald Trump's lawyer has denied the president had an affair with an adult film star 12 years ago, but did not address a specific allegation that Trump paid her $130,000 to prevent her from discussing the encounter.
The Wall Street Journal reported on Friday that longtime Trump Organization attorney Michael Cohen oversaw the payment in the final days of the 2016 presidential election.
Cohen did not address that claim in a statement to the Journal, but he denied the allegation that Trump and Stephanie Clifford, who performs under the name Stormy Daniels, had a sexual encounter in 2006, the year after he married Melania.
Cohen also showed the journal an email, apparently signed by "Stormy Daniels," that reportedly read: "Rumors that I have received hush money from Donald Trump are completely false." The statement denied that Clifford and Trump had a "sexual and/or romantic affair".
The Journal based its report on interviews with "people familiar with the matter" and did not claim to have seen any documents substantiating the agreement.
An attorney for Clifford did not immediately respond to questions, but sent a full copy of Clifford's statement denying the affair to BuzzFeed, dated 10 January.
A White House official told the Guardian: "These are old, recycled reports, which were published and strongly denied prior to the election."
In the tumultuous last days of the presidential race, Clifford was reported to have been in discussions with Good Morning America to disclose an alleged affair with Trump. At the time, Trump was under intense scrutiny for a series of sexual assault allegations and claims of sexism.
A Trump campaign spokesperson denied that the two had a sexual encounter, which was described to the Journal as consensual, and Clifford never appeared on the program.
A photo from Clifford's MySpace account shows her posing with Trump and was reportedly taken in July 2006.
Trump was dressed in the same outfit in a photo circulated by adult film star Jessica Drake when Drake accused Trump of groping her at a golf tournament "a decade ago". Speaking in 2016, Drake recalled that Trump offered her $10,000 and the use of his private plane if she would agree to come back to his room and accompany him to a party.
Clifford's attorney, Keith Davidson, also represents Karen McDougal, a onetime Playboy model who reportedly received $150,000 from the National Enquirer for the rights to her own story about an alleged 2006 sexual encounter with Trump. No such story ever ran in the Enquirer, suggesting the magazine acquired the story in order to keep it under wraps, a tactic known as "catch and kill"