14 Jan
News and Analyses, A Foreign Perspective
Nearly all of these are English-edition daily newspapers. These sites have interesting editorials and essays, and many have links to other good news sources. We try to limit this list to those sites which are regularly updated, reliable, with a high percentage of "up" time.

Today at 15.00 on Krakow's Main Square, there will be a demonstration against Poland's abortion laws, which are some of the most restrictive in Europe.
The protest, under the banner "Koniec Komprimisów!" ("The End of Compromise!"), is a direct response to a vote in the Sejm last Wednesday. Poland's lower parliamentary body voted by a narrow margin to end consideration of the Ratujmy Kobiety 2017 (Let's Save Women) project, which, among other goals, aimed to liberalize abortion through the 12th week of pregnancy and to restore availability of emergency contraception (also known as "the morning-after pill") without a prescription.
Currently, abortion is only legal if the woman's life is endangered, the pregnancy is the result of a criminal act, or if the fetus is seriously malformed.
The parliamentary decision was particularly notable for how some members didn't – and did – cast their vote. 10 MPs from Modern (Nowoczesna) and 29 from Civic Platform (PO), which are theoretically more socially liberal opposition parties, did not vote. Three from the latter party, in fact, voted against it.
Liberal activist and former politician Barbara Nowacka, who was defending the project on the Sejm floor, said in a video she posted to Facebook: "MPs and deputies of the opposition – where the hell were you when the fate of this project was in the balance? […] What do you use our taxes for? Being an opposition is not just taking selfies at demonstrations…"
A handful of PO members were later penalized by the party for their votes (or lack thereof).
On the other side, despite the fact that the general position of the ruling far-right Law ad Justice (PiS) party is against abortion reform, several of its members voted to continue the discussion – most significantly, party leader Jaros?aw Kaczy?ski.
Ultimately, the measure fell nine votes short.
Hence the protests this afternoon. Joining Ratujmy Kobiety in organizing the nationwide protests are Together (Razem) party, The Polish Initiative (Inicjatywa Polska), the Green party, ?ódzkie Dziewuchy Dziewuchom, the Feminist Revolutionary Brigade (Feministyczna Brygada Rewolucyjna FeBRa), Workers' Democracy (Pracownicza Demokracja), the Nationwide Women's Strike (Ogólnopolski Strajk Kobiet), and the Employee Initiative of Warsaw (Inicjatywa Pracownicza Warszawa).
The action follows a number of similar gatherings under the #CzarnyProtest (#BlackProtest) banner over the past few years, several against an attempt to ban abortion entirely. The demonstrations have been partially credited with the ultimate shelving of this proposal.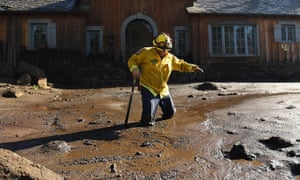 Firefighter Alex Jimenez wades through the mud in Montecito after finding remains of a victim of the flash flood. Photograph: Wally Skalij/Getty Images
J

eanette Abney owns a big, fancy house and Elizabeth Terry rents a room in a boarding house. But this week they both ended up sleeping on cots in the same American Red Cross evacuation centre, sipping the same instant coffee, nibbling the same pastries and huddling under the same blankets. A rain-sodden poster at the entrance declared "disaster services".
Both women were in need. A storm had drenched the Verdugo mountains, a rugged, rustic outpost of Los Angeles, and unleashed a massive mudslide, forcing them to flee to an improvised evacuation centre in the San Fernando valley.
"It was like a war zone, like Niagara Falls. I've never experienced anything like that," said Abney, 88.
She counted herself lucky to be safe and warm in a shelter. So did Terry, 63, who lives a few miles from Abney in a boarding house for women on the verge of homelessness. "The mud was pouring down the hill. I knew it was time to go."
Rich and poor thrown together, if only briefly, by a force oblivious to class distinction: nature.
The rains and avalanches of mud and debris which struck chunks of southern California this week did not respect zip codes or security walls or camera-controlled gates.
The surges of rock and boulder smashed through the estates of billionaires and gritty, hardscrabble homes, sweeping away lives and property in brutal reminder that the golden state can exact a terrible price from those who choose to live here.
A land with four seasons, goes the old, bitter joke: drought, earthquake, fire and flood.
A tour of the Verdugo mountains this week revealed knee-high swamps of mud encasing homes and cars. Many slopes were black and blanketed with ash, the legacy of a wildfire last September.
Worst hit was Montecito, an affluent, bucolic town with celebrity residents to the north. It abuts vineyards in Santa Barbara county which last month endured the biggest wildfire in California history, an inferno which charred vegetation and left soil unable to efficiently absorb moisture. Torrential rains triggered calamity.
Residents awoke early on Tuesday morning to a roaring sound. Survivors would compare it to a freight train. Sludge thundered down hillsides in a roiling mash of boulders, trees and cars, cleaving houses from foundations, erasing entire blocks and burying the 101 highway.
Eighteen people died, including four children. The coroner has listed the cause of death for each as "multiple traumatic injuries due to flash flood with mudslides due to recent wildfire". Rescue teams with dogs, helicopters and specialised vehicles plucked survivors from the ruins. "I thought I was dead for a minute there," a 14-year-old girl told them.
The super-wealthy who live high on certain slopes emerged relatively unscathed. The less wealthy lower down the slopes bore the brunt.
"I'm looking out the front window, I think everything's fine," Oprah Winfrey told Ellen DeGeneres in a call to her show. "It wasn't until I put my boots on and went outside walking and I realized everything wasn't indeed fine. All of my neighbours' homes are like gutted. Their houses are gone, just gone."
Winfrey, whose barnstorming speech at the Golden Globes last Sunday spurred chatter of a White House run, vowed to help Montecito rebuild. "We're going to come together and do what great Americans do all the time. We're going to help each other."
That may sound a pious bromide but natural disasters often do soften America's class and racial divisions, however fleetingly……………………..Residents include Elon Musk and Rupert Murdoch, who has a winery. A developer is putting the finishing touches to a 100,000 square foot house which is due to soon go on sale for $500m, billing itself as America's most expensive home.
Some sensed a parable at work last month when a cooking fire at a homeless encampment leaped out of control and scorched 500 acres of Bel-Air, destroying several properties and damaging dozens of others, including Murdoch's.
Many of the city's rich and poor are also united in a disregard for nature.

World Politics
United States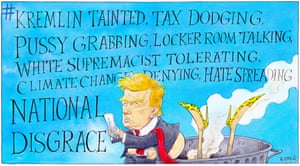 Chris Riddell on the US president's retweeting of Britain First extremist videos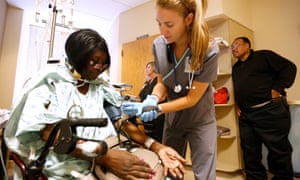 As many as 6.3 million people could lose Medicaid benefits as a result of the new change. Photograph: Jonathan Bachman/Reuters
Dr Gary Leroy's patients are "salt of the earth": inner-city people working in Dayton, Ohio as dishwashers, car mechanics and patient care assistants.
They do their best to make ends meet, but rarely do. Although the vast majority have jobs, most qualify for Medicaid, a public health insurance program which serves 74 million poor and disabled Americans. The program is almost entirely free, and based on need.
This week, the Trump administration announced a new policy that allows states to require Medicaid patients to work.
"I work with Appalachian, salt-of-the-earth, 'Rah! Rah! America' individuals," Leroy said. "To have them clumped into – 'Well, these people just don't want to work' – well, of course they want to work. I have all these working poor people that are making minimum wages."
When people are required to work to receive healthcare cover, Leroy said: "It's almost like asking people to work with an anchor tied to their back."
The politics of welfare are complex. In the 1990s, under Bill Clinton, reforms transformed "pull-yourself-up-by-your-bootstraps" from an ethos to a matter of public policy. Now, the 10 states looking to implement work requirements for Medicaid coverage are all led by Republican governors or legislatures.
The changes allow states to require Medicaid recipients who are not children, elderly, disabled or pregnant to either work or perform "community engagement", which can include going to school, looking for a job, volunteering or caregiving.
As many as 6.3 million people could lose Medicaid benefits as a result, an analysis by the left-leaning Center for American Progress found. About two-thirds of those individuals are believed to be students or caregivers who may not meet the strict requirements.
States must apply to the federal government to add work requirements, a process which also requires Medicaid beneficiaries to pay a monthly fee for insurance or be locked out. Kentucky's application has already been approved.
"Kentucky will now lead on this issue," said Governor Matt Bevin, at a news conference. People on Medicaid, he said, "want the dignity associated with being able to earn and have engagement in the very things they're receiving".
In some states, eligibility for programs such as food stamps and welfare are already caveated by work requirements, drug tests and complex eligibility rules. States applied to add work requirements to Medicaid under the Obama administration, but were not successful.
"Medicaid needs to be more flexible so that states can best address the needs of this population," said Seema Verma, head of the US Centers for Medicare & Medicaid Services.
"Our fundamental goal is to make a positive and lasting difference in the health and wellness of our beneficiaries, and today's announcement is a step in that direction."
Before joining the Trump administration, Verma worked with then Indiana governor Mike Pence in an attempt to add work requirements to Medicaid. She also designed such a program in Kentucky.
Leroy believes the new requirement will largely have one effect on his practice: adding a new layer of paperwork.
"They have to go to work no matter what, no matter their sick[ness]: diabetes or complications of chronic obstructive pulmonary disorder, afflictions they have no ability to overcome," he said.
"To say, you still have to go to work – it's a requirement – there seems to be something just basically not right. Fundamentally not right."

Opinion
W

e live in one of the darkest moments in American history – a bleak time of spiritual blackout and imperial meltdown. Exactly 25 years ago, in my book Race Matters, I tried to lay bare the realities and challenges to American democracy in light of the doings and sufferings of black people. Back then, I reached heartbreaking yet hopeful conclusions. Now, the heartbreak cuts much deeper and the hope has nearly run out.
The nihilism in black America has become a massive spiritual blackout in America. The undeniable collapse of integrity, honesty and decency in our public and private life has fueled even more racial hatred and contempt.
The rule of Big Money and its attendant culture of cupidity and mendacity has so poisoned our hearts, minds and souls that a dominant self-righteous neoliberal soulcraft of smartness, dollars and bombs thrives with little opposition.
The escalating military overreach abroad, the corruption of political and financial elites at home, and the market-driven culture of mass distractions on the internet, TV, and radio push toward an inescapable imperial meltdown, in which chauvinistic nationalism, plutocratic policies and spectatorial cynicism run amok.
Our last and only hope is prophetic fightback – a moral and spiritual awakening that puts a premium on courageous truth telling and exemplary action by individuals and communities.
The distinctive features of our spiritual blackout are threefold.
First, we normalize mendacity and naturalize criminality. We make our lies look like the normal order of things. And we make our crimes look like the natural order of things. We too often say Wall Street is a good servant – rather than a bad master – of the common good. Then we look away from the criminal behavior of big banks because they are too indispensable to prosecute.
We deny that drone strikes are killing innocent people abroad. Then we overlook killing lists on Terror Tuesday at the White House, when the president and his staff decide to execute people without any legal procedure, including innocent US citizens.
Imperial meltdown is at the center of our catastrophic times. Our ecological catastrophe is real
Second, we encourage callousness and reward indifference. We make mean-spiritedness look manly and mature. And we make cold-heartedness look triumphant and victorious. In our world of the survival of the slickest and the smartest, we pave the way for raw greed and self-promotion. We make cowardice and avarice fashionable and compassion an option for losers. We prefer market-driven celebrities who thrive on glitzy spectacles and seductive brands over moral-driven exemplars who strive on with their gritty convictions and stouthearted causes.
Third, we trump the moral and spiritual dimensions of our lives and world by applauding our short-term gains and superficial successes. This immoral and brutal disposition reinforces – and, in part, is a result of – the all-encompassing commodification of a predatory capitalism, running out of control in our psyches and societies.
The pervasive violence in our domestic lives and military policies abroad are inseparable from the profit-driven marketization of our spiritually impoverished capitalist civilization. And our civilization rests upon an American empire in decline and decay.
Imperial meltdown is at the center of our catastrophic times. Our ecological catastrophe is real. The Anthropocene epoch engulfs us. Human practices –especially big business and big military operations – now so deeply influence the Earth's atmosphere that extinctions loom large.
The potential for nuclear catastrophe remains urgent as US-Russia tensions escalate and other nuclear powers, like North Korea, China, Pakistan, India, and Israel, are expanding and restless.
Our economic catastrophes proliferate along with grotesque wealth inequality. Our political catastrophes deepen as oligarchy triumphs from governmental dysfunction. Our civic catastrophes deepen as the public interest, common good, or even rule of law are undercut by big money.
And our cultural catastrophes are often hidden – the vast and sad realities of trauma and terror visited upon vulnerable fellow citizens who are disproportionately poor people, LGBTQ people, peoples of color, women and children.
The political triumph of Donald Trump is a symbol and symptom – not cause or origin – of our imperial meltdown. Trump is neither alien nor extraneous to American culture and history. In fact, he is as American as apple pie.
He is a sign of our spiritual bankruptcy – all spectacle and no substance, all narcissism and no empathy, all appetite and greed and no wisdom and maturity. His triumph flows from the implosion of a Republican party establishment beholden to big money, big military and big scapegoating of vulnerable peoples of color, LGBTQ peoples, immigrants, Muslims, and women.
It also flows from a Democratic party establishment beholden to big money, big military, and the clever deployment of peoples of color, LGBTQ peoples, immigrants, Muslims and women to hide and conceal the lies and crimes of neoliberal policies here and abroad; and from a corporate media establishment that aided and abetted Trump owing to high profits and revenues.