16 Jan
News and Analyses, A Foreign Perspective
Nearly all of these are English-edition daily newspapers. These sites have interesting editorials and essays, and many have links to other good news sources. We try to limit this list to those sites which are regularly updated, reliable, with a high percentage of "up" time.

500 Haitian volunteers fought in American army at Battle of New Orleans
It feels strange to me after so many years of thinking and writing about Haiti, to say nothing of simply being there, to have to rise to the country's defense against a fool. But that fool is the president of the United States, so let's start with first things first.
It goes without saying that Donald Trump knows nothing about history. But those who do have heard of the Louisiana Purchase, the incredible deal President Jefferson struck with France to buy the giant piece of land, 828,000 square miles of river and breadbasket, that stretches from what is now the Canadian border down to New Orleans and the delta. Without this territory, the United States would never have become a continental power nor, subsequently, a great global power. Jefferson got it at a bargain-basement price: $250 million, in current dollars, doubling the size of the country for less than 3 cents per acre.
You may ask what this has to do with Haiti (although any president with a competent staff would have this information at his fingertips). Here's the answer, White House staff: Napoleon wanted to sell this fabulously valuable piece of New World real estate because for more than a decade he had failed to put down the startling slave revolution in the French colony of Haiti, losing two-thirds of French forces there in the process.
The First Consul (that's Napoleon, Mr. President) could see the writing on the wall. France was pushed to the limit of its military and financial means by the Haitian uprising, and the future emperor (NB: also Napoleon) had lost his taste for further involvement in the Americas. He sold us Louisiana. Then on January 1, 1804, Haiti declared its independence from France, and by extension, from white men like Donald Trump.
So it is the courage and tenacity of the rebellious slaves of Haiti that created the United States as we know it. Score one for the shithole.
Haitian history is full of many other amazing facts, not least that it can claim to have spawned the Americas' first successful freedom fighters, the Cacos, who waged a sporadic but unstoppable guerilla war against the US Marine Occupation that began in 1915. Along with popular opinion in the US, they finally forced the Americans out in 1934.
Nonetheless, the Marines had done their damage. While improving Haiti's infrastructure, the occupation opened the country up for "foreign investment," which meant, essentially, the severe exploitation (including chain gangs) of Haitian labor, the appropriation of lands by US groups, the manipulation (which continues) of Haitian elections, the takeover of the lucrative Haitian sugar industry and of Haitian banks, and a national move away from self-sufficient subsistence agriculture into a cash economy that continues to be responsible for repeated food shortages and economic decline. How to become a shithole: the Americans will help.
I could go on in this vein, but I won't. I'm pointing a finger at the United States because I'm responding to the US president. France, after Napoleon, also had a hand in Haiti's decline. Emmanuel Macron, however, has yet to call the country un trou de merde—and I doubt he ever will.
Finally, I want to write personally about Haiti, the experience of Haiti as a place to visit, to see, be in, live in.
Haiti is what Ronald Reagan was dreaming of when he suggested that shrinking the state would allow the business sector to move in and replace government functions in a market economy. Haiti has a vestigial state. There is no national health care, no social security, no pensions, very little taxation, very few labor regulations, a tiny national coffer. This is the direction in which Reagan pushed us and which Trump and his people continue to move us.
There is very little organized sanitation, unemployment is the norm, housing is less than substandard, and electricity is delivered in a capricious and severely limited fashion. Poverty means that people have to live day by day, earning a goud here and a goud there. It means that individual and family plans for the future are nearly impossible to make. Many of the ablest Haitians have immigrated to the United States and Canada, though Trump apparently does not appreciate their many contributions to our economy as doctors, engineers, attorneys, academics, dentists, accountants, etc.


World Politics
United States
Source: AP
The US president responds to the furore surrounding his recent comments calling Haiti and African countries 'shitholes', telling reporters: 'I am the least racist person you have ever interviewed. That I can tell you.' Donald Trump was accused of using the vulgar word during an Oval Office meeting last week with a bipartisan group of six senators. People briefed on the conversation also say that during the meeting the president questioned the need to admit more Haitians to the US
Hundreds of young women are killed every year and many face sexual violence in the world's most dangerous land. Now the president wants to send 200,000 more Salvadorans back home
I

nside an apartment block in San Salvador beneath the shadow of the volcano that dominates the city skyline, 20 girls aged between 14 and 18 are in hiding, fearing for their lives. Recently deported to the country of their birth from the US by Donald Trump as part of his evolving immigration clampdown, the teenagers are wanted dead by the street gangs that make El Salvador the most homicidal place on Earth.
Survival necessitates drastic measures when the Mara Salvatrucha, or MS-13, or its rival 18th Street gang want you murdered. First, the girls – branded traitors for daring leave El Salvador to set up home in America – are given radical makeovers; new haircuts and new clothes along with sunglasses that are rarely removed. Then they learn to talk differently, walk differently. All trace of their previous existence is erased. Travel is arranged using bulletproof cars with tinted windows. Finally, the safe house is placed on a short-term lease; the slightest intelligence that the gangs have identified its whereabouts and they're gone.
"The gangs want to kill them because these girls have specific testimony on the gangs, they want to silence them, but also punish them because they dared escape," said María García, of ISNA,an organisation that runs the secret safe house as part of the elaborate measures required to protect young women in a country controlled by its barbarous gangs.
It is into this maelstrom of violence that the US president intends to deport nearly 200,000 Salvadorans after he outraged the international community last week by announcing he would terminate their temporary protected status, then denounced El Salvador as a "shithole".
Twenty five years after the accords that ended the country's ferocious civil conflict, Trump's deportees will return to the world's most dangerous country not at war. As with most hostilities, women are routinely caught in the crossfire. Around 10 a day are subjected to violence and sexual assault, with many afraid to speak out. Others are silenced forever. El Salvador ranks among the world's deadliest countries for women. During 2016, 524 were killed, one in every 5,000, although such figures document only bodies taken to morgues and not those discovered in hidden dumping grounds.
Those inside the safe house are the fortunate ones. Few of those deported from the US or who have fled the gangs are granted such sanctuary in a country devoid of any state or witness protection programme.
"Deportees from the US face being killed or sexual violence. Most girls try to hide from the violence. The problem is that most don't have a place to go," said Salvadoran lawyer Laura Morán.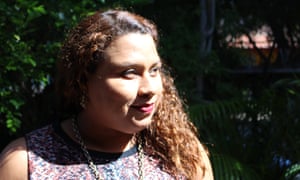 Salvadoran lawyer Laura Moran, 30, who has fought many cases of sexual violence against women. Photograph: Mark Townsend for the Observer
Speaking at a shopping centre with heavy security in San Salvador, Julia, 19, describes how to navigate life on the run from the gangs. The crucial step requires resurfacing in territory controlled by the rival gang.
"It's because the gangs rarely communicate with each other, the trick is to materialise without suspicion. You should have deleted Facebook, everything about you. You start all over," she said, intently scanning passers-by.
If successful, prosaic but vital measures are adopted to stay alive. Each time Julia leaves home she carries $2 in change in case a gang member randomly stops her on the street and demands a gift. "Otherwise they will take your cellphone and if you are not carrying your cellphone then they might kill you."
She never carries ID. If a gang member discovers you are from rival turf they might punish you, again by death. And always scan the footwear of those nearby. Nike Cortez trainers, says Julia, are the preserve of the 18th Street with Adidas Concha worn by MS-13. Yet identifying members is increasingly fraught, amplifying the risk for the girls and women in hiding.
The stereotype of tattoo-smothered thugs is gradually being challenged. Many now wear suits. Some work in government. "I could be talking to one any time. You cannot trust the authorities, the police are also infiltrated with informants," said Julia.
Walking in San Salvador is dangerous, but public transport is notorious for attacks. The number 44 bus traverses the capital and is among its most important, yet Julia and her friends never use it for fear of robbery or sexual assault.
Also off-limits is wearing shorts, skirts or tight-fitting clothes: Julia and her friends uglify themselves. "You don't want the gangs to think about you, ever."
Even so, evading the gangs of El Salvador can seem futile. Boys aged between eight and 12 are recruited as lookouts and patrol street corners, the ojos – eyes – of MS-13 and 18th Street. Girls live in dread of the moment a gang member decides she is his girlfriend. "If they choose you, you cannot say no. If you say no to sex then they will kill you," said Julia.
Garcia, who has counselled dozens of gang victims, has identified a structural approach to rape. "One girl is chosen by the palabrero (leader) and she is only his, but the other girls can be shared between 20 to 25 gang members. The girls cannot say no, they are forced to have sex."
On the north side of the city, behind a reinforced iron door and two men with shotguns, Silvia Juárez is one of El Salvador's most seasoned authorities on the gang brutality faced by thousands of girls and women. As co-ordinator of the violence prevention programme at the Organisation of Salvadoran Women for Peace, Juárez corroborates the reality that consent is dead for many girls and women in the country. "A lot of women have been murdered for saying no, some manage to run away," she said. At least 1,200 Salvadoran girls and women simply vanish each year. Juárez recently finalised an exhaustive investigation – not published online because it would prompt attacks – based on interviews with women, government officials and, unusually, testimony from 25 gang recruits. "One answer from all the gang members regarded their niña, girlfriends, and greatly concerned us. All said that if their niña say no they have to die." Other disquieting truths emerged. In some areas suicides among teenage girls is increasing. Rather than be raped, death is preferable…………………Many of the teenage girls and young women come back from the US traumatised. But even the 1,500-mile journey there, García said, is treacherous. Most girls set off for the US expecting to be raped by traffickers. "Many have a contraceptive injection that protects them for three months. When they return to Salvador, many have psychological problems, sexual infections, some are pregnant," she said. And then the hard work starts: protecting them from men who want them dead.
Some names have been changed

Negotiations over immigration in America have always been precarious, but Trump has complicated the picture even more
Greisa Martínez Rosas has seen it before: a rare bipartisan breakthrough on immigration policy, offering a glimmer of hope to advocates like herself. Then a swift unraveling.
Martínez is a Dreamer, one of about 700,000 young undocumented migrants, brought to the US as children, who secured temporary protections through Barack Obama's Deferred Action for Childhood Arrivals policy, or Daca.
She considers herself "one of the lucky ones". Last year, she was able to renew her legal status until 2020, even as Donald Trump threw the Dreamers into limbo by rescinding Daca and declaring a deadline of 5 March for Congress to act to replace it.
Martínez is an activist with United We Dream, the largest youth-led immigration advocacy group in the US. She has fought on the front lines.
In 2010 and 2013, she saw efforts for immigration reform, and a pathway to citizenship for Dreamers, culminate in disappointment. She rode a familiar rollercoaster this week, as a bipartisan Daca fix was undermined by Trump's reported – if contested – reference to African and Central American nations as "shithole countries".
"It feels like a sequel," Martínez told the Guardian, adding that Trump's adversarial views underscored the need to hash out a deal. "This same man is responsible for running a Department of Homeland Security that seeks to hunt and deport people of color."
Negotiations over immigration have always been precarious. Trump has complicated the picture. After launching his candidacy for president with a speech that called Mexican migrants "rapists" and "killers", Trump campaigned on deporting nearly 11 million undocumented migrants and building a wall on the Mexico border.
He has, however, shown a more flexible attitude towards Dreamers – despite his move to end their protective status. Last Tuesday, the president sat in the White House, flanked by members of both parties. In a 45-minute negotiating session, televised for full effect, Trump ignited fury among his hardcore supporters by signaling he was open to protection for Dreamers in exchange for modest border security measures.
Then, less than 48 hours later, Trump's reported comments about countries like Haiti and El Salvador prompted a fierce backlash.
"People are picking their jaws up from the table and they're trying to recover from feelings of deep hurt and anger," said Frank Sharry, founder and executive director of America's Voice, a group which advocates for immigration reform.
"We always knew we were climbing a mountain … but it's improbable to imagine a positive breakthrough for immigrants with the most nativist president in modern America in charge."
As the uproar continued, it was nearly forgotten that on Thursday, hours before Trump's remarks became public, a group of senators announced a bipartisan deal.
Under it, hundreds of thousands of Dreamers would be able to gain provisional legal status and eventually apply for green cards. They would not be able to sponsor their parents for citizenship – an effort to appease Trump's stance against so-called "chain migration" – but parents would be able to obtain a form of renewable legal status.
There would be other concessions to earn Trump's signature, such as $2bn for border security including physical barriers, if not by definition a wall.
The compromise would also do away with the diversity visa lottery and reallocate those visas to migrants from underrepresented countries and those who stand to lose Temporary Protected Status. That would help those affected by the Trump administration's recent decision to terminate such status for some nationals of El Salvador, effectively forcing nearly 200,000 out of the country.
The bill would be far less comprehensive than the one put forward in 2013, when a bipartisan group of senators known as the "Gang of Eight" proposed a bill that would have given nearly 11 million undocumented migrants a path to citizenship.
The bill passed the Senate with rare bipartisan support. In the Republican-led House it never received a vote.

Australian Taxation Office says investigation of data leak has identified 731 individuals and 344 corporate entities so far
The Paradise Papers have helped to reveal a global industry of tax avoidance packages that are offered to wealthy individuals much like holiday packages, the Australian tax authorities say.
The Paradise Papers have also revealed how offshore tax providers have expanded dramatically since the financial crisis, growing super-sized networks of accountants, lawyers and tax specialists that dwarf similar networks from a decade ago.
Mark Konza, deputy commissioner at the Australian Taxation Office, said: "These [leaks] send a clear message to those people who are involved with these types of service providers: if you're getting involved in any arrangement that relies on secrecy then you can't rely on secrecy.
"What we're seeing [increasingly] is there are ordinary people who are becoming sick of some of the things they see happening."
Two months after the Paradise Papers were published, he told Guardian Australia that the names of 731 Australian taxpayers and 344 corporate entities had already been identified in the data.
He said the ATO was still cross-matching the data in the Paradise Papers with the larger Panama Papers, which were released in 2016, but the information extracted so far was proving significant.
"I would expect that as the data is interrogated further and cross-matched with other datasets [those numbers of individuals will increase]," he said.
He said it was too early to say if individuals identified in the Paradise Papers were already known to the ATO. But the information gleaned from the Paradise Papers had revealed the extent to which intermediaries such as banks, law firms, and accountants have commoditised tax avoidance, he said.
"The Panama Papers and the Paradise Papers led us to think about, well, what's happening with these intermediaries that are encouraging this type of behaviour?" he said.
"When we focused on the intermediaries, that's when we began to see … the commoditisation of tax [avoidance].
"We were aware that there were companies providing these services, but I think what we've learnt is the commoditisation, with the internet, has continued apace.
"We've also identified that after the global financial crisis, there was a round of mergers and acquisitions in the offshore provider industry itself, so while there are thousands of these offshore service providers we've identified that some large networks have begun to emerge.
"One company we know has offices in 46 jurisdictions around the world, through constant merger and acquisition activity."
Konza said tax specialist intermediaries that help individuals avoid tax often specialise in particular regions of the world, such as the Caribbean and the Atlantic Ocean, or Asia and the Pacific Ocean. He said some of these intermediaries were brazenly promoting tax avoidance "packages" to individuals exactly like holiday packages.

In report for NGO, former Lib Dem leader says rule of law, democracy and interference by Beijing are areas of concern
Freedoms in Hong Kong have been increasingly eroded and human rights have been undermined, according to a report by Paddy Ashdown, the former Liberal Democrat leader in the UK, that paints a bleak picture of the city's future.
Lord Ashdown, who travelled to Hong Kong in November on a fact-finding mission, said rule of law, democracy and interference by Beijing were areas of concern.
China's increasing interference in Hong Kong – acts that potentially contravene an international treaty signed with the UK – threatened Beijing's image as a "trustworthy leader in the contemporary world", he said.
"Over the past five years, the freedoms guaranteed to the people of Hong Kong in its mini-constitution, the Basic Law, have been increasingly eroded," Ashdown wrote in the report. "The rule of law is under pressure, human rights are undermined and the city appears no closer to democracy."
Ashdown said the city's judiciary remained objective, but he added: "The independence of officials at the Department for Justice is in doubt." Several high-profile prosecutions in the past two years have lead to activists being jailed and democratically elected lawmakers being disqualified.
The report was published by Hong Kong Watch, an NGO founded by the human rights activist Benedict Rogers, who previously lived in the city. Rogers became a household name in Hong Kong's democracy circles overnight when he was barred from entering the city in October without explanation.
If Hong Kong's freedoms continue to deteriorate, the UK should consider granting holders of a special class of British nationality the right of abode, Ashdown said. "Britain bears the responsibility for the position in Hong Kong."
He said a proposal to allow Chinese police to enforce laws in a portion of a Hong Kong rail station "set a dangerous precedent and could undermine confidence in the rule of law". The project has been highly controversial, with the Hong Kong Bar Association saying the plan "severely undermines" confidence in the rule of law.
In a rare personal rebuke to foreign criticism, Hong Kong's leader, Carrie Lam, rejected Ashdown's report. "I take great exception to the comments and conclusions in that report. Those comments are totally unfounded and unfair," Lam said at a press conference. "The nature of this is that a foreign institution meddled in the internal affairs of our country and Hong Kong."
Hong Kong's leaders and officials in Beijing often bristle at suggestions that freedoms and laws are under threat, and say any assessments by foreigners is undue interference.
Hong Kong officials were not the only ones to come under fire in Ashdown's assessment. He criticised the system that allows nearly half of the city's legislature to be elected by business and professional groups, calling it "the worst legacy left behind by Britain".
"They continue to be a major barrier to the realisation of universal suffrage in Hong Kong," Ashdown said.