29 Jan
News and Analyses, A Foreign Perspective
Nearly all of these are English-edition daily newspapers. These sites have interesting editorials and essays, and many have links to other good news sources. We try to limit this list to those sites which are regularly updated, reliable, with a high percentage of "up" time.


Amid dangers from the Trump administration and climate change, sites including the Grand Canyon and Zion national park are facing yet another threat: 'massive disrepair'
A

t Zion national park, a popular trail has been closed since 2010. At the Grand Canyon, a rusting pipeline that supplies drinking water to the busiest part of the park breaks at least a half-dozen times a year. At Voyageurs, a historic cabin collapsed.
The National Park Service is the protector of some of America's greatest environmental and cultural treasures. Yet a huge funding shortfall means that the strain of America's passion for its parks is showing. Trails are crumbling and buildings are rotting. In all there is an $11bn backlog of maintenance work that repair crews have been unable to perform, a number that has mostly increased every year in the past decade.
"Americans should be deeply concerned," said John Garder, senior director of budget and appropriations at the National Parks Conservation Association (NPCA). The National Park Service, he argued, is hamstrung by a lack of resources and is in "triage mode".
Today the Guardian is announcing a major expansion of This Land is Your Land, our series investigating the threats facing America's public lands.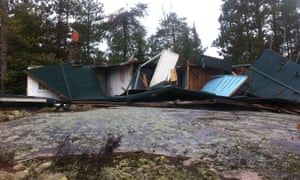 The Ingersoll Lodge after its collapse, at Voyageurs national park. Photograph: National Park Service
National parks are just one part of an unparalleled system, managed by the government and held in trust for the public, and spanning over 600m acres of forests, deserts, tundra and glacier-covered peaks, as well as historical sites such as the Lincoln Memorial and Washington Monument. They are integral to American life: an ancestral home for Native Americans; a retreat for vacationers, sportspeople and hunters; a source of grazing; and an economic engine. Yet their future is uncertain.
Earlier this month 10 members of a National Park Service advisory board, which had promoted issues such as encouraging more minority visitors, quit en masse, complaining that the new administration was unwilling to meet with them and was not prioritizing the parks.
The Trump administration has signaled that it thinks protected areas are too expansive, and recently shrunk two national monuments created under Barack Obama and Bill Clinton – Bears Ears and Grand Staircase-Escalante in Utah.
Meanwhile advocates have raised concerns that the Department of Interior, which oversees many federal lands, is staffed with lobbyists for the energy industry. Even absent such issues, climate change, privatization and energy extraction risk changing the face of the country's public spaces forever.
The Guardian will report intensively on these protected places, covering the threats they face, the diverse people who use them, and their critical environmental and economic role in American life.
National parks recorded 331m recreational visits in 2016 (the highest ever), boast an estimated economic value of $92bn, and have totemic significance in the national imagination.
Yet signs of deterioration are evident across the park system.
At the Grand Canyon, a 1960s-era pipeline that transports all drinking water to the park's thronged South Rim, and is also intended for fire suppression, is 20 years past its design life. It breaks anywhere from a half-dozen to over 20 times a year, requiring repair crews to helicopter in for repairs that can take days. The cost to fix each breakdown is as much as $25,000, and officials say it may take $124m to replace it.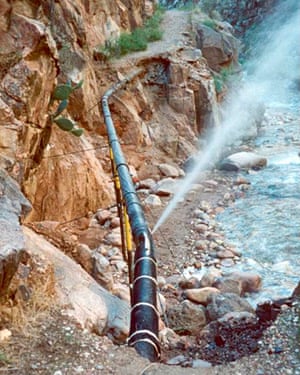 The ageing Grand Canyon pipeline. Photograph: AP
At Harpers Ferry national park, the setting for a town with civil war associations and an abolitionist uprising, officials have been unable to restore an 1848 building that they acquired decades ago. A base hospital during the war and later a school for former slaves, it is a solid-looking brick structure with tidy white verandas. Yet inside, it appears as if someone has taken a hammer to it.
There was "massive disrepair", said Garder of the NPCA, who visited it in 2016. "The stairways were unsafe, there was water damage, the plaster was decaying and falling off the walls."
And at a striking and exposed point at Voyageurs national park in Minnesota, overlooking the water, the former site of the Ingersoll Lodge is now bare. The historic building was reduced to rubble in 2014, probably after heavy weather disastrously combined with uncompleted maintenance work and existing structural weaknesses. The remains of the cabin are currently stored off-site as officials debate whether to rebuild it.
"You're sad but you're also frustrated," said Christina Hausman, head of the Voyageurs National Park Association, a not-for-profit partner of the park. "We continually do not give the National Park Service the resources they need to protect these places."
In this and other cases, visitor experience is directly impacted. At Zion, a trail leading to the Emerald Pools, a complex of waterfalls and ponds, has been off-limits since a 2010 landslide, and it is hoped that a philanthropic grant will allow it to reopen in 2020.
Meanwhile increased visitation has led to broken toilet seats and doors in bathrooms "not designed for the volume of numbers we have now", said the park's superintendent, Jeff Bradybaugh. The park is not always able to tend to them immediately because of its stretched purse strings.

While these issues sound minor compared with a collapsed cabin, "it's like seeing trash on the sidewalk: you feel like it's not cared for, and that no one cares, and that's not at all what the park service wants to convey", said Rob Smith, an NPCA regional director who complained of worn and illegible interpretive signs and "out of order" notices on rainforest trails and at a visitor center at Olympic national park, west of Seattle.
We Americans can do better in the fight to protect our threatened heritage, writes Theodore Roosevelt IV, a descendant of the 'conservation president
A truly noble idea – one deeply democratic in its inspiration and one that honors the human need to be in relationship to awe and majesty.
America's public lands.
This idea was seeded by early American settlers, who came here to escape a class system in Europe that excluded them from land – owning it, hunting on it, surviving on it. Conservation was articulated as a national endeavor by hunters and foresters with the unique discernment that our game and timber resources were not boundless, and required professional management to remain bountiful.
This was a hard-won national ethos. From the pitch battles for their existence, our public lands were imbued with moral standing and national sanction: the idea that they "belong" to all of us.
What could go wrong? Much in the way of human frailty. But, most grievously, the threat to the communities who live there of dispossession from their homes. Our public lands, including the national parks, also encompass a brutal history of broken treaties with Native Americans. And rural Americans today fear they are being "regulated off the land" for the sake of urban notions about it; that their voices and knowledge are overwhelmed by the urban supporters of environmental groups who know nothing about their lives.
Ninety percent of our federal lands are located in what are called our public-lands states: Alaska and 11 western states. On average, 50% (and as much as 80%) of land in these states belongs to the federal government, making the residents almost wholly dependent on places over which they have no control. In spirit and law, these "affected communities" are guaranteed a voice and protection; in practice, the rhetoric and reality have fallen short. Unheeded voices lead to unfortunate results.
It is rural America that gave President Trump his election. Hillary Clinton won the nation's largest metropolitan centers; Trump took more rural areas. These pendulum swings in public lands policy are doing harm to both affected communities and the resource.
On the broader sweep of our public lands now, the rebounding and intemperate emphasis on resource extraction is out of balance, and dangerous to other fundamental resource values. It is also entirely misleading and short-sighted for the interior department to encourage coal production when the market simply will not support that. These communities will be let down again.
Where do we have both potential and real agreement? The heart of our public lands system, our national parks. Restoring them to full vigor should be a project that plays to Trump's strengths, and guarantees him a lasting legacy.
Western communities deeply resent those of us from the outside touting tourism as the be-all-and-end-all for their economies. They hear us saying: "Turn your cowboys into busboys." This is not a welcome message to the hard people that these hard places raised up. Nonetheless, the west does enjoy a robust tourist industry, and they understand that our national parks contribute substantially to that.
Our national parks are straining at the seams of popular overuse and congressional neglect. They are last on the list of what Congress provisions. Infrastructure is crumbling, with an $11.3bn backlog in maintenance projects. National park professionals from rangers to scientists are demoralized and overwhelmed; they are asked to live in substandard housing, do more with less, and lately they have been excoriated by some DoI leadership. Those who staff our national parks are critical to the experience of the them – from interpretation to monitoring of the natural resource, to ensuring that concessions are well run, to keeping tourists and wildlife safe from one another.
With an improving economy, it is time for Congress to stand up for our history and our natural inheritance, and move a decimal point so, at the very least, we can provide decent housing for national park staff and fix the backlog of maintenance problems. Then, we need to take innovative approaches, fully utilizing the boon of new technology, to raise more funds. Foreign visitors, for instance, may need to pay more, as they do in several other countries.
Urban recreationists also need to step up to the plate. Hunters and anglers, mostly rural people, support conservation through licenses, tags, and stamps. What many don't know is that the excise tax on guns goes directly to conservation. A "boot" tax for climbers, cyclists and hikers should not be beyond the pale.
It is past time for the left to understand that people live in the great out there, and social justice extends to them as well. Urban citizens depend on rural for resources and the passive ecosystem benefits that their good stewardship provides.
It is past time for the right, particularly the religious right, to articulate an ethical relationship to the intrinsic, versus utilitarian, values of nature. The failure to do so has left the Republican party's "natural" constituency – rural communities – vulnerable to polarizing characterizations. And it has left our natural resources vulnerable to degradation.

World Politics
United States
Independent counsel who investigated Bill Clinton says: 'Lying to the American people is a serious issue that has to be explored'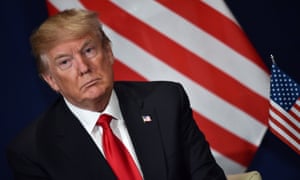 If Donald Trump lied to the American people when he called reports he tried to fire Robert Mueller "fake news", that would be grounds for impeachment, the independent counsel who investigated the Clinton White House said on Sunday.
Ken Starr, who used Bill Clinton's false statements about his relationship with Monica Lewinsky as grounds for impeachment, told ABC's This Week: "Lying to the American people is a serious issue that has to be explored. I take lying to the American people very, very seriously, so absolutely."
Starr said: "That is something Bob Mueller should look at."
Mueller, the special counsel, is investigating Russia's interference in the 2016 presidential election, including alleged collusion between Russian officials and Trump aides, and numerous instances of possible obstruction of justice by the president.
The New York Times and others reported this week that in June 2017, Trump ordered White House counsel Donald McGahn to fire Mueller. McGahn reportedly said he would resign rather than carry our the order, which he said would have a devastating effect on Trump's presidency.
Trump publicly dismissed the Times report, calling it "fake news". Since June, the president has repeatedly denied publicly that he was considering firing Mueller. White House officials have also repeatedly claimed the president has not discussed firing him.
Kellyanne Conway told ABC in August: "He's not discussed firing Bob Mueller." Trump's chief counsel, John Dowd, told USA Today the same month: "That's never been on the table, never. It's a manifestation of the media."
Trump told reporters at the same time: "I haven't given it any thought." He added: "Well, I've been reading about it from you people. You say, 'Oh, I'm going to dismiss him.' No, I'm not dismissing anybody."
Some Republicans said on Sunday that reports Trump had to be talked down from firing Mueller were a serious concern and should prompt congressional action.
Attempting to fire Mueller would mean "the end of [Trump's] presidency," the South Carolina senator Lindsay Graham, a sponsor of potential legislation, said on ABC.
"It's pretty clear to me that everybody in the White House knows that it'd be the end of President Trump's presidency if he fired Mr Mueller," Graham said.
Graham also said: "I see no evidence that President Trump wants to fire Mr Mueller now."
Susan Collins told CNN's State of the Union it "probably wouldn't hurt" for Congress to pass a law protecting Mueller.
Other senior party figures downplayed the reports. House Republican leader Kevin McCarthy sought to highlight concerns on the right about alleged political bias among law enforcement officials and agencies investigating Russia and the president's aides.
He told NBC's Meet the Press: "I don't think there's a need for legislation right now to protect Mueller."
Asked if there was "a red line the president could cross with you" regarding the special counsel, McCarthy said the question was unfair.
"The president and his team have fully cooperated," he said. "You're making hypotheticals."
McCarthy did not directly answer questions about whether he was concerned about reports Trump had wanted to fire Mueller in June. He had confidence in Mueller, he said, but had "questions about others within the FBI and [Department of Justice]".
Asked if he believed there was some kind of "deep state that's out to get the president", as some on the right claim, McCarthy said he had never believed that but said some recent reports about the FBI would "give anybody doubt".
"You're painting a conspiracy," host Chuck Todd said.
"I think the public has the right to know," McCarthy answered.
Collins, a leading Republican moderate, told CNN: "It probably wouldn't hurt for us to pass one of those bills [to protect Mueller from being fired].
At least 80,000 people have already joined Facebook group to take part in public demonstration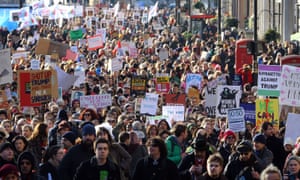 Protesters are readying themselves for the "most incredible protest in our history" to coincide with Donald Trump's planned visit during the second half of the year.
After a meeting between Theresa May and Trump at the World Economic Forum in Davos, it was confirmed that the US president would visit "later this year".
A Facebook event set up to organise a large-scale protest already boasts of 20,000 attendees and a further 61,000 who are interested in attending.
In the description of the event, organisers, who are using the placeholder date of 1 October, said: "It's just been announced: Donald Trump is coming to Britain on a visit later this year. We don't know when. But let's be ready – and be prepared to take to the streets in the most incredible protest in our history."
Plans for a large-scale protest have been underway since May first invited Trump to a state visit within days of him being sworn in as president. The proposed visit sparked the creation of the Stop Trump Coalition which is co-organising the protest and which is backed by musicians, MPs, activists and comedians including singer Lily Allen and former Labour leader Ed Miliband.
"It is our duty as citizens to speak out," the group has said. "We oppose this state visit to the UK and commit ourselves to one of the biggest demonstrations in British history, to make very clear to our government, and to the world, that this is not in our name."
Plans for the visit failed to materialise in 2017 but a planned trip to London in February to open the new US embassy was called off by Trump, which was thought to be due to the prospect of unrest. Trump, however, tweeted to say he had cancelled because of his displeasure about the new embassy.

Woman was detained after standing on telecoms box to raise headscarf on a stick in repeat of protest last month
A second woman has been arrested in Iran for protesting against the country's compulsory hijab rules after standing on a telecoms box on a Tehran street, taking off her headscarf and holding it aloft on a stick.
The protest follows a similar action last month against the country's requirement that women cover themselves from head to toe in public.
Pictures posted on social media on Monday showed at least three other women standing on top of telecoms boxes in Tehran in apparent solidarity with the women, including one near Ferdowsi Square.
A widely shared smartphone image of the first protest (the main image above) showed a young woman standing on a telecoms box on Enghelab Street in the centre of the Iranian capital. The woman was later identified as 31-year-old Vida Movahed.
Movahed's act of resistance coincided with a wave of protests that spread across the country. Although they were not directly linked, her action embodied the aspirations of a movement of young Iranians frustrated with the lack of social and political freedoms.
Many Iranians, including men, changed their social media profile pictures to images inspired by Movahed's protest, and shared a hashtag that translated as "the girl of Enghelab Street".
Movahed's identity was initially a mystery until Iran's most prominent human rights lawyer, Nasrin Sotoudeh, established she had been arrested. Sotoudeh said on her Facebook page on Sunday that Movahed had been released.
On Monday, reacting to the new protest, Sotoudeh wrote: "Today, I was informed that a second woman has stood on a telecoms box in the same place, holding up her hijab aloft on a stick. Her message is clear, girls and women are fed up with forced [hijab]. Let women decide themselves about their own body."
The identity of the second woman has not been revealed. Women's rights campaigner Masih Alinejad said witnesses told her the woman had been arrested. Pictures posted on social media showed the woman wearing a green wristband, in apparent reference to the 2009 Green movement whose leaders are still under house arrest.
Vahid Online, a popular channel on Telegram, the most popular social network in Iran, posted a series of images showing other women taking their headscarves off and holding them up on a stick.
One image showed a bouquet of flowers laid on top of the first telecoms box that featured in Movahed's protest, which was also used by the second woman who has been arrested.
Iranian law has compelled women to wear a hijab since the 1979 revolution, but it has been a difficult policy to enforce. Despite the fear of reprisals, millions of women in Iran defy the restrictions on a daily basis.
A growing number of women, especially in Tehran, refuse to wear a hijab while driving, arguing that a car is a private space where they can dress more freely..
The issue has become more prominent in recent years, partly thanks to a campaign run by Alinejad called My Stealthy Freedom. Her Facebook page invites women in Iran to post pictures of themselves without their headscarves in defiance of the rules. She is also behind White Wednesdays, a campaign encouraging women to wear white headscarves and take them off in protest at the rules.

Taoiseach to campaign for yes in plebiscite on abolishing eighth amendment of constitution
Ireland's government is to give the go-ahead for a referendum on reforming the country's strict anti-abortion laws.
The Fine Gael-led administration is meeting on Monday to discuss the terms of the referendum to abolish the eighth amendment of the Irish constitution.
The proposed national plebiscite will also allow for the Irish parliament to later devise legislation that would permit abortion in Ireland's hospitals at up to 12 weeks.
The eighth amendment was added to the republic's constitution following a referendum in 1983. It recognises the equal right to life of a foetus and the mother during pregnancy and in effect bans abortion in almost all circumstances.
Pro-choice campaigners say the amendment creates a legal "chill factor" in the health system, even in cases where Irish law allows for a ­termination, such as when a pregnancy would result in the mother's death.
Ireland's prime minister, Leo Varadkar, confirmed on Saturday that he will campaign for a yes vote. Varadkar is expected to repeat that position at the cabinet meeting, which will be attended by both his Fine Gael ministerial colleagues and ministers from a bloc of independent MPs whose votes shore up the ruling minority coalition.
Varadkar is also expected to brief opposition parties on the terms of the referendum, which will be drawn up by the country's attorney general, Séamus Woulfe.
Varadkar told the BBC on Saturday that he would campaign for a change in the law, drawing criticism from the former Fianna Fáil minister Willie O'Dea, who said it was "astonishing" that the taoiseach had told "foreign journalists" about his position before the parliament or the Irish people.
Varadkar's own party is split over what is arguably the most contentious issue in Irish politics.
Eighteen Fine Gael MPs are openly in favour of a yes vote, four have come out to oppose change, and 28 are undeclared.
Pro-choice campaign group The Coalition to Repeal the Eighth Amendment said they hoped Monday's announcement would include holding the referendum in May.
Veteran abortion rights campaigner Ailbhe Smyth, the Coalition's chairperson, said May was the preferred date as Ireland's students were still in the country at that time.
"Come June and the broad mass of Irish students are on their way to other parts of the world such as the United States to work over the summer to pay for their studies.
"We have told the government it makes sense to hold the referendum in May as the students will still be in Ireland. And it's only fair to have it then because this issue affects them more than most."
In a pastoral letter to churches on Sunday the bishop of Elphin, Dr Kevin Doran, claimed that abolition of the eighth and introduction of abortion in Irish hospitals would pave the way for euthanasia in Ireland.