07 Feb
News and Analyses, A Foreign Perspective
Nearly all of these are English-edition daily newspapers. These sites have interesting editorials and essays, and many have links to other good news sources. We try to limit this list to those sites which are regularly updated, reliable, with a high percentage of "up" time.


Pope Francis says there's no leniency for clergy accused of child sex abuse. It's not true
*********************************
A few weeks ago, Pope Francis's visit to Chile was marked by protests, and the pope continued his extremely brusque dismissal. "The day I see proof against Bishop Barros, then I will talk," the pontiff said. "There is not a single piece of evidence against him. It is all slander. Is that clear?" Francis said that no victims had come forward to him.
The pope subsequently issued a half-apology, but repeated that the accusations against Barros were "slander" before adding, "I'm convinced he's innocent."
 In the time between the pope's appointment of Barros and his commentary about protesters being carried away by leftists, members of the Vatican's own Commission for the Protection of Minors delivered  a letter to Pope Francis, from Carlos Cruz. The letter alleged, in lurid detail, that Barros had personally witnessed the abuse of Cruz at Karadima's hands. Members of the commission photographed the hand-off of the letter to the pope, to reassure Cruz that they were doing everything possible for a discussion with the pope about  the appointment. They had a representative hand- make his cry for justice heard.
It is well known that the pope has quietly reduced sanctions against a handful of pedophile priests,.  One case is atrocious : An Italian priest who received the Pope's clemency was later convicted by an Italian criminal court for his sex crimes against children as young as 12.
Pope Francis then was forced to remove him from the priesthood.
The McGlynn
*********************************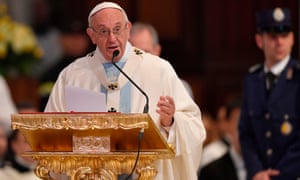 O

n his return flight from Lima to Rome in January, Pope Francis claimed, as he has so often before, that he has zero tolerance for clergy who sexually abuse children: "I continue with the policy of zero tolerance initiated by Benedict XVI, and in five years I have not signed a single request for leniency. If the appeal court confirms the decision of the lower court, the only other avenue is to ask the pope for leniency. In my time as pope, I have received some 25 requests, and have signed none of them."
On hearing Francis's claims, an ordinary person might believe that the Catholic church insists on dismissing priests who sexually abuse children – but that is not what usually happens.
There are three ways under canon law by which a priest can be dismissed: 1) by a canonical court, with the priest having the right of appeal to the Congregation for the Doctrine of the Faith (CDF), which is the Vatican department in charge of child sexual abuse allegations against clergy; 2) a bishop can ask the CDF to dismiss a priest directly; 3) the CDF can refer the matter to the pope with a request that he dismiss the priest.
Francis's claim that he has never exercised leniency after a canonical trial and appeal may well be true, but it is not true where he has been requested by the CDF to dismiss a priest, and it is not true of the CDF when it exercises its own powers.
In 2010, the Holy See issued a guide to understanding CDF procedures for sexual abuse allegations. Where the accused has admitted his crimes, the guide says that the CDF can require him to "live a life of prayer and penance", with restrictions on his public ministry.
In cases under the third procedure, Francis has granted leniency by refusing to accept CDF dismissal recommendations for some of the worst offenders, and instead, required them to live a "life of prayer and penance" with restrictions on their public ministry.
Fr Mauro Inzoli, accused of abusing dozens of children over a 10-year period, was dismissed under Benedict XVI in 2012, but Francis reinstated him in 2014, allowing him to live a "life of prayer and penance" while restricting his public ministry. In November 2016 Inzoli was convicted by an Italian court and sentenced to four years and nine months imprisonment. Seven months later, Francis dismissed him for the second time.
In March 2017 Marie Collins, an abuse survivor, resigned as a member of the Pontifical Commission for the Protection of Minors, established by Francis, because she said that what was happening behind closed doors conflicted with what was said in public, and that Pope Francis "does not appreciate how his actions of clemency undermine everything he does in this area."
In January 2014, Archbishop Tomasi, the Holy See's envoy to the United Nations, presented to the committee on the rights of the child a document showing that since 2004, more than 3,420 credible allegations of sexual abuse of minors had been referred to the CDF. As a result, 848 priests had been dismissed, and lesser disciplinary measures had been applied against the other 2,572. That's 75% tolerance, not zero.
In January 2017, Archbishop Coleridge of Brisbane told the Australian royal commission into institutional responses to child sexual abuse that he had sent to the CDF requests for dismissal of eight of his priests who had been convicted by Australian courts of child sex offences. One priest had died, one case was still pending, and five of the six applications for dismissal were refused. In the case of the Brisbane archdiocese, the tolerance rate had risen to 83%.
The Australian royal commission agreed with the words of Pope John Paul II, in 2002: "People need to know that there is no place in the priesthood and religious life for those who would harm the young," and recommended that in all cases of child sexual abuse, the perpetrator should be permanently dismissed from the priesthood and religious life, that is, real zero tolerance.
Francis used specious arguments of the same kind in his formal response in September 2014 to the United Nations' committee on the rights of the child when he claimed that the Holy See was only responsible under the UN Convention on the Rights of the Child for the 31 children resident in the Vatican City, despite the fact that within those 44 hectares, the Holy See decides whether thousands of clerics from all over the world should continue as priests after the church had found them guilty of sexually abusing children.
Francis further claimed that attempting to implement the provisions of the convention in the territory of other states, such as by mandatory reporting to the civil authorities under canon law, could constitute a violation of the principle of non-interference in the internal affairs of states. While states have differing and sometimes no mandatory reporting laws for child sexual abuse, none of them prohibit such reporting. Mandatory reporting to the civil authorities under canon law would assist states in the enforcement of their criminal laws designed to protect children.

World Politics
Germany
United States
The US president Donald Trump is accusing Democrats of being 'un-American' and possibly treasonous for failing to applaud him during his State of the Union speech. Trump says during a speech in Blue Ash, Ohio, that the Democrats last week gave off 'bad energy' as he delivered his first State of the Union, failing to clap even at positive economic news
Trump's chief of staff defends new proposal and says Dreamers may have been 'too lazy to get off their asses' to sign up for protection
Some immigrants may have been "too lazy to get off their asses" or "too afraid" to sign up for the Obama-era program that offered protection from deportation, the White House chief of staff, John Kelly, said on Tuesday, as he defended Donald Trump's proposal aimed at breaking the impasse on immigration.
In remarks to reporters, Kelly described Trump's plan, which would provide a path to citizenship for up to 1.8 million people – more than Democrats had sought – as "beyond what anyone could have imagined".
"There are 690,000 official Daca [Deferred Action for Childhood Arrivals] registrants and the president sent over what amounts to be two and a half times that number, to 1.8 million," he said. "The difference between [690,000] and 1.8 million were the people that some would say were too afraid to sign up, others would say were too lazy to get off their asses, but they didn't sign up."
Kelly spoke as lawmakers have deadlocked in an effort to reach a bipartisan deal on protecting from deportation recipients of the program, known as Dreamers. Barring a last-minute agreement – which seems unlikely – the Senate majority leader, Mitch McConnell, has said his chamber will begin considering the issue, a debate that GOP leaders expect to start next week.
Kelly said Trump would probably reject an effort to pass a short-term extension for the program, which is set to expire on 5 March.
But he also noted the 5 March deadline may not have immediate impact. He said immigrants currently protected won't be priorities for deportation as long as they do not commit crimes.
Kelly said lawmakers need a deadline to force action.
"What makes them act is pressure," he said.
In exchange for making citizenship a possibility, Trump wants $25bn for border security, including money to build parts of his coveted wall along the US-Mexico boundary. He also wants to curb legal immigration, restricting the relatives that legal immigrants could sponsor for citizenship and ending a lottery that distributes visas to people from selected countries.
"I can't imagine men and women of good will who begged this president to solve the problem of Daca" would oppose Trump's proposal, said Kelly. He added: "Right now, the champion of all people who are Daca is Donald Trump."
Kelly said he doubted "very much" that Trump would act unilaterally to extend Daca beyond 5 March. He said Barack Obama exceeded his constitutional authority in initially creating it.
Kelly also ruled out asking lawmakers to approve a short-term extension of the program. And he said he opposed one idea mentioned as a possible fallback should talks on a broader bipartisan compromise fail — a one-year extension of Daca in exchange for a year's worth of money for border security, including for building Trump's wall.
"I would certainly advise against it," Kelly said. "I would advise against it, I'm not the president."
Oddie Shoupe is being sued for excessive force after telling deputies to shoot unarmed Michael Dial rather than risk damage to police cars
A Tennessee sheriff is being sued for using excessive force after he was recorded boasting he had told officers to shoot a man rather than risk damaging police cars by ramming him off the road.
"They said 'we're ramming him,'" Sheriff Oddie Shoupe of White County said on tape in the aftermath of the killing of suspect Michael Dial. "I said, 'Don't ram him, shoot him.' Fuck that shit. Ain't gonna tear up my cars."
Shoupe arrived on the scene shortly after police had shot Dial at the conclusion of a low-speed chase, clearly upset he had missed the excitement.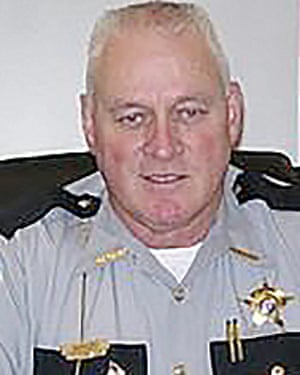 Sheriff Oddie Shoupe.
"I love this shit," Shoupe said, apparently unaware that his comments were being picked up by another deputy's body-worn camera. "God, I tell you what, I thrive on it.
"If they don't think I'll give the damn order to kill that motherfucker they're full of shit," he added, laughing. "Take him out. I'm here on the damn wrong end of the county," he said.
Shoupe's comments have prompted a federal lawsuit from Dial's widow, Robyn Dial, alleging the use of excessive force against her late husband, who was unarmed.
"It was not only inappropriate but also unconscionable for Defendant Shoupe to give the order to use deadly force," the filing states, calling his decision proof of a "malicious and sadistic mindset". The suit also names the county, the city of Sparta and the two officers who fired their weapons.
"The comments as seen on the video are extremely disturbing. I'm not sure how anybody can thrive on the taking of a life, let alone somebody in law enforcement," Dial's attorney David Weissman told the Guardian.
Police had initially attempted to pull Dial over in April last year for driving on a suspended licence. He drove away, but the fact that he was driving a 40-odd-year-old pickup truck with a fully loaded trailer severely restricted his speed.
DeKalb County deputies, who began the pursuit before White County deputies took over, told investigators it was "more like a funeral procession" than a highway chase, with speeds topping out around 50mph.
Deputies tried using a PIT (Pursuit Intervention Technique) maneuver to slow Dial's car, a common police tactic involving a police car nudging another vehicle to turn it sideways.
But Shoupe radioed officers to tell them to stop attempting to do that, instead ordering them to shoot the driver.
When a deputy had successfully nudged Dial off the road, Reserve Deputy Adam West, who was in pursuit in his own personal vehicle, fired three shots as the vehicle went down into a ditch. Dial died of a gunshot wound to the head.
Dial told Tennessee's News Channel 5 that she believed her husband had tried to drive away from the police because he was scared, and said she could not make sense of the order to shoot. "I feel with every part of me that's exactly what they wanted to do was kill him."
The sheriff's office declined to comment to the Guardian.

Hoang Duc Binh had posted footage on Facebook of fishermen protesting following a huge chemical spill from a steel plant
A court in central Vietnam has sentenced an activist to 14 years in jail for livestreaming fishermen marching to file a lawsuit against a Taiwan-owned steel plant's spill of toxins into the ocean.
Hoang Duc Binh, 34, was convicted of abusing democratic freedoms to infringe on the interests of the state, organisation and people, and opposing officers on duty, following a trial on Tuesday by the people's court in Nghe An province, lawyer Ha Huy Son said.
Fellow activist Nguyen Nam Phong was given two years in jail for opposing officers on duty.
During last February's livestream on Facebook, Binh commented that the fishermen were stopped and beaten by authorities. Son said Binh told the court that he made the comments, but he denied committing a crime because what he said was true.
The court said his comments were untrue and slandered authorities.
Reuters reported that the 14-year jail term is one of the toughest sentences to have been delivered against an activist in Vietnam.
The $10.6bn (£7.6bn) steel complex owned by Formosa Plastics Group, which includes a steel plant, a power plant and a deep sea port in Ha Tinh province, discharged toxins such as cyanide and phenol during a test run in April 2016.
The chemical spill, one of the country's worst environmental disasters, sparked rare protests.
Despite economic reforms three decades ago that opened up the communist-ruled country to foreign investment and trade, making it one of fastest growing economies in the region, the one-party state maintains tight control on all aspects of life including the media and has zero tolerance for dissent.
Eight people have been convicted and given prison sentences for spreading propaganda against the state over the past month.
International human rights groups and some western governments have criticised Vietnam for punishing those who peacefully express their views. Hanoi maintains that only lawbreakers are punished.