08 Feb
News and Analyses, A Foreign Perspective
Nearly all of these are English-edition daily newspapers. These sites have interesting editorials and essays, and many have links to other good news sources. We try to limit this list to those sites which are regularly updated, reliable, with a high percentage of "up" time.


************************************
As to the "Campus Antifascist Network": It doesn't seem to have any historical discussion of the roots of fascism in Europe at all, or any analysis of how it came to power. What it calls 'fascism' is really just racism, misogyny, or other forms of discrimination.
 Any student of history realizes that while fascist authoritarian governments did rely on racism and misogyny and intolerance to consolidate power, that was only part of the fascist equation. Just as important was the alliance of business interests with the state authoritarian power. Those business interests themselves set up a fascist structure in the form of monopolistic cartels.
One can not  ignore the corporate / cartel / monopoly aspect of fascism. This network can not call itself an 'antifascist network' and expect to get much support from people who actually know what fascism entailed.
The McGlynn
************************************
I am used to receiving abusive messages and being publicly maligned. Now, however, attacks on me have reached troubling new heights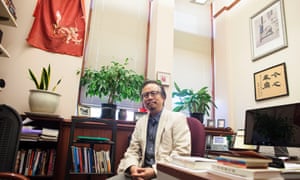 'University administrators seem loath to aggressively protect their faculty' Photograph: Ramin Talaie for the Guardian
T

oday anyone can be accused of anything, without basis in fact or evidence, and that accusation can be instantly trumpeted over the airwaves unchecked by any journalistic standard. That is the painful lesson I have had to learn this year.
As a scholar-activist working on issues such as sexual assault, Palestine, and anti-fascism, I am used to receiving abusive messages and being publicly maligned. Now, however, attacks on me have reached troubling new heights.
Last month, the Stanford Review, a rightwing publication co-founded by Peter Thiel and based on my university campus, wrote that I have helped set up an "organization [that is] undeniably a chapter of a terrorist group" and demanded my resignation. Their article was picked up by groups like JihadWatch, Campus Fix, Campus Reform, Fox & Friends, and other rightwing media outlets.
The organization I belong to is called the Campus Antifascist Network. We advocate for organized resistance to fascist violence on campus, and for educating our communities and others as to the nature of fascism today. We claim solidarity with a proud tradition of anti-fascism dating back to the early 20th century.
The group was founded shortly after the election of Donald Trump, and responded to the steady rise of a well-funded rightwing campaign on college campuses. We do not – and never would – advocate – for initiating violence.
The attack on me is part of a broader phenomenon noted by the American Association of University Professors, which claims that college campuses are the new battleground for conservative groups, far-right organizations and white supremacists. These groups are all trying to intimidate faculty and students, to recruit members, and to attract publicity. Not just careers and reputations are on the line – often personal safety is as well.
Today, we are seeing the resurgence of a wretched phenomenon we thought we had put behind us – McCarthyism, which involves "the use of tactics involving personal attacks on individuals by means of widely publicized indiscriminate allegations especially on the basis of unsubstantiated charges".
Professors are more than hesitant about fighting back against accusations that emanate from organizations supported by the likes of Peter Thiel or Charlie Kirk, who founded Turning Point USA.
In recent years, there have been well-publicized cases of academics who have had their syllabuses or social media cherry-picked for allegedly inflammatory statements, and then found themselves on the receiving end of orchestrated harassment campaigns.
CNN ran a story on the increasing numbers of professors like myself who have faced death threats for their political statements and activism. But it's not just political progressives and radicals who are being hit. Scientists are under attack, too. Michael Mann, a professor of atmospheric science and director of the Earth System Science Center at Penn State University, has received death threats for his work on climate change.
Despite this new and alarming phenomenon on campus, university administrators seem loth to aggressively protect their faculty. My own university has left it to me to press charges, and has chosen not to make any public comment on the Stanford Review's defamation of my character, despite an open letter supporting me signed by nearly 700 members of the Stanford community.
Besides those who signed letters of support, six constitutional law scholars from the Stanford School of Law wrote a letter to the editor of the Stanford Daily declaring that there was no evidence that I had advocated violence, nor that I am a member of a terrorist group. These then were my sources of support, not the university. Yet this has not stopped the attacks on me.
I don't have the resources to bring a libel suit – I cannot out-lawyer a newspaper that has an ally in its founder and major contributor to the university, Peter Thiel.
The troubling question is: who does?

World Politics
United States
Comics including Stephen Colbert and Trevor Noah discussed Trump's 'treason' comments and Don Jr's defence of his dad
Late-night hosts on Tuesday addressed the White House's defence of Donald Trump's "treason" claim, and Donald Trump Jr's response to critics who say his father is racist.
Stephen Colbert: 'Legal analysis from No, Shit and Sherlock'
"According to sources at the White House, Donald Trump's lawyers are telling him to refuse an interview with Robert Mueller," said Stephen Colbert, going on to quote a New York Times report that read "because the president, who has a history of making false statements and contradicting himself, could be charged with lying to investigators".
"Yes, it is a crack legal analysis from the law firm of No, Shit and Sherlock," the host quipped, before making chicken noises at Trump to encourage him to sit down with Mueller.
"Robert Mueller is not Trump's only problem," Colbert continued. "A lot of people have called Trump a racist, but only because of what he says and does. The charge has upset presidential son and man who KYs his scalp, Donald Trump Jr."

John Kelly initially defended Rob Porter, accused by two ex-wives of physical and emotional abuse, but later said: 'There is no place for domestic violence'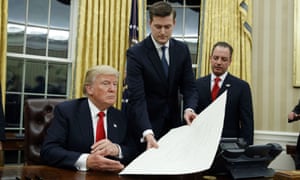 Rob Porter, center, hands Donald Trump a document in the Oval Office in January 2017, as the then chief of staff, Reince Priebus, right, watches. Photograph: Evan Vucci/AP
White House chief of staff John Kelly, a retired four-star general, said on Wednesday that he was "shocked" by allegations of domestic abuse against a senior aide whom Kelly had defended a day earlier as "a man of true integrity and honor and I can't say enough good things about him".
Donald Trump's staff secretary Rob Porter, 40, resigned from his post Wednesday after two of his ex-wives aired allegations of physical and emotional abuse in the media.
In a statement, Porter denied the allegations, which were first published on Wednesday by the Daily Mail.
"These outrageous allegations are simply false," Porter said. "I took the photos given to the media nearly 15 years ago and the reality behind them is nowhere close to what is being described. I have been transparent and truthful about these vile claims, but I will not further engage publicly with a coordinated smear campaign.
Colbie Holderness, Porter's first wife, told the Daily Mail that he was "verbally, emotionally and physically abusive, and that is why I left". His second wife, Jennifer Willoughby, made similar allegations to the Mail, saying she had filed an emergency protective order. The article was published with photos appearing to depict Holderness with a bruised eye and a copy of the protective order.
Porter worked closely with Kelly to regulate Trump's meetings schedule and decide which documents reached his desk.
While Kelly expressed shock at the allegations against Porter, who was promoted during Kelly's tenure, Porter reportedly had difficulty gaining security clearances owing to the allegations against him.
"There is no place for domestic violence in our society," Kelly said in his updated statement. "I stand by my previous comments of the Rob Porter that I have come to know since becoming chief of staff, and believe every individual deserves the right to defend their reputation."
White House spokeswoman Sarah Huckabee Sanders told reporters that Porter's decision was a personal one, made independently of other White House officials.
On Tueday, Kelly issued a statement of personal support for Porter.
"He is a friend, a confidante and a trusted professional," Kelly said. "I am proud to serve alongside him."

Concerns raised over weakened regulations on imports in potential post-Brexit trade deals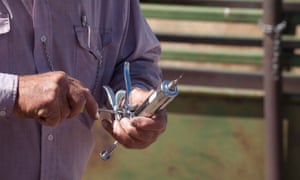 A farmer prepares to vaccinate a calf on a cattle ranch. Photograph: Jim West/Alamy
Livestock raised for food in the US are dosed with five times as much antibiotic medicine as farm animals in the UK, new data has shown, raising questions about rules on meat imports under post-Brexit trade deals.
The difference in rates of dosage rises to at least nine times as much in the case of cattle raised for beef, and may be as high as 16 times the rate of dosage per cow in the UK. There is currently a ban on imports of American beef throughout Europe, owing mainly to the free use of growth hormones in the US.
Higher use of antibiotics, particularly those that are critical for human health – the medicines "of last resort", which the World Health Organisation wants banned from use in animals – is associated with rising resistance to the drugs and the rapid evolution of "superbugs" that can kill or cause serious illness.
The contrast between rates of dosage in the US and the UK throws a new light on negotiations on Brexit, under which politicians are seeking to negotiate trade deals for the UK independently of the EU. Agriculture and food are key areas, particularly in trading with the US, which as part of any deal may insist on opening up the UK markets to imports that would be banned under EU rules.
When negotiating outside the EU for a new trade deal, the UK will come under severe pressure to allow such imports. Over the summer, a row broke out over the potential for imports of US chlorinated chicken – bleaching chicken, according to experts in the UK, is a dangerous practice because it can serve to disguise poor hygiene practices in the food chain.
But Ted McKinney, US under-secretary for trade and foreign agricultural affairs, told an audience of British farmers last month he was "sick and tired" of hearing British concerns about chlorinated chicken and US food standards, providing further indication that the US government is likely to strike a hard deal on agricultural products as part of any trade agreement.

Ted McKinney speaks at the Oxford Farming conference in January. Photograph: David Hartley/Rex/Shutterstock
Antibiotic resistance can spread rapidly among herds and flocks, but can also be spread through eating affected food products, according to the World Health Organisation.
Antibiotic use in the US is three times higher in chickens than it is in the UK, double that for pigs, and five times higher for turkeys, according to research by the Alliance to Save Our Antibiotics, a UK pressure group, which based its report on new data that has recently become available through industry groups and government.
Suzi Shingler, at the Alliance to Save Our Antibiotics, said: "US cattle farmers are massively overusing antibiotics. This finding shows the huge advantages of British beef, which is often from grass-reared animals, whereas US cattle are usually finished in intensive feedlots. Trade negotiators who may be tempted to lift the ban on US beef should not only be considering the impact of growth hormones, but also of antibiotic resistance due to rampant antibiotic use."
Nearly three quarters of the total use of antibiotics worldwide is thought to be on animals rather than humans, which raises serious questions over intensive farming and the potential effects on antibiotic resistance, which can easily be spread to people. Once resistance takes hold and drugs become ineffective, treating even common diseases becomes problematic. Dame Sally Davies, England's chief medical officer, has warned that antibiotic resistance is one of the most severe threats facing humanity, and if strong action is not taken urgently that even routine operations such as hip replacements may become too dangerous.

Photographer Sean Gallagher has set up a new Instagram feed called Everyday Extinction. Featuring work from 25 wildlife photographers, photojournalists and scientists, the project aims to highlight species extinction and celebrate biodiversity
Warning: this gallery contains some graphic images
Image by Marcus Westberg @lifethroughalensphotography. 'At Senkwekwe, the world's only mountain gorilla sanctuary [in Virunga National Park in the Democratic Republic of Congo], Papa Andre Bauma plays and cuddles with 10-year old Ndakasi. Ndakasi was orphaned when she was two months old, and she spent most of that traumatic night inside Bauma's shirt, pressed tightly against his chest. Their bond remains incredibly strong, and although Bauma is father – or rather mother – to the sanctuary's other mountain gorillas too, his relationship with Ndakasi is unique.'
Photograph: Marcus Westberg/@everydayextinction
Photo by Karine Aigner @kaigner. 'African wild dogs are one of Africa's most endangered carnivores. With numbers once at half a million individuals, there are now less than 7,000 across the continent. Habitat loss/fragmentation, domestic canine diseases (rabies and distemper), snaring, car collisions and persecution (poisoning and shooting) have led to the demise of the species.'
Photograph: Karine Aigner/@everydayextinction