09 Feb
News and Analyses, A Foreign Perspective
Nearly all of these are English-edition daily newspapers. These sites have interesting editorials and essays, and many have links to other good news sources. We try to limit this list to those sites which are regularly updated, reliable, with a high percentage of "up" time.


Chairman: Scott Blackmun did the 'right thing at every turn'

'Olympic system failed [the gymnasts],' says chairman Larry Probst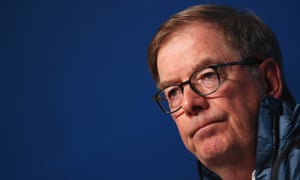 US Olympic Committee chairman Larry Probst addresses the media at pre-Olympics news conference in Pyeongchang. Photograph: Ker Robertson/Getty Images
Leaders of the US Olympic Committee said they will not part ways with chief executive Scott Blackmun before the completion of an independent investigation into the federation's response to the Larry Nassar sexual abuse scandal.
USOC chairman Larry Probst said on Friday the federation will cooperate with the independent investigation to be conducted by the Boston-based international law firm Ropes & Gray, whose charge "is to figure out who knew what about Nassar's abuse, when, and what was done with the information".
He added: "[Blackmun] has served the USOC with distinction since he rejoined the organization in 2010. We think that he did what he was supposed to do and he did the right thing at every turn."
The federation's response to Nassar's decades of abuse dominated the discussion at the USOC's traditional pre-Olympics news conference on Friday, which took place just hours before the opening ceremony at Pyeongchang Stadium.
Probst opened with written remarks of apology to the hundreds of gymnasts abused by Nassar, the longtime USA Gymnastics team doctor who has been given an effective life term in federal prison for abusing athletes under the guise of medical treatment in addition to sentencing on a separate child abuse imagery conviction.
"To the women, both those who chose to testify and those who did not, who have demonstrated tremendous bravery, poise and strength in the most difficult circumstances imaginable, let me say this: the Olympic system failed you and we are so incredibly sorry," Probst said.
"Words cannot express the anger that the board and leadership of the United States Olympic Committee, and me personally, feel about the human toll that Larry Nassar's abuse has taken on these young women and their families. I have read and listened to the impact statements of the brave young women who stood up at his recent sentencing hearings to tell their shocking stories and how the system failed to protect them. I felt their sense of betrayal and sorrow and anger."
More than 260 girls and women have said they were sexually abused by Nassar, a scandal that's prompted the resignation of the entire USA Gymnastics board of directors under threat of decertification by Blackmun, who has served as chief executive of the USOC since January 2010. But none of the USOC board members have stepped down in spite of a number of victim impact statements, including that of six-time Olympic medalist Aly Raisman, that accused the federation of enabling Nassar's decades of abuse.
Probst repeatedly cast culpability as a failure of the "Olympic system" as a whole.
"The Olympic system in the United States failed those athletes," he said. "And we are part of the Olympic system in the United States."
But Probst did offer a mea culpa for USOC's much-criticized absence at Nassar's seven-day sentencing hearing in Ingham County last month, when the disgraced physician was given 40 to 175 years on seven counts of sexual assault after a total of 156 girls and women came forward.
"That was simply a mistake, we should have been there," Probst said. "We took too long to reach out to the gymnasts after the revelations became public. We're in the process of doing that now."
Anita DeFrantz, a fellow USOC board member who is also a member of the International Olympic Committee, joined Probst in throwing her support to Blackmun, who is not in Pyeongchang after undergoing surgery for a recent diagnosis of prostate cancer.
"I have felt he's done a great job for us," DeFrantz said. "I feel he deserves to have everything cleared."

World Politics
Canada
Canadian government viewed Trump's election as "positive news" for Keystone XL and energy industry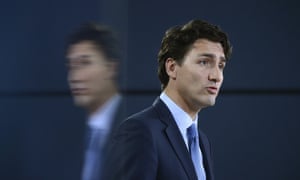 Canada's Prime Minister Justin Trudeau holds a press conference at the National Press Theatre in Ottawa, Ontario, on Tuesday, Nov. 29, 2016. Photograph: Sean Kilpatrick/AP
The Trudeau government treated Donald Trump's election as "positive news" for Canada's energy industry and welcomed the help of Canada's main corporate oil group in lobbying the US administration, documents show.
Meetings conducted by senior government officials with TransCanada and the Canadian Association of Petroleum Producers (CAPP) reveal an one-sided approach more reminiscent of former Prime Minister Stephen Harper's secret oil advocacy than Justin Trudeau's green electoral promises.
The Liberal government has strongly backed the export of Alberta tar sands via the Keystone XL pipeline, which was initially rejected by the Obama administration on climate grounds but approved by Trump in March 2017.
The documents, obtained through access-to-information, show the Parliamentary Secretary to Canada's Foreign Affairs Minister met around the same time with TransCanada's CEO Russ Girling and CAPP to discuss the continued promotion of the pipeline and oil exports.
The briefing note states that the oil lobby group "specifically will be interested to hear the outcomes of the recent visits by Prime Minister Trudeau and Minister Freeland to the United States, as well as volunteering their services (or those of members) in the Government's U.S. engagement efforts."
The Parliamentary Secretary was advised to respond by saying "we welcome your engagement offer and would like to stay in touch."
The Guardian asked CAPP what kind of services they had volunteered but the lobby group declined to answer.
CAPP shares many members with its US-counterpart, the American Petroleum Institute, whose lobbying of the Trump administration has resulted in cuts to environmental regulations and the speed-up of permits for oil and gas drilling.
The briefing documents appear to present Trump's approach to energy policy as an improvement over that of Obama's.
"The swearing in of a new administration in the United States that recognizes the strategic importance of Canada's role in North American energy security is, so far, positive news for the Canadian energy sector with regard to a potential increase in energy trade," a document from May 2017 reads.
"The main guiding principle of President Trump's energy policy is U.S. energy security independence through increasing domestic production of all energy forms (oil, gas coal and nuclear)."
The words "climate change" do not appear anywhere in the government documents.
Stephen Harper's Conservative government had previously worked closely with the oil industry lobby to undermine clean policy measures and encourage massive oil exports in the U.S. and Europe.
In contrast, Prime Minister Trudeau promised in his election platform to achieve an "ambitious North American clean energy and environment agreement" that would make the continent the "world's most efficient and responsible energy producer."
"Canadians who voted for Trudeau probably didn't expect him to use Trump's election as an opportunity to bypass concerns over environmental protection and Indigenous rights," said Keith Stewart, a senior energy analyst at Greenpeace who obtained the documents. "The Trudeau government's abandonment of ambitious climate policy in dealing with Trump and their backroom outreach to oil lobbyists has more in common with the Harper government than the actions of a self-proclaimed climate champion."

Iceland
Katrín Jakobsdóttir says her goal is to restore confidence as she becomes Iceland's fourth prime minister in two years

Katrín Jakobsdóttir heads the Left-Green Movement. Photograph: Sigtryggur Ari Johannsson for the Guardian

Italy
Leader of rightwing Brothers of Italy party cherishes hopes of becoming the nation's first female prime minister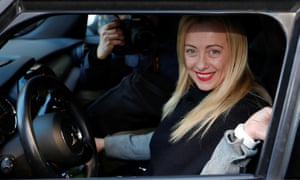 Giorgia Meloni, leader of the Brothers of Italy party, has struck a chord in areas where the Northern League has failed to gain traction. Photograph: Remo Casilli/Reuters

United States
Late-night hosts on Wednesday discussed reports that Donald Trump wants to hold a military parade and the rightwing media's smear campaign against the FBI.
Stephen Colbert: 'He's the Usain Bolt of stupid'
"We kid the president, but you've got to admit he is one of a kind," Stephen Colbert began. "No one comes up with dumber ideas. He's the Usain Bolt of stupid. His latest, record-setting dumb: Trump told the Pentagon to plan a military parade."
"Check your cards," Colbert joked. "Who has dictator bingo?"
"Traditionally, America doesn't do military parades," he continued. "When you're the most powerful military in the world, you don't need to show it off. The founding fathers didn't want a standing army at all, and military parades were a European fetish. And not the kind that Ben Franklin got off on."
Trump reportedly got the idea after seeing last year's Bastille Day celebration in Paris. "Oh my gosh, he's like an exchange student who just got back from Europe and keeps calling gas petrol," Colbert said.
Colbert then further detailed the Washington Post report, which says Trump brought up the idea in the Pentagon's "tank", a room reserved for top-secret discussions.
"Keep in mind this is a room where they make big decisions like, do we got to war," Colbert said, before imagining the exchange between Trump and his advisers. "Sir, Kim Jong-un is fueling his rockets on the launchpad. Do we engage with a first strike to cripple his command and control?"
"Uh huh, sounds good," the host said, impersonating Trump. "General Kelly, I need you to go to Party City and get some red, white and blue streamers, some crazy stars, a hot glue gun, and some rickrack. We're making a float."