11 Feb
News and Analyses, A Foreign Perspective
Nearly all of these are English-edition daily newspapers. These sites have interesting editorials and essays, and many have links to other good news sources. We try to limit this list to those sites which are regularly updated, reliable, with a high percentage of "up" time.


The first lady is alleged to have violated the terms of her US tourist visa by illegally working as a model
***********************************
A few thoughts:
She was supposed to disprove it back when they were campaigning, but like most things Trump, it never happened. Now the question is "Is it too late to deport her and him with her?" I hear Russia is a nice place to visit … if you're a Trump or quite a few other republicans.
She could still get deported, since she technically violated the law 2 decades ago, because TRUMP's ICE are deporting people who have been here decades ago just for the crime of working or entering or overstaying their visas illegally. The timeline is unimportant if you are brown or black or Muslim. Melania is white, she's special.
Rules for fatface Trump only applies to others. He is corrupt, immoral, and visit prostitutes, and wrecks the healthservice etc.. For normal mortals different rules apply. He belongs in Russia with Putin – permanently.

The McGlynn
***********************************

Behind the new law denying Polish complicity in Nazi atrocities, many fear there lies a growing strain of antisemitism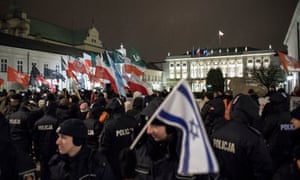 Supporters of the far-right National Radical Camp (ONR) gather in support of the Holocaust bill in front of the presidential palace in Warsaw on 5 February. Photograph: Dawid Zuchowicz/Agencja Gazeta via Reuters
Even on a clear day, history hangs over Warsaw like smog. Flattened during the Nazi German wartime occupation and rebuilt during communist rule, what Poland's capital may lack in architectural charm it makes up for with a litany of monuments, statues, plaques and shrines dedicated to collective suffering and individual sacrifice.
One lesser-known memorial is a small plaque on the wall of the Warszawa Gda?ska railway station, a nondescript socialist-era building on the north side of the city. It was from here that many Poles of Jewish origin departed in the wake of the "anti-Zionist campaign" in March 1968, when cold war politics and a power struggle within the Polish Communist party led to an antisemitic propaganda campaign forcing thousands of Polish Jews to leave the country.
"Loyalty to socialist Poland and imperialist Israel is not possible simultaneously," prime minister Józef Cyrankiewicz had declared in 1968. "Whoever wants to face these consequences in the form of emigration will not encounter any obstacle." The plaque bears a tribute from the Polish-Jewish writer Henryk Grynberg: "For those who emigrated from Poland after March 1968 with a one-way ticket. They left behind more than they had possessed."
In a few weeks' time, Poland's Jewish community will mark the 50th anniversary of the events of March 1968. They will do so in the wake of arguably the most serious crisis in Polish-Jewish relations since the fall of communism in 1989, after the passage of controversial legislation criminalising the attribution to the Polish state or Polish nation of complicity in the crimes committed by Nazi Germany during the Holocaust.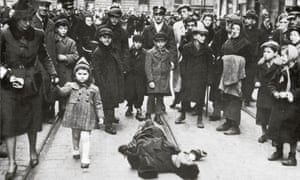 A crowd surround a dead man on the street in the Warsaw ghetto around 1940. Photograph: Imagno/Getty Images
Although popular at home, the legislation signed last week by President Andrzej Duda has proved a diplomatic and public relations catastrophe abroad, as scholars, Holocaust survivors and friendly governments alike have lined up to voice their criticism and concerns about a potentially chilling effect on the study and understanding of the Holocaust.
The ensuing controversy has sparked a war of words between Polish and Israeli politicians, and an outpouring of antisemitic rhetoric in Poland as nationalist and pro-government media seek to portray the country as under attack from an international anti-Polish campaign orchestrated by foreign powers and Jewish advocacy groups abroad.
Ruling party officials have claimed the row has been confected by Jewish advocacy groups seeking compensation for property restitution claims. An editorial on the rightwing TV Republika website described the crisis as "a big test of loyalty for the Polish Jews whose organisations are linked personally and institutionally with American Jews", and accused them of "too rarely and too weakly defending Poland and the Poles in the international arena".
"They want to break us – it's about sovereignty, truth and money," read the cover of Sieci, a weekly that has close ties to Poland's ruling Law and Justice party.
Speaking to the Observer, members of the Polish-Jewish community and activists involved in Polish-Jewish dialogue and reconciliation have expressed their shock and dismay at this deterioration in public discourse. While stressing that the present crisis is not comparable to that of March 1968, many said that, with their loyalties once again being called into question, the echoes of the rhetoric of the "anti-Zionist campaign" were too uncomfortable to ignore.
"We are receiving antisemitic, anti-Jewish statements on a daily basis," said Anna Chipczy?ska, president of the Jewish Community of Warsaw. "Members of the community feel that their loyalty is being questioned, that people are expecting them to take a side. Some of them also indicate the silence of friends and work colleagues in the face of these attacks, and this really hurts them."
"In 1968 they talked about an international Zionist conspiracy; now they talk about an international anti-Polish conspiracy," said Jan Gebert, who wrote an open letter to Polish parliamentarians on behalf of Polish Jews, expressing concern that the legislation would criminalise giving testimony about Poles who blackmailed or murdered Jews during the Holocaust. "When you've grown up in Polish culture, you understand that there is no fundamental difference between these two things."

Parties on right and left are urging people not to talk about an incident in which six immigrants were shot. They are afraid of alienating an increasingly xenophobic electorate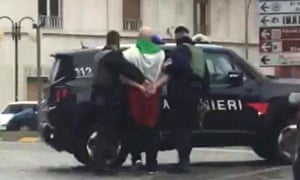 Wrapped in a tricolour, Luca Traini, 28, accused of opening fire on immigrants, is detained by Italian police in Macerata. Photograph: Reuters
Late last Saturday morning, 3 February, news started to come in from Macerata, a small county town in central Italy – shots had been fired from a moving black Alfa Romeo 147. On Facebook, the mayor encouraged everyone to stay indoors because "an armed man has opened fire from a car".
A couple of days earlier in Macerata, the body, cut up in pieces, of a young woman, Pamela Mastropietro, had been found in a suitcase and a Nigerian drug-pusher, Innocent Oseghale, had been arrested for murder. Oseghale is still in prison, accused of contempt and concealing the corpse.
But to return to that Saturday: uncertainty reigned only very briefly before the first pictures began to circulate of a young man by the name of Luca Traini, picked up by the carabinieri, the Italian tricolour draped around his shoulders. There are six wounded, all immigrants. Shots had also been fired at the headquarters of the centre-left Democratic party (PD) in Macerata. Shooting at immigrants, the fascist salute, the tricolour – what more do you need to call what happened by its true name?
So why did the Italian media have such trouble defining what happened as a fascist-inspired terrorist attack? I was immediately put in mind of a tweet that Matteo Salvini, the leader of the Lega Nord, the xenophobic party allied to Silvio Berlusconi in the forthcoming elections, had posted two days prior to the attack, referencing the death of Pamela Mastropietro and the arrest of Oseghale: "What was this worm still doing in Italy? […] The Left has blood on its hands."
The moral instigator of the Macerata attack was then Matteo Salvini, who for years now has been sowing hatred without a thought for the consequences of his words. But why such timidity from the media and other politicians?
"The act of a madman"; "Let's not talk fascism"; "Keep quiet so as to avoid it being exploited." These are some of the comments that were made – some immediate and off the cuff, but others cool and considered. Very few politicians talk about the victims of the attack because to take the side of the immigrants means losing votes. Only one small party, the Potere al popolo (Power to the people), straight after the attack visited the wounded in hospital. Wilson, Jennifer, Gideon, Mahamadou, Festus and Omar are their names, all very young people trying to make their way in Italy.
Social phantoms always emerge in moments of crisis. Hatred of the foreigner is the result of a lethal cocktail of bad politics, irresponsible information and economic crisis. Now in Italy all bearings have been completely lost and a climate of endless electoral campaigning has triggered a chain reaction that no one seems able to keep in check: the entire political campaign is focused on the subject of immigration.
Immigrants are perceived as the prime reason for the longevity of the economic crisis and even of the risk of attacks taking place. Though it should be noted that the only attack that could be considered a genuine massacre has been perpetrated by an Italian against foreigners.
But you might have read this before, certainly in Italy – it crops up in articles that end by saying: "But if Italians are afraid, there must be a reason for it." It's almost a waste of time providing data and stressing that immigration is not a crisis, but a phenomenon that, when managed responsibly and with foresight, we are able to control.
A waste also to note that there exists something called good practice and that there are excellent examples we could follow. It's also pointless to comment on the falling crime rates because, someone will assert – and they will have much less trouble than I do at sounding a popular note – that if Italians feel at risk there must be a reason for it. Today, feelings – whatever they are – are more important than reality.
And then there are the voices of caution: care should be taken not to attach too much importance to a violent episode. The more I talk of migrants, the more I am accused of encouraging hatred of them. It's a kind of back-to-front logic: how is it possible, I wonder, that if I relate what is happening in Libya in the detention centres, if I speak of the mud-slinging machine against the NGOs who are operating in the Mediterranean, I manage the opposite of what I am trying to achieve?
Even if you explain that migrants are a fundamental resource in an Italy that is demographically moribund, I hear the earnest plea: keep mum, don't mention it, find something else to do.

World Politics
United States
Figures released by the EPA show that 115 crime cases were opened in 2017, down from a peak of nearly 400 in 2009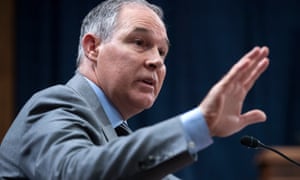 Scott Pruitt, the Environmental Protection Agency administrator. Photograph: Michael Reynolds/EPA
The Environmental Protection Agency's enforcement activity against polluters has fallen to its lowest level in a decade, with the first year of the Trump administration seeing a sharp drop in fines for companies that break environmental rules.
Figures released by the EPA show that 115 environmental crime cases were opened in the 2017 financial year, down from a peak of nearly 400 in the 2009 financial year, which was largely under the Obama administration.
A total of $1.6bn in new penalties were levied against polluters in 2017, in the fiscal year that ended 30 September. This was around a fifth of the $5.9bn instigated by the Obama administration in 2016 but still higher than any other year stretching back to 2007.
The EPA pointed to the $1.2bn it secured from private entities to clean up superfund sites, toxic areas that have been abandoned by polluting industries, and said that a total of $2.98bn had been levied in criminal fines, restitution and court-ordered projects. These cases, the EPA said, reduced or eliminated 217m pounds of air pollution and 412m cubic yards of contaminated water.
"A strong enforcement program is essential to achieving positive health and environmental outcomes," said Susan Bodine, EPA assistant administrator for enforcement. "In fiscal year 2017, we focused on expediting site cleanup, deterring noncompliance, and returning facilities to compliance with the law, while respecting the cooperative federalism structure of our nation's environmental laws."
However, the bulk of the $2.98bn received in penalties in 2017 is made up of the pursuit of Volkswagen for cheating on its emissions tests. The settlement, struck under the Obama administration, included a $2.8bn criminal fine for VW that was paid out in the 2017 financial year.
Cynthia Giles, who headed the EPA enforcement office under Obama, estimated that Scott Pruitt, the EPA administrator appointed by Trump, is responsible for about 1% of the total criminal recoveries in 2017. "Pruitt's EPA is trying to take credit for work he didn't do," Giles said.
Other major enforcement actions last year include Tyson Poultry, the largest chicken producer in the US, which pleaded guilty to violating clean water laws at a Missouri facility. The outcome, which follows an agreement struck in 2014, saw Tyson pay a $2m fine and serve two years of probation.
Meanwhile, Whole Foods, the grocery chain, struck a deal with the EPA days before Trump taking office that involved a $500,000 civil penalty over hazardous waste issues.
Critics of the EPA under Pruitt have accused it of being too close to industry by easing up on enforcement, filling senior agency positions with former lobbyists and delaying or scrapping air and water pollution rules at the behest of businesses, sometimes without any public input.
The Trump administration's first budget proposal for the EPA involved cutting funding for enforcement by nearly a quarter. Meanwhile, a group of EPA investigative staffers have been reassigned to provide around-the-clock bodyguard protection to Pruitt.
In August, the Environmental Integrity Project, a non-profit transparency group, calculated that just 26 civil lawsuits were filed against polluters in the first six months of Trump's presidency, compared with 34 in the same period under Obama and 31 under George W Bush.
"President Trump campaigned on a promise of 'law and order', but apparently law enforcement for big polluters is not what he had in mind," said Eric Schaeffer, executive director of the group and a former enforcement official at the EPA. Schaeffer said the drop off could lead to "more people breathing more air pollution or swimming in waterways with more waste".
The EPA has been keen to counter the perception that it is dominated by special interests, with Pruitt claiming that businesses have been "barking" in complaint about his pursuit of them over superfund clean-ups.
Experts say rocket emissions affect our climate and cause ozone loss, yet too few people seem to care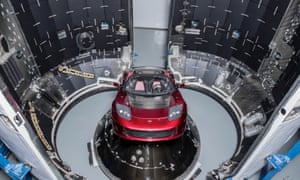 SpaceX's Falcon Heavy rocket on the launch pad carrying Elon's Musk's red Tesla Roadster. Photograph: SpaceX/Shutterstock
David Attenborough's Blue Planet series raised our awareness of rubbish tips traversing our oceans and choking some of our most beloved marine species.
This has led to a global debate about how we manufacture and dispose of plastics. The Scottish government announced that it is to host an international conference in 2019 to discuss action on marine litter. It's ideal territory for any government seeking to be regarded as edgy and cool on this year's fashionable cause. No one could disagree with its aims and purpose and, more importantly, nothing that emerges from it will commit anyone to spending money or risking the growth of emerging industries.
Perhaps soon our marine technology will have advanced to the stage where we can actually interpret what whales and dolphins are saying and begin to solicit their views on the subject. These creatures are believed to possess remarkable intelligence. If we reached the stage where we could converse with them, perhaps we could appoint some of them as environment tsars in western governments: that would sort the wheat from the chaff in all the chattering about human impact on the health of marine life.
As the debate about our slatternly disposal of plastics was raging down on Earth we were all acclaiming a fresh addition to the garbage dump swirling above us in space. The billionaire car manufacturer Elon Musk launched one of his Tesla Roadsters to Mars in a rocket produced by his company, SpaceX. According to people who know about this stuff, it was the biggest and most powerful rocket launched since the Apollo series and Saturn V. We further learned that the rocket, the Falcon Heavy, uses 27 Merlin rocket engines to develop 22,819kN of thrust. I'm assured that this can carry a 64-tonne payload into low Earth orbit or geosynchronous orbit: more than sufficient for propelling a sports car to Mars. I won't pretend I understand the science but let's just say that Musk won't be getting invited to address an environmental summit in the near future.
You might be tempted to dismiss this as an expensive publicity stunt by a billionaire playboy with too much time on his hands. But in reality it's an important step towards a time when space travel for your average indolent millionaire will become commonplace. It will probably become another way of managing your finances when Mars inevitably becomes the ultimate off-shore tax haven.
You might be tempted to dismiss this as an expensive publicity stunt by a billionaire playboy with too much time on his hands
Quite what our fetish for space exploration and spending billions on the technology required to feed this does to the environment is a serious matter. There's a dissonance emerging here. On Earth, we're organising summits and setting up carbon footprint-reduction targets all over the shop. Yet, up in yonder outer space we've established a giant garbage dump replete with huge hulks of rusting metal and, as of last week, a $200k American sports car.
Indeed, the whole issue of rocket emissions needs to be considered if we're serious about the environment. These emissions deliver gases and particles into the Earth's upper atmosphere and this will be addressed later this year at the UN's quadrennial global ozone assessment conference. Martin Ross, a senior project engineer for civil and commercial launch projects at the Aerospace Corporation in California, told the online journal Space.com that rocket soot accumulates in the upper stratosphere, where the particles absorb sunlight. "This accumulation heats the upper stratosphere, changing chemical reaction rates and likely leading to ozone loss." He added: "The 2018 assessment is really the first one to have a substantial section on rocket emissions, not just a passing thought… we now understand that the climate and ozone impacts of rocket exhaust are completely intertwined."
And if we're discussing space, then we ought to be discussing the impact of all these rockets on our potential neighbours in the galaxy. I've always found it curious that despite spending even more billions over decades trying to locate other forms of intelligent life we've had nary a cheep back; not even a single intergalactic WhatsApp message. So either our neighbours are a rude shower or they simply don't exist. But what if there's another, more sinister explanation: that they do exist but are so far ahead of us in intelligence that they've created the means to put themselves out of our reach, perhaps with a giant jamming device.