12 Feb
News and Analyses, A Foreign Perspective
Nearly all of these are English-edition daily newspapers. These sites have interesting editorials and essays, and many have links to other good news sources. We try to limit this list to those sites which are regularly updated, reliable, with a high percentage of "up" time.

It's the elephant in the room – racism towards ethnic Chinese. What does it take for us to embrace all New Zealand citizens as Kiwis?

By Victoria Zhu
Racial attacks against Chinese in our country have been rising with alarming frequency.
In light of this, I have been reflecting on the prejudices that come with my ethnicity and culture as a New Zealand-born Chinese. Despite vast differences between the various generations of Kiwi-Chinese, we are lumped into a one-dimensional 'foreign' group. Cultural ignorance, racial humour and misplaced resentment towards the Kiwi-Chinese all indicate that the Chinese are ultimately marginalized in New Zealand.
When asked where I am from, and I respond ('Auckland'), I still encounter skepticism-"Ok, but where are you really from?"
This response shows the subtle racial prejudice that creates a cultural barrier between the Chinese and other Kiwis in our community. The barrier is a result of the ignorance of many Kiwis towards the racist implications of their words and actions.
Granted, ethnic Chinese still only represent 12 per cent of our country's population, and like many early Chinese immigrants, my family used to be isolated as one of the few Asian households in our neighbourhood. This exhibits a lack of Chinese representation that is not at the fault of our society, yet it inevitably prevents Kiwis from eliminating uninformed prejudices; and renders them unaware of their discriminatory words.
However, due the developing global emphasis for cultural acceptance, ignorance towards underlying racism should no longer be tolerated and Chinese jokes no longer taken so light-heartedly.
Humour is continues to be a large source of casual racism; 'chink', 'ching chong' and the "Asian" accent are too common in Kiwi vocabulary and are far from New Zealand's image of being a welcoming community- only serving to fuel Chinese prejudices.
Undoubtedly, the 'nouveau riche' Chinese and their economic influence, primarily by inflating New Zealand median house prices, play a role in the prejudices against Kiwi-Chinese. Many working and middle-class Chinese-Kiwis become implicated in this, despite worrying about the property crisis themselves. My parents are frequently asked about their opinion on a multitude of topics surrounding China's unwanted influence in New Zealand, reinforcing the barrier between 'us Kiwis' and 'those immigrants'. The Chinese community are still being viewed as foreigners or intruders.
By holding onto these prejudices, we cannot call New Zealand a welcoming nation.
We openly tolerate, yet know very little about each other's culture. Kiwis aim for cultural consciousness whilst a large percentage of our population is still unwilling to acknowledge and change the underlying prejudices we have of the Chinese community.
Since moving to the United Arab Emirates and attending New York University Abu Dhabi- two incredibly multicultural environments, my views on the treatment of Chinese in New Zealand have only further been strengthened. I am surprised to find that I feel more at ease here than in my home country. There is a mutual respect and curiosity for one another's culture and differences in the UAE that I think New Zealand can adopt.
Despite living in the UAE for the next four years, I will always be a 'foreign student'. As a Kiwi, I want to be seen as a local – especially in the country where I was born and raised. Yet due to an arbitrary divide of who is truly Kiwi and who isn't, I, like many other Kiwi-Chinese, do not feel entirely at home in our country. There is no straight-forward solution to the problematic prejudice towards Chinese in our society, but steps towards the right direction would be for Kiwis to learn to accept all New Zealand citizens as Kiwis.
Victoria has been a resident in Half Moon Bay for 16 years and delivered newspapers for the Howick and Pakuranga Times for two years. She attended Wakaaranga Primary, Farm Cove Intermediate and Saint Kentigern College, where she graduated in 2016 with an International Baccalaureate Diploma. Victoria is currently studying at New York University Abu Dhabi.


Foreign secretary tells de facto Myanmar leader refugees must return under UN supervision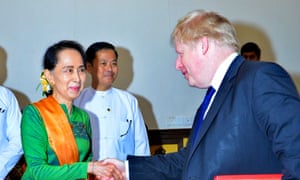 Boris Johnson meets Aung San Suu Kyi in Myanmar's capital of Naypyitaw. Photograph: Myanmar News Agency Handout/EPA
Boris Johnson has told Myanmar's de facto leader Aung San Suu Kyi the UN refugee agency must be allowed to supervise the return of Rohingya refugees, saying it was clear many were terrified to return home.
The UK's foreign secretary told reporters the charred homes of devastated Rohingya villages were like nothing he had seen before in his life, after visiting refugee camps in Bangladesh and northern Rakhine state in Myanmar.
In his meeting with Aung San Suu Kyi, the country's state counsellor, Johnson said he stressed that refugees must feel safe returning home and must be supervised by UNHCR.
It is understood Johnson also raised the case of two Reuters journalists who have been detained for investigating a massacre in Rakhine.
The foreign secretary described seeing burnt-out homes and abandoned possessions, including a child's bicycle, which he said had moved him greatly during his three-hour helicopter tour.
He said he had met terrified villagers who had refused to say who had burnt down their homes, but rejected Myanmar's claims that the destruction was self-inflicted.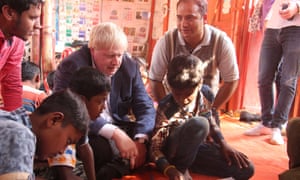 Boris Johnson meets Rohingya refugees at a camp in Bangladesh. Photograph: AFP/Getty Images
Johnson said the purpose-built reception centre he was escorted to see had received no returning refugees, despite being in place for months, and that it was surrounded by 10ft high barbed-wife fences. Those who wish to return to Myanmar have to undergo biometric logging before being housed in the centre.
The foreign secretary said he did not believe officials' claims that no refugees had returned because the Bangladesh authorities had refused to return them. More than 1.1m Rohingya refugees are believed to have fled over the border to escape violence by Myanmar's military.
"I saw real apprehension both in camps in Bangladesh and amongst the remaining villagers. There's a lot of fear and that fear needs to be overcome," he said. "The Burmese authorities need to work very hard with the international agencies to overcome that real alarm that people feel about coming back to Burma.
"I've seen nothing like it in my life. Hundreds and hundreds of villages torched. It's absolutely clear that what is needed now is some leadership, some calm leadership working with the UN agencies to get these people back home."
The FCO said Johnson's hour-long meeting with Aung San Suu Kyi had been positive and constructive. A Nobel peace prize winner and former democracy activist, she has come under intense international criticism for her response to the violence against Rohingya.
She has said she believes reports of the violence to be exaggerated and has accused those who have raised concern of having an agenda. She and Johnson did not appear to reach agreement in their talks about the cause of the conflict, but a government source said they still hoped the UK could work with her on a solution.
Johnson said they had discussed the range of challenges facing the country. "I spoke to her about my own experience witnessing the terrible conditions of the Rohingya refugees in Bangladesh and my deep concern about their future," he said. "I encouraged her efforts to broker a nationwide peace settlement to put to an end 70 years of conflict in her homeland."
Burmese authorities should carry out a full and independent investigation into the violence in Rakhine and create conditions that could make it a safe place for the Rohingya refugees to return, he said. They should be able to return "free from fear, and in the knowledge that their basic rights will be respected and upheld".
Related:
Since last August, more than 668,000 Rohingya refugees – about 400,000 of them children – have fled Myanmar for camps over the Bangladesh border. Their makeshift shelters will be at risk from flooding and landslides in the upcoming cyclone and monsoon season