13 Feb
News and Analyses, A Foreign Perspective
Nearly all of these are English-edition daily newspapers. These sites have interesting editorials and essays, and many have links to other good news sources. We try to limit this list to those sites which are regularly updated, reliable, with a high percentage of "up" time.

A German national appears prominently in the investigation into the possible Russian contacts made by Donald Trump's associates. Did she serve as the strawman for illegal lobbying in the United States?

Investigation found the children were homeless and out of school in Central African Republic despite UN assurances it would protect them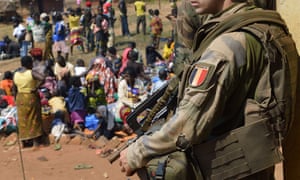 Children in the Central African Republic alleged that French peacekeepers sexually abused them during a peace-keeping mission called Operation Sangaris. Photograph: Eric Feferberg/AFP/Getty Images
The UN's children's agency has admitted shortcomings in its humanitarian support to children who allege that they were raped and sexually abused by French peacekeepers in Central African Republic.
A statement by Unicef Netherlands is the first public acknowledgement of the agency's recent failure to provide support to some of the victims of alleged abuse by peacekeepers in the African nation. It comes as the aid sector and the UN face increasing scrutiny for their failings in managing internal sexual misconduct by their own staff.
Unicef was given the task of overseeing the support for children who said they had been abused by peacekeepers.
But in March last year, an award-winning investigation by Swedish Television's Uppdrag Granskning (Mission Investigate) revealed that some of the children supposedly in the UN's care were homeless, out of school and forced to make a living on the streets, despite UN assurances that they would be protected. Unicef's representative in CAR told the programme that the children were in the agency's assistance programme for minors and were being supported. He said he was not aware that some were on the streets.
But earlier this month – ahead of a Dutch screening of the programme – Unicef Netherlands admitted to the Dutch television programme Zembla that Unicef had failed in its duty to help some of the alleged victims. But it said that since the programme had first aired, it had taken steps to locate the children featured in the programme and provide them with support.
Marieke van Santen, of Zembla, said she found the Swedish film "astonishing" because the children who were interviewed were known to Unicef, yet they were not being cared for.
Van Santen said: "It is quite shocking to realise that not only once but twice UN agencies have failed to help these victims."
The statement from Unicef Netherlands was welcomed by Karin Mattisson, a reporter for Mission Investigate. "I hope it makes a difference to the children and gives them strength. They have said they were failed," said Mattisson.
Several boys who testified to having been sexually assaulted by French soldiers were living rough, Mattisson found, while a girl, who became pregnant at the age of 14 by a Congolese peacekeeper and had later found out she was HIV-positive, was out of school looking after her baby. Another boy, aged eight, who was too traumatised to be interviewed, was in an orphanage.
"I hope they live up to this statement," she said. "When we investigated the UN and Unicef it was a long journey into their culture of silence."
Some of the children Mattisson spoke to had given evidence to officials investigating reports of abuse by the French Sangaris peacekeeping force, which was not part of the UN peacekeeping mission, but under UN security council control. Since then, however, other cases of alleged sexual abuse and exploitation by UN peacekeepers have emerged.
The agency first came under fire for its failure to care for the child victims of alleged abuse in CAR in 2015. An independent panel, which found the UN's failure to respond to allegations that French peacekeepers sexually abused children in the country amounted to "gross institutional failure" . It also said Unicef and human rights staff in CAR had failed to ensure the children received medical attention and humanitarian aid and "failed to take steps to protect other victims". Unicef responded by saying it "deeply regretted" the failings.
Before airing the film in the Netherlands, Zembla said it wanted to know if the agency had instigated any changes. "We wanted to understand that, and we also wanted to know what happened after the documentary," said Van Santen.
The Unicef Netherlands statement, issued to Zembla, said: "First of all: it is horrible what happened in the Central African Republic. Children should never be the victim of abuse, violence and exploitation. It is terrible that this happened and that relief was not enough."

Open letter opposes recognition of Chinese government-appointed bishops by the Vatican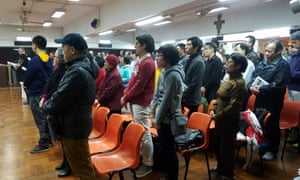 Catholics in Hong Kong gather at the news that Beijing and the Vatican, whose relations were severed after the Communist state was founded in 1949, have reached a deal. Photograph: STAFF/Reuters
The Catholic church risks damaging its moral authority and plunging its followers into confusion if the Vatican presses ahead with an imminent deal with the Chinese government, a group of influential Catholics has warned.
Fifteen lawyers, academics and human rights activists, most based in Hong Kong, have signed an open letter to bishops across the world expressing dismay at an agreement which would involve the Vatican recognising seven bishops appointed by China's Communist party.
The deal is aimed at restoring relations between China and the Vatican, which were cut almost 70 years ago. But the group of leading Catholics say it could create a schism in the church in China.
"We are worried that the agreement would not only fail to guarantee the limited freedom desired by the church, but also … deal a blow to the church's moral power," the letter says. "Please rethink the current agreement, and stop making an irreversible and regrettable mistake."
Cardinal Joseph Zen, the former bishop of Hong Kong, wrote in a blog post: "Do I think the Vatican is selling out the Catholic church in China? Yes, definitely, if they go in the direction which is obvious from all what they are doing in recent years and months."
Last month, the Vatican asked two "underground" bishops – who operate without Chinese government approval – to relinquish their positions in favour of government-appointed counterparts, one of whom was excommunicated by Rome in 2011.
One of them, Guo Xijin, said at the weekend he would "obey Rome's decision" and respect any deal struck between the Beijing and Vatican authorities. Guo and the second bishop, Zhuang Jianjian, are under police surveillance and Guo has been repeatedly detained, including for 20 days last year.
The issue of bishop appointments is at the centre of efforts to restore Vatican-Chinese relations, which were officially severed after the foundation of the Communist state in 1949.
There are an estimated 10 to 12 million Catholics in China, with about half worshipping in underground churches, and half in government-managed churches.
The Chinese government has appointed seven bishops, who are not recognised by Rome. Up to 40 Rome-backed underground bishops operate without Chinese government approval.
Negotiations to restore ties between the two powers opened more than 18 months ago, but the issue of bishops has been a major stumbling block.
Last year the Chinese president, Xi Jinping, told the Communist party congress that religions in China "must be Chinese in orientation", and the government must "provide active guidance to religions so that they can adapt themselves to socialist society".
New regulations came into force on 1 February specifying the types of religious organisations that can exist, where they can exist and the activities they can organise.
There has been a crackdown on burgeoning evangelical Protestant churches, with many being forced to remove crosses and ordered to disband.
According to the Catholic leaders' open letter, "the Communist party in China, under the leadership of Xi Jinping, has repeated

World Politics
United States
The concept of 'innocent until proven guilty' only matters to men like Trump when the accused are his white male friends alleged to have abused women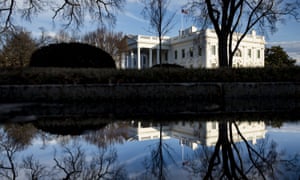 'Trump isn't the only high-profile man whose career has thrived despite accusations of harming women.' Photograph: Anadolu Agency/Getty Images
I

n a fascinating 180-degree turn, Donald Trump is suddenly concerned with due process and the presumption of innocence.
"Peoples lives are being shattered and destroyed by a mere allegation," the president tweeted on Saturday. "Some are true and some are false. Some are old and some are new. There is no recovery for someone falsely accused – life and career are gone. Is there no such thing any longer as Due Process?"
This distress over lives impeded by allegations of wrongdoing is particularly fascinating coming from a man who campaigned on the promise of imprisoning his political opponent and chants of "lock her up," despite multiple investigations of Hillary Clinton yielding no criminal offenses; Trump is also notorious for taking out full-page ads in New York newspapers demanding the death penalty for five young men accused of raping a woman in Central Park.
The ads were published before a jury of the boys' peers had found them guilty, and Trump has refused to apologize even years after they were acquitted following their wrongful conviction. Those men's lives were actually ruined by a failure of due process and a bloodthirsty public, and Trump had a hand in it, but they have merited nary a tweet.
The Fifth Amendment to the United States Constitution promises that "No person shall be deprived of life, liberty or property without due process of law." This, and the presumption of innocence, are crucial norms in the American criminal justice system.
But they don't mean that women can't speak about their experiences outside of a court of law, or that employers can't make their own findings of wrongdoing and levy appropriate consequences. And indeed, no prominent publicly accused men have been killed, imprisoned or had their property confiscated by the state without civil or criminal trials.
This is crucial: "Due process" does not mean freedom from consequences absent a criminal conviction. It is a limit on state action, not private employers or the press, and it means that an accused person has a right to a fair process, and a right to defend themselves in a court of law.
None of that was compromised when Rob Porter's ex wives spoke to the FBI about his alleged abuse, the allegations of which Porter has denied. Nor was due process compromised when journalists reported their well-documented accusations; nor is due process compromised when an employer launches their own investigation and determines that an employee's bad behavior warrants dismissal.
In fact, employees who are terminated can themselves bring civil actions against their employer if they believe the termination was wrongful. Doing so, though, would open them up to discovery related to the underlying claim – lawyers would be able to dig into the veracity and the details surrounding the cause for their firing.
The same is true for making false accusations; in some cases that's a crime, and in others, the falsely accused can sue for damages. But those suits, too, involve digging into the claim itself, and lots of airing of dirty laundry.
Men like Porter (who, for the record, resigned) seem to not want to open themselves up to that kind of full investigation. Certainly that's their right, and we shouldn't impute guilt from an individual's hesitance to bring a lawsuit, but it is a count against the claim that, as Trump put it, "There is no recovery for someone falsely accused." There are very clear channels for recovery for someone who is falsely accused.
Nor is it the case that men's lives are being ruined by accusations of sexual harassment, assault, or domestic violence. Donald Trump should know: he is sitting in the White House despite being accused of all three.
Two dozen women have accused him of assault. In their divorce proceedings, his ex wife Ivana detailed a brutal attack wherein Trump allegedly tore our clumps of her hair because his own scalp surgery left him in pain and then raped her (she has since walked back the rape claim).
Trump isn't the only high-profile man whose career has thrived despite accusations of harming women. Steve Bannon was hired into the Trump administration despite being charged with domestic violence (the charges were later dropped due to witness unavailability), and his departure had nothing to do with those claims.
Rob Porter, whose resignation seemed to spur Trump's tweet, was also hired into the Trump White House despite the allegations of abuse and his difficultly in getting a permanent security clearance. That he's only paying a professional penalty now, in the face of multiple women leveling accusations (one armed with a photo of her blackened eye, the other with a protective order), hardly suggests that his career and life was been ruined by unfounded allegations. To the contrary, leaders in the Mormon Church discouraged Porter's wives from coming forward, lest they hurt his career prospects.
What these stories tell us is the degree to which men can hurt women and suffer virtually no penalties, and certainly not criminal ones. Look at the long list of men recently accused not just of harassment, but of assault and intimate partner violence, from Rob Porter to Harvey Weinstein: how many spent a day in jail? How many were instead actively protected by their friends, colleagues, lawyers and churches?

Trump's plan would threaten endangered species or fragile habitats with limits for environmental reviews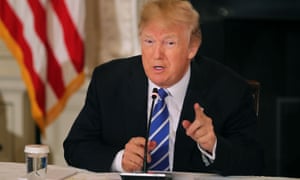 President Donald Trump unveiled his infrastructure plan on Monday. Photograph: Chip Somodevilla/Getty Images
The Trump administration is attempting to speed up or even sweep away various environmental reviews in its plan to fix America's crumbling infrastructure and construct a wall along the border with Mexico.
The White House's infrastructure plan targets what it calls "inefficiencies" in the approval of roads, bridges, airports and other projects. It proposes a 21-month limit for environmental reviews of projects that potentially threaten endangered species or fragile habitats, along with curbs on federal agencies' ability to raise objections to new construction.
In a meeting with state and local officials on Monday, Trump said "we're going to get your permits very quickly." The president, who mentioned he was able to push through the building of an ice rink in New York's Central Park within a few months, said he will "speed the permit approval process from 10 years to two years, and maybe even to one year."
The campaign to fast-track development over concerns has been picked up by Trump's lieutenants. Scott Pruitt, the administrator of the Environmental Protection Agency, has attempted to quicken the pace even further, telling the same group that the EPA will "process every permit, up or down, within six months" by the end of 2018.
The administration has sought to completely cast aside environmental considerations when it comes to its controversial border wall. It recently acquired a waiver for the third time in order to speed construction of 20 miles of the wall in New Mexico, and Trump has rescinded an Obama-era rule that demanded officials consider sea level rise and other climate change factors in federally-funded projects.
Environmentalists have warned that Trump's agenda will place extra pressure on endangered species and risk exacerbating hazards, such as flooding, by failing to factor climate change.
A recent report by the Center for Biological Diversity found that the border wall risks the habitat of dozens of species, including the arroyo toad, the Peninsular bighorn sheep and the jaguar, which was once driven out of the south-western US but has been spotted again in recent years due to the northward migration from a group located around 100 miles south of the border in Sonora, Mexico.
A coalition of conservation groups said Americans are "overwhelmingly opposed" to any sidestepping of the Endangered Species Act, Clean Water Act or National Environmental Policy Act.
"President Trump's dangerous proposal would hand out massive subsidies for wealthy developers to build roads and bridges without any regard to the impacts of hurricanes, fires, or rising seas," the groups said in a joint statement.
"By rubber stamping permits for corporations to build oil pipelines, dams, and toxic waste dumps, gutting environmental and labor laws, and severely limiting the public's ability to hold government accountable will only make our communities, and our nation, a more dangerous place."
Meanwhile, the White House's 2019 budget proposal has outlined slashing the Environmental Protection Agency's funding by a third and cutting the department of the the interior's budget by 16%. Congress has the ultimate say on the nation's budget, however, and it is unlikely lawmakers will enact to such deep budget reductions.
Read Full Article>>

A heartwarming image of a gorilla in the arms of her rescuer won this year's award, after 20,000 nature fans voted on a shortlist of 24 images
Finalist: Warm embrace
When polar bear mothers and cubs emerge from their dens in spring, the cubs stay close to their mothers for warmth and protection. Once the cubs are strong and confident, they make the trek to the sea ice with their mother so that she can resume hunting for seals. Debra waited six days near the den of this family, in Wapusk national park, Canada, before they finally emerged. In the most challenging conditions she has ever faced, temperatures ranged from -35C to -55C with high winds, making it almost impossible to avoid frostbite and keep her camera gear functioning
Photograph: Debra Garside/Natural History Museum