18 May
News and Analyses, A Foreign Perspective
Nearly all of these are English-edition daily newspapers. These sites have interesting editorials and essays, and many have links to other good news sources. We try to limit this list to those sites which are regularly updated, reliable, with a high percentage of "up" time.
Sea otters, an African forest elephant and endangered Francois' langurs are among this week's pick of images from the natural world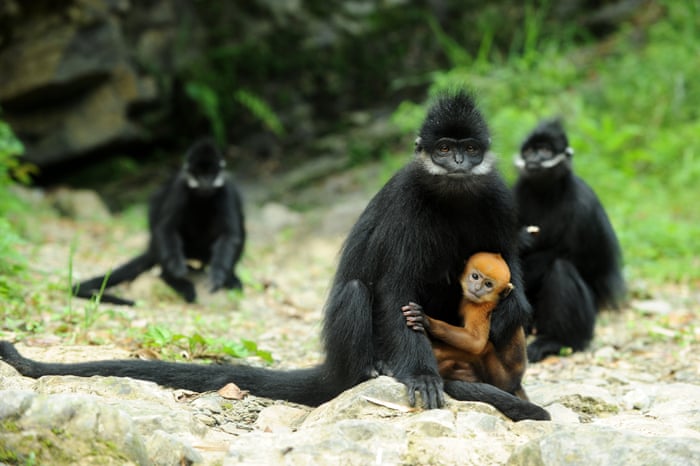 Endangered Francois' langurs monkeys at the Mayang river national nature reserve in Yanhe Tujia, Guizhou, China.
Photograph: Yang Wenbin/Xinhua/Barcroft Images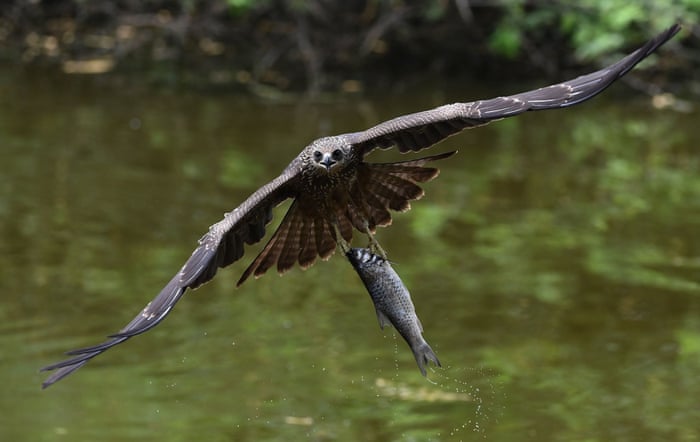 A kite catches a fish from a pond at the Zoological Park in New Delhi, India.
Photograph: Prakash Singh/AFP/Getty Images

Prosecutor opens inquiry into death after passengers claim police fired in attempt to stop van full of refugees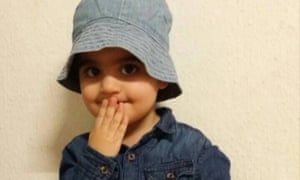 Two-year-old 'Mawda' died in a van carrying refugees after an incident involving armed Belgian police. Photograph: Handout
A two-year-old girl has died after an incident involving armed Belgian police and a van carrying refugees near the city of Mons.
Belgian authorities believe the police were not at fault for the girl's death, Belgian media reported.
"The little girl did not die as a result of police gunfire," said Frédéric Bariseau, a spokesperson at the Tournai prosecutor's office, which is handling the case.
He suggested several possible causes for the girl's death: an illness, an accident inside the van caused by the driver's behaviour, or a blow to the head.
The Belgian prosecutor has opened an investigation into the death of the child.
Officers found the vehicle contained 26 adults, three children and the body of the girl, named "Mawda" according to family friends. She was travelling in the back of the van with her Kurdish-Iraqi parents and three-year-old brother, none of whom were injured. A source told the Guardian that police opened fire on the van in an effort to stop it.
The remaining occupants of the vehicle were arrested at the scene. They are being held at a local police station, where they will be questioned.
It is understood that Mawda was conveyed to a local hospital, where she was pronounced dead. Belgian authorities said an autopsy would be carried out on Thursday.
A judicial inquiry has started and statements relating to the incident from the prosecutor in charge of the case and the police are also expected on Thursday. The inquiry will investigate the circumstances surrounding the incident, and seek to establish whether police action was linked to her death.
Sources said Mawda and her family are Kurdish refugees who had recently been deported back to Germany but had made their way back to Belgium, where they stayed until they could afford to make their way to the UK.
They said the girl was travelling with her parents and others in a van being driven by alleged "smugglers" to a lorry park in Belgium, where they were to be smuggled on board lorries destined for the UK before the van was intercepted by police.
Police thought the van was behaving suspiciously when it was spotted at about 3am on Thursday morning, on the motorway near the town of Mons, close to the French border. They chased the vehicle, stopping it near the village of Maisières.
Prosecutors are now considering charges, including manslaughter and people trafficking.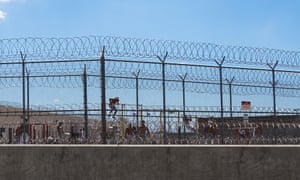 'How convenient and profitable for wealthy private prisons to exploit detained immigrant labor rather than hire regularly waged employees.' Photograph: Gina Ferazzi/LA Times via Getty Images
I

n 2017, officials at the Stewart immigration detention center in Georgia placed Shoaib Ahmed, a 24-year-old immigrant from Bangladesh, in solitary confinement for encouraging fellow workers to stop working.
Ahmed, who was paid 50 cents per hour to work within the facility, was upset because his $20 paycheck was delayed. His punishment was solitary confinement for 10 days, where he was subject to deplorable conditions – a cell with no access to other workers, only an hour of out of cell time per day and showers only three times per week. Detailing the impact that severe isolation has had on his mental health, Ahmed said: "I think the segregation will kill me."
Stewart is operated by the largest prison corporation in the US, CoreCivic (formerly Corrections Corporation of America), under a contract with Immigration and Customs Enforcement (Ice). The corporation's net income last year was $178m.
Ahmed's experience mirrors that of a growing number of detained immigrants at facilities across the US who are subjected to forced labor.
In April, we filed a lawsuit on behalf of Shoaib Ahmed and others against CoreCivic, alleging that the prison corporation violates human trafficking laws and employs a deprivation scheme to force immigrants detained at Stewart to work for sub-minimum wages, and then threatens to punish them for refusing to work through solitary confinement or loss of access to necessities. A lawsuit against Geo Group, another prison corporation, is moving forward for using similar practices at the Aurora Detention Center in Colorado, violating the Trafficking Victims Protection Act.
Stewart relies on the labor of detained immigrants to keep the cooking and cleaning and other basic operations going. How convenient and profitable for the largest and wealthiest prison corporation to exploit detained immigrant labor rather than hire regularly waged employees.
CoreCivic's abuse and exploitation of detained immigrants' labor as part of its profit-making schemes constitute a contemporary form of slavery as we detailed in a submission to the UN special rapporteur on the human rights of migrants. The International Covenant on Civil and Political Rights (which the US has ratified) states, "slavery … in all [its] forms shall be prohibited," and that no one, including detained immigrants, "shall be required to perform forced or compulsory labor".
Stewart employs a deprivation system in which officials provide immigrants with inadequate food and basic living supplies and require immigrants to purchase them at exorbitant costs at the commissary. While officials portray the labor program as "voluntary" in light of the 13th amendment of the US constitution, detained immigrants are often penalized for refusing to work. Officials at Stewart take advantage of immigrants for cheap labor and overuse solitary confinement to punish immigrants, oftentimes for the mere act of speaking up and demanding their rights, as happened to Shoaib Ahmed.
CoreCivic's exploitation of detained immigrants' labor as part of its profit-making constitutes a modern form of slavery
Adding to the deprivation system, Stewart officials enforce unreasonably strict eating schedules and provide immigrants with inadequate food portions, forcing many immigrants to purchase additional food from overpriced commissaries, as detailed in a report released last year. Almost all immigrants detained at Stewart say they are given insufficient food. As one detained immigrant from Mexico stated: "I believe the reason why the facility gives the detainees so little food is so we will have to buy food from the commissary. Everything in the commissary is expensive. I spend $80 a week, $320 a month, in the commissary."
None of this bothered a group of 18 Republican lawmakers including three from Georgia who sent a letter to Jeff Sessions, Ice, and the Department of Labor asking them to help the private prison company Geo Group defend itself against the lawsuits. They actually alleged that the labor programs are good for the detained individuals as they "reduce the negative impact of confinement through decreased idleness, improved morale, and [lead to] fewer disciplinary incidents".
Improved morale? Shoaib Ahmed, who has since been deported and still suffers from psychological trauma and distress, would beg to differ.
These legislators' support for the prison corporations perhaps should not come as a surprise. CoreCivic gave $295,642 in federal political contributions during the 2016 election cycle. Ninety-six percent of that money went to Republicans, including Lamar Smith of Texas, one of the signatories of the letter.
Private prison companies contributed $1.6m during the 2016 federal election cycle.

It is not yet clear if Pope Francis will accept resignations of 34 bishops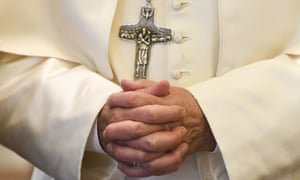 The scandal has damaged the credibility of the church in Chile. Photograph: Vincenzo Pinto/AP
All 34 Chilean bishops who attended a crisis meeting this week with Pope Francis about the cover-up of sexual abuse in their country have offered to resign.
It was not immediately clear if the pontiff would accept all or any of the resignations.
"We have put our positions in the hands of the Holy Father and will leave it to him to decide freely for each of us," the bishops said in a statement, in which they also apologised to Chile, the victims of abuse and the pope.
The scandal has damaged the credibility of the church in the once staunchly Catholic country. It has also hurt the pope's image because this year he strongly defended a bishop accused in the alleged cover-up before reversing his position.
This week's meeting followed a Vatican investigation into Bishop Juan Barros, who was appointed by the pope in 2015 despite allegations that he had covered up sexual abuse of minors by his mentor, Father Fernando Karadima.
Now 87 and living in a nursing home in Chile, Karadima has always denied the allegations. Barros has said he was unaware of any wrongdoing.
The Vatican on Friday confirmed Chilean media reports that the pope had handed the bishops a document this week accusing them of destroying evidence of sex crimes and failing to protect children.

World Politics
United States
Microsoft co-founder tells foundation meeting it was 'kind of scary' how much Trump knew about what Gates' daughter looked like
Bill Gates said Donald Trump once left an event before returning 20 minutes later in a helicopter, presumably in order to make a 'grand entrance'. Composite: AFP/AP
Bill Gates, the billionaire entrepreneur and philanthropist, has claimed Donald Trump twice asked him the difference between HIV and HPV and knew a "scary" amount about Gates's daughter's looks.
The remarks were recorded at a recent Bill & Melinda Gates Foundation meeting, where Gates took questions from staff, according to MSNBC's All in with Chris Hayes show, which broadcast the footage on Thursday.
Gates told the audience how Trump had encountered his daughter Jennifer, now 22, at a horse show in Florida. "And then about 20 minutes later he flew in on a helicopter to the same place," the Microsoft co-founder said. "So clearly he had been driven away but he wanted to make a grand entrance in a helicopter."
Gates himself met Trump for the first time in New York in December 2016, he recalled: "So when I first talked to him it was actually kind of scary how much he knew about my daughter's appearance. Melinda [Gates's wife] didn't like that too well."
They met again in March last year at the White House. Gates continued: "In both of those two meetings, he asked me if vaccines weren't a bad thing because he was considering a commission to look into ill-effects of vaccines and somebody – I think it was Robert Kennedy Jr – was advising him that vaccines were causing bad things. And I said no, that's a dead end, that would be a bad thing, don't do that.
"Both times he wanted to know if there was a difference between HIV and HPV so I was able to explain that those are rarely confused with each other."
Trump since appears to have abandoned plans to investigate debunked theories linking childhood immunisations and autism. Robert F Kennedy Jr told the Guardian earlier this year that parents and children's health advocates felt "enormous betrayal and disappointment" at the decision.
The UK's National Health Service website lists "What's the difference between HPV and HIV?" as one of its common health questions. It says: "Human papilloma virus (HPV) affects the skin and moist membranes. HPV can cause problems such as verrucas, genital warts and abnormal cell changes in the cervix.
"Human immunodeficiency virus (HIV) attacks the immune system. HIV infection can lead to Aids; however, with early diagnosis and treatment, most people don't go on to develop Aids."
Gates is hardly known for his comic timing but he frequently prompted laughter from the audience at the foundation event. In one anecdote he said: "When I walked in, his first sentence kind of threw me off. He said: 'Trump hears that you don't like what Trump is doing.' And I thought, 'Wow, but you're Trump.' I didn't know the third-party form was always expected. 'Gates says that Gates knows that you're not doing things right.'"
Trump has a now-familiar verbal tic of referring to himself in the third person.
Hayes said his show had sought comment from the Gates Foundation but has not yet received a response. Tara Dowdell, Democratic strategist, told the MSNBC host: "We're looking at a president that doesn't know the difference between HIV and HPV but he has memorised Bill Gates' daughter's appearance.