18 Feb
News and Analyses, A Foreign Perspective
Nearly all of these are English-edition daily newspapers. These sites have interesting editorials and essays, and many have links to other good news sources. We try to limit this list to those sites which are regularly updated, reliable, with a high percentage of "up" time.

In China, the authorities go to great lengths to control civil society, even resorting to forced disappearances. Since President Xi Jinping came to power in 2013, political opponents have gone missing every month. Sometimes without any form of judicial process, they are sent to secret prisons where they remain locked up for months or even years, without anyone ever finding out what happened to them. FRANCE 24 investigates China's forced disappearances.
On July 9, 2015, nearly 300 lawyers and human rights activists were arrested, interrogated and imprisoned in China. Some ended up in "black jails": untraceable places, completely cut off from the outside world, where they were detained in secret.
This massive purge, targeting all those who denounced and challenged the authoritarian excesses of the Chinese Communist Party, was called the "709 incident". According to some experts, it was Beijing's worst crackdown on civil society since the Tiananmen Square massacre on June 4, 1989.
Since then, some of the "709 incident" activists have been released, but other dissidents have faced the ire of the Chinese authorities, sometimes even beyond its borders.
After a three-month investigation, several victims of these purges, family members of those missing and some of the few remaining pro-democracy activists in China agreed to speak to us on camera. They recounted the abductions, harassment and torture that they have been subjected to.
FRANCE 24 brings you the harrowing story of the missing people and activists that Xi Jinping's China is so keen to silence.


Survivors of the Florida attack have grown up in a world where school shootings are the norm, and they want a different future
'How about we stop blaming the victims?': Florida shooting survivors speak at anti-gun rally – video
U

nsure whether he would be a victim or survivor of the mass shooting taking place outside his Florida classroom, 14-year-old Aidan Minoff sent an eight-word tweet.
"I am in a school shooting right now … " Aidan said, before the world knew the day would end with 17 students and teachers dead.
Tens of thousands of people locked onto Aidan's feed for the next 86 minutes, where he posted messages from the linoleum floor of his classroom, amid a forest of metal desk legs.
When the carnage ended, Aidan, and other teenagers who survived the attack, faced the cold lens of news cameras, not knowing the fate of all their friends and teachers, but they were sure about one thing.
It was about guns. Guns give these disgusting people the ability to kill other human beings

Carly Novell, shooting survivor
Solutions must be found to tackle US gun violence crisis. "How are we allowed to buy guns at the age of 18 or 19? That's something we shouldn't be able to do," Lyliah Skinner, who survived the shooting, told CNN.
"We're children," David Hogg, a 17-year-old survivor, said. "You guys are the adults. You need to take some action and play a role. Work together. Come over your politics and get something done."
Amid the ritual cycle of despair of congressional inaction on gun violence, these powerful young voices have increased the pressure on politicians only offering "thoughts and prayers".
There is talk of the post-Columbine generation.
These Marjory Stoneman Douglas high school students were all born shortly after the 1999 shooting at Columbine high school in Colorado – which is no longer in the top 10 most fatal mass shootings in the US. They've lived through active-shooter drills at school and have seen the introduction of bullet-proof backpacks in child-friendly bright colors and funky patterns. They have instant access on the internet to the brutal facts and footage of mass shootings in the US – the five most deadly of which took place in the 10-year period from 2007 to 2017.
They have also seen lawmakers fail to stop this from happening even after 192 people and five perpetrators were killed in those five shootings at a music festival, nightclub, church, university and elementary school.
At a federal courthouse in Fort Lauderdale on Saturday afternoon, Stoneman Douglas students took the stage at an anti-gun rally.
Teenager Emma Gonzalez delivered an impassioned speech, holding back tears and challenging the argument that something other than stricter gun laws could have prevented the attack.
"We need to pay attention to the fact that this isn't just a mental health issue," said Gonzalez. "He wouldn't have harmed that many students with a knife."
The failure of US gun laws was obvious when it emerged on Friday that 19-year-old Nikolas Cruz, who was named as the gunman and charged with 17 counts of premeditated murder, had legally bought the AR-15 semi-automatic assault rifle and ammunition used in the shooting at a tactical supply store in Coral Springs after passing a background check. The FBI also admitted on Friday it failed to investigate a specific report in January that Cruz, a former Stoneman Douglas student, could be plotting a school shooting.
And in the 48 hours following Cruz's arrest on Wednesday, schools across the country cancelled class in response to copycat threats. Some students were arrested on suspicion of planning to carry out attacks.
During a funeral Friday for 18-year-old Meadow Pollack, her father looked at his daughter's coffin and screamed as Florida's governor Rick Scott and 1,000 others looked on. "Our kids should be safe," Andrew Pollack said.
The Stoneman Douglas students have joined the more than 150,000 students attending at least 170 primary or secondary schools who have experienced a shooting on campus since Columbine, according to a Washington Post analysis. It is a conservative calculation that does not include dozens of suicides, accidents and after-school assaults.
Hogg, a student journalist, said he interviewed people while the shooting took place. "I recorded those videos because I didn't know if I was going to survive," he told the New York Times. "But I knew that if those videos survived, they would echo on and tell the story. And that story would be one that would change things, I hoped. And that would be my legacy."
I knew that if those videos survived, they would echo on and tell the story

David Hogg, shooting survivor
Cameron Kasky, a 17-year-old Stoneman Douglas high student, created a "Never Again" Facebook page for his peers and the community to press for action. About 50 students at a nearby high school walked-out in protest of the government's failure to respond to gun violence on Friday. And a National Walk Out is planned for the 20th anniversary of Columbine on 20 April.
At South Broward high school, about 30 miles from Stoneman Douglas, student protesters held signs that said: "It could've been us." and "Your silence is killing us."
Student Ianna Seemungal, 17, said she participated in the protest because she was tired of not feeling safe. "We don't deserve this," she said. "We need to be safe. There's nowhere to be safe. … We can't even go to school."
When the Huffington Post asked Ianna if she was worried about being punished for leaving class, she shrugged. "No," Ianna said. "And if I do, it was worth it."
When Donald Trump touched down in Florida on Friday night to meet with victims, first responders and doctors, students and the community continued to press for a response.
"I don't want Trump to come but we want more gun safety," said 18-year-old student Kevin Trejos. "It's a dream. It hasn't hit me yet."
The National Rifle Association (NRA) spent more than $30m in 2016 to support Trump's presidential campaign. During the visit, Trump did not respond to a question about whether gun laws need to be changed.
While conservatives who oppose strict gun laws traditionally respond by offering "thought and prayers" and encouraging people to not politicize tragedies, student survivors held them to account in the days after the shooting.
The conservative Fox News commentator Tomi Lahren provided the routine response on Twitter, where she said: "Can the left let the families grieve for even 24 hours before they push their anti-gun and anti-gunowner agenda?"
Carly Novell, a 17-year-old Stoneman Douglas high student, tweeted the cold truth of her experience back at Lahren.
"I was hiding in a closet for 2 hours," Novell said. "It was about guns. You weren't there, you don't know how it felt. Guns give these disgusting people the ability to kill other human beings. This IS about guns and this is about all the people who had their life abruptly ended because of guns."

In 1996, Osvaldo Wuaru and his family arrived on the outskirts of the vast Munduruku Amazon Territory with a crucial mission: set up a village to hold back the invasion of pariwat (non-indigenous) gold miners. Twenty-one years later, it has all but failed, reports Climate Home News
Fabiano Maisonnave in PV Village for ClimateHome, part of the Guardian Environment Network
Named Watch Post (the Portuguese acronym is PV), the village has been swallowed by the heavy equipment of hundreds of illegal gold miners (called garimpeiros). What was once a few huts hidden in the Amazon forest now resembles a bombed battlefield.
In January, this reporter was the only non-indigenous member of a warrior party sent to PV Village to reclaim it from the miners. The expedition navigated the entire 226km length of the Tropas River.
For the Munduruku, the Tropas is now a dead river, muddy and toxic with mercury. Around PV Village, the waters are lined by strips of barren land, fallen trees, huge holes dug by excavators, scattered huts and unpaved roads used by motorcycles, tractors and quadbikes.
"Game used to be very easy here – pig, deer, tapir. But it is all gone due to the machines and pollution. Now, only one stream still has fish, but they are all sick from mercury", said 70-year-old Chief Osvaldo, in a conversation inside his hut, which remains in the village. "This damage will remain forever."
There is even an airstrip, where single-engined aeroplanes make around 10 flights a day to Creporizão town, 25 minutes away. The air bridge transports fuel, food, liquor, illegal drugs, mechanical parts, mercury, sex workers, merchants – and a lot of gold.
Despite the industrial scale, the whole process is illegal. According to Brazilian law, mining in indigenous lands is a federal crime. In practice, though, large swaths of the Amazon, including federal protected areas, have increasingly become stateless zones dominated by gold, land-grabbers and criminal timber rings.
The direct impact of mining on Brazil's out-of-control deforestation is small in comparison to clearing for pasture, but it is not negligible and is increasing. Between 2016 and 2017, the number of illegal mines discovered in the forest by the official radar monitoring system rose from 382 to 949.
The Tapajós basin, one of Brazil's largest gold reserves, is now a hotspot for deforestation. Federal police and environmental agents are outnumbered and hampered by budget restraints.
Whole cities' economies now depend on illegal, environmentally-damaging activities, capturing local politics and gaining social acceptance. Itaituba, a city of 98,000 people, elected a former gold miner as mayor. It even has a "gold street", where the metal is sold openly despite its illegal origin.
The result is a breakdown between federal and local enforcement. When illegal garimpeiros burned two government environmental offices to the ground in Humaitá, state governor Amazonino Mendes sided with the miners.
In indigenous lands, the void left by the state is even more dramatic. In the 23,820 square kilometre Munduruku indigenous territory, which is the size of Belize, Brazil's federal indigenous bureau Funai maintains only one employee.
With no allies, the Munduruku have decided to take matters into their own hands. On 17 January this year, they published a manifesto that said PV Village "no longer exists" and announced a warrior expedition to "arrest and expel all pariwat from our land" and "destroy all mining machinery". This followed a decision taken during the people's general assembly, last year.
A few days later, a six-boat party of bow-and-arrow armed warriors, leaders such as the Munduruku chief Arnaldo Kaba and several children left for PV Village. Authorised by the leadership, Climate Home News joined the group. Funai's representative refused to go, citing a lack of security.
As the boats moved upstream, the water changed from light brown to the colour of thick mud. The expedition passed many Munduruku villages. Locals reported they had stopped fishing and drinking from the river about four years ago.
At the tributary of the Caburuá, clear dark water feeds into the brown Tropas, a shocking contrast. Biyom Saw, a 29-year-old Munduruku female warrior who travelled with her baby son, blamed the pariwat for the contaminated water. "We can't fish, and the children are hungry. If we bathe in the river, rashes appear."
The final hours of the journey to PV Village run along a river that is thick, lifeless and brown. All around, the forest is cleared to give the garimpeiros access to the soil and gold beneath. Some of the craters are several meters deep, and the old ones fill with muddy, poisoned water.
Along the river, garimpeiros work with excavators, stand outside huts or drive around. "It looks like a city," said Ana Poxo, one of the expedition leaders, whose village is a two-day boat trip away.
At PV Village, about 60 gold miners live alongside 15 remaining Munduruku families. They have turned the one-room public school into a dormitory. Many more live in shanties scattered through the forest. Chief Osvaldo said that after a few previous attempts to enter the Munduruku indigenous territory, the garimpeiros struck deals with some local leaders. Soon, dozens of pariwat arrived and took control of the territory.
Now, in this once remote corner of the Amazon, there are food stores, a brothel and liquor joints. One of them, Osvaldo explained, is run by his eldest son, who also allows the miners to explore for gold.
Osvaldo expressed disapproval of his son's choices. "My son forced his 8-year-son to drink. The child got drunk. He should apologise to everybody for this," he said.
With the arrival of the expedition party, the Munduruku warriors tried to reestablish authority over the village. Some 40 of them went to the small businesses, inspected them in search of drugs and alcohol and ordered them to close. At a meeting in the village centre, the Munduruku's chief Kaba demanded the miners leave.
"The Tropas river is dead", he told dozens of garimpeiros. "I didn't see even a butterfly crossing it." The garimpeiros took his people's gold and contaminated their water with mercury, he says. "You have to go. It's not me who is expelling you, it's our people. I don't order anything, it's the people."

World Politics
United States
From scorning immigrants to accepting the president's profanity, evangelicals are proving just how flexible their values can be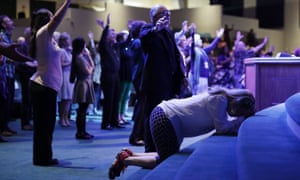 Worshippers pray at the International Church of Las Vegas before the arrival of Donald Trump during a campaign event in 2016. Photograph: Chip Somodevilla/Getty Images
T

he religious right's wholesale embrace of the Republican party and of Donald J Trump, both as candidate and as president, has necessitated a rewriting of evangelical ethics. Here's a summary, with annotations.
Lying is all right as long as it serves a higher purpose
Yes, we know all about that business about not bearing false witness in the Ten Commandments, but that was a very long time ago. Can't we get beyond that? Truth and truthiness are overrated. After all, did it really matter that the "birther" nonsense was hokum? Not at all. It enraged those godless liberals and launched our brother in Christ Donald Trump toward the presidency.
And all those websites fact-checking our president, claiming that he told more than 2,000 lies his first year in office? Big deal. He's also pro-life, and he's trying to root out transgender folks in the military, so cut the guy some slack. Besides, that same website that tracks lying concluded that Barack Obama told 28 lies during his two terms in office. So there. (Democrats are such hypocrites!)
It's no problem to be married more than, well, twice
Let's be clear here. We're not talking about polygamy (sorry, Mitt), only serial marriages. This revision has been a long time in the making. Yes, Jesus said: "Anyone who divorces his wife and marries another commits adultery, and whoever marries a woman divorced from her husband commits adultery." Through the 1970s, we evangelicals ostracized anyone who was divorced, let alone divorced and remarried. But then we decided to ditch a family man (and fellow evangelical) in favor of a divorced and remarried Hollywood actor in 1980. Once that barrier was breached, we concluded that, hey, if two marriages are okay, why not three?
Immigrants are scum
We grant that Jesus said something about welcoming the stranger and feeding the hungry. And Leviticus says: "The alien who resides with you shall be to you as the citizen among you; you shall love the alien as yourself." But our careful study of scriptural texts has led us to conclude that the almighty had Norwegians in mind, not Mexicans or Salvadorans.
Vulgarity is a sign of strength and resolve
The president's scatological comments about Haiti and African nations provided a welcome relief to the rhetoric of those coddling the so-called Dreamers. As Robert Jeffress, pastor of First Baptist Church in Dallas, noted, Brother Trump was "right on target".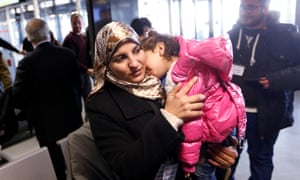 A Syrian refugee with her child. Photograph: Anadolu Agency/Getty Images
White lives matter (much more than others)
Our political movement began in the late 1970s in opposition to desegregation (although our sleight of hand to persuade everyone we organized to outlaw abortion was nothing short of, well, miraculous). On racial matters we're also indebted to our colleague Tony Perkins of the Family Research Council, who did business with David Duke, longtime leader of the Ku Klux Klan, way back in 1996.
We took the Trump at his word when he declared the ranks of white supremacists included 'some very fine people'
Perkins also addressed the Council of Conservative Citizens, the "uptown Klan", when he was a state representative in Louisiana. Therefore, we had no problem whatsoever with Steve Bannon or with the president's statement blaming the violence in Charlottesville on "many sides," both the white supremacists and those demonstrating against them. We took the Brother Trump at his word when he declared that the ranks of white supremacists and neo-Nazis included "some very fine people". That's why none of us criticized him. Besides, he wants to jettison the Johnson amendment to allow us to campaign from the pulpit while retaining our tax exemptions.
There's no harm in spending time with porn stars
Once again, we have a precedent: David Vitter, the Republican senator from Louisiana and outspoken champion of "family values" whose phone number appeared in the date book of a Washington madam – and who continued to enjoy our support. Regarding that messy situation with Stormy Daniels, think of the opportunities for the president to share what Franklin Graham calls his "concern for Christian values". We're confident that as details emerge, we'll learn that the Brother Trump was discussing his theological perspectives on human depravity and the second coming.

As our correspondent prepares to leave Russia, he argues that the Russian leader's rule has been dedicated to restoring pride lost in the collapse of the Soviet Union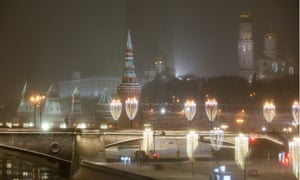 'Part of the response to protests against Putin in 2011 and 2012 was a beautification project designed to make Moscow nicer and distract people from politics.' Photograph: Andrei Makhonin/TASS/Barcroft Images
W

orking on one of my final stories as the Guardian and Observer's Moscow correspondent, I took my seat at the Bolshoi Theatre one evening last December for the premiere of Nureyev. The ballet told the story of superstar dancer Rudolf Nureyev, who defected from the Soviet Union to the west. The premiere had been postponed at the last minute some months previously, partly due to its gay themes. In the interim between the cancelled premiere and the rescheduled one, the ballet's director, Kirill Serebrennikov, known for his risque productions and political activism, had been placed under house arrest on embezzlement charges that most people thought were spurious. He's still there and risks a long jail sentence.
Inside the Bolshoi's gilded, celebrated auditorium, where tsars held their coronation concerts and Lenin and Stalin gave speeches from the stage, the hall was packed with the elite of Vladimir Putin's Moscow. Theatre and television stars mingled with government officials and Putin cronies and they all sat through the powerful staging that dealt with the search for personal and artistic freedom under the oppressive Soviet regime.
It did not require great leaps of thought to transpose the layers of history on to the present day. At the end of the performance, the cast came on stage wearing T-shirts and demanded that Serebrennikov be freed. They were applauded from the stalls by the representatives of the regime that had locked him away. The inspiring but unnerving evening was a distillation of all the things that had first drawn me to Moscow. The coexistence of beauty and horror, hope and despair, glory and absurdity is frustrating yet alluring. Russia gets under your skin.
For me, it's been a particularly long journey. I first set foot on Russian soil as an 18-year-old in January 2000, a few weeks after Putin had first been made acting president by Boris Yeltsin. I leave, all these years later, with Putin about to be re-elected for another term. I'll be back for the World Cup, but after that I'm off for real. Honestly.
A large part of why the region is such a repository of extraordinary stories is the overarching context of the collapse of the Soviet Union. More than a quarter of a century later, the aftershocks can still be felt strongly. Social, political and economic change all came at extraordinary speed back in 1991 and for most people it was not for the better. Every single story I've written from Russia and the other former Soviet countries over the past years has been, at least in part, about the Soviet collapse. Reformatting national ideologies, recalibrating the international geopolitical balance and restoring the psychological makeup of more than 250 million people cannot happen overnight.
I saw the consequences of the Soviet collapse vividly on my first trip to Russia in 2000. Life in the decade since 1991 had progressed along the lines of a particularly implausible episode of a job-swap reality TV show: biochemists were now taxi drivers, market stallholders were CEOs. The criminals became the authorities and those who tried to stand up against them became the criminals. A few people had pilfered all the ladders, leaving the rest to be devoured by snakes.
I spent four months teaching English at a secondary school in Moscow, then several weeks traversing Russia in the third-class platskart carriages of Trans-Siberian trains. These dormitories on wheels puttered across the endless Eurasian landmass, the air inside thick with a blend of sweaty feet, fish lunches and a sooty tang emanating from the coal-fired samovars that dispensed hot water for tea. I remember a palpable sense of confusion with the state of affairs in the new country. A few young business-oriented types saw it as a time of great excitement and opportunity, but most people seemed lost on some kind of existential level – plaintive, overwhelmed and alarmed by the chaos that a decade of "democracy" had brought. Two years earlier, a financial meltdown had meant that millions of Russians lost whatever paltry savings they had managed to put aside.
Public opinion surveys from the time show that the majority of people were unimpressed with the new Russia. At the end of 2000, 75% of people said they regretted that the Soviet Union had collapsed. "Most of the population didn't recognise the Russian Federation as a real thing," I was told much later by Gleb Pavlovsky, an adviser to both Yeltsin and Putin. "They felt like they lived in some kind of strange offshoot of the Soviet Union. We had to ensure the handover, but we also had to create some sense of nation."
This, in the broadest terms, was Putin's mission.
At the end of 2003, I returned to Moscow after studying Russian and Soviet history at university. I worked for an NGO for a year before taking up journalism. The city was slowly becoming more prosperous. Over the next decade, oil prices rose so high that, even allowing for the rampant corruption in Putin's inner circle, money did trickle down and provide real benefits to people in the cities. In Moscow and other major settlements, abject squalor was disappearing from the central streets and a middle class began to develop. With it came coffee shops, wine bars and frequent flights to Europe.
Many of my Moscow friends seemed to live life at a faster, more exciting pace than people I knew in London. It was not unusual to be speaking to someone who ran their own company, had at least one marriage and two children under their belt, and find out that they had not yet turned 30. Unsurprisingly, given the turbulence of the past decades, people tended to live in the moment and nobody thought about savings or pensions. Moscow life was turbulent, unpredictable and extremely fun.
The journalism, too, could be fun. In what other region of the world would a top official mention as an aside during an interview that he had been abducted by aliens in a yellow spaceship? Where but in the former Soviet lands would a journalist get to meet a reclusive billionaire who had for years lived incognito in a glass castle among a collection of exotic pets, before deciding he wanted to become prime minister, and winning? (Those were the leader of the Russian region of Kalmykia and the leader of Georgia, respectively.) Over the years, I've met oligarchs and warlords, shamans and terrorists, mad scientists and musical prodigies. Of course, every corner of the globe is interesting, but I can't help thinking that the former Soviet countries do this combination of depressing, inspiring and bizarre like nowhere else.