20 Feb
News and Analyses, A Foreign Perspective
Nearly all of these are English-edition daily newspapers. These sites have interesting editorials and essays, and many have links to other good news sources. We try to limit this list to those sites which are regularly updated, reliable, with a high percentage of "up" time.


 Source: Scott-Dani Pappalardo/Facebook
Gun owner Scott Pappalardo has destroyed his AR-15 rifle in response to the Marjory Stoneman Douglas high school shooting. Pappalardo posted a video of himself explaining his decision before chopping up the semi-automatic weapon. He asks: 'Is the right to own this weapon more important than someone's life? … I don't think so'

Young people ask 'am I next?' at demonstration against Washington inaction in the wake of Florida attack
Protect kids, not guns: students stage gun reform protest in front of White House – video
Dozens of teenage students lay down on the pavement in front of the White House on Monday to demand presidential action on gun control after 17 people were killed in a school shooting in Florida.
Parent and educators joined the gathering, where protesters held their arms crossed at their chests. Two activists covered themselves with an American flag while another held a sign asking: "Am I next?"
"It's really important to express our anger and the importance of finally trying to make a change and having gun control in America," said Ella Fesler, a 16-year-old high school student from Alexandria, Virginia.
She added: "Every day when I say 'bye' to my parents, I do acknowledge the fact that I could never see my parents again."
Meanwhile, the White House said Donald Trump was supporting an effort to improve background checks on gun buyers.
The US president has been criticised for his tepid response to the shooting and his past vigorous backing of the National Rifle Association (NRA).
The White House press secretary, Sarah Sanders, said Trump had been in talks with the Republican senator John Cornyn and the Democratic senator Chris Murphy about a bill that aimed to strengthen how state and federal governments report crimes that could ban people from buying a firearm.
"The president spoke to Senator Cornyn on Friday about the bipartisan bill he and Senator Murphy introduced to improve federal compliance with criminal background check legislation," Sanders said. "While discussions are ongoing and revisions are being considered, the president is supportive of efforts to improve the federal background check system."
Students, teachers and politicians have urged Trump and the Republican-controlled Congress to act following the shooting at Marjory Stoneman Douglas high school in Parkland, Florida, to prevent a future tragedy.
David Hogg, a 17-year-old student at the school, told NBC's Meet the Press: "You're the president. You're supposed to bring this nation together, not divide us. How dare you."
The bipartisan Cornyn-Murphy bill, announced last November after the mass shooting in Sutherland Springs in Cornyn's home state of Texas, falls well short of what many activists want, but offers Congress a chance to say it is not doing nothing.
It seeks to ensure that federal and state authorities accurately report relevant information, including criminal history, to the National Instant Criminal Background Check System (Nics), the Texas Tribune reported.
"For years, agencies and states haven't complied with the law, failing to upload these critical records without consequence," Cornyn said.
Murphy is one of the most outspoken members of the Senate on gun control. His home state is Connecticut, where a gunman killed 20 students and six teachers at Sandy Hook elementary school in Newtown in 2012.
Michael Hammond of the lobby group Gun Owners of America told the Guardian he believed it would be a "huge mistake" if the Trump administration threw its weight behind the legislation, called the Fix Nics Act.
"We feel that Bonnie and Clyde are basically already in the Nics system, and the incremental names that would be attend as a result of this $625m bribe pot are names that probably shouldn't be in there," Hammond said.
Hammond said it was not yet clear what agreement the administration had made with Cornyn on "cleaning up" the background check system.
"Saying 'revisions to the Fix Nics bill might be needed' suggests to us that Cornyn didn't completely sell him on it. To the extent that the president would consider Fix Nics that would be to us very disappointing. Over the next couple of days, our members are going to be contacting the White House in fairly large numbers to let him know what the exactly problems with this bill are, problems that weren't necessarily communicated to Trump by Cornyn."

Pair suspected of helping telecoms company in return for favourable coverage of PM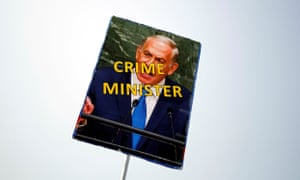 A protester holds a sign during a rally calling upon Benjamin Netanyahu to step down. The Israeli PM has been accused of bribery in two separate cases. Photograph: Amir Cohen/Reuters
Israeli police have named the two close associates of Benjamin Netanyahu who have been arrested for their suspected role in a wide-ranging corruption investigation that has added to the suspicions around the long-time Israeli leader, already accused of bribery in two separate cases.
With an initial gag order lifted, police identified the pair as Nir Hefetz, a former Netanyahu spokesman, and Shlomo Filber, the former director of the communications ministry.
The two are suspected of promoting regulations worth hundreds of millions of dollars to Israel's Bezeq telecommunications company in return for favourable coverage of Netanyahu on a popular subsidiary news site.
Netanyahu, who held the communications portfolio until last year, has not yet been named as a suspect in the case but is expected to be questioned.
Bezeq's controlling shareholder, Shaul Elovitch, is also in custody, along with his wife, son and other top Bezeq executives. Former journalists at the Walla news site have said they were pressured to refrain from negative reporting of Netanyahu.
The prime minister denies any wrongdoing and says the accusations are part of a wider witch-hunt against him by a hostile media.
He is accused of receiving lavish gifts from Hollywood mogul Arnon Milchan and Australian billionaire James Packer. In return, police say Netanyahu had operated on Milchan's behalf on US visa matters, introduced a tax break and connected him with an Indian businessman.
In the second case, Netanyahu is accused of offering a newspaper publisher legislation that would weaken his paper's main rival in return for more favourable coverage.
Netanyahu has long accused the Israeli press of being biased against him.
Related:


Niece of far-right Front National leader Marine Le Pen to address conference after vice-president Mike Pence on Thursday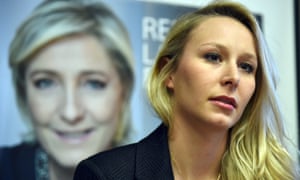 Marion Maréchal-Le Pen against a backdrop of a poster of her aunt, Marine Le Pen. Photograph: Jean-Francois Monier/AFP/Getty Images
Marion Maréchal-Le Pen, the former young star of France's far-right Front National, is to speak at a high-profile US gathering of conservatives and Republicans outside Washington this week, addressing the event shortly after the US vice-president, Mike Pence.
Maréchal-Le Pen – who is more religious and socially conservative than her aunt, the far-right leader Marine Le Pen – has been invited to speak an hour after Pence at the event, the day before Donald Trump appears on the same stage.
The 27-year-old, who a year ago announced she was temporarily withdrawing from politics, will be the second headliner to appear on the first full day of speeches at the annual Conservative Political Action Conference, along with Republican lawmakers, conservative media figures and veterans.
The Brexit champion and former Ukip leader Nigel Farage will also attend after receiving a warm welcome last year, when he praised Trump's "quite remarkable" election victory.
Maréchal-Le Pen, a former member of the French parliament, is the granddaughter of Jean-Marie Le Pen, who co-founded the Front National.
The anti-European, anti-immigration party hit a historic high last year when Marine Le Pen won over 10m votes in the final round of the French presidential election, where she was beaten by the centrist Emmanuel Macron. Marine Le Pen had led a public relations effort to sanitise the party's past association with antisemitism, racism and xenophobia.
Maréchal-Le Pen has been hailed as a rising star by the former Trump White House strategist Steve Bannon. She entered the French parliament in 2012 aged 22 – the youngest MP since the revolution elected on a ticket of opposition to immigration in the south.
Aged two, Maréchal-Le Pen became the poster child of the far right, cuddled by her grandfather in election flyers promising "security" for all.
A Catholic hardliner who was a key figure in France's anti-same-sex marriage demonstrations in 2013, she is not associated with her aunt's social drive aimed at attracting disaffected leftwing voters in de-industrialised areas. Economically she adheres less to her aunt's state interventionism and more to Jean-Marie Le Pen's brand of free-market, free-enterprise capitalism. She is against state-funded abortion and takes a hard line on Islam in France. She is extremely popular with the far-right party's base and believes the party must not soften its image.
Maréchal-Le Pen is seen as a possible future leader and vote-winner for the French far right, but in a party dominated by a rigid family hierarchy centred on the Le Pen family mansion where she grew up, she has not been seen as being in a position to make a power grab from her aunt.
The Washington speech will mark her first return to politics since she withdrew last year and announced that she would not stand again for parliament.
After Marine Le Pen was beaten by Macron in the French presidential election last May, Maréchal-Le Pen said she would step back from politics "for personal and political reasons".
She was said to have focused on learning English over the past year. A far-right media outlet run by one of her closest former advisers suggested her Washington speech would focus on the links between conservatism on both sides of the Atlantic.
Marine Le Pen, who is a member of parliament, has been in difficulty since the presidential election. The party did not win enough parliamentary seats to form its own grouping in the national assembly, its chief strategist, Florian Philippot, quit and the party is the subject of an investigation into allegations it illegally claimed millions of euros from the European parliament to pay for France-based staff.
Marine Le Pen will hold a party congress next month to define the Front National's future in the run-up to European elections, and perhaps change its name.

World Politics
Iceland
Despite its image as a paradise of fairness, women earn less than men. Now Iceland has become the first country in the world to enforce equal pay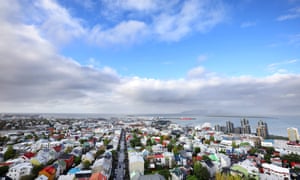 A view over Reykjavik, where female council employees were being paid less than their male counterparts. Photograph: Assja/Getty Images/iStockphoto
O

n the face of it, Iceland is a good place to be a woman. For nearly a decade, it has been rated the world's most gender-equal country. It was the first to directly elect a female president, nearly half its MPs and company directors are women, and first-class daycare and parental leave help ensure almost four in five women have jobs.
So it came as a shock for Fríða Rós Valdimarsdóttir to learn, when she was managing a key team of 10 home carers at Reykjavik council a few years ago, that male colleagues in other departments, with far fewer responsibilities than her, were being paid a great deal more.
"It has been illegal for decades, for jobs that are worth the same, to pay people differently because of gender, but still it happens – it's simply been allowed," says Valdimarsdóttir, who is now the chair of the Icelandic Women's Rights Association, in her bright offices in the country's capital.
Despite an equal pay act that dates back to 1961, Icelandic women still earn, on average, between 14% and 20% less than men. So Valdimarsdóttir and her association were one of many campaign groups to back a plan that finally resulted, last month, in the island becoming the first country in the world to legally enforce equal pay.
Within four years from January 2018, any public or private body in Iceland employing more than 25 people that has not been independently certified as paying equal wages for work of equal value will face daily fines. "The legislation will take some time to bed in, of course," Valdimarsdóttir says. "There will be challenges. But it's possible, and we can do it. Mainly, I'm just so proud we actually made it happen."
Rósa Guðrún Erlingsdóttir, head of the equality unit at Iceland's welfare ministry, says equality "won't come about by itself, from the bottom up alone. Our experience is that you need legislative measures to move things forward. People accept that; we saw it with mandatory quotas for women on company boards. If politicians want to wait until no one opposes it, it will never happen."
Some in Iceland still do oppose it, albeit cautiously. The new law requires employers to show, through certification by an accredited auditor, that their pay management system complies with a national equal pay standard modelled on the international ISO environmental management standards familiar to all companies.
The standard was published in 2012 and welcomed by Iceland's trade unions and employers, who helped design it. Hannes Sigurðsson of the Business Iceland confederation says it was considered sound business sense, likely to "improve a company's image in the eyes of its customers, and make its workforce a whole lot happier".
It was, however, designed to be voluntary. "It was a carrot, win-win," Sigurðsson says. "The government has turned it into a stick."

United States
A cascade of courtroom standoffs are beginning to slow, and even reverse, the EPA rollbacks thanks to the administration's 'disregard for the law'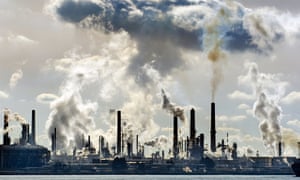 The EPA's pro-fossil fuel agenda has rapidly run into a thicket of legal problems. Photograph: Dennis MacDonald/Alamy
I

n its first year in office, the Trump administration introduced a solitary new environmental rule aimed at protecting the public from pollution. It was aimed not at sooty power plants or emissions-intensive trucks, but dentists.
Every year, dentists fill Americans' tooth cavities with an amalgam that includes mercury. Around 5m tons of mercury, a dangerous toxin that can taint the brain and the nervous system, are washed away from dental offices down drains each year.
In Trump's first day in the White House, the administration told the Environmental Protection Agency (EPA) to withdraw an Obama-era plan that would require dentists to prevent this mercury from getting into waterways. But in June, the rule was unexpectedly enacted.
This apparent change of heart followed legal action filed by green groups, part of a cascade of courtroom standoffs that are starting to slow and even reverse the Trump administration's blitzkrieg of environmental regulations.
"The Trump administration has been sloppy and careless, they've shown significant disrespect for rule of law and courts have called them on it," said Richard Revesz, a professor at the New York University school of law.
"I expect we will see a number of further losses for the administration on similar grounds. If they keep showing the same disregard for the law, their attempt to repeal all these environmental regulations will go badly for them."
The reversal of Obama's environmental legacy has been spearheaded by Scott Pruitt, who heads the EPA, the agency he repeatedly sued as Oklahoma attorney general. Pruitt, who accused Obama of "bending the rule of law" and federal overreach, has overseen the methodical delay or scrapping of dozens of rules curbing pollution from power plants, pesticides and vehicles.
Ironically for Pruitt, who has touted a "back to basics" approach rooted safely within the confines of the law, this rapidly executed agenda has run into a thicket of legal problems, causing the administration to admit defeat in several cases.
In July, a federal court ruled that the EPA couldn't suspend rules designed to curb methane emissions from new oil and gas wells. This was followed by a hasty retreat in August when the EPA agreed to not delay new standards to reduce smog-causing air pollutants, the day after 15 states and environment groups sued.
Then, in December, a federal court told the EPA it couldn't delay a new standard for dangerous levels of lead in paint and dust.