21 Feb
News and Analyses, A Foreign Perspective
Nearly all of these are English-edition daily newspapers. These sites have interesting editorials and essays, and many have links to other good news sources. We try to limit this list to those sites which are regularly updated, reliable, with a high percentage of "up" time.


Trump, Brexit, even Strictly – we focus on anything rather than the bloodletting. That makes us complicit in these atrocities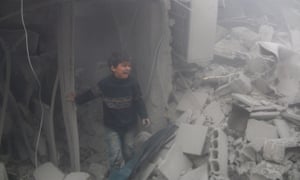 An airstrike by the Assad regime over eastern Goutha, in Damascus. Photograph: Anadolu Agency/Getty Images
A

lmost anything is more interesting than the massacre of civilians in Syria. Just look at today's front pages. The Guardian leads on the slaughter of unarmed residents in the Damascus suburb of eastern Ghouta, but for the rest it's a mix of continuing scandals in international aid charities, the tax record of a newly appointed financial regulator, and Brendan off Strictly having an unauthorised waltz with Camilla.
Against all that, the bloodbath in eastern Ghouta is deemed too dull to compete. Sure, the government of Bashar al-Assad may have pounded the rebel-held area so hard that it killed 194 people in 40 hours, many of them children. It may have targeted seven hospitals in two days, repeatedly hitting medical workers as they sought to rescue the injured and dying. And yes, this may signal the escalation of a siege that has denied supplies to a population of 390,000 for months, squeezing them between bombardment and starvation. All that may be meticulously documented by the UN. But who, if we're honest, gives a damn?
Bodycam footage shows children being rescued from rubble in eastern Ghouta, Syria – video
The Guardian has Syria on the front page today, but there's no moral high ground here for any of us. This bloodletting has gone on for seven years now, and for most of that time most of us – politicians, media, public – have looked the other way.
I look back at some of the things that have exercised me while this murder has continued day after day – at Donald Trump's tweets, say, or the twists and turns of Brexit – and I know I'm part of this global shrug in the face of atrocity.
We should not kid ourselves. This silence of ours is complicity. The absence of noisy outrage has been a signal to Assad: keep on doing what you're doing – no one's going to stop you. If I were him, an occasional uptick in condemnation – with an enlightened Scandinavian denouncing me on the radio, or Unicef issuing a blank statement because "we no longer have the words to describe children's suffering" – would be just fine. Because I would know that this brief flurry of concern would pass, and I would soon be allowed to return to the killing, just so long as I kept the daily numbers at a level everyone could safely ignore.
I would have learned that lesson in April last year, when I crossed the line by using chemical weapons against the civilians of Idlib province, gassing children, and the only consequence was a limited US cruise missile strike on a Syrian airfield. So long as I wasn't too blatant, and kept the murder within agreed limits, I would be left alone.
What explains this global indifference? Partly it's because those of us far away have our own, legitimate preoccupations. Trump and Brexit are not mortal threats on a par with the barrel bombs of Damascus, but they have convulsed America and Britain alike. In recent days, it has not helped that the very aid organisations we might ordinarily expect to sound the alarm about an emergency such as Syria have been shaken by scandal and forced to look inward.
Part of it, surely, is that it has just gone on so long. For seven years we have known that a civil war is raining horror on Syria, and we've got used to it. The sound of Syrian children choking to death has become the background noise of this decade. And, crucially, we don't know what to do about it.
I've written before that one of the consequences of the disastrous Iraq invasion of 2003 was the discrediting of so-called humanitarian interventionism – the belief that sometimes it is right to stop regimes from murdering their own people. With no one calling for intervention, with no public debate about what can be done to stop the slaughter, we soon stop talking about the slaughter altogether. It slips out of view.
But paying attention, making a noise, has value. Perhaps there's no point addressing Assad, or for that matter the rebel groups shelling government-held neighbourhoods of Damascus. But Assad's backers and enablers, the governments of Russia and Iran, are surely not beyond reach. We know from Moscow's intense efforts on Facebook and Twitter, as well as the millions it pours into RT, its TV propaganda channel, that it is, at the very least, sensitive to western opinion.
This war is not winding down. It is not quietly burning itself out. On the contrary, those watching it close up say it is escalating. For Ghouta, Monday was the most lethal day of the last three years. Until now the only message we have sent Russia, Iran and Syria is a silent shrug. If we want the killing to stop, we need to say so.

Israeli media report that Shlomo Filber has made a deal to testify after being arrested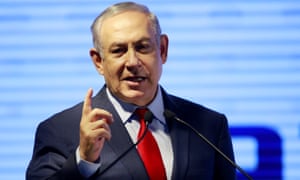 Benjamin Netanyahu has not been named as a suspect, but may soon be questioned. Photograph: Amir Cohen/Reuters
One of Benjamin Netanyahu's closest confidants has turned state witness and agreed to incriminate the prime minister in corruption allegations, Israeli media have reported.
Police would not confirm whether Shlomo Filber would testify against Netanyahu, but all major Israeli media outlets said a deal to do so had been reached.
Filber, the former director of the communications ministry under Netanyahu, was arrested on suspicion of promoting regulations worth hundreds of millions of dollars to the telecommunications company Bezeq. In return, Bezeq's news website Walla! allegedly provided favourable coverage of Netanyahu and his family.
The reports came shortly after an allegation that a different longtime confidant tried to bribe a judge in exchange for dropping a corruption case against Netanyahu's wife.
The prime minister, who was also the communications minister until last year, has not been named as a suspect, although he may soon be questioned. Netanyahu denies all the charges, calling them part of a media witch-hunt, and has vowed to carry on.
Senior cabinet ministers from his ruling Likud party, who until recently dutifully defended him, have largely remained silent. Netanyahu appeared ashen in video released late on Tuesday, when he described the the claims as "total madness".
Aluf Benn, the editor-in-chief of the newspaper Haaretz, said: "These are the final days of Benjamin Netanyahu's rule".
Other leading columnists suggested that if Filber said everything he knew, Netanyahu would probably be more concerned about avoiding prison than staying in office.
Nahum Barnea wrote in the newspaper Yediot Ahronot: "When so many dark clouds accumulate in the sky, the chances of rain increase.
"His appearance lent the fight he is waging the dimensions of a Shakespearean tragedy. This isn't the end. It isn't even the beginning of the end. But it cannot have a different end."
The latest developments come days after police announced that there was sufficient evidence to indict Netanyahu for bribery, fraud and breach of trust in two separate cases.
Avichai Mandelblit, a Netanyahu appointment as attorney general, will make the final decision on whether to file charges, a process that is expected to take several months.
The prime minister is accused of receiving lavish gifts from the Hollywood producer Arnon Milchan and the Australian billionaire James Packer. In return, police say Netanyahu operated on Milchan's behalf on US visa matters, legislated a tax break and connected him with an Indian businessman.
In the second case, Netanyahu is accused of offering a newspaper publisher legislation that would weaken his paper's main rival, in return for more favourable coverage.

World Politics
Italy
Alessandro di Battista, main rival in Italy's election, launches scathing attack on former PM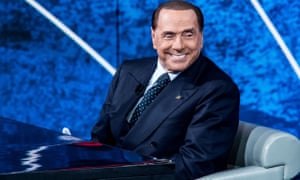 Silvio Berlusconi has been accused of 'making the mafia stronger' in the 1990s. Photograph: AFG/Rex/Shutterstock
Accusations about Silvio Berlusconi's historic ties to a close associate of the Sicilian mafia are being revived by his main political rival as Italy heads into the final stretch of campaigning before the general election on 4 March.
Alessandro di Battista, a top official in the Five Star Movement, asked followers on Twitter to share his scathing takedown of the former prime minister, delivered at a rally earlier this month, in which he cited a court ruling against a former longtime aide to Berlusconi and the founder of Forza Italia, Marcello Dell'Utri, who is in jail because of his ties to the Cosa Nostra.
The attack against Berlusconi's links to organised crime reflect the battle for votes in southern Italy that is under way between his centre-right coalition and the populist Five Star Movement, which has previously won strong support in the south but appears to have lost ground to the former prime minister.
Di Battista accused Berlusconi of "making the mafia stronger" at a time in the 1990s when it was at war with the Italian state and had murdered Giovanni Falcone and Paolo Borsellino, two high-profile judges revered in Sicily.
"You must know that there are millions of Italians who struggle every day, who raise their heads and speak up, who do not forget, who say out loud that the mafia is a mountain of shit and who think that jail is the only place where Mr Berlusconi belongs," Di Battista said.
The statement has revived an issue that has not been widely debated in the Italian election campaign.
Berlusconi has always denied having ties to organised crime. But his entry into politics was guided by Dell'Utri, a man who is now sitting in prison for being an "ambassador" to the Cosa Nostra. Dell'Utri, who was also a longtime business associate of Berlusconi, was arrested in Lebanon in 2014 as a fugitive, having fled Italy a day earlier.
If Berlusconi's coalition – which includes two parties on the far right – were to win the election, the 81-year-old would not be eligible to serve as prime minister because of a previous conviction on tax fraud. But he would have the power to select the country's next prime minister and would have sway over that individual given his position as head of Forza Italia.
Related:

United States
Alex van der Zwaan charged with making false statements to special counsel investigating Trump campaign and its ties to Russia
Alex Van Der Zwaan, who is reportedly married to the daughter of a Russian-Ukrainian oligarch. Photograph: Jim Lo Scalzo/EPA
A lawyer who previously worked with Paul Manafort, Trump's former campaign manager, has pleaded guilty to lying to the FBI, marking another major development in the investigation into possible collusion between the Trump election campaign and the Kremlin.
Alex van der Zwaan, who married the daughter of a Russian-Ukrainian oligarch last year, admitted making false statements in connection to work he did in Ukraine, as part of a plea agreement with the special prosecutor on the Russia investigation, Robert Mueller.
It is unclear how – if at all – the case against Van der Zwaan is connected to the broader question of whether or not the Trump campaign conspired with the Kremlin. But the indictment shows that one focus of the Mueller investigation is Manafort's business dealings with pro-Russia figures in Ukraine prior to becoming Trump's campaign manager in 2016.
According to court documents filed in Washington and made public on Tuesday, Van der Zwaan failed to disclose a series of contacts in September 2016 with Rick Gates, a business associate of Manafort, and a person identified only as Person A, with whom Van der Zwaan spoke in Russia and who was described as a "longtime business associate of Manafort and Gates in Ukraine".
That description appeared to match Konstantin Kilimnik, a former Russian army linguist whom federal prosecutors have "assessed to have ties" with Russian intelligence. Kilimnik ran Manafort's office in Kiev after Manafort left Ukraine in 2014, and continued his work for pro-Russia interests in Ukraine.
The court documents allege that the undisclosed contacts in 2016 concerned work performed four years earlier by the US law firm Van der Zwaan worked for in London – Skadden, Arps, Slate, Meagher & Flom – on behalf of the former pro-Russia Ukrainian government of Viktor Yanukovych. Manafort hired Skadden to defend Yanukovych from western condemnation after the 2011 detention of an opposition leader.
According to the court documents, Gates told Van der Zwaan to contact Person A in September 2016 to discuss impending criminal charges in Ukraine against Manafort, a former Ukrainian minister of justice and "law firm A", an apparent reference to Skadden.
In particular, Van der Zwaan failed to tell prosecutors or his law firm about an email in Russian, dated 12 September 2016, in which Person A asked Van der Zwaan to use an encrypted method to contact him. Prosecutors said the lawyer deleted that and other emails in an effort to cover up his contacts.
Skadden Arps released a statement on Tuesday saying it had fired van der Zwaan last year, but without explaining why, and noting it was cooperating with the authorities.
The latest development reflects the special counsel's determination to prosecute anyone found lying or omitting the truth in the ongoing criminal investigation. Two campaign officials – Michael Flynn and George Papadopoulos – have pleaded guilty to lying to investigators and are now cooperating with the investigation.
Manafort has pleaded not guilty to previous charges that he laundered money in connection to his Ukraine work. The alleged crimes pre-date his work for the Trump campaign. Gates also pleaded not guilty to money laundering charges but has reportedly decided to change his plea to guilty, and agreed to cooperate, in exchange for leniency.
Last year Van der Zwaan married Eva Khan, an art critic and daughter of German Khan, a Russian-Ukrainian billionaire. Khan is one of three people who sued the news website Buzzfeed for publishing a controversial dossier that made unproven claims about the Trump campaign's alleged ties to Russia. Khan, Mikhail Fridman and Petr Aven filed a defamation suit against the media group as representatives of the financial institution Alfa Bank that the dossier alleged was connected to the unproven Trump/Kremlin conspiracy, but without providing any evidence.
There is no evidence however that the criminal charge against Van der Zwaan is related to his family ties.
Last November Trump told reporters that he took Vladimir Putin at his word when the Russian leader denied meddling in the election. "Every time he sees me he says, 'I didn't do that', and I really believe that when he tells me that, he means it," the US president said.
But on Tuesday Sarah Sanders, the White House press secretary, insisted that Trump has never denied Russian interference. She told reporters at the daily briefing: "One of the places where you guys seem to get very confused – and it seems to happen regularly – the president hasn't said that Russian didn't meddle. What he's saying is it didn't have an impact and it certainly wasn't with help from the Trump campaign."

Government loses third court case as judge says approach to tackling pollution in 45 local authority areas is 'not sufficient'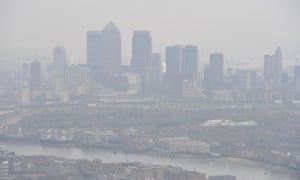 The case is ClientEarth's third legal challenge against plans to reduce illegal levels of nitrogen dioxide. Photograph: Nick Ansell/PA
The government will have to do more to tackle illegal levels of air pollution after a high court judge ruled its current plans are "unlawful".
Mr Justice Garnham told the London court on Wednesday the approach to tackling pollution in 45 local authority areas was "not sufficient".
The ruling is the third victory against the government for environmental lawyers from ClientEarth over proposals for reducing levels of harmful nitrogen dioxide.
The court previously heard that, eight years after the UK was found to be in breach of legal limits on the pollutant, levels were still too high in 37 out of 43 zones across the country.
ClientEarth won two previous rulings against ministers over the levels, forcing the government to draw up new plans last year for reducing nitrogen dioxide, much of which comes from vehicles, to within legal limits.
The measures included £255m to help local authorities come up with ways to improve air quality, and proposals to end the sale of all conventional petrol and diesel cars by 2040.
Its latest case was brought against the environment secretary and the transport secretary, while a claim against the Welsh government was discontinued after it agreed to work with ClientEarth on new proposals.
Mr Justice Garnham said the government's plan was "seriously flawed" in respect of 45 local authority areas which are not expected to reduce pollution to within legal levels until 2021.
He said: "Because the obligation is zone-specific, the fact that each of the 45 local authority areas will achieve compliance in any event by 2021 is of no immediate significance.
"The environment secretary must ensure that, in each of the 45 areas, steps are taken to achieve compliance as soon as possible, by the quickest route possible and by a means that makes that outcome likely."
The judge rejected ClientEarth's case in relation to the government's monitoring and modelling and its plans for five cities, including London, which are not expected to reach compliance until 2028.
He said the Government's approach to the five cities was "sensible, rational and lawful".
ClientEarth lawyer Anna Heslop said: "For the third time in the space of three years, the courts have declared that the government is failing in its obligation to clean up the air in our towns and cities.
"We are delighted that the court has today ordered the government to urgently take further action to fix the dangerous air pollution in our towns and cities.
"The problem was supposed to be cleaned up over eight years ago and yet successive governments have failed to do enough.
"The people who live in areas of the countries covered by this judgment deserve to be able breathe clean air and the government must now do all it can to make that happen quickly."