23 Feb
News and Analyses, A Foreign Perspective
Nearly all of these are English-edition daily newspapers. These sites have interesting editorials and essays, and many have links to other good news sources. We try to limit this list to those sites which are regularly updated, reliable, with a high percentage of "up" time.


Wayne LaPierre spoke at CPAC in the wake of the Florida school shooting, mounting an unrepentant defense of gun rights
'We must immediately harden our schools' says NRA's Wayne LaPierre – video
The head of the powerful National Rifle Association (NRA) has broken his silence more than a week after the Florida school shooting with a vituperative attack on gun control advocates, accusing them of exploiting the tragedy to push their agenda.
Wayne LaPierre, whose lobby group faces an unprecedented challenge from the activism of students, including survivors of the massacre, sought to paint his opponents as "elites" and "socialists" hellbent on undermining Americans' constitutional rights.
"The elites don't care not one whit about America's school system and schoolchildren," he told the Conservative Political Action Conference (CPAC) at the National Harbor in Maryland. "If they truly cared, what they would do is they would protect them. For them, it's not a safety issue, it's a political issue.
"They care more about control, and more of it. Their goal is to eliminate the second amendment and our firearms freedoms so they can eradicate all individual freedoms… They hate the NRA, they hate the second amendment, they hate individual freedom."
Addressing a sympathetic audience of conservative grassroots activists, LaPierre continued: "They fantasise about more laws stopping what other laws have failed to stop. So many existing laws were ignored. They don't care if their laws work or not. They just want to get more laws to get more control over people. But the NRA – the NRA does care."
The massacre of 17 students and staff at Marjory Stoneman Douglas high school in Parkland, Florida, last week was the second deadliest shooting at an American public school and has spurred extraordinary protests across the country. The debate reached a watershed on Wednesday when students and teachers confronted US Senators in a noisy "town hall" event televised live by CNN; there were raucous cheers for the idea of sweeping bans on assault weapons.
LaPierre's name was initially kept off the agenda at the annual CPAC to protect him from media scrutiny. The NRA often prefers to stay out of the spotlight in the wake of a major shooting.
LaPierre sought to put the warnings in the wider context of a "socialist enemy" within, who he said "oppose our fundamental freedoms enshrined in the bill of rights". He claimed that the Communist Manifesto and Karl Marx were ascendent on university campuses, describing socialism as "a political disease".
The NRA chief warned the packed ballroom: "You should be anxious and you should be frightened. If these so-called European socialists take over the House and the Senate and, God forbid, they win the White House again our American freedoms could be lost and our country will be changed forever, and the first to go will be the second amendment to the US constitution" – the right to bear arms.
Pushing the same agenda on school security as Donald Trump, he insisted: "The whole idea from some of our opponents that armed security makes us less safe is completely ridiculous. If that's true, armed security makes us less safe, let's just go ahead and remove it from everywhere."
He continued: "We must immediately harden our schools. Every day young children are being dropped off at schools that are virtually wide open, soft targets for anyone bent on mass murder. It should not be easier for a madman to shoot up a school than a bank or jewellery store or some Hollywood gala.
"Schools should be the hardest target in this country. Evil must be confronted with all necessary force to protect our kids."
He ended his speech, which was met with a standing ovation, by repeating the notorious mantra he had issued after the Sandy Hook school shooting in Newtown, Connecticut, in 2012: "To stop a bad guy with a gun, it takes a good guy with a gun."
In an earlier speech, the NRA's national spokeswoman singled out the media for criticism. Dana Loesch said: "Many in legacy media love mass shootings. You guys love it. Now I'm not saying that you love the tragedy. But I am saying that you love the ratings. Crying white mothers are ratings gold to you."
Under intense public pressure, there has been speculation that Trump might use his credibility with Republicans to take on the NRA, one of his strongest backers. But on Thursday he tweeted full support: "What many people don't understand, or don't want to understand, is that Wayne, Chris [Cox] and the folks who work so hard at the @NRA are Great People and Great American Patriots. They love our Country and will do the right thing. MAKE AMERICA GREAT AGAIN!"
The president reaffirmed his proposal to address school shootings by giving some teachers guns, tweeting that it would be a "great deterrent" to killers. He suggested "a little bit of a bonus" for trained teachers who are armed.
Trump, who held a listening session with students and parents on Wednesday, also said he would advocate for tightening background checks for gun buyers, with an emphasis on mental health, and lifting the age limit to 21 to buy some types of guns – policies less likely to please the powerful pro-gun lobby group.
Many attendees at CPAC expressed support for the idea of arming teachers.
Debi Millman, a fundraiser based in Los Angeles, suggested it was more realistic than restricting a country already awash with guns. "How many millions of them are there? You're never going to be able to keep evil out. A better solution for me is have the schools be able to defend themselves. If criminals know that if they attack a school they'll get their heads blown off, that's a good idea."
Randi Green, a personal trainer from Los Angeles, interjected: "Except for the fact most teachers are liberals and would baulk at the idea."
Green was sceptical about the students at Parkland who had been speaking out. "They're definitely being manipulated," she said. "Everybody has a voice but these are young kids and I don't think they know better than lawmakers. I thought they were very disrespectful in the way they speak to people. I think the parents are rooting them on."

James Debney is a member of the NRA's Golden Ring of Freedom for donating over $1m to fight against gun control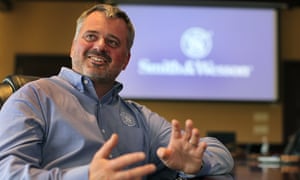 James Debney knew next to nothing about guns when he took the reins at American Outdoor Brands, formerly Smith & Wesson. Photograph: Boston Globe/Boston Globe via Getty Images
A

s CEO of America's second-largest gun manufacturer, James Debney – whose company made the assault rifle used last week to kill 17 people at a high school in Florida – makes $5.3m a year.
A second-amendment proselytizer Debney of American Outdoor Brands (formerly Smith & Wesson), has repeatedly made donations to political action committees opposing gun control in the United States.
Smith and Weston's semi-automatic rifle, the M&P-15 Photograph: Handout
And as a top donor to the National Rifle Association (NRA), Debney wears a distinctive gold blazer with a crest designating his membership in the group's elite Golden Ring of Freedom society, reserved for million-dollar backers.
But that jacket is something of a strange fit, for a British expat with a background in bin liners.
Debney read chemistry at the University of Manchester Institute of Science and Technology in 1989, took a business degree at the Keele University and cut his teeth in consumer goods as a former managing director of Baco consumer products and then president of Presto products, a $500m plastics business.
By his own admission, Debney knew next to nothing about guns when he took the reins at the US gunmaker, which did $900m in sales last year. "It takes a while to understand the business, especially if you're British and have a limited knowledge of firearms to begin with," Debney told the regional business publication BusinessWest in 2012.
Judging by the performance of his company in the last two years, the learning curve may not have been particularly steep.
As president and CEO since 2011, Debney, 50, has led American Outdoor Brands through an awkward rebranding, an underwhelming expansion into outdoor gear and a 66% collapse in stock price since August 2016.
When it hired Debney for the top job, Smith & Wesson calculated that his background expertise in consumer products would apply in the world of gun sales. If you can sell garbage bags, the thinking seemed to be, you can sell guns – at least in the USA.
But thrust under the national spotlight by the country's latest school shooting, Debney is drawing new scrutiny as an expert in plastics extrusion who somehow became one of the United States' most vocal supporters for the NRA, a lobbying group many Americans see as an enabler in the country's mass shooting epidemic.
American Outdoor Brands did not reply to multiple requests by email and phone for comment. A request via an American Outdoor Brands spokesperson to establish whether Debney is a US citizen went unanswered. Nor has the company released a statement on the Parkland, Florida, shooting where one of its M&P-15 weapons was used to bring death to a high school.
In an appearance at the CPAC conservative political action conference Thursday, the NRA chairman, Wayne LaPierre, blamed media and "the elites" for propagating school shootings and presented his group as a last line of defense of "individual freedom".
It's a message Debney has cheered for years.
"The importance of the NRA and its critical role in the protection of second amendment rights in the United States cannot be understated," Debney said at a 2014 event at which he presented LaPierre with a novelty check for $600,000.

World Politics
France
Marion Le Pen's speech at the conference was well received but her attendance also brought controversy as many American conservatives expressed dismay
Far right French politician Marion Maréchal-Le Pen addressed a leading conservative conference outside Washington DC on Thursday as part of growing effort by those on the right to link the rise of Donald Trump in the United States with populist nationalism across Europe.
Maréchal-Le Pen is the granddaughter of Jean-Marie Le Pen, the founder of the far right National Front and the niece of the party's current leader Marine Le Pen. She was elected to represent it in the French National Assembly in 2012 at the age of 22 but has since taken a step back from politics.
Speaking to a crowd of conservative activists that booed every time she mentioned the European Union, Maréchal-Le Pen combined condemnation of the trans-national bloc with attacks on Muslim immigration and old fashioned social conservatism in an effort to link her political efforts against "the domination of the liberals and the socialists" with the election of Trump and the Brexit process in the United Kingdom.
Maréchal-Le Pen claimed French sovereignty was under siege. "France is no longer free today," she proclaimed. "After 1500 years of existence, we now must fight for our independence." She also claimed that after 40 years of mass immigration, Islamist lobbies and political correctness, France was in the process of going "from the eldest daughter of the Catholic Church to the little niece of Islam".
She talked about a global conservative youth that wants to "protect their children from eugenics, the elderly from euthanasia and humanity from transhumanism".
Maréchal-Le Pen's speech was well-received at the Conservative Political Action Conference (CPAC) with occasional shouts of "Vive La France" punctuating her remarks. However, her attendance brought controversy as many American conservatives expressed dismay over her attendance, comparing the National Front to the American alt-right. Former Fox News host Glenn Beck called her "a national socialist".
However, Matt Schlapp, the head of the American Conservative Union that organizes CPAC, has insisted that Maréchal-Le Pen is "a classical liberal", unlike her aunt and others in the National Front.

United States
The US president has called for 'highly adept' teachers to carry guns in response to the Florida school shooting, saying 'you won't have these shootings' if teaching staff are armed. Trump argues that teachers with concealed weapons will turn schools into 'hardened targets'

In recent months, families with relatives in detention have been extorted by scammers demanding cash to stop their loved ones being deported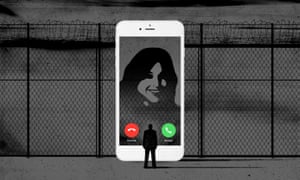 The scammers have cited inexplicably specific details about their targets, making it very difficult not to trust what they say. Illustration: Rob Dobi
Leonel almost missed the first call.
On 17 October last year, the Long Island construction laborer was at work when he felt his cellphone buzz in the pocket of his jeans. Ordinarily, he doesn't answer on the job, but he hoped the call might have something to do with his 21-year-old daughter, Cynthia, whom he hadn't seen in over four years.
He hurried outside on to a deck to get away from the noise.
Six days earlier, federal agents with US Customs and Border Protection had detained Cynthia and her three year-old son as they crossed the Rio Grande into the United States – the culmination of a 1,500 mile journey that began in rural Honduras.
Leonel knew that Cynthia and her son had been transferred to the South Texas Residential Family Center – one of three facilities in the country that detain undocumented women and children – but did not yet know when, or if, they would be released.
He was desperate for news. Back in Honduras, gang members had shot his father in an attempt to steal money from the local water board, which he helped to manage. Cynthia witnessed the crime, and with the gang now threatening to kill her, too, she was forced to join the stream of hundreds of thousands of people from Honduras, Guatemala and El Salvador – the so-called Northern Triangle – who each year flee what the United Nations has deemed an "extraordinary epidemic of violence".
Leonel looked down at his phone. The screen displayed a number he did not recognize, but because the area code began with the same digits – 83 – from which his daughter had recently called, inside the detention center, he was hopeful that he was going to receive an update about the status of her case.
"Alo?" Leonel said.
A man introduced himself as Larry and, in Spanish, asked whether he was speaking with Cynthia's father. Leonel's heart began to flutter. Larry said that he worked with a group of lawyers in immigration services, and that Immigration and Customs Enforcement had recently conducted a lottery that made six people eligible for release from detention.
Larry had good news: Cynthia and her son were among the six who had been chosen. They would be able to leave the detention center within hours, board an airplane for New York, and be home with Leonel, and his wife, Doris, on Long Island, that very night.
Leonel had simply to send $1,000 via wire transfer, to pay for airfare and some miscellaneous fees. Larry said he would call back, in around 30 minutes, with details about the transfer.
As Leonel left work and drove toward his apartment, Larry called with perplexing instructions. He told Leonel to go straight to Western Union and send the money to a woman named Roxana, at an address in Hermosillo, Mexico.
This struck Leonel as odd, and he said so. But Larry assured him that his was a Mexican American firm that dealt with immigration cases on both sides of the border. Later, Leonel admitted that he was "thinking so intently about Cynthia coming home" that he neglected to inquire further.
He sent the money, expecting to see Cynthia, and his grandson, whom he had never met, later that night.
The South Texas Residential Family Center sits atop a former camp for oilfield workers in the remote, sloping scrubland of the Rio Grande Valley. It is managed by CoreCivic, a private prison company, and has the capacity to hold 2,400 immigrant detainees.
Over the past five months, at least 11 families with relatives – all asylum-seeking mothers and children – detained at the facility have been extorted by impersonators who have demanded payment to stop their loved ones being deported.
In total, the victims have paid more than $13,500, none of which has been recovered……………….."Someone is leaking this information," Murdza said. "The evidence we have points toward it being an employee at CBP, Ice or CoreCivic. It would be different if this were a one-off thing. But it's clearly been systematic."
In other words, the perpetrators are likely in contact with, or themselves employees at, the federal agencies or private companies that oversee immigrant detainees.
CoreCivic's director of public affairs, Jonathan Burns, would not respond to a detailed list of questions. In an email, he said, "in deference to our government partner, we encourage you to contact Ice directly regarding your inquiry".
In a written statement, Ice shifted the onus to the detainees. "It is vital that residents understand the importance of safeguarding personally identifiable information. Residents are educated about PII and its importance during town hall meetings and orientations at the family residential centers. Residents should safeguard this information and only share with highly trusted individuals to protect themselves from potential exploitation."

White-tailed sea eagles, a rose-ringed parakeet and an Aldabra giant tortoise are among this week's pick of images from the natural world
Proboscis monkey, Malaysia. Researchers have found that male monkeys with large noses have more females in their harems, proving that size does matter.
Photograph: Ikki Matsuda/PA
Pelicans keep a watchful eye on a fisherman with his catch of whiting at St Johns County Pier, St Augustine, Florida, US.
Photograph: Gregg Newton/Reuters