24 Feb
News and Analyses, A Foreign Perspective
Nearly all of these are English-edition daily newspapers. These sites have interesting editorials and essays, and many have links to other good news sources. We try to limit this list to those sites which are regularly updated, reliable, with a high percentage of "up" time.


 By  | Feb 24, 2018

The action of the G-7 sponsored Financial Action Task Force (FATF)'s just-concluded plenary in Paris of putting Pakistan on the grey list, submitting it to intense scrutiny on terror financing is a shot in the arm for India, which has been facing the brunt of Pakistani financing of terror in Kashmir. That it has been operationalised, thanks to intense US pressure, is an encouraging signal of Indo-US bonding. A last-minute consensus was arrived at after China withdrew its objection to the move. Turkey and Saudi Arabia, which were the other objectors, caved in when they found China not pursuing it. The FATF is an inter-governmental body established in 1989 to promote effective implementation of legal, regulatory and operational measures for combating money laundering, terrorist financing and other related threats to the integrity of the international financial system.
The case against Pakistan was that it had failed to act against outfits like UN-banned terror groups Jaish-e-Mohammed, Lashkar-e-Taiba, Jamaat-ud-Dawa and its affiliate, the Falah-i-Insaaniyat Foundation. Pakistan foreign minister Khawaja M Asif had earlier tweeted from Moscow that Pakistan had won a reprieve of three months but the relief was short-lived. Pakistan had been on the FATF watch list from 2012 to 2015, then only on issues of money laundering. Recently, to escape action the Pakistan government had amended the country's anti-terrorism law through a presidential ordinance to address some concerns of the FATF. The legislation provided legal ground for action against UN-banned organisations like Lashkar-e-Taiba, headed by the Mumbai terror attacks mastermind Hafiz Saeed. China has, for some time, been stalling UN sanctions against Saeed despite strong Indian objections.
While the next plenary of FATF three months later would review the decision to put Pakistan on 'grey list,' it is an opportunity for India to build up a strong case for continuing with it. India must pursue this and also the UN sanctions against Hafiz Saeed with new vigour, and coordinate action with the US to get Islamabad to close terror training camps and infiltration of terrorists into Kashmir.


World Politics
United States
Defiant Manafort says 'I had hoped my business colleague would have had the strength to continue the battle to prove our innocence'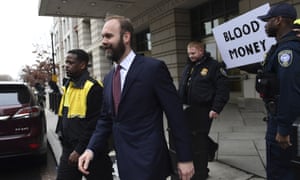 Rick Gates leaves federal court in Washington on Friday. His guilty plea seemed to represent clear and present danger for Manafort. Photograph: Susan Walsh/AP
Former Donald Trump campaign chairman Paul Manafort protested his innocence and vowed on Friday to fight numerous federal felony charges against him, after his former colleague and confidante Rick Gates cut a plea deal with special counsel Robert Mueller.
Gates pleaded guilty to charges of conspiracy and making false statements in a federal courthouse in Washington and agreed to cooperate with Mueller's team.
The development seemed to represent clear and present danger for Manafort, whom Gates was accused of helping to launder $30m in corrupt payments from the former Soviet bloc through secret offshore bank accounts.
Deepening Manafort's trouble, new charges against him came to light late on Friday, alleging that he and Gates used millions from secret offshore accounts to pay senior European lawmakers to lobby US lawmakers on behalf of a Ukrainian client. The Europeans did not disclose the payments to US officials.
In a statement released by a spokesman immediately upon the Gates plea, Manafort vowed to fight on.
"Notwithstanding that Rick Gates pled today, I continue to maintain my innocence," Manafort said. "I had hoped and expected my business colleague would have had the strength to continue the battle to prove our innocence. For reasons yet to surface he chose to do otherwise.
"This does not alter my commitment to defend myself against the untrue piled-up charges contained in the indictments against me."
Last October, Gates and Manafort pleaded not guilty to 12 felony charges brought by Mueller, including a conspiracy to launder money and serving as unregistered foreign agents.
On Thursday new criminal charges against the pair were unsealed, including tax fraud and bank fraud.
Gates became the third known former Trump aide to plead guilty to making false statements in the course of the Mueller investigation into Russian meddling in the US presidential election. He was preceded by former national security adviser Michael Flynn and foreign policy adviser George Papadopoulos.
The cooperation of Gates with Mueller could also create new problems for Trump and his family, who have been caught up in the investigation by Mueller of Russian election tampering.
Trump has attempted to distance himself from both Gates and Manafort, whose role in the presidential campaign he has downplayed.
Manafort worked for the Trump campaign from March 2016 and was campaign manager from June to August that year.
Gates was the Trump campaign's liaison to the Republican National Committee and a member of the presidential transition team.
On Friday Adam Schiff, the top Democrat on the House intelligence committee, which is investigating alleged collusion between the Trump campaign and Russia, said Gates was "in a position to observe the inner workings of the campaign at its most senior level" and "could prove a key source of information".
Gates, 45, was Manafort's protege and partner in a political consultancy business in the former Soviet bloc, with a focus in Ukraine. Gates was actively involved in a campaign to boost the image and fortunes of Viktor Yanukovych, the pro-Kremlin former Ukrainian president.
Incitement to racial hatred inquiry launched into abuse over selection for Orléans festival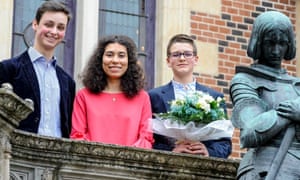 Mathilde Edey Gamassou, 17, was chosen to play Joan. Photograph: Jean Puyo/Orléans Métropole
A French state prosecutor has opened an inquiry into incitement to racial hatred after the selection of a mixed-race teenager to play the folk heroine Joan of Arc in annual festivities in Orléans was met with racist abuse from far-right users of social media.
Gamassou, whose father is from Benin and whose mother is Polish, is to ride a horse through the central city dressed in armour for the celebration, which dates back nearly six centuries.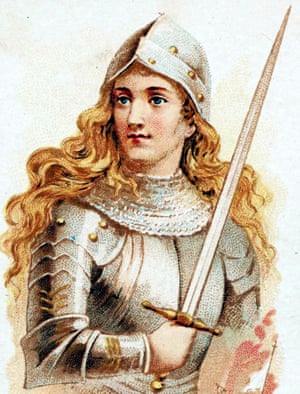 Illustration of Joan of Arc (c1412-1431). Photograph: Popperfoto
The announcement was met with a stream of posts on Twitter and far-right websites, branding her selection an exercise in "diversity propaganda" and an attempt to rewrite history.
"Joan of Arc was white," read one Twitter post. "We are white and proud of being white, don't change our history."
Another comment, on the anti-Muslim site Resistance Republicaine, complained: "Next year, Joan of Arc will be in a burqa."
The local radio station France Bleu Orléans reported that two social media accounts were being investigated over incitement to racial hatred after they compared the teenager to a baboon and used a picture of bananas.
The women's equality minister, Marlene Schiappa, offered her support to the student.
"The racist hatred of fascists has no place in the French republic," she tweeted on Wednesday.
Bénédicte Baranger, the president of the committee in charge of choosing a girl for the role, said she was saddened by some of the reactions.
"This girl was chosen for who she is; an interesting person and a lively spirit," Baranger said. "She responds to our four criteria: a resident of Orléans for 10 years, a student in an Orléans high school, and a Catholic who gives her time to others. She will deliver our French history to everyone, as have previous Joans before her."
The mayor of Orléans, Olivier Carré, also defended the teenager.
"In 2018, as for 589 years, the people of Orléans will celebrate Joan of Arc played by a young woman who shows her courage, faith and vision," he wrote on Twitter. "Mathilde has all these qualities."
Outside school, Gamassou is a student of opera at the prestigious Orléans Conservatory and is learning to fence.
The end of the brutal six-month siege of Orléans was a turning point in the hundred years war between France and England and the first major French victory.
Over the course of the war, between 1337 and 1453, England lost nearly all its territories on the other side of the Channel.
Joan of Arc, who was burned at the stake in 1431, is a heroine for many in France but is particularly venerated by the far right as a symbol of national resistance.

Internal review finds ICRC staff were dismissed or resigned for paying for sexual services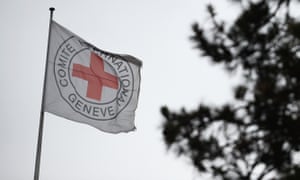 Purchase of sexual services has been banned by the ICRC since 2006. Photograph: Fabrice Coffrini/AFP/Getty Images
More than 20 employees of the International Committee of the Red Cross have left the organisation for sexual misconduct since 2015, the humanitarian institution said.
The ICRC director general, Yves Daccord, said 21 staff members were either dismissed or resigned for paying for sexual services in the last three years. Another two workers suspected of sexual misconduct did not have their contracts renewed at the Geneva-based organisation.
The announcement follows an internal review of sexual misconduct cases at the ICRC, and Daccord said there may be outstanding incidents that were not reported or correctly handled.
The ICRC head described the behaviour as "a betrayal of the people and the communities we are there to serve", and said it was "against human dignity".
The purchase of sexual services by ICRC workers has been contractually banned in the organisation's code of conduct since 2006.
"I must also accept that this is a moment of deep humility for us, as we endeavour to assess the scope of this problem and address failings," Daccord said.
"It is so important that the silence that has surrounded this issue has been shattered. This is a watershed moment for the humanitarian sector as a whole. We owe it to the people we serve to behave with absolute integrity."
Sexual abuse scandals have been revealed at several aid organisations after the Times newspaper reported Oxfam had tried to hide the use of prostitutes by staff in Haiti after the 2010 earthquake.
On Thursday, the Haitian government temporarily suspended the charity from working in the Caribbean country while an investigation into their handling of sexual misconduct allegations takes place.
Oxfam GB is one of 22 charities that have since pledged to boost safeguarding and have called on people to report unacceptable behaviour.
In an open letter published on the Huffington Post website, the agencies said there could be no tolerance for "the abuse of power, privilege or trust" within their organisations, and said they were "truly sorry" their sector had sometimes failed.
Mark Goldring, Oxfam GB's chief executive, signed the letter, which said charities had an "absolute duty" to do everything possible to "prevent, detect and eradicate unacceptable behaviour".
"We will collectively review our current referencing systems so that people found to have abused their power or behaved inappropriately are not re-employed in the sector – including in INGOs [international non-governmental organisations], government agencies, the UN and other associated bilateral and domestic agencies," it said.
"We will work with these authorities and regulatory bodies to ensure any individual caught abusing their power cannot do so again."
Other charities that signed the letter included Save the Children UK, Unicef UK, Muslim Aid, Cafod, Christian Aid, WaterAid and Plan International UK.
One involved a staff member of the charity, while the other five were volunteers or from partner organisations.
"The staff member was dismissed without a reference, and contracts of volunteers or partner organisations were terminated. Five out of the total six cases were of a criminal nature and were reported to the local authorities," a statement said.
In the same period, there were nine confirmed incidents of sexual harassment or sexual misconduct by staff against other adults, which resulted in seven dismissals.
The other two staff, whose misconduct constituted use of inappropriate language, were given a warning.

The  Environment: