25 Feb
News and Analyses, A Foreign Perspective
Nearly all of these are English-edition daily newspapers. These sites have interesting editorials and essays, and many have links to other good news sources. We try to limit this list to those sites which are regularly updated, reliable, with a high percentage of "up" time.

Trump vs. Reality Episode 8
'Not Guilty'
An animated reality check of the man who claims to be the greatest U.S. president ever.

World Politics
United States
Long-awaited memo by Democrats on House intelligence committee condemns GOP document as 'effort to undermine' investigations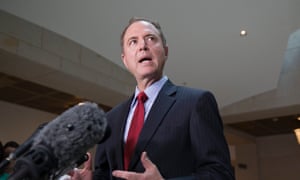 Adam Schiff, the ranking Democrat on the House intelligence committee, accused Republicans of seeking to 'mislead the public'. Photograph: Michael Reynolds/EPA
In a long-awaited memo released on Saturday, Democrats on the House intelligence committee defended official investigations into Russian meddling in the 2016 presidential election.
Donald Trump duly responded on Twitter, calling the Democratic memo "a total political and legal BUST" that he said "just confirms all of the terrible things that were done".
The president added: "SO ILLEGAL!"
Investigations into Russian election meddling include the question of whether any Trump aides colluded in such efforts.
Trump has called the investigations a "witch hunt" and insisted there was no collusion. Some Republicans in Congress have sought to defend the president by attacking investigations by congressional committees, the FBI and special counsel Robert Mueller.
Releasing his party's document on Saturday, Adam Schiff of California, the ranking Democrat on the House intelligence panel, said in a tweet: "Some time ago, Republicans on our committee released a declassified memo that omitted and distorted key facts in order to mislead the public and impugn the integrity of the FBI. We can now tell you what they left out."
The Democratic memo criticised the Republican memo as a "transparent effort to undermine" investigations.
The memo also defended the FBI's obtaining of warrants for temporary surveillance of Carter Page, an aide to Trump's election campaign whom the Democrats said "the FBI assessed to be an agent of the Russian government".
Law professor Carl Tobias from the University of Richmond said the Democratss memo placed much that had transpired in context and helped "US citizens to sort out the truth". He added: "The memo also convincingly refutes the argument that the DOJ and the FBI were duplicitous in their request to the FISA court."
The release came after weeks of argument over how much of the Democratic document would be redacted. The White House objected to its release on 9 February, citing national security concerns. Democrats then negotiated with the FBI on what should be blacked out.
Trump had less concern about the earlier classified memo written by Republicans, known after the intelligence committee chairman as the Nunes memo, which he declassified on 2 February despite strong objections from the FBI. Trump claimed the memo "vindicated" him. Some Republicans disagreed.
In the GOP memo, Republicans took aim at the FBI and the justice department over the use of information from a former British spy, Christopher Steele, in obtaining a secret warrant to monitor Page.
The warrant was obtained under the Foreign Intelligence Surveillance Act, or Fisa. The main allegation in the GOP document was that the FBI and justice department did not tell the court enough about Steele's anti-Trump bias or that his work was funded in part by Hillary Clinton's campaign and the Democratic National Committee.
They argued that the reliance on Steele's material amounted to an improper politicization of the government's surveillance powers.
Democrats countered that the GOP memo was inaccurate and a misleading collection of "cherry-picked" details. They noted that federal law enforcement officials had informed the court about the political origins of Steele's work and that some of the former spy's information was corroborated by the FBI.
In a statement on Saturday, the White House press secretary, Sarah Sanders, said: "While the Democrats' memorandum attempts to undercut the President politically, the President supported its release in the interest of transparency. Nevertheless, this politically driven document fails to answer serious concerns raised by the Majority's memorandum."
Four former Trump aides have been indicted by Mueller. They are Michael Flynn, Trump's first national security adviser; Paul Manafort, his second campaign manager; Rick Gates, Manafort's deputy; and George Papadopoulos, a foreign policy adviser.
More than a dozen prominent businesses end partnerships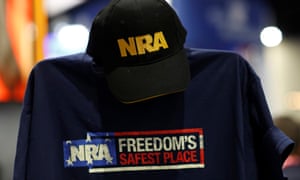 Delta and United airlines announced on Saturday that they would end discount programs for NRA members. Photograph: Joshua Roberts/Reuters
The National Rifle Association has criticized more than a dozen companies for choosing to sever partnerships following the shooting at a Florida high school that left 17 people dead. The lobby group called such moves a "shameful display of political and civic cowardice".
On Saturday, in similarly worded statements, the airlines Delta and United said they would end discount programs for NRA members.
The carriers joined more than a dozen businesses, including the car hire brands Hertz, Budget and Avis, the hotel chains Best Western and Wyndham Hotels and the software firms Symantec and Norton, that have ended various loyalty and discount schemes for NRA members.
In response, the NRA has taken the unusual step of attacking the businesses. In a statement, it said the companies had unfairly sought to "punish" its the group's 5 million members over the massacre at Marjory Stoneman Douglas high school in Parkland.
"The law-abiding members of the NRA had nothing at all to do with the failure of that school's security preparedness, the failure of America's mental health system, the failure of the National Instant Check System or the cruel failures of both federal and local law enforcement," the NRA said.
"Despite that, some corporations have decided to punish NRA membership in a shameful display of political and civic cowardice."
The NRA said the departing companies would be replaced and added: "The loss of a discount will neither scare nor distract one single NRA member from our mission to stand and defend the individual freedoms that have always made America the greatest nation in the world."
The insurer Chubb has also dropped cover for NRA Carry Guard insurance, which insures gun owners for legal and other costs if they shoot someone and claim self-defense.
The pressure group Everytown for Gun Safety, which has been pressing Chubb for months, applauded the move. Everytown, with its fellow gun control group Moms Demand Action for Gun Sense in America, is also urging Apple, Amazon and Google to remove the NRA's TV service from their streaming platforms.
"This wave of NRA boycotts will not stop – Americans have had enough of NRA lobbyists and their deadly agenda," said Shannon Watts, founder of Moms Demand Action for Gun Sense in America. "Companies don't want to do business with the gun lobby, and lawmakers shouldn't either."
The NRA has successfully deterred legislative attempts to restrict gun use following mass shootings and has absorbed backlashes in the past, such as the outcry that followed the massacre of 20 young children and six adults at Sandy Hook elementary school in Connecticut in 2012.
Some companies, such as FedEx, have refused to end relationships with the NRA. Those firms that have changed a peripheral issue such as member discounts are unlikely, by themselves, to rattle the powerful gun lobby.
However, the sustained pressure following the 14 February shooting in Florida has differed from the aftermath of previous mass shootings, catching several Republican politicians in its wake.
The state of Florida was also facing a potential boycott and backlash as well. One teenage survivor of the Florida school shooting suggested on Twitter Saturday morning that tourists stay away from the state during spring break, and he immediately received positive responses on social media.
"Let's make a deal," David Hogg, a Marjory Stoneman Douglas high school student who has been a major player in the #NeverAgain movement, tweeted. "DO NOT come to Florida for spring break unless gun legislation is passed."
Donald Trump has said he backs an idea to raise the age requirement to buy an assault rifle to 21, a stance backed by the Florida governor, Rick Scott, and many of his fellow Republicans in the state legislature. The NRA opposes raising the age requirement from 18.
Trump has also called for enhanced background checks and raised the possibility of arming teachers, paying them some sort of "bonus" to carry weapons and saying: "Our schools need to be hardened, not softened up."
On Saturday afternoon, Trump tweeted: "Armed Educators (and trusted people who work within a school) love our students and will protect them. Very smart people. Must be firearms adept & have annual training. Should get yearly bonus."
The president predicted that if such measures were adopted "shootings will not happen again" thanks to "a big & very inexpensive deterrent". He also said such moves would be "up to states", but offered no further suggestion of how his policy might be adopted.

The amount of the smog allowance should vary according to the city's air quality – compensating workers and their families for living in a polluted environment while incentivising municipalities to clean up their acts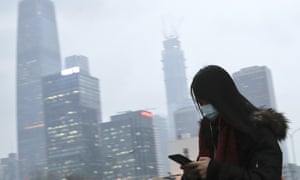 A Beijing resident wears a mask during evening rush hour in the Chinese capital. Photograph: Andy Wong/AP
We are all aware of the value of clean skies and the costs of pollution, so isn't it time to put more economic pressure on governments and companies to clean up?
I first considered the potential for a smog allowance while I lived in Beijing (my heavily polluted home from 2003-2012) and the idea only strengthened after I moved under the mostly blue heavens of Rio (2012-2017).
My experience of these two very different cities confirms what ought to be blindingly apparent: that quality of life gets a big boost when you do not have to worry about what you breathe. This should be reflected in salaries and taxes.
Companies should be obliged to pay more to workers who cannot rely on a healthy oxygen supply. This would give them an incentive to clean up their own acts and to put pressure on neighbouring firms and hosting municipalities to tackle wider sources of pollution, such as traffic, factories, building sites and coal or wood-burning stoves and barbecues.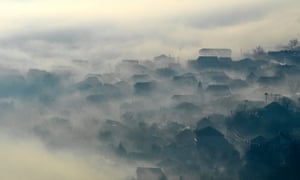 Skopje is considered one of the most polluted cities in the world. Photograph: Georgi Licovski/EPA
For the worker, the extra income could offset both the short-term cost of air-purifiers and face masks – if that is an option – and the long-term risks of asthma and bronchial disease (both of which I suffered in Beijing). It would also serve as a form of family compensation for particularly polluted days when children are told they must not go out at playtime and adults have to skip plans to go jogging or hiking – a frequent concern when I was living in Beijing, though not once an issue in Rio.
The amount of the smog allowance should vary according to the air quality. One way might be to calculate how many days per year the pollution exceeds WHO guidelines (for example, £100 for 10 days, £200 for 20 days). Or it could be assessed by how far beyond the safe standard the air becomes. "Crazy Bad" readings – the term used to describe extremely smoggy days – should incur crazy high costs.
Some transnational companies already pay "hardship allowances" to expatriates in posts where healthcare, education and other living standard indexes are deemed below international norms. If pollution became a bigger part of this calculation, then firms would look more closely at air quality when deciding where to locate offices and factories. This would, in turn, encourage municipalities to clean up in order to attract investment.