26 Feb
News and Analyses, A Foreign Perspective
Nearly all of these are English-edition daily newspapers. These sites have interesting editorials and essays, and many have links to other good news sources. We try to limit this list to those sites which are regularly updated, reliable, with a high percentage of "up" time.

Many of the students who survived a horrific February 14 high school shooting in Florida have become activists demanding changes to US gun laws. Their campaign could well mark a turning point for an issue that has left previous generations at a partisan impasse. FRANCE 24 went to meet some of the leaders of this growing movement.
On February 14, 19-year-old Nikolas Cruz walked into his former high school in Parkland, Florida, with a legally acquired semi-automatic rifle. He opened fire and shot dead 17 of his fellow students and teachers. The students who survived the shooting have launched the "Never Again" movement in a bid to change US gun laws. They want Parkland to be the last mass shooting in a US school.
Recent US history has been tragically punctuated by several mass shootings at schools, but none have led to major changes in gun laws: Columbine (12 students and a teacher killed in 1999), Virginia Tech (33 dead in 2007) and Sandy Hook (27 deaths in 2012).
The state of Florida, home to 21 million people, holds the US record for the number of firearms licenses: more than 2 million. The only requirement to buy a gun in the state is to have a clean criminal record.
America's attitude toward gun control is complicated by the fact that the right to bear arms is enshrined in the Second Amendment of the US Constitution, which states: "A well regulated Militia, being necessary to the security of a free State, the right of the people to keep and bear Arms, shall not be infringed." For many conservatives and the National Rifle Association (NRA) lobby, this guarantees the unfettered right to own a gun. Mass shootings have not changed the status quo; even the tears shed by former president Barack Obama after the Sandy Hook massacre failed to move the legislators in Congress.
But the Parkland high school students may have kicked off an era of change. Tyra Hermans is a student at Marjory Stoneman Douglas High School. In memory of her slain friend Joaquin, she now devotes all of her time to the Never Again movement by taking part in marches, demonstrations and speeches in front of the Capitol Building in Washington. The young woman has promised herself that this shooting will be the last in an American high school. When we meet them, these Parkland youths appear traumatised but determined: They have sworn they will succeed where other generations have failed.
Just like the #MeToo hashtag, the #NeverAgain movement is now gaining nationwide traction. All over social media, millions of messages of support are being posted. And attitudes may be shifting. Even President Donald Trump, a strong defender of gun rights, has recently said he is open to making some concessions.
US students are planning a March for Our Lives rally calling for changes to gun legislation on March 24 in Washington, DC.


The former foreign minister, activist and politician has radical ideas for today's Italy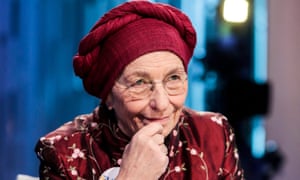 Emma Bonino is not realistically hoping to win next Sunday's election but if she and her party, More Europe, do well, she could gain political influence. Photograph: Cristiano Minichiello/AGF/REX/Shutterstock
Forty years ago, Emma Bonino fought to secure abortion rights in Italy in the shadow of the Vatican. Her campaign involved hunger strikes and a three-week stint in jail.
These days, the former foreign minister, activist and candidate for parliament, is waging an equally difficult battle in support of migrants and in defence of Europe, two ideas that seem radical in today's bitter political environment.
There is, Bonino says, an invisible thread that connects the causes of her life.
"You can look at the fights I have waged with this point of view: I support a democratic liberal order and believe in the centrality of the individual, his rights but also his responsibilities," she says.
Those ideas, she adds, are under threat.
Bonino is an icon in Italy. Her supporters might call her the conscience of the country.
While she is not realistically hoping to win next Sunday's national election, if Bonino and her party – More Europe – do well, she will win 3% of the highly fractured Italian vote, a result that would give her control of her own parliamentary group. It would also grant her a fair amount of influence in the event that the election ends, as many expect, with the creation of a grand coalition government between the centre right and centre left parties headed by two former prime ministers, Silvio Berlusconi and Matteo Renzi.
The 69-year-old has gained momentum over recent weeks, despite the fact that her ideas – including granting citizenship to immigrants – run contrary to the prevailing winds in Italy, where migrants are increasingly the target of political vitriol, and where Brussels has been blamed for the country's economic woes.
In an interview in her small rooftop apartment, which has a terrace overlooking St Peter's Basilica, Bonino – a lung cancer survivor – admits she is frailer than she once was, but is driven by passion for her politics and concerns for the country.
"If I look back 50 years ago, if you look at women's rights, I cannot even recognise my country, the change has been enormous," she says. "That doesn't mean it is all done. On the contrary, rights are a process, and if you don't care for them, you can lose them from morning to night."
She has been thinking about the "banality of evil", the term coined by Hannah Arendt, the political theorist who examined the rise of Nazism, after she saw a viral video of an elderly Italian woman harassing a black man on a bus while other passengers looked on.
"Arendt explains how one small sign happens after the other that no one cares about, and then you suddenly find yourself in hell," she says.
She was disturbed by two recent incidents of violence against women, and how differently the murders were treated in the press based on the race of the suspected perpetrators: one, a migrant from Nigeria, and another, a white Italian.
"There is no excuse for this kind of thing," she says. "There are many things you can do to counter this phenomenon: public speeches, videos, talking in schools, exactly like the entrepreneurs of fear use. It is not true that we don't have tools to react, we are simply not using them in an assertive way."
One of her top political priorities is giving legal status to hundreds of thousands of migrants who are in Italy illegally, much as Berlusconi did in 2000.
She is convinced that Europe's demographic challenges and low birthrates will, eventually, give European capitals a wake-up call about their need to welcome immigrants.
"Sooner or later, we will recognise that we need them," she says. "For the moment the political mood is so bad, so unhealthy, that there is no way to talk rationally."
While Bonino is not worried that Italy might leave the EU, she believes that the constant targeting of Brussels as the source of the country's problems will have a long-term negative impact.
"It's very simple. On one side you have Putin and on the other side you have Trump. You have China and south of the Mediterranean is on fire. If this is the new landscape, if we go on as 27 small states, each on his own, where do we go?" she says.
"If we continue with blaming Europe, we will never make it better. It will stay as it is, like a boat taking water. So in the end, the boat will sink out of inertia," she adds.
Bonino has her share of gripes with the EU, particularly in its handling of the Libya crisis. She condemns, as a stark violation of "every sort of international convention", the manner in which Italy has sought to keep migrants from entering the continent.
"We know that the ones who are saved [by the Libyan coastguard], that they are lost forever, and that no one knows what their life will be," she says. "We know we are sending them back to hell, we know the conditions of the detention centres they keep. I don't call that a success, I cannot call that a success."
In contrast to her fight with the Catholic church 40 years ago, Bonino can, these days, count on at least one ally: Pope Francis.
The two, she says with a grin, are in touch. "We have some connections, so we pass messages quite often, through friends."

More than 30,000 slum residents have been forced to the 'critically polluted' area of Mahul as the city clears land around a water pipeline and plans a bike lane to stop residents moving back
by Puja Changoiwala in Mumbai
A

way from the hustle and bustle of Mumbai, a sense of intense gloom pervades Mahul. The former fishing village to the east of India's great metropolis is now home to 30,000 people who were "rehabilitated" after their slum homes were demolished to make way for infrastructure projects.
They live in 72 seven-storey buildings jammed together in the shadow of oil refineries, power stations and fertiliser plants. The air is pungent with the strong smell of chemicals. Sewage overflows into narrow streets. With the nearest government hospital seven miles away, masked patients stand in obedient lines outside homeopathy clinics, coughing.
This house has walls, a bathroom and a kitchen – but what's the use if it's also a gas chamber?

Kusum Gangavne
Mahul is "critically" polluted, according to India's central pollution control board. A survey by the city's KEM hospital found that 67.1% of the neighbourhood's residents complained of breathlessness more than three times a month, 86.6% complained of eye irritations and 84.5% had experienced feeling a choking sensation.
"There are no schools, hospitals, medical shops or means of livelihood here," says Anita Dhole, a 40-year-old who was relocated to Mahul after her home was demolished when authorities cleared a secure zone around the city's colonial-era Tansa water pipeline 12 months ago. "But there are smoke-belching chimneys – and a crematorium. It's the government's way of telling us that they've sent us here to die."
Mahul's 72 tower blocks sit next to near the area's oil refineries and heavy industry. Photograph: Bing Maps
The city's civic authority, the Brihanmumbai Municipal Corporation (BMC), started placing people in Mahul six years ago, after the high court called for 10 metres to be cleared either side of the pipeline for health and security reasons. When the BMC started clearing illegal housing, the displaced residents quickly returned to rebuild.
Last September the authorities came up with a new plan: a $45m, 24-mile cycling and jogging track along the length of the Tansa, which runs in two sections: from Mulund in the north-east to Dharavi in the centre, and Ghatkopar in the east to Sion in the south.
The Green Wheels Along Blue Lines cycle and running track would serve a dual purpose: keep the area clear of illegal shacks by opening the space around the pipeline to the public, and provide an environmentally friendly and healthy route across the chaotic and crowded city. Work is due to start in April and be completed in two years.
To date 16,000 homes have been cleared along the pipeline, with a further 6,000 slated for demolition. Most of the people displaced are like to be "rehabilitated" to Mahul.
Rishi Agarwal, a Mumbai-based urban planner, believes that the city's development is crushing its poorest citizens. "It's part of the larger gentrification, which is rapidly progressing in Mumbai," he says. "In the past two decades, the government's intention has been to push the most underprivileged citizens to the outskirts in order to create housing near the centre for more affluent residents.
"The displaced have been dumped in rehabilitation centres. These places are devoid of basic amenities like ventilation, waste management and transport links. Mahul, particularly, is absolute hell."
Illegal homes near the water pipeline in Dharavi are demolished in July 2017. Photograph: Hindustan Times via Getty
Kusum Gangavne, 37, a software engineer, lost both her parents six months after the family was relocated to Mahul. Her parents were "completely healthy" before they shifted to the neighbourhood, she says, but soon developed breathing issues and severe asthma. They died within months.
Gangavne, too, has developed swollen limbs, breathlessness, a hacking cough and severe weight loss. "I've been selling my mother's jewellery for daily bread but I know this money won't last long," she says. "With my deteriorating health, I won't need it either. Unlike the shanties we lived in, this house has walls, a bathroom and a kitchen – but what's the use if it's also a gas chamber?"
They've dumped thousands without consideration for the most basic needs. They've provided cement walls and nothing else

Bilal Khan
Then there is the poor quality of the water. "At times, the water has a layer of oil on it – several residents have suffered stomach infections," says Subhash Jadhav, a 52-year-old journalist who developed a skin complaint after being moved to Mahul. "I've complained to the BMC on several occasions, but they say they don't have enough manpower."
The lack of a local school means an estimated 130 children are deprived of an education. "Following our complaints, the BMC did set up a makeshift school in the area, but it's of no use," says Bilal Khan, a housing rights activist. "Students aged six to nine are crammed into the same classroom and taught the same lessons. There are no options for students in higher classes."
The closest railway station is five miles away. The only option is the bus, which residents say is infrequent and unaffordable. Khan says the poor transports links have robbed most forced to move here of their livelihoods.
"Rehabilitation should mean that peoples' standard of living is increased ,or at least maintained," he says. "But in Mahul the authorities have dumped thousands of people without any consideration for their most basic needs. They've provided cement walls and nothing else."

Jayshree Parkhe with her four girls. The children had to drop out of school when the family's shack was razed and they were moved to Mahul. Photograph: Puja Changoiwala
C

ould the city authorities do more? MK Magar, who works for the BMC, believes Mahul's problems are being exaggerated. "The rehabilitated residents want homes close to their original [shacks], and so keep coming up with these issues," he says. "Their intention is to find faults."
Following a high court order last year, the BMC says it plans to build a health centre and a school, and ensure a contamination-free water supply.
Urban planner Agarwal is unimpressed. "The government doesn't lack resources to build better alternative accommodation," he says, "it's just short on compassion for the poor."

World Politics
United States
Groups comprised of ranchers, hunters and conservationists say interior secretary Ryan Zinke has stonewalled them
In a recent letter sent to Zinke, 23 advisers said they were 'dismayed' by their inability to perform their role in aiding public lands management. Photograph: Alamy Stock Photo
The Trump administration has angered ranchers, hunters, fishermen and conservationists across the US who complain they are being shut out of a federal advisory process designed to steer the management of cherished public lands.
Many of the dozens of public advisory boards have been stonewalled by the department of interior since the president put Ryan Zinke at the helm of the agency.
In a letter sent Thursday to Zinke, 23 members of public-lands advisory groups in Colorado said they were "dismayed" and felt "disenfranchised" by their "inability to perform in our official role", and that some had not met in over a year. Panels in other states have faced similar difficulties.
The letter follows the January resignation of 10 of the 12 members of the National Park System advisory board, who complained that Zinke had declined to meet with them.
Zinke announced last year that he was reviewing the status of over 200 advisory bodies intended to solicit outside input, but some of their members say the effect has been to eliminate local comment on issues of national importance.
We have no word out of Washington; they seem to be stymied in terms of getting stuff done

John Hiatt, conservationist
"The latest I've heard is that people's terms are beginning to expire – I think mine's expired, too – and nobody is of course reappointing them, and things are just dying," said Cal Cumin, a land-planning consultant on a board in eastern Montana.
"We have no word out of Washington; they seem to be stymied in Washington in terms of getting stuff done," said John Hiatt, a Nevada conservationist who said the terms of six people on his panel, out of 15, had expired.
There are 38 such panels in the western US, known as resource advisory councils and comprised of environmentalists, foresters, archaeologists, wild-horse experts, ranchers, politicians and others. They provide advice to a division of interior department, the Bureau of Land Management (BLM), on issues such as national monuments and endangered species.
The BLM oversees 250m acres of public land, ranging from land in California's Mojave desert to the two national monuments recently shrunk by the Trump administration: Bears Ears and Grand Staircase-Escalante.
"Rather than being part of the processes when Ryan Zinke evaluated the national monuments, we're instead shut out of the process," said Ralph Knapp, the acting head of an advisory board in Montana that has not met during the Trump administration. A meeting of his panel was scheduled for October but had to be canceled because its charter had lapsed.
National spokespeople for the interior department and the BLM did not respond to requests for comment. "I don't have any word," said Joseph Fontana, a BLM official in northern California. The review is "happening at levels above me".
Some boards, for instance in Utah, are operating. In other places, frustration with the delays has peaked. Two members of a board in Colorado have resigned, Colorado Politics reported last week.
"It didn't make sense to sit on an advisory committee whose advice wasn't going to be asked for," George Newman, a local county commissioner, told the publication.
"The administration is one sided; that side is to do whatever they can do to deregulate for the benefit of the oil and gas industry at the sacrifice of longterm environmental needs."