27 Feb
News and Analyses, A Foreign Perspective
Nearly all of these are English-edition daily newspapers. These sites have interesting editorials and essays, and many have links to other good news sources. We try to limit this list to those sites which are regularly updated, reliable, with a high percentage of "up" time.


Madeleine Wilford had three major surgeries to repair 'substantial damage' caused by bullets from the AR-15 rifle used by the killer
Doctors and first responders who treated a student initially thought to have died in the Marjory Stoneman Douglas high school massacre have spoken of their battle to save the teenager's life, and her incredible recovery from multiple gunshot wounds.
Madeleine Wilford, 17, and her parents also spoke at a Monday press conference at Broward North hospital to praise the ambulance crew, surgeons and medical staff who resuscitated and operated on her, and talked of the "miracle" that allowed her to be discharged barely a week after she was shot in the rampage that killed 14 classmates and three adult teachers.
"When they were clearing the rooms, at first sight it was believed Maddy had deceased," said Lieutenant Laz Ojeda of the Coral Springs fire rescue department, a member of one of the first medical teams to enter the school.
"She looked very pale. At that point, Officer Fernandez shook her to elicit a response. She gasped or moved; she made signs of life."
Ojeda told reporters that a member of Broward sheriff's Swat team put an emergency chest seal on the student to prevent air escaping from a collapsed lung. He said once she was in the ambulance and able to whisper her age, he made the decision to take her to Broward North's trauma centre, 20 miles closer than the main Broward Health medical centre in Fort Lauderdale.
"I'm not a doctor, but in my estimation that chest seal prevented the tension pneumothorax from progressing and perhaps killing her sooner."
Madeleine, a talented basketball player, spent the first days in hospital fighting for her life, receiving numerous units of blood and undergoing three major surgeries to repair "substantial damage" caused by bullets from the AR-15 rifle used by the killer.
"She had major gunshot wounds to her chest, abdomen and arm and was also in haemorrhagic shock," said Dr Igor Nichiporenko, medical director of trauma services at Broward North.
"She was pale and not responsive. The wounds to her chest were very severe with massive bleeding. We placed a chest tube which relieved the tension pneumothorax, which actually saved her life. She's lucky. Very, very lucky."
Nichiporenko said Madeleine was one of three students with gunshot wounds his team had saved. "Because we see these kind of injuries, gunshot wounds and penetrative trauma almost every day, because of experience, we did an outstanding job," he said. "I'm pleased Maddy and her parents are here to celebrate her successful recovery."
Her father David said he felt his daughter was blessed. "It's hard for me to feel anything but gratitude and thanks. This really has been a miracle," he said.
Madeleine thanked the "first responders and amazing doctors" who saved her. "All the love that's been passed around, I wouldn't be here without it," she said. "I'm just grateful I'm making a full recovery and things have been going smoothly."
Meanwhile, pressure was continuing to grow on Monday on Scott Israel, the sheriff of Broward County, who has been criticised for alleged failures in preventing and responding to the shooting. An armed officer assigned to the school resigned after waiting outside while the victims were being shot.
More than 70 Republican lawmakers wrote to the state's governor, Rick Scott, on Sunday to demand that Israel be suspended for "dereliction of duty and incompetence" amid revelations that the Broward sheriff's office had received 23 calls about Nikolas Cruz, the 19-year-old alleged killer, including some that suggested he was a potential school shooter.
In an interview with CNN, Israel dismissed the criticism, claiming it was "politically motivated" and insisting he had shown "amazing leadership".
On Monday, investigators from the Florida Department of Law Enforcement (FDLE) began an independent inquiry ordered by Scott into the shooting, including the actions of the Broward officers. Israel said in a statement he welcomed "full transparency and accountability" and that his office would cooperate fully with the investigation.
The investigators will want to talk with Scot Peterson, the school's assigned resource officer for almost a decade who has resigned from the sheriff's office. Branded "a coward" by Donald Trump, Peterson was accused of hiding outside the freshman building.
In a written statement released through his lawyer on Monday, Peterson denied the allegation, saying he had not entered the building because he thought the gunfire was coming from outside. "Let there be no mistake. Mr Peterson wishes that he could have prevented the untimely passing of the 17 victims, and his heart goes out to the families of the victims in their time of need," the attorney, Joseph DiRuzzo, wrote.
"However, the allegations that Mr Peterson was a coward and that his performance, under the circumstances, failed to meet the standards of police officers, are patently untrue."
Students of Stoneman Douglas are preparing to return to classes on Wednesday for the first time since the 14 February shooting. The building where most of the victims died will remain closed, pending demolition.

Largest year-on-year increase since 1979 comes as Trump administration is accused of failing to condemn bigotry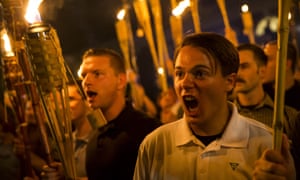 White supremacists at the University of Virginia on 11 August 2017. Photograph: Anadolu Agency/Getty Images
Antisemitic incidents in the US surged 57% in 2017, the Anti-Defamation League said on Tuesday, the largest year-on-year increase since the Jewish civil rights group began collecting data in 1979.
Close to 2,000 cases of harassment, vandalism and physical assault were recorded, the highest number of antisemitic incidents since 1994, it said.
The rise comes amid a climate of rising incivility, the emboldening of hate groups and widening divisions in American society, according to ADL's national director, Jonathan Greenblatt.
"A confluence of events in 2017 led to a surge in attacks on our community – from bomb threats, cemetery desecrations, white supremacists marching in Charlottesville, and children harassing children at school," he said.
Rising numbers were in part attributed to the fact that more people were reporting incidents than ever before, the ADL said, adding that its staff independently verify the credibility of each claim.
Incidents were reported in all 50 US states for the first time since 2010, with higher numbers reported in areas with large Jewish populations.
Donald Trump's administration has been accused of failing to condemn religious bigotry. Jewish groups scolded the president last year for not mentioning Jews or antisemitism in a statement about the Holocaust.
Following August violence at a rally in Charlottesville, Virginia, where white supremacists waved insignia from Nazi Germany and yelled "Jews will not replace us", Trump was slammed for suggesting a moral equivalency between members of the far right and counterdemonstrators. "You had people that were very fine people on both sides," he said.
The ADL's report said US schools and colleges were particularly affected, with antisemitic incidents nearly doubling since 2016, often including swastikas drawn on school facilities or Jewish students' notebooks. Sometimes vandalism included phrases such as: "Hitler was not wrong" or "white power".
There were 204 incidents on university campuses in 2017, compared with 108 in 2016. A separate ADL study released last month found a more than 250% increase in white supremacist activity, such as distributing neo-Nazi fliers, on college campuses in the current academic year.
Jewish graves or cemeteries were desecrated seven times in 2017, the group said, contributing to a sense that the American Jewish community was "under siege".
"One bright spot in this was the response of members of the Muslim and Christian faiths, who raised thousands of dollars to help repair the damaged tombstones," it said.
Last year's surge bucks a trend in which numbers have mostly declined over the past two decades, although there were moderate increases in 2014 and 2015. In 2016 the numbers started to rise significantly.
Jews and Muslims were the most targeted groups in the US for religious-motivated hate crimes in 2016, according to the FBI, accounting for 54% and 24% of offences respectively.
The ADL's report included 163 bomb threats in 2017, the vast majority of which were made by an Israeli-American teenager who was later arrested and faces accusations of making threats for financial gain. The teenager's calls stoked fears of rising antisemitism.
The ADL said it "included the bomb threats in the total count because, regardless of the motivation of any specific perpetrator, Jewish communities were repeatedly traumatised by these assaults on their institutions and threats to their safety."

Aeron Davis has spent 20 years researching Britain's elite, interviewing more than 350 leaders in business and politics. His conclusion? Their failings are not only damaging society, but undermining the foundations of the establishment itself
I

n his 2014 book The Establishment, Owen Jones explained how and why Britain's unequal, class-ridden system would always prevail. It was written at a time when the elite seemed to be thriving, despite having recently helped to trash the global economy. After a few lean years for "Davos man", bank debt had effectively been nationalised. No one in power had gone to jail, while most of them seemed to be getting richer and richer. As Jones explained, the establishment was as dominant as ever.
Developments since then have sorely tested that view. After the vote for Brexit, David Cameron and George Osborne were suddenly cast adrift, while the Bank of England and captains of industry found themselves wondering who to support. The Conservative party – their political party, the only one they had ever supported – was following a course of action they thought would wreck the economy. Sterling and the FTSE 100 index plummeted. Shareholders began revolting and bankers relocating.
A year later, the establishment seemed to be recovering once again. And then came the snap June 2017 election. The Conservatives, with all their resources and an initial 20-point poll lead, lost their majority. Theresa May was outperformed by a badly dressed, pacifist republican with no money, no media support and a shadow cabinet that could fit in a phone box. The Tory party was left negotiating a Brexit deal with a dead duck leader, a hung parliament, and no idea of what outcomes the establishment wanted.
All of which suggests that it might be time to question whether the British establishment still functions as it once did. Yes, some members of the elite have become very rich. They are still united in their fear and loathing of leftwing ideas and ordinary people. They are still highly skilled when it comes to pursuing their self-interest. Their decisions still have powerful consequences that are widely felt. But they seem to be less able to exert control or predict what those consequences will be.
As an academic studying how power operates, I have spent the past 20 years researching elite figures in five areas associated with the modern establishment: the media, the City, large corporations, the Whitehall civil service and the major political parties at Westminster. After interviewing and observing more than 350 people working in or close to the top during that time, my sense of this evolving long-term crisis has become clearer. I have come to believe that the establishment is no longer coherent or collective or competent. Its failings are not only causing larger schisms, inequalities and precariousness in Britain; they also threaten the very foundations of establishment rule itself.
---
T

he idea of "the establishment" was popularised in the 1950s and early 60s. According to its key chroniclers, such as the historian Hugh Thomas and the journalist Anthony Sampson, most members of this elite network went to one of seven "Clarendon" boarding schools such as Eton, Rugby or Harrow. From there, they moved on to Sandhurst military academy or Oxbridge. They then glided effortlessly into a variety of powerful positions in private or public organisations. Political control operated through the great state institutions of the Church of England, Westminster, Whitehall and the armed forces. The economy was a stitch-up, coordinated through a public-private partnership of the Treasury, the Bank of England, the City and business leaders. The BBC and national press ensured that "the common people" accepted this state of affairs.These elites reproduced and maintained their collective identity via exclusive social circuits. These included membership of expensive London clubs such as the Garrick and the Athenaeum. If they hadn't already inherited a title, they would get one soon enough, ending their days in that gilded care home (or finishing school) known as the House of Lords.
Over the decades, the shape of the establishment changed. In accounts written in the 1990s by Jeremy Paxman, Andrew Adonis and Stephen Pollard, the power and influence of the Church, monarchy, aristocracy and army had clearly waned. Anthony Sampson wrote several surveys of the British establishment over five decades; in 2004, his final one recorded the stark decline of many Victorian-era institutions, and the power grabs made by new, abrasive business types and unassimilated foreigners. But despite these changes, other things remained the same – the prevalence of the Clarendon-Oxbridge conveyor belt, that same sense of shared elite interests, and so on.
What these authors did not notice was that beneath the surface, the social foundations and institutions of power were slowly weakening. Many of the traditional elements that once held the establishment together are degenerating, with little to replace them. This isn't just a matter of a new establishment replacing an old one. It may be the end of the establishment as we have known it. (This, of course, will not mean the end of elites.)
This started to become clear to me when researching the civil service and business world in the later years of David Cameron's coalition government. Interviews with former career mandarins revealed just how much Whitehall had changed. The service they had joined in the 1960s and 70s was the preserve of the establishment amateur. The vast majority had come from Oxbridge, having previously studied history, classics or something else that failed to equip them for managing an archaic state bureaucracy. Generalists ruled and specialists occupied the lower rungs.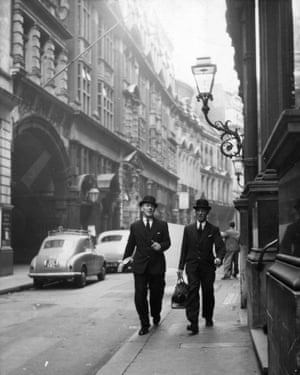 City workers in London, 1954. Photograph: Alex Dellow/Getty Images
As Sir Alan Budd, a former economic advisor to the Treasury from 1970 onwards, explained, the department was not run by professional economists. Instead, those in charge deferred to the "Brown Book", a government tome explaining how to use certain technical levers to respond to shifts in employment, inflation, etc. It was sort of a Dummies' Guide to managing the British economy. "If you wanted to, say, reduce unemployment by 100,000, there were various ways of doing this," Budd told me. "It was very like any textbook at university. The chapter on macroeconomics – this explained how you did things."
Andrew Turnbull, a former head of the civil service, recalled how the economic shocks of the 1970s and the political ones of the 80s set in motion real change: even the British establishment began to realise it could no longer afford to be managed by privileged amateurs. "Meritocracy" and expertise – represented by grammar school education, the professions and PhDs – began dictating the new recruitment policy. "Gradually the classics and humanities people got replaced," said Turnbull. "When I arrived we used to have people who were experts on Byron and musicians – rather refined people. Then, rather hard-nosed economists gradually took over, and the dominant culture became football and golf, rather than music."

World Politics
United States
The president renewed his criticism of officers outside the Florida school, while speaking to lawmakers who returned to session Monday
Donald Trump has renewed his criticism of an armed sheriff's deputy who failed to enter a high school in Parkland, Florida, during a mass shooting this month, saying he would have run into the building even if he did not possess a weapon.
Addressing a gathering of 39 state governors at the White House, Trump said officers who were outside the school at the time of the shooting "weren't exactly medal of honor winners".
"The way they performed was really a disgrace," he added. "I really believe I'd run in there even if I didn't have a weapon."
The president spoke as lawmakers returned to Washington following a week-long recess and amid intensifying debate over gun laws.
The 14 February massacre at Marjory Stoneman Douglas high school, in which 17 people were killed, has forced Congress to contend yet again with one of the most politically controversial issues.
Trump has pushed for arming teachers – a proposal that has been pilloried by educators. In doing so he has repeatedly criticised Scot Peterson, the armed school resource deputy who waited outside Marjory Stoneman Douglas high school as the shooting transpired. Peterson resigned, after being suspended without pay.
Trump has publicly attacked Peterson as a "coward" who he said "doesn't love the children, probably doesn't know the children".
Peterson denied the allegation in a written statement released through his lawyer on Monday, saying he had not entered the building because he believed the gunfire was coming from outside.
"Mr Peterson wishes that he could have prevented the untimely passing of the 17 victims," the attorney, Joseph DiRuzzo, wrote.
"However, the allegations that Mr Peterson was a coward and that his performance, under the circumstances, failed to meet the standards of police officers, are patently untrue."
On Sunday, the Broward County sheriff, Scott Israel, told CNN he was investigating the behavior of three other deputies, who the network reported had been at the campus but had not entered the school.
On Monday, Trump continued to call on Congress to take action on gun law – a departure from his response to previous shootings under his watch. The president has signaled support for tightening background checks and instructed the Bureau of Alcohol, Tobacco, Firearms and Explosives to work on a memorandum to outlaw bump stocks – the attachments that enable semiautomatic rifles and other devices to fire faster.
Lawmakers are likely, however, to face familiar obstacles in passing even modest legislation, as midterm elections loom.
The National Rifle Association has also come out aggressively against any new restrictions, even as public support for stricter gun laws has risen to its highest level since the early 1990s, according to a CNN poll released on Sunday.
Trump told the group of governors on Monday he believed the NRA was open to at least some changes to gun laws, noting he had had dinner with the group's leaders Wayne LaPierre and Chris Cox over the weekend.
"Don't worry about the NRA, they're on our side," Trump said. "Half of you are so afraid of the NRA. There's nothing to be afraid of."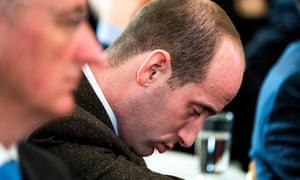 Stephen Miller, senior adviser to Donald Trump, nods off as the president speaks about ways to combat mass shootings at high schools at the White House on Monday. Photograph: Jim Lo Scalzo/EPA
Although mass shootings had become almost routine in the US, drawing little reaction in Washington, events in Florida have spawned a rare grassroots backlash, led by students.
The national outcry in the wake of Parkland could tee up the first major debate over gun laws since the 2012 massacre at the Sandy Hook elementary school in Newtown, Connecticut, in which 20 young children and six adults were killed.
The Senate failed to expand background checks in the aftermath of Sandy Hook, due to a Republican-led filibuster of a bipartisan bill joined by a handful of Democrats. But several Democrat and Republican senators who were in office then said Monday that the ground "has shifted", owing in large part to the vocal activism of Parkland student survivors.
Several pieces of legislation are under consideration. But only incremental measures appear to have any chance of passing, including a bipartisan proposal aimed at ensuring that states and federal agencies comply with and accurately report criminal and mental health records to the National Instant Criminal Background Check System (Nics).

The president's daughter said 'I believe my father' after at least 20 women have made sexual assault and harassment claims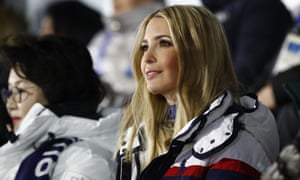 Ivanka Trump watches the closing ceremony of the 2018 Winter Olympics on Sunday in Pyeongchang-gun, South Korea. Photograph: Pool/Getty Images
Ivanka Trump grew indignant with a reporter who asked her whether she believed the stories of women who have accused her father, the president, of sexual misconduct, telling him it was an "inappropriate question to ask a daughter".
"I think it's a pretty inappropriate question to ask a daughter if she believes the accusers of her father when he's affirmatively stated that there's no truth to it," Trump, a senior White House adviser, told NBC News reporter Peter Alexander, who was interviewing the first daughter as she concluded her envoy duties at the 2018 Winter Olympics in South Korea.
"I believe my father," she said. "I know my father. So I think I have that right as a daughter to believe my father."
At least 20 women have come forward to accuse Trump of sexual misconduct. The president and his official spokespeople have challenged the veracity of the women's claims.
Ivanka Trump's boundaries of what is appropriate have shifted over time. In 2006, when the family sales pitch was centered on the reality show The Apprentice, she gamely entertained much pricklier questions about her father.
In an appearance on the Howard Stern talk show, a 24-year-old Ivanka sat laughing between her father and her brother Don as the elder Trump sheepishly nodded agreement to a suggestion by a co-host that he was a sexual predator.