28 Feb
News and Analyses, A Foreign Perspective
Nearly all of these are English-edition daily newspapers. These sites have interesting editorials and essays, and many have links to other good news sources. We try to limit this list to those sites which are regularly updated, reliable, with a high percentage of "up" time.


Record warmth in the Arctic this month could yet prove to be a freak occurrence, but experts warn the warming event is unprecedented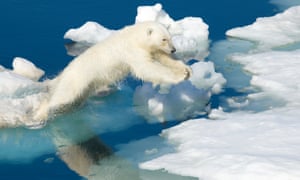 'This is an anomaly among anomalies': temperatures in parts of the Arctic have recently risen well above average Photograph: Ralph Lee Hopkins/National Geographic/Getty Creative/Getty Images
An alarming heatwave in the sunless winter Arctic is causing blizzards in Europe and forcing scientists to reconsider even their most pessimistic forecasts of climate change.
Although it could yet prove to be a freak event, the primary concern is that global warming is eroding the polar vortex, the powerful winds that once insulated the frozen north.
The north pole gets no sunlight until March, but an influx of warm air has pushed temperatures in Siberia up by as much as 35C above historical averages this month. Greenland has already experienced 61 hours above freezing in 2018 – more than three times as many hours as in any previous year.
Seasoned observers have described what is happening as "crazy," "weird," and "simply shocking".
"This is an anomaly among anomalies. It is far enough outside the historical range that it is worrying – it is a suggestion that there are further surprises in store as we continue to poke the angry beast that is our climate," said Michael Mann, director of the Earth System Science Center at Pennsylvania State University. "The Arctic has always been regarded as a bellwether because of the vicious circle that amplify human-caused warming in that particular region. And it is sending out a clear warning."
Although most of the media headlines in recent days have focused on Europe's unusually cold weather in a jolly tone, the concern is that this is not so much a reassuring return to winters as normal, but rather a displacement of what ought to be happening farther north.
At the world's most northerly land weather station – Cape Morris Jesup at the northern tip of Greenland – recent temperatures have been, at times, warmer than London and Zurich, which are thousands of miles to the south. Although the recent peak of 6.1C on Sunday was not quite a record, but on the previous two occasions (2011 and 2017) the highs lasted just a few hours before returning closer to the historical average. Last week there were 10 days above freezing for at least part of the day at this weather station, just 440 miles from the north pole.
"Spikes in temperature are part of the normal weather patterns – what has been unusual about this event is that it has persisted for so long and that it has been so warm," said Ruth Mottram of the Danish Meteorological Institute. "Going back to the late 1950s at least we have never seen such high temperatures in the high Arctic."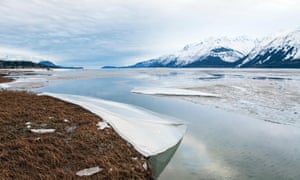 Melting ice on the Chilkat river near Haines, Alaska, in winter. Photograph: Michele Cornelius/Alamy
The cause and significance of this sharp uptick are now under scrutiny. Temperatures often fluctuate in the Arctic due to the strength or weakness of the polar vortex, the circle of winds – including the jetstream – that help to deflect warmer air masses and keep the region cool. As this natural force field fluctuates, there have been many previous temperature spikes, which make historical charts of Arctic winter weather resemble an electrocardiogram.
But the heat peaks are becoming more frequent and lasting longer – never more so than this year. "In 50 years of Arctic reconstructions, the current warming event is both the most intense and one of the longest-lived warming events ever observed during winter," said Robert Rohde, lead scientist of Berkeley Earth, a non-profit organisation dedicated to climate science.
The question now is whether this signals a weakening or collapse of the polar vortex, the circle of strong winds that keep the Arctic cold by deflecting other air masses. The vortex depends on the temperature difference between the Arctic and mid-latitudes, but that gap is shrinking because the pole is warming faster than anywhere on Earth. While average temperatures have increased by about 1C, the warming at the pole – closer to 3C – is melting the ice mass. According to Nasa, Arctic sea ice is now declining at a rate of 13.2% per decade, leaving more open water and higher temperatures.
Some scientists speak of a hypothesis known as "warm Arctic, cold continents" as the polar vortex becomes less stable – sucking in more warm air and expelling more cold fronts, such as those currently being experienced in the UK and northern Europe. Rohde notes that this theory remains controversial and is not evident in all climate models, but this year's temperature patterns have been consistent with that forecast.

After lengthy negotiations and record deaths of defenders on the continent, sources say a deal is very likely to be reached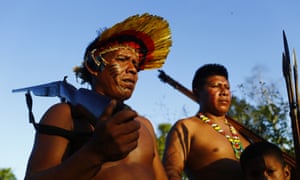 Ka'apor forest guardians patrolling the borders of their territory, in Maranhao state, Brazilian Amazon. Photograph: Lunae Parracho for the Guardian
Latin American countries are poised to agree the world's first legally binding convention to protect environmental defenders at a conference in Costa Rica.
Land activists and indigenous people were killed in record numbers on the continent last year, with more than two nature protectors murdered every week.
Now, after two years of negotiations, UN and diplomatic sources say it is very likely that an environmental democracy treaty offering them legal protection will be agreed at the summit which ends on 4 March.
Constance Nalegach, Chile's lead negotiator at the UN's Economic commission for Latin America and the Caribbean (Eclac) meeting, said that a legal pact was now "the most probable result and [also] a political gain".
"A legally binding instrument is the most useful agreement to ensure human rights," she told the Guardian. "Even though it is not the whole solution, it is an important step for stopping and reducing socioenvironmental conflicts in the region, including the attacks on environmental defenders."
Several countries are expected to sign the convention, but it will not enter into force until it has been formally ratified by eight of the commission's member states.
Enforcement will take place at the national level, with a commission review mechanism monitoring states' progress towards human rights norms.
Carole Excell, a director at the World Resource Institute, said the agreement in Costa Rica would be "a massive step forward".
"It will start a snowball process and create huge momentum for an issue that countries weren't even acknowledging as a problem until very recently," she said.
Around the world, 197 land activists, indigenous people and wildlife rangers were killed in 2017, an estimated 60% of them in South America.
Mining, agricultural concessions and infrastructure projects took a heavy toll on nature protectors with paramilitaries often acting with impunity on behalf of vested interests in remote areas.
Treaty negotiations began in 2016 and were always intended to come up with a legal text of the sort now agreed and backed, UN officials say, by most countries.
"Therefore, it is highly likely that the meeting will finish with the adoption of the first ever legally binding agreement," one UN source said.
The treaty would oblige signatories to take "adequate and effective measures" to protect and promote the rights of environmental defenders to life, and to free movement, expression, and assembly.
States would also be impelled to take "appropriate, timely and effective" measures to prevent threats or attacks against environmental defenders – and to investigate and punish them after they have occurred.
Some regional actors have been accused of complicity in the murder of environmental activists such as the Goldman award-winning campaigner Berta Cáceres who was killed in 2015.
Even so, diplomats told the Guardian that "at least two countries" were still opposing a legally binding pact. One of them, Mexico, has staked out a position for a weaker declaratory statement on environmental justice that diplomats say would not create "the necessary peer pressure" for strong enforcement.

World Politics
Britain
Major climbdown revealed by Home Office as EU citizens will have right to settle permanently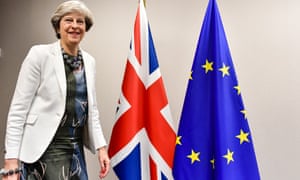 Theresa May's climbdown is likely to be sharply criticised by hardline Brexiters. Photograph: Geert Vanden Wijngaert/AFP/Getty Images
Theresa May has conceded that new EU migrants who come to Britain during the Brexit transition will have the right to settle permanently in the UK, in a major climbdown over future residency rights.
The concession, slipped out in a Brexit policy paper by the Home Office, also makes clear that new EU migrants who arrive after March 2019 will be given a five-year temporary residence permit, not the two-year one that was previously proposed by ministers.
The policy paper does, however, make clear that new EU migrants who come to live and work in Britain after the transition period gets under way will not have the same rights after the Brexit transition to bring family to join them as EU nationals already resident in Britain who have secured "settled status".
Instead, they will have to pass a minimum income threshold test, which is currently set at £18,600 for British but not EU citizens.
The three-page policy statement on new EU migrants arriving in the UK during the transition period makes clear they will be given the chance to build up the five years' continuous residency that is needed to apply to be given the right to stay permanently in Britain.
It says those EU citizens and their family members who arrive during the transition period and who register will be offered "a temporary status in UK law that will enable them to stay after the implementation period has concluded – this means that they will be able to remain lawfully in the UK working, studying or being self-sufficient for the five years needed to obtain settlement".
The policy paper makes clear that those new EU migrants who wish to stay long term will have to register within three months of arriving in Britain. There will also be a three-month "window" at the end of the Brexit transition period for applications to ensure there is no cliff-edge. Irish citizens will not be required to register.
One major potential sticking point with this fresh British offer on citizens' rights however is the government's insistence that they will only be enforceable in UK courts and not through the European court of justice.
May was accused of pandering to hard Brexiters when she promised during a three-day trip to China earlier this month to "battle the EU" over their proposal to give long-term residency rights to those who arrived after the 29 March 2019.
The official Brexit policy document says the concessions have been made because "it is important to provide certainty to business and those EU citizens who wish to move to the UK during the implementation period as to the terms under which they will be able to remain in the UK and make a life here once the period is over".
The climbdown is likely to be sharply criticised by hard Brexiters and groups such as Migration Watch, whose claim that as many as a million EU citizens could try to take advantage of the concession has been condemned as pure speculation.
The unilateral British offer was however welcomed as "a big step in the right direction" by the British Chambers of Commerce who said it would remove "significant short-term uncertainty for families, businesses and wider communities".
Adam Marshall, BCC director-general, added: "Business will be pleased that during a time of record-high labour shortages, the government is showing a pragmatic approach to immigration. Firms will want to see this realism embedded in future migration policy when the UK leaves the EU."

United States
Levi Sanders is joining seven other Democrats and three Republicans in the race for the 1st congressional district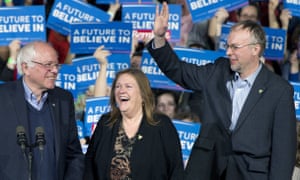 Bernie Sanders, Jane Sanders and Levi Sanders
attend a primary night rally in Essex Junction, Vermont, in 2016. Photograph: Jacquelyn Martin/AP
Bernie Sanders' son says he is running for Congress in New Hampshire.
Levi Sanders is joining seven other Democrats and three Republicans in the race for the 1st congressional district. Democratic representative Carol Shea-Porter is stepping down after her term ends.
The 48-year-old Sanders has lived in New Hampshire for 15 years, in Claremont in the 2nd congressional district. The US constitution requires only that US House members reside in the state they serve, not necessarily in the same district.
The son of the Independent Vermont senator and 2016 candidate for the Democratic presidential nomination proposes a "Medicare for all healthcare system"; tuition-free public college; a higher minimum wage; and "sensible gun legislation".
He is a legal services analyst in Massachusetts. His stepsister, Carina Driscoll, is running for mayor of Burlington, Vermont, a post once held by Bernie Sanders.