06 Mar
News and Analyses, A Foreign Perspective
Nearly all of these are English-edition daily newspapers. These sites have interesting editorials and essays, and many have links to other good news sources. We try to limit this list to those sites which are regularly updated, reliable, with a high percentage of "up" time.


This year's Oscars have highlighted the dearth of films that get to the heart of poverty and its causes
*******************************
A few thoughts:
Poverty in our country, as in the world, has always been with us since the beginning. Any film about the frontier settlement is about poverty. That was a main driver in that period. The Grapes of Wrath is the most recognizable film to address the issue. The theme that everything is hunky dory in the US is a false narrative and most common.
Part of the problem is that the majority do not give a damn about the poor.
Cinema is a business. Very few movies are undertaken and financed purely for social purposes.
Could it be that the masses go to the cinema for a few hours' relief from the drudgery and hardship of their lives? Society is a pyramid. The majority of film-goers are from the bottom two thirds of that pyramid. Their lives are hard. They know what it's like to be poor or to be worried about money. They live that movie every day.
Most people, most of the time, go to the movies to look through a window and not view a mirror.
And people go to the cinema for escape. Not to have their daily struggle held up in front of them.
Even middle class folks don't want to see the struggles of poverty played out because it hits too close to home. Who wants to be reminded that they're credit cards are overused, your kid needs braces and college is right around the corner? The one thing both Trump the Dump and the political parties do not realize, or care to know, is that the US in in serious trouble; the folks don't need Hollywood to better inform them. They live it.
The McGlynn
*******************************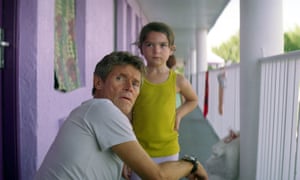 Willem Dafoe, left with Brooklynn Prince, was Oscar-nominated for his performance in The Florida Project. Photograph: AP
B

uried within the Trump administration's recent budget was a proposal to sharply cut food stamp funding. In its place would be a box of government-provided foods, a scheme sure to be a boondoggle benefiting only the companies who get contracts to produce and deliver these packages. The plan offers yet more evidence of the lack of policy knowledge within the administration, its ignorance of the scale and scope of US hunger and poverty, and its disregard and contempt for the millions who, despite their best efforts, still struggle to get by.
That said, there's nothing especially novel about the administration's attitude – disdain for poor people is a longstanding feature of American political culture.
Hollywood has been among the guilty parties. Thanks to April Reign's #OscarsSoWhite campaign, we are developing the habit of evaluating how well women, people of color and LGBT Americans are represented among the nominees. But the notion that we should also look for better representation of poverty in the movies is still not on our radar. It should be.
Only one of the more than 50 films with a 2018 Oscar nomination dealt in any substantive way with poverty or homelessness in the US: The Florida Project. That film, for which Willem Dafoe received a best supporting actor nomination, tells a largely sympathetic story about the challenges faced by a mother who loses her benefits and the choices she makes – not always good ones, perhaps – to care for her young daughter. But that's the only nominated film to focus clearly on people in precarious economic straits.
Part of the problem, as it is in most years, is that few movies about poor or homeless Americans were made in the first place. My previous research found that between 1902 and 2015, of all the films made in the US, only 299 of them were in some way significantly concerned with issues of poverty and homelessness.
For 2017, I can identify five films that fit the category: Same Kind of Different As Me, The Glass Castle, I Am Another You, Quest and The Florida Project. The problem is not merely poor people's invisibility, however, but the fact that when they do appear on screen, it's typically to reinforce age-old stereotypes. With the exception of The Florida Project, the academy was right not to recognize any of these films.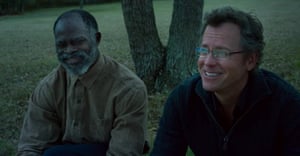 Djimon Hounsou and Greg Kinnear in The Same Kind of Different as Me. Photograph: PR Company Handout
Take The Same Kind of Different As Me, a movie that presents itself as being about a homeless black man, but is most interested in a rich white couple and the way their volunteerism at a soup kitchen saves their marriage, and their souls.
This is a common pattern. Films that appear to be about poor people are often really about how non-poor people are redeemed by coming to their aid. This film, repeating another old pattern, is careful to give each shelter resident a dramatic story of trauma or tragedy to explain how they became homeless, never offering a hint of the political or economic circumstances that could better explain why so many in the US wind up in such desperate straits.
To make matters worse, the solution to homelessness here is prayer and the benevolence of the rich (not affordable housing, good jobs, or generous, well-conceived social support). It places people's escape from poverty firmly within their control, which is, for most, simply not the case.
The Glass Castle didn't do much better. Part of the power of Jeannette Walls' memoir, upon which this movie is based, was its refusal to tell a tidy story. It was more interested in description than explanation and, as a consequence, offered insight into the day-to-day trauma that living in poverty can visit upon children.
But the film doesn't convey the privation that haunts Walls' book, and turns an unsentimental account of growing up poor into a maudlin movie about father-daughter relationships. As a consequence, another opportunity to reveal something about the reality of poverty in America is squandered.
The 2007 The Glass Castle, with Woody Harrelson and Naomi Watts. Photograph: Moviestore/Rex Features
Moviemakers who portray homelessness are typically looking for explanations – the more dramatic the better – and in so doing documentarian Nanfu Wang, in I Am Another You, takes a tale that could have been about a personable, curious and restless young man, and instead gives us another movie whose narrative turns on mental illness (like The Soloist, Saint of Fort Washington, The Fisher King and others).
Rates of undiagnosed and untreated mental illnesses are indeed higher among homeless people, but using that as an explanation for why people are homeless obscures the fact that mental illness, in other rich democracies, does not lead so easily to homelessness. Why does it here?
Finally, there's Quest, a documentary that introduces us to the Rainey family through scenes of what looks like a pretty ordinary north Philadelphia neighborhood, albeit a poor one. The Raineys worry about their friends, their children, and the young men who have a hard time staying on the "straight path", struggling with alcohol, drugs and the formidable obstacles in their way.
Near its conclusion, we see the Raineys watching then candidate Trump plead for African American votes, asking, "What do you have to lose?" Christine'a Rainey answers him matter-of-factly: "You have no idea how we live."
Even so, the film seems less interested in politics or social commentary than in showing us one American family that works hard, cares for each other and for their community, and nonetheless still struggles just to get by from week to week and month to month.

World Politics
United States
Agency reports 'insufficient evidence' that Civil Rights Act was breached in case of huge landfill near mostly African American town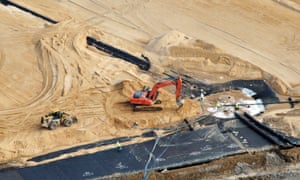 The Arrowhead landfill near Uniontown, Alabama. Photograph: Jay Reeves/AP
The US Environmental Protection Agency has dismissed a civil rights case brought by residents of a small, overwhelmingly African American town in Alabama who have spent much of the past decade battling a toxic landfill they blame for causing a myriad of physical and mental illnesses.
In a 28-page letter, the EPA said there was "insufficient evidence" that authorities in Alabama had breached the Civil Rights Act by allowing an enormous landfill site containing 4m tons of coal ash to operate near residents in Uniontown. A separate claim that the landfill operator retaliated against disgruntled residents was also turned down.
Uniontown has been framed by advocates as one the most egregious examples of environmental racism in the US, where a largely poor and black population has had a polluting facility foisted upon it with little redress.
"To say there is insufficient evidence is ludicrous; I just can't take it seriously," said Ben Eaton, who has lived in Uniontown for 33 years. Eaton blames regular headaches and burning eyes upon the landfill, which he said has an odor than can be smelled from several miles away.
"The protection we've got from the government is little to none," he said. "I can't help but feel it's because the population is mainly black and poor. This was forced on us. If this was a white, wealthy community, this would've never happened."
The huge Arrowhead landfill rubs up against Uniontown, where about 90% of the population is black and half of the town lives below the poverty line. Arrowhead, operated by Green Group Holdings since 2011, sprawls over an area twice the size of New York City's Central Park, accepting the waste from 33 different states.
The site used to contain a jumble of car parts, electronics and other discarded items until a flood hit a coal plant 330 miles away in Kingston, Tennessee, in 2008. Over the next two years, the clean-up of Kingston involved shifting 4m tons of potentially hazardous coal ash by train to the Arrowhead landfill abutting Uniontown.
Coal ash contains toxins such as mercury and arsenic that can affect the nervous and reproductive systems and cause other health problems. According to the EPA, people living within a mile of unlined coal ash storage ponds have a one in 50 risk of developing cancer.
Residents, already upset the landfill was placed next to a historic cemetery, began to fret that the coal ash would seep out into the air and water. Some stopped drinking the tap water. Many still spend as little time outdoors as possible due to the smell and swarms of flies. A rash of nosebleeds, breathing difficulties, mental health issues and cancers have been blamed upon the coal ash, although the authorities haven't conducted any studies to analyze the potential link.
"The shipping of toxic coal ash from a mostly white county in Tennessee to this rural, poor and most black county and community in the Alabama black belt is a textbook case of environmental racism," said Dr Robert Bullard, an academic who pioneered research that has found people of color are disproportionately blighted by pollution in the US.
In 2013, several dozen Uniontown residents filed a complaint under title VI of the Civil Rights Act. EPA officials visited the town and spoke to residents as the Obama administration sought to overhaul a federal system that has rarely invoked anti-discrimination laws to remedy environmental injustices.
However, residents' hopes have now been squashed by the EPA. The agency handled far fewer new legal cases against polluters in the Trump administration's first year compared with recent years, and it has moved to relax regulations around the disposal of coal ash. Coal plants generate about 130m tons of ash a year, much of it stored in ageing reservoirs that are prone to leaking.
"To date we haven't seen any actions by the Trump administration in support of our most vulnerable communities," said Mustafa Ali, who worked at the EPA's office of environmental justice for more than two decades before resigning after Trump's inauguration. "They continue to weaken or roll back basic protections critical to their survival."
In its letter to the residents' lawyer, the EPA said there was "no causal connection" between the coal ash and health problems nor any significant threats to Uniontown's groundwater. In a separate letter to the Alabama department of environmental management, the EPA recommended the state "improve its nondiscrimination complaint process".

Guardian US and WNYC's On the Media collaborated on a radio episode looking at the coverage of neo-Nazis and white nationalists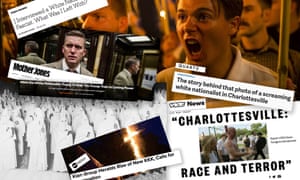 Charlottesville made clear that far-right groups were a serious, violent threat. But it did not put an end to the debates over media coverage of these groups. Photograph: WNYC Studios
In August, hundreds of white men with torches marched across the University of Virginia campus. They chanted "Jews will not replace us!" and "Blood and soil!" and fought with counter-protesters in the streets.
 
The footage and photographs from the far-right rally in Charlottesville, Virginia, left people around the world shaken. These were white nationalists and neo-Nazis marching proudly in public, faces bare, in support of an openly fascist ideology.
For months before the Unite the Right rally in Charlottesville, news outlets had been profiling the emboldened racist extremists who had celebrated the election of Donald Trump. The coverage had often sparked backlash, with readers across the political spectrum arguing that fringe racists were being given too much of a platform, and that media coverage was blowing their influence out of proportion.
Charlottesville made clear that far-right groups were a serious, violent threat. But it did not put an end to the debates over media coverage of these groups – and the fierce criticism when news organizations produced coverage that readers saw as too "normalizing".
Guardian US and WNYC's On the Media have collaborated on a radio episode looking at these debates over the coverage of America's emboldened racist extremists. How should news organizations cover neo-Nazi and white nationalist groups? What does it take to cover them accurately – without simply giving them a platform for their ideas?
The episode brings together historians of American racism with seven reporters who have covered the far right over the past year. Together, they weigh in on the common mistakes journalists and editors make – and the false assumptions about racism at the root of many of these errors.
"I found myself at this fancy party in New York and there were all these fancy liberals and they wanted to talk to me about Charlottesville," said Elle Reeve, a correspondent for Vice News Tonight, which produced the acclaimed 2017 documentary Charlottesville: Race and Terror, documenting the August Unite the Right rally in Charlottesville, Virginia.
"No matter how many times I told them that these guys were not poor, they kept saying: 'Well, you know, whatever economic suffering has caused them to adopt racism, that's unfortunate.' No, these guys are like you. They are like you. They are from New Jersey. They went to prep school. They live on the Upper East Side. And it's very hard for white liberals to accept that."
Dr Ibram X Kendi, the founding director of the Anti-Racist Research and Policy Center at American University and author of Stamped from the Beginning: The Definitive History of Racist Ideas in America, said the assumption that racism grows out of ignorance is an old trope – and a false one.
"The reality is actually quite the opposite. Those who are producing racist ideas were doing so to justify existing policies that typically benefited them," Kendi said.
But blaming racism on ignorance has continued to be a popular move – even for some anti-racist activists.
"When you make it about ignorance, you're also making it about individual people and you're not making it about power and policy and structures and systems. That the problem centrally is not America's institutions. It's not the American story," he said. "It allows people to deny how fundamental racism has historically been to America."
There were common threads in the journalists' advice: coverage of these groups needs a more defensive mindset, with more of an expectation than usual that subjects may lie and deceive; a deeper sense of the history and context of extremist organizing; more acknowledgement of the connections between fringe extremist groups and mainstream racism; and an awareness of how much even critical coverage of these groups can amplify their messages and increase their reach.
"The Klan will put some flyers on some cars in a parking lot in Raleigh, North Carolina, and all the journalists go there to cover the Klan, and that's well and good, but we need to talk about the bigger issue, about how what they say and what they believe has made its way into the mainstream," said Vegas Tenold, a reporter who chronicles his six years reporting on the American far right in his new book, Everything You Love Will Burn.
Almost none of this debate over how to cover racist extremists is new. Dr Felix Harcourt, the author of Ku Klux Kulture, weighs in on how an almost identical debate over how the media should cover racist extremists played out in the early 1920s, after a newspaper's attempt to expose the KKK ended up inadvertently boosting the organization's membership by hundreds of thousands of people.
Doing this reporting accurately today, according to journalists who cover the far right as a beat, requires an understanding of how neo-Nazis have weaponized irony as a political strategy.
"A lot of reporters don't have a strong internet fluency so they don't understand things like trolling, and they're unable to find the places where Nazis are talking to each other," said Anna Merlan, a reporter for Gizmodo Media's special projects desk.