08 Mar
News and Analyses, A Foreign Perspective
Nearly all of these are English-edition daily newspapers. These sites have interesting editorials and essays, and many have links to other good news sources. We try to limit this list to those sites which are regularly updated, reliable, with a high percentage of "up" time.


California, Washington and Oregon have led criticism of Trump's climate policies, but change hasn't been easier closer to home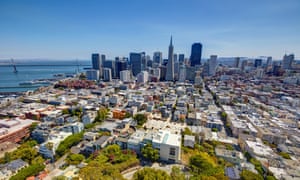 California's exposure to climate change has been laid bare with warnings that San Francisco faces a far worse threat from rising seas than previously thought, while the agricultural heart of the state will increasingly struggle to support crops such as peaches, walnuts and apricots as temperatures climb.
The findings, from two new scientific studies, come as California's neighboring west coast states Oregon and Washington have both faltered in their legislative attempts to address climate change and deliver a rebuke to Donald Trump's dismissal of the issue.
The problems faced by the progressive coastal bastions have been sobering on two fronts: not only is the western flank of the US experiencing the escalating consequences of climate change, but widespread Democratic dominance at state level has failed to enact ambitious policies to reduce greenhouse gas emissions.
"The states are struggling to fill the gap for the federal government on climate change," said Nives Dolsak, of the school of marine and environmental affairs at the University of Washington.
"In Washington, we are holding a very good policy hostage because it's not perfect. Inclusion and equity concerns means we are losing momentum and public support on climate change."
The quibbling comes as climate change tightens its grip on the west coast. San Francisco can lay claim to being one of the greenest cities in the US, through its embrace of clean energy, mandated recycling and banning of single-use plastic bags, yet it faces a steep challenge to avoid the ravages of sea level rise.
Researchers using satellite-based radar and GPS have discovered large areas of land beside the San Francisco bay is sinking, exacerbating the threat from sea level rise and storms. Places such as San Francisco airport, Foster City and Treasure Island are subsiding by as much as 10mm a year, doubling the area previously considered at risk of flooding by the end of the century, according to the Science Advances-published study.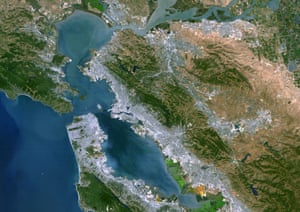 A satellite image of the San Francisco bay. Large areas of land beside the bay have been discovered to be sinking. Photograph: UniversalImagesGroup/UIG via Getty Images
In all, around 48 to 166 sq miles of the bay's shoreline is set to be prone to flooding, even under a moderate rate of sea level rise. This scenario would worsen if melting glaciers in Greenland and Antarctica trigger a far faster rate of ocean expansion.
"There are about 7 million people living on the bay who could be vulnerable" said Patrick Barnard, a geologist at the US Geological Survey who wasn't involved in the research.
"A huge number of people along the west coast are in low-lying areas, in Los Angeles and San Francisco all the way up to Seattle. All the options will have to be on the table, from replenishing coastal marshes to sea walls to managed retreat."
California is facing a buffeting from increased flooding – around $763bn if its assets are exposed to inundation – at the same time as parts of its agriculture base declines due to rising temperatures.
Recent University of California research found that the yield of some crops could drop by 40% by 2050, with the situation becoming so severe by the end of the century that peaches, walnuts and apricots may be unviable in the central valley. Almonds, avocados, cherries and strawberries also face sharp crop declines.
Faced with such threats, the governors of California, Washington and Oregon have spearheaded criticism of Trump for taking a hammer to national climate policies and withdrawing the US from the Paris climate accords. But progress hasn't been much easier closer to home.
While California has a statewide emissions reduction scheme, it has clashed with the Trump administration over the state's stringent vehicle fuel standards. And California's neighbors to the north are struggling to demonstrate that states can compensate for the lack of federal action on climate change, even those where Democrats have a firm grip on power.

An almond farm in Turlock, California, during the drought in 2014. Photograph: Justin Sullivan/Getty Images
Last week, an effort to introduce the first straight tax on carbon dioxide emissions failed in Washington state, with governor Jay Inslee admitting it couldn't pass the Democrat-controlled senate. "On the arc of history, we're not quite far along enough on the arc," said Inslee, a Democrat and vocal proponent of action on climate change. "That day will come, but it wasn't quite here yet."
The tax, which would've started at $20 per ton CO2 emitted, faced criticism it would increase the cost of energy or, conversely, that it wouldn't generate sufficient money for clean energy programs. Meanwhile, in Oregon, another state dominated by elected Democrats, lawmakers failed to agree on a cap on greenhouse gases and will instead revisit the issue in 2019.

Military denies crimes and says MPs 'turning a blind eye to real situation' after letter demanding sanctions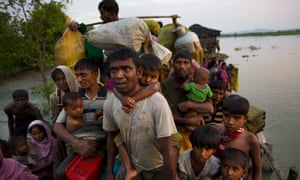 Rohingya Muslims crossing the border from Myanmar into Bangladesh near Palong Khali. More than 700,000 Rohingya have fled from Rakhine state to Bangladesh. Photograph: Bernat Armangue/AP
Myanmar's military has accused British MPs of making "one sided-accusations" about the plight of the Rohingya and denied that any violence, extrajudicial killings, rape and arson was committed in Rakhine state.
Dozens of British MPs have signed a letter demanding that the foreign secretary, Boris Johnson, and the EU sanction Myanmar over the campaign of violence committed against its minority Muslim community.
In a statement responding to the letter, the army rejected all responsibility for the crimes committed and said MPs were "turning a blind eye to the real situation".
Since August 2017, more than 700,000 Rohingya have fled to neighbouring Bangladesh from Rakhine state. Thousands of people have been killed, villages have been burned to the ground and women subjected to sexual abuse and rape over months of violence. The UN has described the army's actions as having the "hallmarks of genocide" and Amnesty has accused it of crimes against humanity.
In its latest denial of wrongdoing, the military reiterated its argument that the conflict was ignited by "illegal Bengali immigrants". It accuses the Rohingya militant group Arakan Rohingya Salvation Army (Arsa) of committing "genocide and ethnic cleansing on a minority of ethnic people in Buthidaung-Maungtaw region".
According to "hard evidence" the military allegedly collected, it claims that between 10,000 and 20,000 Rohingya took part in attacks on police in August 2017 – a vastly different figure from the military's estimate of 1,000 Rohingya insurgents at the time.
It also claimed to have done an investigation of its own into the violence in Rakhine, which concluded that "security personnel did not commit extrajudicial killings or sexually abuse and rape women. There was no unlawful detention of people, beating, killing and arson as well."
In the case of Rohingya villages that had been burned down, "Arsa extremist Bengali terrorists set fire to houses and fled to Bangladesh first. They also threatened, coerced and persuaded other villagers to flee to Bangladesh, and many fled as a result," the military's own investigation found.
The military's denial directly contradicts mountains of evidence collected by organisations such as Amnesty and Human Rights Watch as well as multiple reports in the media, with two Reuters journalists on trial in Myanmar for their investigations into mass graves.
On Monday, Andrew Gilmour, the UN assistant secretary general for human rights, who had been on a four-day visit to the refugee camps in Cox's Bazaar in Bangladesh, said the ethnic cleansing was continuing.
"It's not often that you see a bald-faced lie of this magnitude, but then again, the Tatmadaw [armed forces] have a lot of experience in having no shame – since they've been covering up their human rights atrocities for decades," said Phil Robertson, deputy Asia director, Human Rights Watch.
"Statements like these indicate why the international community must prioritise hauling senior general Min Aung Hlaing and other Burmese military commanders before the international criminal court to stand trial for the crimes against humanity they've ordered or committed."

Finance minister doubts hundreds of thousands of Rohingya refugees can go home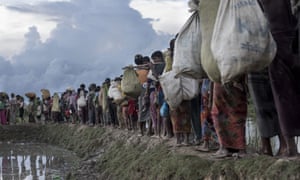 Rohingya refugees walk after crossing the Naf river from Myanmar into Bangladesh in Whaikhyang. Photograph: AFP/Getty
A senior minister in Bangladesh has condemned the Myanmar government as "evil" and said he did not believe the hundreds of thousands of Rohingya refugees could be repatriated.
More than 700,000 Rohingya live in camps on the Bangladesh border of Myanmar after fleeing a campaign of violence by the military across Rahkine state. Many of their homes and villages were burned to the ground, thousands of people were killed and hundreds of women raped.
Bangladesh has insisted Rohingya will be sent back but speaking on Tuesday, the finance minister, Abul Maal Abdul Muhith, admitted this was looking increasingly unrealistic.
"I do not believe the Rohingya can be sent back," he said in comments reported by Hindu Business Online. "You can speculate that very few will return to Burma.
"The first reason is that Burma will only take a few and secondly is that the refugees will never return if they fear persecution."
A repatriation agreement was signed by the two countries in November, supposedly to begin the process of returning willing Rohingya to Rahkine. It was reiterated in January, stipulating that the Rohingya should be returned within two years.
Progress has since stalled, however, with both sides blaming the other for being underprepared. There are also concerns that Rahkine remains unsafe for the minority Muslim community, with most NGOs and organisations such as the UN still banned from operating there. Meanwhile, Rohingya continue to stream over the border to escape persecution.
Muhith was outspoken in his condemnation of Myanmar and he described the government as evil. He also criticised its approach to repatriation, saying it would "take 15 [Rohingya refugees] a day when there is 1 million".
"They are evil, a rogue government," he said. "We have no weakness in diplomacy, everyone is supporting us. But, Burmese are not trustworthy."
His comments come at a time when Bangladesh-Myanmar relations have been antagonised further by a build-up of Myanmar troops on the border, close to a strip of land housing about 6,000 Rohingya. The Myanmar government insisted it was to protect against terrorism.
While the Bangladesh prime minister, Sheikh Hasina, has welcomed the persecuted Rohingya, there are signs that the country's patience is being tested by the hundreds of thousands of refugees occupying land.
Poverty is rife in Bangladesh and, with elections this year, the timeline for repatriation of the Rohingya is a controversial issue for the governing Awami League.

World Politics
United States
Bill headed to governor's desk would raise gun-buying age to 21 and increase funding for school security and mental health support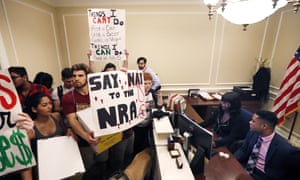 Students went to the Florida governor's office with boxes of petitions for gun control reform last month. Photograph: Gerald Herbert/AP
Florida's lawmakers narrowly passed a controversial gun reform bill late on Wednesday that would allow armed teachers in the state's classrooms, three weeks to the day after the Marjory Stoneman Douglas high school massacre in which 17 people were killed.
The new legislation, which must now be approved by the Florida governor, Rick Scott, also raises the age at which weapons can be purchased to 21 and provides extra money for school security and mental health support.
The package was backed by families of the Parkland victims, but strongly opposed by many Democrats, who failed to block its passage in a 67-50 vote.
It is unclear if Scott, who has also spoken out against putting guns in classrooms, will veto the bill.
"I'm going to take the time to read the bill," Scott told reporters. "I have been clear. I don't believe we should be arming teachers."
Earlier on Wednesday, students at Stoneman Douglas clashed with Betsy DeVos after the US education secretary toured the campus. According to at least two teenagers who were present when DeVos arrived, no students were allowed to ask her questions. One claimed DeVos refused to meet or even speak with them.
"You came to our school just for the publicity and avoided our questions for the 90 minutes you were actually here," Aly Sheehy, a 12th-grade student and survivor of the shooting, said in a tweet. "How about you actually do your job?"
Another student, Carly Novell, the editor of the school's newspaper, Eagle Eye, said she was allowed to photograph DeVos but not accompany her on the campus tour.
"I thought she would at least give us her 'thoughts and prayers', but she refused to even meet/speak with students," Novell said in a tweet. "I don't understand the point of her being here."
DeVos's visit to the Parkland school was closed to the press, and came on the first full day of lessons for students since the 14 February massacre that claimed the lives of three teachers and 14 of their classmates.
The final vote in Florida's house of representatives late on Wednesday followed hours of intense debate, and marks the first time in 22 years that the state legislature has approved any kind of gun control measure.
The measure would outlaw the sale of so-called bump stocks, which give semi-automatic weapons firepower similar to automatics and will allow certain school personnel, including librarians, administrators and other support staff, to be armed, following Donald Trump's repeated calls for some teachers to carry guns.
However, a ban on assault weapons such as the AR-15 used by the Parkland shooter, one of the main demands of the #neveragain movement set up by Stoneman Douglas students in the aftermath of the massacre, was missing from the proposed legislation.
A final vote in Florida's house of representatives was expected later on Wednesday.
DeVos spoke briefly with reporters after what she said was "a very sobering and very inspiring visit" and contradicted the students' account of the meeting.
"There were a number of student newspaper reporters who walked around with me and they are obviously very interested in seeing what adults are going to do about this whole situation," she said.
"I give a lot of credit to the students here who have found their voices and encouraged them to continue to speak out about finding these solutions and having adults pay attention."

The president's press secretary mysteriously claimed Trump won a case 'in arbitration' against adult film actor who is suing him
The White House has made a mysterious claim that Donald Trump won a case "in arbitration" against a pornographic film actor who alleges that she had sex with him a decade ago.
Press secretary Sarah Sanders' surprise assertion appears to confirm that a contract existed between Trump and Stormy Daniels, whose real name is Stephanie Clifford.
"This case has already been won in arbitration and anything beyond that, I would refer you to the president's outside counsel," said Sanders, who insisted that Trump denies Daniels' allegations.
At Wednesday's press briefing she was pressed further on who won the arbitration and when. The spokeswoman replied gnomically: "By the president's personal attorneys and for details on that I would refer you to them.
"I can share that the arbitration was won in the president's favour, and I would refer you to the president's outside counsel on any details beyond that."
The disclosure implies that arbitration was used as a simpler, less costly alternative to litigation.