09 Mar
News and Analyses, A Foreign Perspective
Nearly all of these are English-edition daily newspapers. These sites have interesting editorials and essays, and many have links to other good news sources. We try to limit this list to those sites which are regularly updated, reliable, with a high percentage of "up" time.


Events around the world put spotlight on progress and failings in achieving gender equality
Millions of women gathered across the world to strike, protest and party to mark International Women's Day on Thursday.
Trains stopped in Spain as female workers went on the country's first "feminist" strike, newspapers dropped their prices for women in France, and the IWD flag flew over the UK parliament.
In India, women marched in several cities including Delhi, Karachi and Kolkata, and women also took to the streets in Bangladesh, Belarus, Nepal, Pristina and Ankara among many others.
It was a day of celebration and a day in which the message was spelt out that much work still needed to be done to achieve global gender equality.
United Kingdom
In London, an International Women's Day flag flew over parliament for the first time as MPs and peers marked the day with a debate in both Houses of parliament.
The shadow equalities minister, Dawn Butler, said she had been inspired by the flag flying over the Transport for London building on Monday and had approached the Speaker, John Bercow, about a flag for parliament. He approved the plan with less than 24 hours to go, as the House commemorated 100 years since the first women in the UK got the vote.
Bercow said: "We must not sit smugly and think job done; there are still issues of unequal access to the labour market, occupational segregation, women and members of minority groups scaling the heights professionally, there is a substantial gender pay gap."
More than 100 MPs and peers from all parties wrote to the home secretary, Amber Rudd, calling for women in Northern Ireland to be allowed access to abortion services locally rather than having to go to England.
United Nations
Women tweeted about the global #WikiGap event, organised in partnership with the Swedish foreign ministry. The idea was to get more women contributing to the Wikipedia website to address the gender imbalance on the world's largest online and user-generated encyclopaedia. The Swedish foreign ministry said: "Knowledge is power and Wikipedia has the potential to colour our view of the world. But there is great imbalance between men and women on the website, like in society at large."
It said 90% of those who added content to Wikipedia were men and there were four times more articles about men than women. "The figures vary regionally but, no matter how you look at it, the picture is clear: the information about women is less extensive than that about men. Regardless of which language version of Wikipedia you read. We want to change this."
Ireland
Campaigners seeking to repeal the eighth amendment celebrated a "historic and momentous" step forward in their campaign to allow access to abortion. The wording of a national referendum to overturn the constitutional ban on abortion was agreed by the cabinet on Thursday.
Ailbhe Smyth, convenor of the Coalition to Repeal the Eighth Amendment, welcomed the news as a significant milestone, adding: "It has been a very long time coming … We need abortion care that is safe and regulated, in line with best medical practice, and today brings us a crucial step forward in trying to achieve this important goal."
Meanwhile, the former Irish president Mary McAleese said the Catholic church was an "empire of misogyny", ahead of a conference in Rome calling for women to be given leadership roles by the Vatican. "There are so few leadership roles currently available to women," McAleese said. "Women do not have strong role models in the church they can look up to. [A church hierarchy] that is homophobic and anti-abortion is not the church of the future."

World Politics
United States
Source: AP
The US president signs a proclamation to impose tariffs on some steel and aluminium imports, telling reporters 'we have to do something' to fix a $500bn trade imbalance with China.  However, Donald Trump's White House press conference descended into laughter when he told the president of a local steel union, Scott Sarge, 'Your father Herman is looking down, he's very proud of you.' Sarge pointed out that his father was still alive, at which point Trump said in that case he must be even more proud. The president then offered to arm wrestle another industry figure as he stepped up to the podium.

South Korea's national security adviser confirms historic talks after relaying offer from Pyongyang to White House
Donald Trump has accepted an invitation from the North Korean leader, Kim Jong-un, to hold an unprecedented summit meeting to discuss the future of the embattled regime's nuclear and missile programme.
In a stunning development following months of tension and mutual sabre-rattling, senior South Korean officials appeared outside the White House to announce the news, having verbally conveyed Kim's invitation to Trump. The White House confirmed Trump was ready to meet Kim "by May", at a time and location yet to be determined.
If the meeting takes place it would be the first ever between leaders of the two countries. Pyongyang has long sought a summit with the US to reflect what the regime sees as its status as a regional military power. Bill Clinton came close to agreeing to a meeting with Kim's father, Kim Jong-il, in 2000, but arrangements had not been made by the time he left office in January 2001.
Administration officials portrayed the invitation as a victory for Trump's policy of "maximum pressure" and stressed that the US would not relax its stringent sanctions regime before North Korea began disarming. A senior official said Trump "is not prepared to reward North Korea in exchange for talks".
The US Secretary of State, Rex Tillerson, said on Friday Trump had taken the decision to hold talks after the US was surprised at how "forward-leaning" Kim was in his conversations with a visiting South Korean delegation.
"President Trump has said for some time that he was open to talks and he would willingly meet with Kim when conditions were right. And I think in the president's judgment that time has arrived now," he said.
Pak Song-il, North Korea's ambassador to the UN, praised Kim for his "broad-minded" and "courageous" decision in quotes reported by the Washington Post. He advised the US to contribute to peace by bringing a "sincere position and serious attitude".
Moon Jae-in, South Korea's president, praised the possible meeting as a "historic milestone" on the way to peace on the peninsula.
Trump himself confirmed the meeting in a tweet, adding that US sanctions would remain in place until a denuclearisation deal was achieved.
The development was announced by South Korean national security director Chung Eui-yong, flanked by intelligence chief Suh Hoon and Cho Yoon-je, South Korea's ambassador to US.
The invitation, Chung said, was accompanied by an offer to suspend missile and nuclear tests, the condition US officials have laid down for the start of any substantive talks.
Chung is expected to head to Moscow and Beijing, while Suh will travel to Tokyo. The Chinese foreign ministry spokesman said Beijing was pleased with the "positive signals" while the Russian foreign minister, Sergei Lavrov, said a Trump-Kim meeting would be "a step in the right direction".
"It should not just be a meeting, it should open up a way to resuming a fully fledged diplomatic process to find a solution to the North Korean nuclear issue on the basis of principles agreed during the six-party talks and the UN security council," he told reporters.
Japan's prime minister Shinzo Abe said on Friday he "highly appreciated" the surprise announcement and planned to visit Trump "as early as April".
Ministers agree wording for vote on repeal of 'eighth amendment' which enshrines abortion ban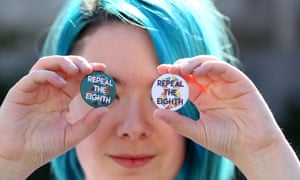 If Ireland backs repeal, the government has said it will introduce legislation permitting unrestricted abortion during the first 12 weeks of pregnancy. Photograph: Paul Faith/AFP/Getty Images
The Irish government has agreed the wording of a national referendum on abortion to be held by the end of May which could radically transform the lives of thousands of women and signal a further loosening of the grip of the Catholic church.
The cabinet, meeting on International Women's Day, approved a bill on Thursday allowing the long-anticipated referendum to go ahead.
Voters will be asked if they want to repeal article 40.3.3 – known as the eighth amendment – which since 1983 has given unborn foetuses and pregnant women an equal right to life, effectively enshrining a ban on abortion in the country's constitution.
If Ireland votes in favour of repeal, the government has said it will introduce legislation permitting unrestricted abortion during the first 12 weeks of pregnancy.
Currently, terminations are only allowed when the life of the mother is at risk, and the maximum penalty for accessing an illegal abortion is 14 years in prison.
Since 1983, an estimated 170,000 women have left Ireland to have terminations, and up to 2,000 women each year illegally take the abortion pill, accessed online.
The taoiseach, Leo Varadkar, said: "This referendum is about asking our citizens to allow women to make major decisions for themselves. It's about trusting women to decide, in the early weeks of their pregnancy, what's right for them and their families.
"And it's about trusting our doctors to decide when continuing with a pregnancy is a risk to the life or health of a woman.
"Above all it's about trusting Irish people to consider this matter in depth, with compassion and empathy, as I know they will."
Katherine Zappone, the minister for children, said there was no more significant way of marking International Women's Day than by agreeing the bill. "There is now a determination to get this issue before the voters as quickly as possible so that all can have their say," she added.
The bill will be debated in parliament over the next 24 hours, and full details will be published on Friday. Extra time has been granted to keep the Irish parliament open on Friday to allow for extended debate on the referendum proposals. The vote will not be subject to party whip.
Ireland's Fine Gael-led minority government believes there is enough cross-party support for the bill to become law. If passed, a referendum commission will be established, which will publish a report at the end of March setting out the exact wording of the referendum proposition.
The way for the government to introduce the bill was cleared on Wednesday by a supreme court ruling. Judges overturned an earlier high court judgment saying the unborn had constitutional rights beyond the right to life enshrined in the eighth amendment.
Speaking after the cabinet meeting on Thursday, Simon Harris, the health minister, said that if the referendum did not pass, Ireland would be unable "to address issues in relation to women who have had fatal foetal abnormalities in their pregnancy, in relation to women who have been raped and abused in this country".
A no vote would mean nothing could be done for the Irish women who have to travel to the UK for abortions, he added.
Thursday's announcement will galvanise pro-repeal organisations in Ireland, which have already been actively campaigning for months.
Ailbhe Smyth of the Coalition to Repeal the Eighth Amendment said: "This is a historic and momentous day for Ireland, and for the women of Ireland in particular. It has been a very long time coming.

Spinner dolphins and a rehabilitated owl are among this week's pick of images from the natural world
Black rhinos on the grasslands of the Masai Mara in Kenya
Photograph: Adam Bannister/Barcroft Images
Bee-eaters in Van, Turkey
Photograph: Ali Ihsan Ozturk/Anadolu/Getty Images