11 Mar
News and Analyses, A Foreign Perspective
Nearly all of these are English-edition daily newspapers. These sites have interesting editorials and essays, and many have links to other good news sources. We try to limit this list to those sites which are regularly updated, reliable, with a high percentage of "up" time.


Young male refugees in Bangladesh are being helped by pioneering aid efforts that try to address the hidden scars of war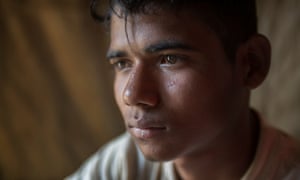 Mohammed Riaz, aged 17, is being counselled at a refugee camp in Cox's Bazar. Photograph: Tom Pilston/Action Against Hunger
Memories of the day in October that changed the life of teenager Mohammed Riaz for ever come in vivid flashbacks, when it's dark and quiet.
State forces arrived in his village in the Buthidaung township of Myanmar. Officers entered the family home, raped and killed his two elder sisters and shot his brother dead.
Mohammed, 17, and his mother managed to get out of the house. "I was so scared. It happened so quickly. Even if I wanted to rescue them, I was so scared. I wanted to do something," he said through an interpreter.
Biplop, 18, who goes only by one name, has nightmares following an army attack on his village in the same district a month earlier. His mother and sister were held for seven hours, tied to chairs and beaten.
"The guards were all around the place. The military were going into homes," he says. "I tried to protect my mother and sister, but they tied us up, so I couldn't."
From the window of his home, Biplop says he saw a man being beheaded and babies being killed. When no one is around, he cries.
About 700,000 Rohingya have fled Myanmar and crossed the border into Bangladesh since 25 August last year when renewed violence broke out in northern Rakhine state. They joined more than 300,000 Rohingya already in the country. Mohammed and Biplop, who were among the new arrivals, are now getting help to deal with the trauma.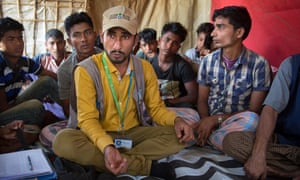 Imrul Hosen leads a counselling session at the Balukali camp. Photograph: Tom Pilston/Action Against Hunger
"When I'm alone and want to think about anything, all these flashbacks come. I have nightmares as well," said Mohammed, sitting inside a tent made of bamboo and tarpaulin in Balukhali, a makeshift refugee camp near the town of Cox's Bazar.
Dressed in a traditional lungi (a type of sarong) and a white Metallica T-shirt – though he has never heard of the band – his emotions veer from anger to sadness. There is fear for his mother, who he says is constantly crying. "I don't look forward to tomorrow," he said.
Mohammed's willingness to talk nevertheless offers hope for his future, said Imrul Hosen, assistant project officer for mental health with Action Against Hunger. The NGO runs stress management sessions in camp for young men like Mohammed and Biplop.
"Men don't open up easily. It requires a lot of rapport building to make them understand that [what they say] won't be used against them," he said.
Hosen knows it is critical that men talk. He hopes group therapy sessions will help to stop traumatised adolescents in the camp from growing up into angry, violent young men, vulnerable to radicalisation, and prevent the onset of post-traumatic stress disorder.
The World Health Organisation estimates that up to one in five people caught up in an emergency will develop some form of depression or anxiety. Yet, in 2015, the WHO found that hardly any mental healthcare was provided by aid agencies. It has since called for mental health support to be a key part of the healthcare package offered to people forced from their homes.
Over the past 15 years there has been a growing awareness of the need for mental health support for refugees. The UN refugee agency, the UNHCR, has been developing tools that aid agencies can use.
Action Against Hunger, Médecins Sans Frontières and Save the Children are among more than 10 NGOs and aid agencies now providing mental health support to refugees in Cox's Bazar. Their efforts, supported by the Bangladeshi government, have so far enabled almost 350,000 people to receive counselling. But men are less likely than women to put themselves forward for help.
"A lot of men, because of cultural bias, are not able to express their fears," says Farhana Rahman Eshita, Action Against Hunger's mental health programme co-ordinator "They feel shy or shameful to say they are feeling low. So we thought there should be specific male groups – with adolescents having separate groups – on stress management, to help them to heal and cope better with the situation."
With the scale and speed of the influx of Rohingya refugees since August, Eshita, a clinical psychologist who counselled survivors of the Rana Plaza factory collapse in the Bangladeshi capital, Dhaka, in 2013, said agencies had to move quickly to introduce trauma counselling.
By September, her organisation had hired about 30 extra staff and was providing emergency support for women, men and children in the area. More than 20,000 boys and men have since undertaken counselling…………………..
Children at the refugee camp near Cox's Bazar. Photograph: Tom Pilston/Action Against Hunger
Begum doesn't know where her husband is or how she will support herself, Gora and her daughters, one of whom has a disability.
Because of his injuries, it's a struggle for Gora to hold his head up, and he has limited movement in his right arm. He received some treatment in Cox's Bazar but needs more specialist care.
"I wish I could walk like before, and feel healthy," he says beneath the tarpaulin tent, dressed in a lungi and red Twenty20 cricket top.
Biplop, whose grey T-shirt is emblazoned with the word "RAW", perhaps reflecting his internal anguish, said talking about his experiences in the therapy sessions, and with friends, had helped. He says he feels "a little bit lighter" after having the chance to share his story.
"I understand that I can't expect a happy free life in Bangladesh because I'm not a Bangladeshi citizen," he said. "I think if I can go back home and things calm down and life becomes like before, maybe I have a chance to live a happy life like other people do."

ACLU condemns 'widespread practice of tearing children away from their parents' and says government has violated due process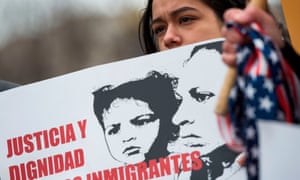 Immigrant rights groups said they had seen hundreds of parents separated from their children under the Trump administration. Photograph: Andrew Caballero-Reynolds/AFP/Getty Images
There have been at least 429 cases of immigrant parents being separated from their children in the past two years, according to a class-action lawsuit filed on Friday against the Trump administration.
The American Civil Liberties Union (ACLU) suit alleges the US government has violated due process for hundreds of asylum-seeking families by separating parents and children without a hearing and without showing the child would be endangered by staying with the parent.
Administration officials said last year they were considering implementing a family separation policy to deter asylum seekers. No such policy has been announced.
"Whether or not the Trump administration wants to call this a 'policy', it certainly is engaged in a widespread practice of tearing children away from their parents," said Lee Gelernt, deputy director of the ACLU's Immigrants' Rights Project.
Immigrant rights groups said they had seen hundreds of parents separated from their children under the Trump administration and that they expected the practice to continue.
Michelle Brané, director of the Women's Refugee Commission's migrant rights and justice program, said her group had identified 429 cases of family separation from its own work and from legal service providers and social service agencies. Brané told the Guardian these cases, which include toddlers to young teenagers, happened "more or less" in the past 15 months.
"I have been informed at various times off the record, by government officials, that there are discussions and plans in place to expand the practice," Brané said in a court declaration.
These cases included parents and children separated while being placed into immigration proceedings and others separated after the parent was prosecuted for immigration violations while seeking asylum, according to court documents. The suit also claims there is no process for parents to contest a separation.
In the lawsuit, a plaintiff identified as Ms C said she has not seen her 14-year-old son, J, since they arrived in the US in August 2017 to seek asylum. Ms C, who fled Brazil, said she has only spoken to J a few times by phone since the separation.
"I hope I can be with my son very soon," Ms C said. "I miss him and am scared for him."
In January, more than 200 child welfare, development, health and justice organizations, including the American Academy of Pediatrics and Unicef, warned that such separations can cause lasting harm to children.
"The psychological distress, anxiety and depression associated with separation from a parent would follow the children well after the immediate period of separation – even after the eventual reunification with a parent or other family," the organizations said in a letter to the homeland security secretary, Kirstjen Nielsen.
The Department of Homeland Security (DHS), which oversees immigrant detention, does not comment on pending litigation.
In court documents, attorneys and rights groups acknowledged separation may be necessary in cases where it is suspected the adult and child are not related or the parent could pose imminent danger to the child. But they alleged the government had not demonstrated this was the situation for the hundreds of cases in the suit.
The lawsuit filed on Friday broadened a suit filed in late February that challenged the separation of an asylum-seeking mother from her seven-year-old daughter.
The woman, a Congolese citizen named as Ms L in court documents, has been separated from her daughter for four months. DHS released the mother from a San Diego detention facility on Tuesday, but she has not been reunited with her daughter, who was being held in Chicago.
In a letter to DHS sent on 2 March, Democratic Illinois senators Dick Durbin and Tammy Duckworth requested more information on how many children have been separated from their families since Trump took office, how long the separations have been and whether DHS plans to continue separating.
The senators said: "While we may have different views on many immigration policies, we hope you will agree that it is cruel and inhumane to separate a parent from her child and immediately bring a stop to this practice."

World Politics
United States
Senator raises issue of sexual assault against Native women
Senator Elizabeth Warren, with Bernie Sanders, speaks on Capitol Hill. Photograph: Yuri Gripas/Reuters
Elizabeth Warren has responded to Donald Trump's latest "Pocahontas" jibe by highlighting the problem of sexual violence against Native American women, a tactic she said she would pursue each time the president "threw out" such a "racial slur".
At a rally in Pennsylvania on Saturday night, Trump discussed the Massachusetts senator as a potential rival for the White House in 2020.
"If I don't win the election, [news] ratings are going to go so far down, they'll be out of business, every one of them," he said. "Can you imagine? Can you imagine covering Bernie [Sanders] or Pocahontas? How about that?"
Trump has long referred to Warren as "Pocahontas", even in front of decorated Navajo veterans in the Oval Office, in reference to controversy over her claim of Native American ancestry.
Appearing on CNN's State of the Union on Sunday, Warren said her "family story" was "deeply a part of me". She also said she was "not running for president in 2020".
She added: "I went to speak to Native American leaders and I made a promise to them, that every time President Trump wants to try to throw out some kind of racial slur, he wants to try to attack me, I'm going to try to use it as a chance to lift up their stories.
"I'm going to do that right now by pointing out that more than half of Native women in this country have been the victims of sexual violence, and more than half of them are attacked by non-natives. And the American government is doing nothing about this."
Figures on sexual assault against Native American women vary but the issue is agreed to be serious. A 2016 US justice department survey said 56% of Native American women reported experiencing sexual violence.
"Native American women are subjected to sexual violence at rates much higher than any other group in our country," Warren said. "We need to put some focus on this and we need to make some changes on this. We owe it to people living in Native communities."