14 Mar
News and Analyses, A Foreign Perspective
Nearly all of these are English-edition daily newspapers. These sites have interesting editorials and essays, and many have links to other good news sources. We try to limit this list to those sites which are regularly updated, reliable, with a high percentage of "up" time.


Students leave class for 17 minutes to honor Parkland victims

Protests and demonstrations taking place across America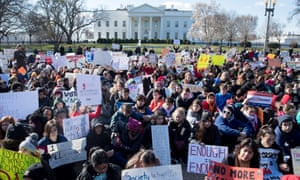 Young people participate in the national school walkout at a rally outside the White House in Washington Photograph: Michael Reynolds/EPA
World Politics
United States
Rick Saccone styled himself president's wingman but faced tight race with Democrat Conor Lamb in district Trump won by 20 points in 2016
Ben Jacobs in Elizabeth, Pennsylvania
'We did it!': Democrat Conor Lamb declares victory in Pennsylvania – video
Democrat Conor Lamb has claimed victory in a very tight special election race for Pennsylvania's 18th congressional district, where his surprisingly strong showing in a Republican stronghold dealt a blow to Donald Trump.
On Wednesday morning, with all precincts reporting, unofficial results had Lamb leading Republican Rick Saccone by 627 votes.
But provisional and military ballots were left uncounted, and Saccone was refusing to concede.
Saccone, who ran as an extension of Trump in a district the US president won by 20 points in 2016, had said he would be "Trump's wingman" in Washington and touted himself as "Trump before Trump".
He appeared with Trump in a rally only days before the election and held campaign events with two of the president's children as well as a number of administration officials.
The photo finish in a deep red district made clear how much Trump's standing has fallen since 2016 and gives Democrats increased optimism for November's midterm elections. In a race this close, either candidate's supporters can ask for a recount. However, there are stiff requirements, including requiring three voters in the same precinct who can attest that error or fraud was committed.
Some voters cast their ballot based on Trump. Outside a polling place in Bethel Park, Pennsylvania, Joe Morgan told the Guardian: "I approve of the way the president is trying to put the country in a better spot and I think voting Republican will help him do that."
In contrast, another voter, Paul Kane, told the Guardian he voted for Lamb because "Trump's an asshole".
Two counties have yet to count absentee ballots, delaying any final result, but Saccone has so far performed less well with absentee voters than he did with those who cast their ballots on election day.
The vote for Libertarian candidate Drew Miller was larger than than the margin between Lamb and Saccone – despite Miller receiving less than 1% of the vote.
Speaking briefly on stage late Tuesday night, Saccone insisted he was "still fighting the fight" and promised a crowd of supporters who had enjoyed an open bar and buffet featuring meatballs and crab dip: "We're going to fight all the way to the end."
National Republicans echoed Saccone. In a statement, a spokesman for the National Republican Campaign Committee said: "This race is too close to call and we're ready to ensure that every legal vote is counted. Once they are, we're confident Rick Saccone will be the newest Republican member of Congress."
In contrast, Democrats declared victory. Lamb took the stage at his election night party as "Congressman-elect Conor Lamb" and proclaimed to a cheering crowd: "It took a little longer than we thought, but we got there."
In a press release sent out earlier in the evening, Ben Ray Lujan, the head of the Democratic Congressional Campaign Committee, preemptively congratulated Lamb on his "incredible victory" and insisted: "These results should terrify Republicans."
Lamb had actively attempted to distance himself from national Democrats. He recorded a television ad where he made clear he would not support Nancy Pelosi for Democratic leader in the House and had only a handful of national Democrats stump on his behalf. All of them were white men.
The election was not just about Trump and national issues. Lamb, a former marine with deep political roots in the district, ran as a moderate who steadfastly avoided any mention of the White House. He also benefited from heavy support from organized labor in a district that included a mix of suburban Pittsburgh and coal country. Lamb went out of his way to praise unions for their support on Wednesday morning. "I've never seen the unions as mobilized as they are right now," said the Democrat.

DNC employee was killed in what police say was random robbery

Fox article claimed Rich ,27, had leaked emails to WikiLeaks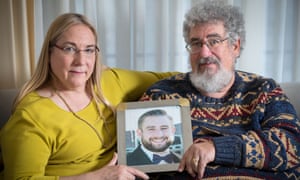 Joel and Mary Rich with a picture of their son Seth. Photograph: The Washington Post/Getty Images
The parents of a Democratic National Committee employee who was killed in 2016 have filed a federal lawsuit alleging Fox News exploited his death as a "political football".
Joel and Mary Rich claim Fox News, a reporter and a guest commentator used "lies, misrepresentations and half-truths" in an article in May 2017 that claimed their son Set Rich had leaked DNC emails to WikiLeaks during the presidential campaign.
The network removed the story a week after it was posted, saying it was not initially subjected to its "high degree of editorial scrutiny".
Rich, 27, was killed in what Washington police believe was a random robbery attempt.
The lawsuit claims that Fox News reporter Malia Zimmerman and frequent network guest Ed Butowsky intentionally fabricated the story connecting Rich to WikiLeaks. The story was heavily promoted by Fox News host Sean Hannity and other conservative pundits such as Alex Jones of Infowars.
Joel and Mary Rich said in a statement: "No parent should ever have to live through what we have been forced to endure. The pain and anguish that comes from seeing your murdered son's life and legacy treated as a mere political football is beyond comprehension."
Lead attorney Leonard Gail of Massey & Gail LLP said the Riches hope to hold Fox News, Zimmerman and Butowsky accountable for their "reprehensible actions."
"Whether motivated by party politics, ratings, corporate profit, or personal gain, we hope to help prevent this kind of malicious and reckless behavior in the future so that others can be spared the hell the Riches have had to endure," Gail said. Fox News declined comment citing the pending litigation.
Butowsky told the Associated Press on Wednesday that he did not write the article connecting Rich to WikiLeaks and that it was "baseless and frivolous" to name him in the lawsuit.

President accuses ICC of crusade against him after it opened inquiry into his war on drugs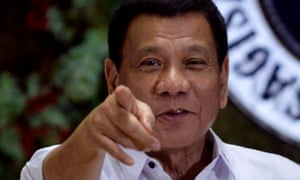 Rodrigo Duterte Photograph: Ezra Acayan/Reuters
Rodrigo Duterte is to withdraw the Philippines from the international criminal court after it opened a crimes against humanity investigation into his brutal war on drugs.
In a lengthy statement, the Philippines president accused the ICC and the UN of a crusade against him, denouncing what he described as "baseless, unprecedented and outrageous attacks on my person".
"I therefore declare and forthwith give notice, as president of the republic of the Philippines, that the Philippines is withdrawing its ratification of the Rome statute [the treaty that established the ICC] effective immediately," said Duterte.
The ICC announced last month it was investigating allegations that Duterte had committed crimes against humanity in his war on drugs, which has killed an estimated 8,000 people since he took office in May 2016.
Duterte initially said he welcomed the chance to defend his name. But on Wednesday he said the ICC had shown a "brazen ignorance of the law" and claimed that the Rome statute was fraudulently implemented in the Philippines to begin with and therefore not "effective or enforceable".
Philippine politicians met the announcement with scorn and anger. Congressman Antonio Tino said the move was "utterly self-serving and driven by sheer panic at the prospect of a trial before the ICC for crimes against humanity related to his murderous war on drugs". Tino added: "Saving his own skin has taken precedence over the long-term commitment made by the Philippines state to human rights."
Kabataan party representative Sarah Elago said it showed that "Duterte intends to impose his fascist and tyrannical tendencies even against international critics".
"Only the guilty become too eager to run away from prosecution," Elago added. "If indeed he wants to prove his innocence, what better platform than a court?"
Relations between the Philippines and the international community have become increasingly antagonistic in recent weeks. Last week, the department of justice included a UN special rapporteur on a list of people declared to be communist terrorists. In response, the UN high commissioner for human rights, Zeid Ra'ad al-Hussein, said Duterte "needs to submit himself to some sort of psychiatric examination".
In his statement on Monday, Duterte said Hussein's comments were clear evidence of "international bias" and that the ICC was "being utilised as a political tool against the Philippines".
He also described the ICC's inquiry – which involves looking into a 77-page report submitted to it last year that allegedly documents Duterte's crimes against humanity going back to 1988 when he was mayor of Davao – as "unduly and maliciously created".
When the Philippines ratified the Rome statute in 2011 – nine years after it came into force – it was seen as a big step forward for human rights in Asia. The country's withdrawal will be seen as a blow for international accountability in the region. The ICC, based in The Hague, is the world's only permanent international tribunal that looks into war crimes and crimes against humanity.
Duterte has made his contempt for the ICC well-known in the past, calling it "bullshit", "hypocritical" and "useless", but in his statement on Wednesday, he went further, accusing the court of violating its own due process and depriving him of the right of innocence until proven guilty.
Should the ICC's preliminary inquiries find evidence of crimes against humanity, the Philippines' sudden withdrawal from the statute would not protect Duterte from being put on trial. A country's withdrawal from the ICC takes effect a year after the UN has received the application and article 127 of the Rome statute specifies that "withdrawal shall not affect any cooperation with the court in connection with criminal investigations".
There are 139 countries signed up to the Rome statute, but with some powerful exceptions. The US signed the treaty in 2000 but never ratified it, citing concerns over sovereignty, similarly with Russia. Israel signed it for a short period but also never ratified it into law.